VOG Coiffure - AW 15-16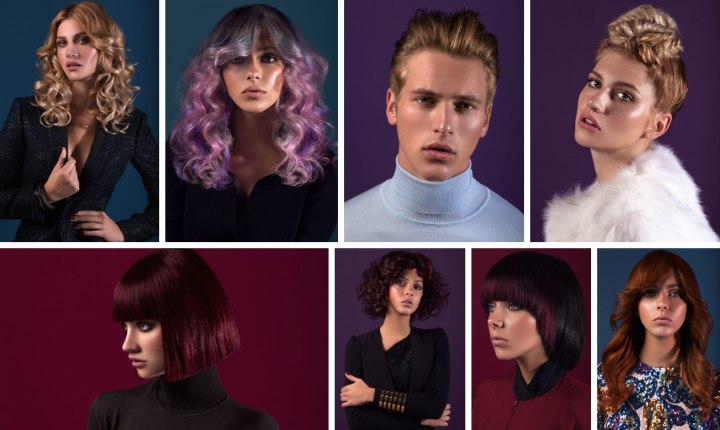 Like all other things, we experience seasons of different styles that we crave for concerning our hair and even overall appearance. This collection of hairstyles is all about glamour and contemporary charm, while still keeping in step with modern trends and cuts.

The sheer amount of different hairstyles and overall looks hidden within these pictures is enough to dial your stylist immediately, and make a booking to be transformed just in time for the turn of the tides.



As the season changes from autumn to winter, you can trade in your old look for a brand new one, transforming yourself and your outlook in life with one visit to the salon. Whether you appreciate masses of glorious tumbling curls, or prefer arrow straight and perfectly structured styles, you'll be amazed by the versatility and utter amount of potential when you browse through this collection.

Make yourself comfortable and prepare to have your senses and imagination bombarded with a whole scope of impending hairstyles and looks that are virtually at your fingertips.


Long Hairstyle with Big Curls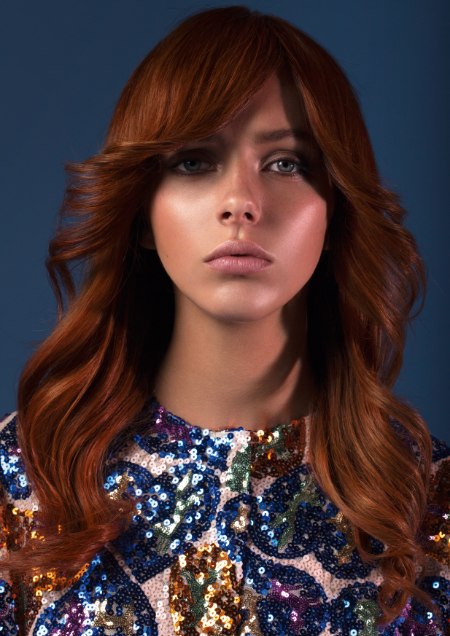 This timeless hairstyle is presently particularly popular among the celebrities of the UK, the Kardashians and teenage girls all across the world. The hairstyle's universal popularity can be largely contributed to two factors: the fact that the style can be constructed relatively easy and also because it is so simple to use clip-in extensions to make your hair look fuller and longer. In a nutshell, by using this style in combination with hair extensions, you can transform your hair into looking like that of a celebrity quite easily.

The model's light copper brown hair fits the style very well, as it warms her bronzed skin while also complementing her pale green eyes. Note how the bottom curls are slightly lighter than the top part. The model is wearing curly clip-in extensions to increase the thickness and length of the style. The flicks that frame her face have been flicked to the back, which reminisces the way that the hair-muse Farrah Fawcett used to wear her hair.


Long Hair with Cascading Curls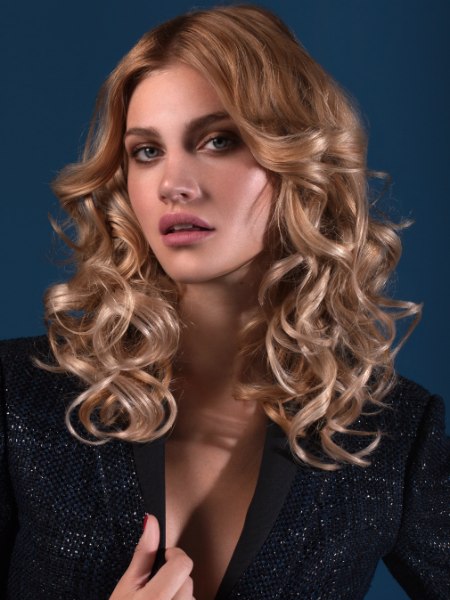 Here we have a long hairstyle that works flawlessly, especially for formal occasions such as weddings or proms. The model's light ash-blonde hair has been styled into a mass of cascading curls, while her long bangs frame her face softly. You'll see that the hair near her roots has been colored a medium ash blonde, in subtle contrast to her light ash tips. This very subtle balayage technique works great to conceal the natural color of your roots when your hair grows out in between visits to the salon.

Light blonde extensions have also been used to make her hair look longer and much thicker. You'll be surprized at how many people wear clip-in extensions and even permanent extensions in their hair on a day to day basis. Her hair is definitely the focal point of her appearance, thus you'll note that the make-up artists left her make-up very natural and matte, to complement the formal look but not to detract any attention from the gorgeous hairstyle.


Hair with a Balayage Color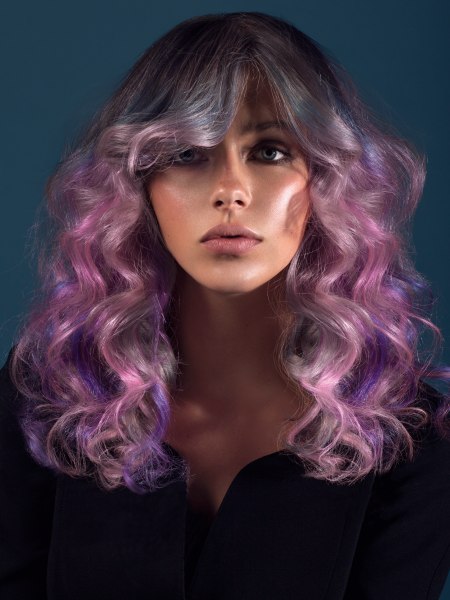 Ah! Here's a glamorous long hairstyle for the wild at heart. The model's natural hair color is an ashy dark blonde shade. You can see the ash-blonde hue shining through slightly when you look at her bangs. If you love this style, there's two ways to go about making your own hair look like this.

You can either have your stylist color your hair like this permanently. Ask for a light-purple to blonde balayage, and take this picture with you. Or you can transform your hair like this for a special occasion by using hair extensions and temporary hair color. This particular balayage color is easy to find, but if you have trouble just ask your stylist to help you.

The model's bangs have been styled in subtle flicks to frame her face, while medium ringlets of curling iron curls cascade uniformly down her shoulders. You'll also see that she has different shades of purple curls that intertwine among the mass of curls around her face.


Faux Pixie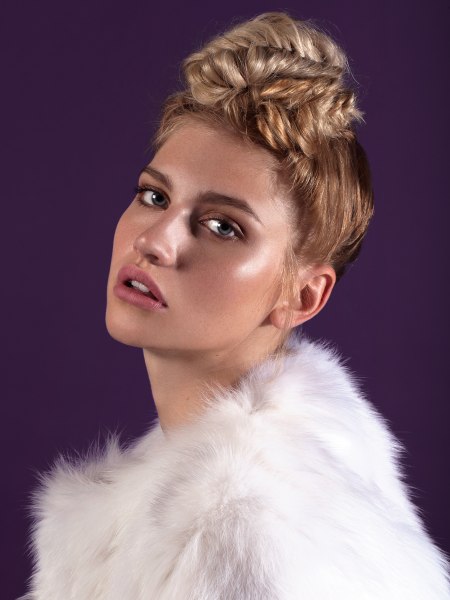 If you have a yen for a really short look, Miley Cyrus style, but don't want to commit to cutting off your gorgeous locks, then this is definitely for you. This is a creative and structured version of the faux pixie hairstyle that has gained popularity in the past five years.



The model's long blonde hair has been combed with a fine toothed comb to the top of her head, where the length of the hair has been braided in a very tight fishtail braid. The braid is then folded up and pinned on top of the head, to the front of the face.

The end result is a beautiful style that emulates the short back and sides of a cropped pixie style, while the folded and pinned braid imitate the longer section of top hair that is synonymous with pixie styles. Her make-up is very dewy and natural, which allows the hairstyle to enjoy front-and-centre attention of the overall look.


Dark Hair wit a Splash of Color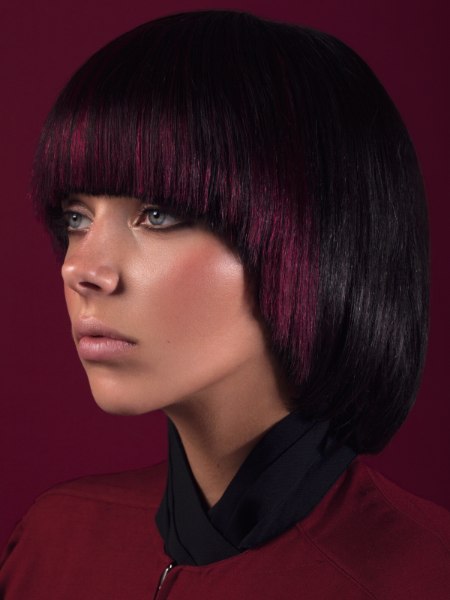 This hairstyle has been one of the fastest growing demands of clients in salons as well as on photoshoots and on the runways. Darker styles are much easier to maintain, due to the relatively simple color application technique, (maintenance root color in contrast to time consuming highlights of blondes), as well as the fact that most adult women's natural hair color is darker.

Still, we like to add that splash of color to lighten the style and add movement and dimension to the hair. This style is really the epitome of these desirable foundations. It's really easy to maintain thanks to the simple, dark colored base, yet the intense plum-red peekaboo highlight slices in the bangs transform the look from ordinary to extraordinary.

The low bangs and feathered sides only increase the congeniality of the style, while the color combination complements the model's complexion and blue-green eyes. It's important to note how well the hair's colors are reflected by the black sashed collar and fitted wine-red top.


Fresh Bob with Curls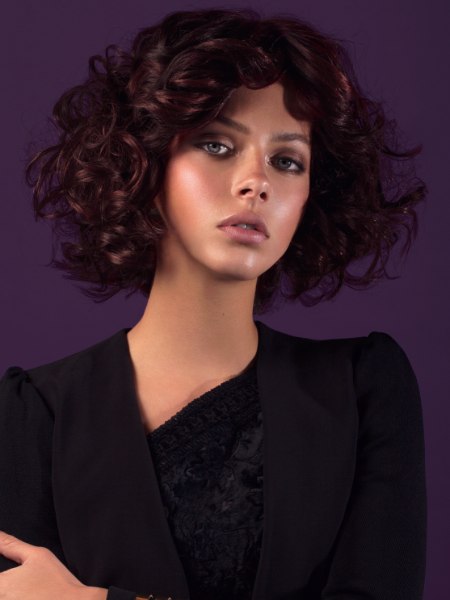 Here we have a hairstyle that is completely fresh and exclusive, and isn't capitalized nearly as well as it deserves to be. The model's hair is cut into a connecting layered lob, (long bob), with a long fringe. The hair has been curled with a small to medium barreled curling iron, which the stylist proceeded to carefully comb out with his/her fingers. The hair looks exceptionally full and glamorous, a look which can be succeeded by careful back combing or including clip-in hair pieces to the style.

The model's simple dark chocolate-brown hair color creates the perfect canvas to showcase the structure and creativeness, yet it detracts no attention from the burst of curls and beautiful silhouette of the style. A medium-hold aerosol hairspray with a silicone base was used to hold the style into place while also adding shine and movement to the curls. Her make-up is simply beautiful. Bronzed and dewy skin with slightly darker yet natural eye-makeup and nude-colored lips. Stunning!


Bob with a Solid Fringe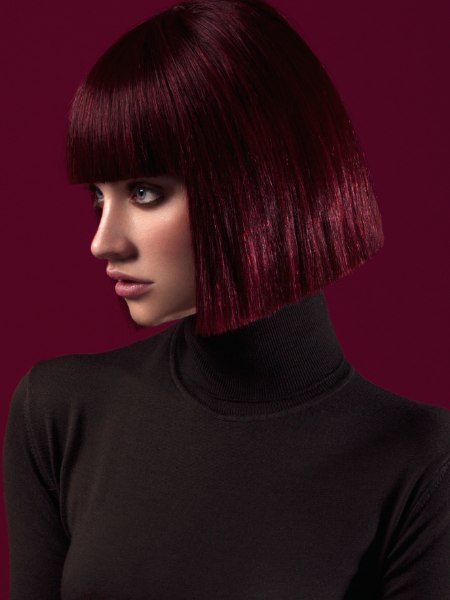 This hairstyle has been a dominating force to be reckoned with on Fashion Week catwalks all around the globe the past few years. The style is emblazoned with an eccentric fusion of futuristic yet oddly old-school elements. It is this unconventional fusion of form, structure and color that inevitably pulls the eye towards it, and keeps the after image of this style in the minds of fashion- and contemporary enthusiast for long after.

The model's hair is cut into a strictly structured, slightly A-line bob of medium length. No thinning out or texturizing methods have been used along the tips of the hair to achieve that blunt, strong silhouette. The same theme is used along the sides and the long bangs, resulting in a solid looking frame like fringe and frontal silhouette that looks like something belonging to an avatar of another world. The dark plum-red color of the hair only adds intensity and flash to the style and overall impression.


Easy Hairstyle for Men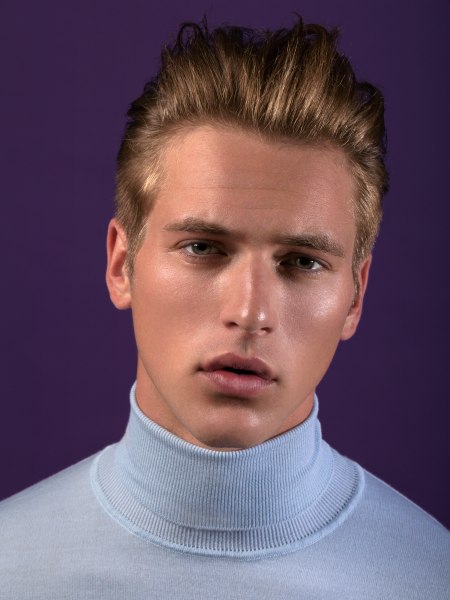 This eclectic style has Marlon Brando and James Dean written all over it in bold, artistic letters. This men's hairstyle has been taking the Hollywood's forefront with a type of force that is breathtaking. From the questionable style-front of Justin Bieber to Hollywood heavyweights such as Tom Hardy and Leonardo DiCaprio are currently drawing immense inspiration from this very suave and structured look.

The model's naturally medium blonde hair has been lifted with fine light-blonde highlights to achieve a naturally light,looking, sandy blonde shade. The short sides and back emulate neatness and structure, while the longer top has been style to the back in a slight quiff. This signifies the look of an alpha male who appreciates a simple sense of style, yet still enjoys attention and style all the same.

This hairstyle is incredibly easy to achieve. Simply apply mousse to wet hair, blow dry the hair to the back with a medium-barrel blowdry brush until completely dry, and spray the hair into place with a light-hold aerosol hairspray.

Hairstyles: Robin Navarro-Harraga for VOG Coiffure
Make-up: Fanny Maurer
Styling: Nikky Chicanot
Photography: Lucie Bremeault