Allures by DESSANGE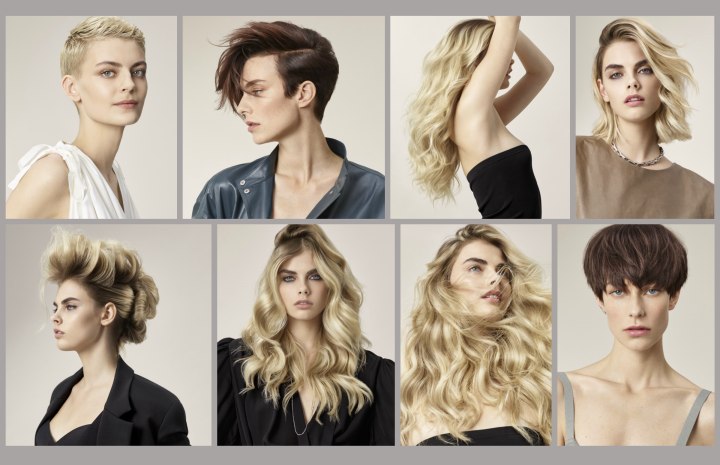 DESSANGE helps women to show their true selves. Free from rules that restrain their ability to determine who they are and what they look like, women are now following their own desire, even when they seem contradictory. Being yourself means being able to have fun with your hair day by day. It means exploring androgynous styles, navigating between rock 'n' roll flair and a glamorous look, and revamping a casual hairstyle with an off-the-wall twist.



DESSANGE's collection offers all that and more together with haircuts that are more free and natural and less stereotyped. It's not about trends or rules that are here today and gone tomorrow. Instead, it's a question of originality, respect, and inspiration.


Neo Bowlcut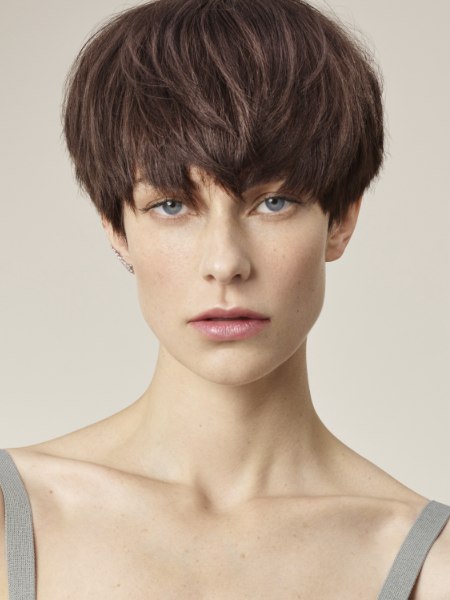 For women who love to live life daringly and hate half measures, nothing beats a daring haircut. This beautiful bowlcut is every bit as rebellious as its previous iterations. Nevertheless, this version is heavily layered in the thickest part of the hair. This layering highlights the longer and medium-length locks.

The chestnut hair color, Marron Feutré, is applied with precision and subtlety to integrate a sense of energy and movement. This modern brunette bowlcut is a stunning and daring look that suits the most stylish women.


Cleaver Head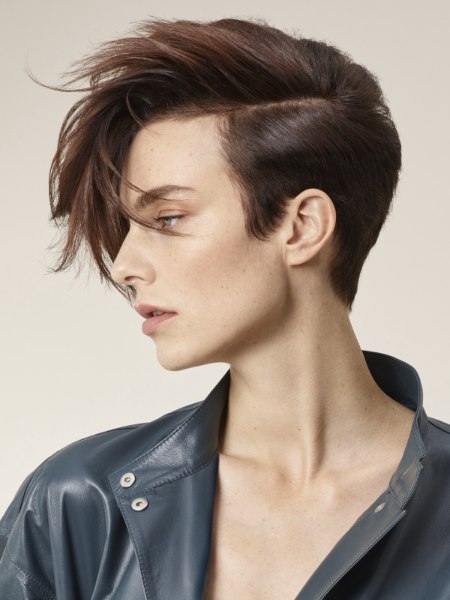 For women who like mixing it up, defying the rules, and adding a twist to their look, this multifaceted haircut lends itself to a variety of styles. This highly technical cut requires several expert methods to create. The hair is tapered and kept long on the top and sides. The back is cut very short.

The styling highlights the contrasts inherent in this haircut. The nicely trimmed neck is topped with a lock of beautifully teased hair. This hairstyle is perfect for switching between a classic look and a more rocker-inspired style.


Winds of Freedom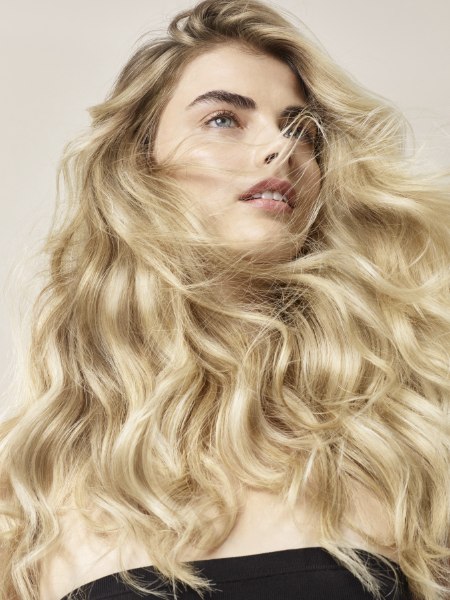 The winds of freedom are playing through these long, endless, and sun-kissed curls. The curls are loosely styled so they can move about freely. The wavy locks brush against the neck and shoulders and drape across the neckline. Careful attention to detail makes all the difference in this haircut.

Subtle layering creates balanced volume and unrestricted weightlessness. The hair color is crucial as well. Here, the brightness of blonde is paired with darker roots.


Explosive Opulence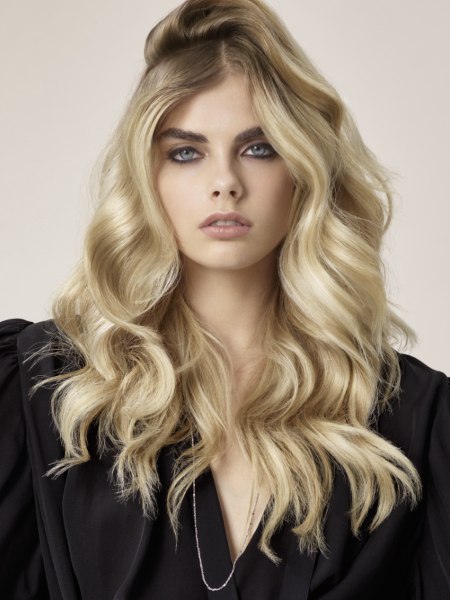 This is the definition of dream hair. The length, color, texture, styling … it's all a question of know-how. These three key essentials are presented to perfection. The hair has been deeply conditioned. The blonde hair color has been subtly applied, combined with signature highlights.

The style features a fresh twist on wavy locks. The less traditional waves create infinite movement and extravagant volume for full effect.


Voluptuous Wavy Cascade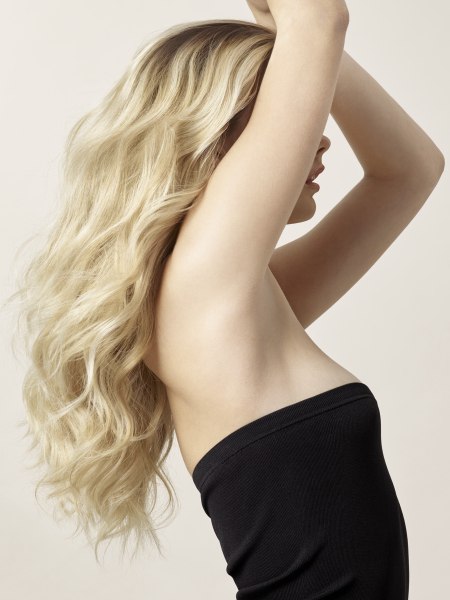 Long hair that falls down the back is more ravishing than haute couture clothes and is sure to turn heads wherever you go. In this hairstyle, the color takes center stage. The blonde tips and darker roots create a sentiment of movement.

Not to mention all the work it takes to care of hair that is this healthy, shiny and weightless and that gives the long curls sophistication.


Wild Updo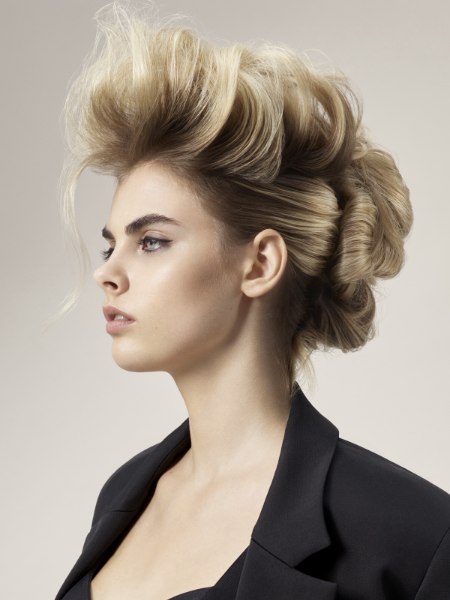 Make this your go-to updo to style your long thick hair. The idea is not to copy the classic Brigitte Bardot chignon, but rather to add a twist of rocker style to take your evening look to the next level.

To create this hairstyle, start by adding texture and then make a chignon with bobby pins. Pull out the hair on the sides to add volume on top for a stylish rock 'n' roll effect.


Restyled Icon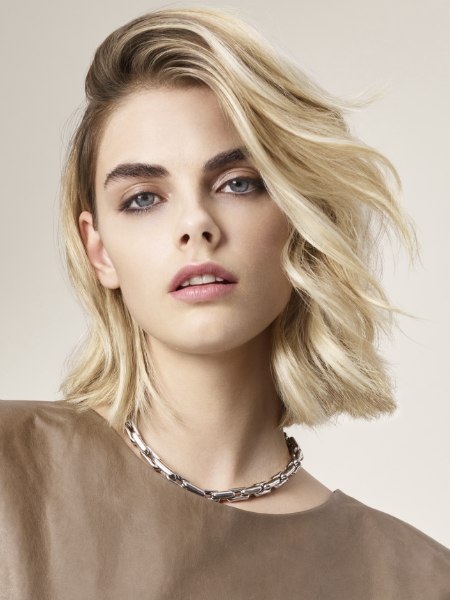 The famous styled-unstyled bob serves as the base for this hairstyle, which is always an inspiration when you want to swap out your long hair for something new. This version features considerable layering. The effect is stunning. The hair moves more naturally, it looks lighter, and is easier to style.

Key is keeping the hair natural. Instead of using hairspray, add a dime-sized amount of hair paste to the roots. The idea is to create a modern bob and to keep it looking fresh with a quick ruffle.


Subliminal Short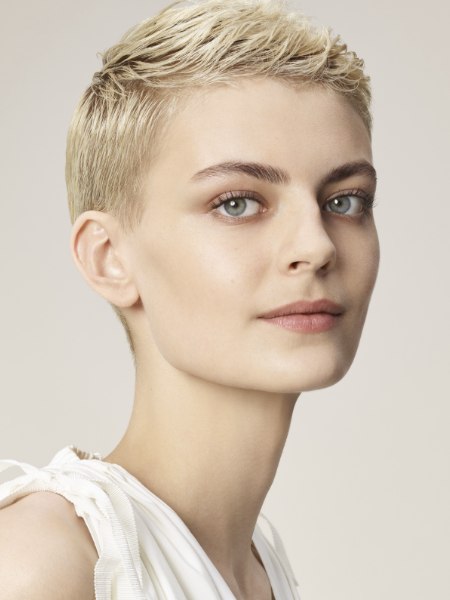 A very short pixie cut paired with extremely feminine styling lets the beauty of the face shine through. That's the secret behind this look, which uses men's styling techniques while simultaneously undercutting every stereotype.

This is especially the case when the style is paired with a modern cool blonde over a darker base for an even braver effect. Round out this perfect everyday hairstyle with soft, understated make-up or with red lips to really stand out. Anything works.

Hairstyles: DESSANGE
Photography: Nicolas Valois