"WOB" by Eric Zemmour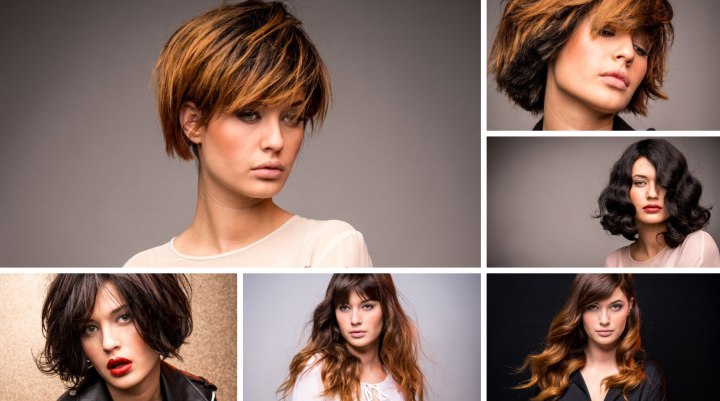 Make some waves this winter and turn your bob into a WOB, a wavy bob. Eric Zemmour once again created an amazing array of hairstyles for modern women, who just like things to be a little bit different and special.

The waves and the coloring with the transitions between light and dark tones create the illusion of thick hair and natural volume with a fascinating pattern of movement. These new looks come in long, medium and short lengths with a varying intensity of waves.



Sleek, diva like or free and disheveled, the new wobs are ready to make hair history.


Long Sideparted Hair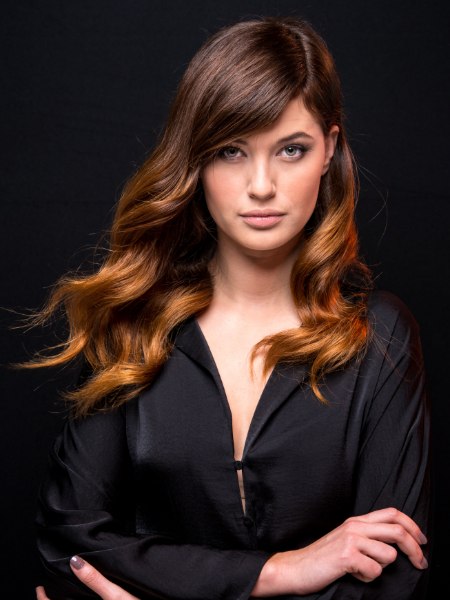 A very low side part with an impeccable curved line sets the mood for refined simplicity and a sophisticated approach to long, wavy hair. A dark brown slowly lightens in a seamless transition to a golden blonde at about half the length.

Her fringe curves into her face and the sides are defined by thick, languid motion enhanced by an out of this world shine. Thick rollers, a good brush and gloss spray are the tools of choice for this seductive hairstyle.


Free Spirited Long Hair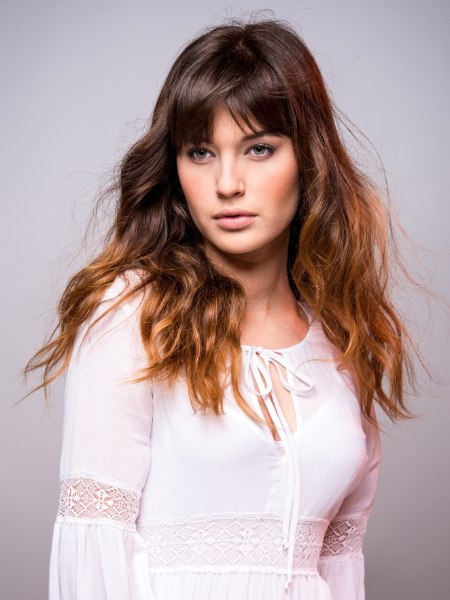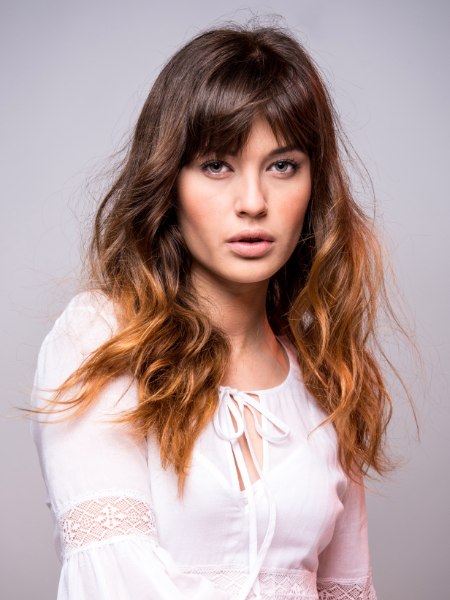 Teased and disheveled the long hair now displays a very bohemian type of chic. Urban gypsies, the rebirth of the flower children and a playful disposition left their mark on these separated strands that fall way past her shoulders.

The hair was cut at the same length, except for the bangs, which cover the brows. The beautiful cascade of disorganized waves lightens towards the bottom. The hair color was applied in an innovative technique that makes it look natural and without any seams. This play of color lightens up the entire look and keeps her face radiant.


Bob with Vintage Waves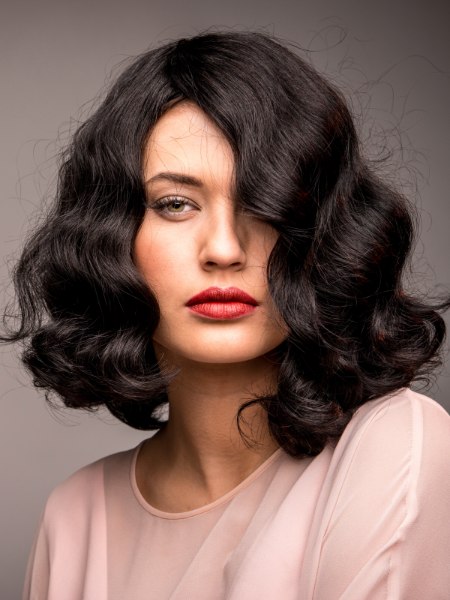 Have you unleashed the sultry you? Maybe this vintage inspired hairstyle can help. An ultra feminine bob has soft, defined waves hug her face and cover a third of it, thus making her eyes and her lips stand out.



The hair length is between chin and shoulders one one side and touching the shoulder on the other. Absolute finesse and seductive power ooze out of every curve in her black hair. Combined with a smoky eye ruby red definition of her lips, it is a classic coiffed-to-kill look that will take the bite out of winter.


Trendy Bob with Volume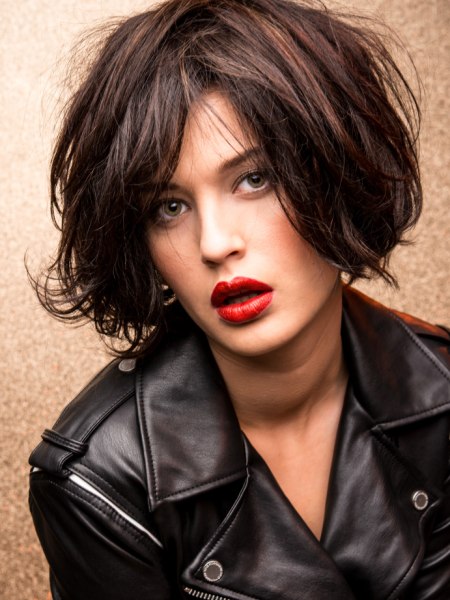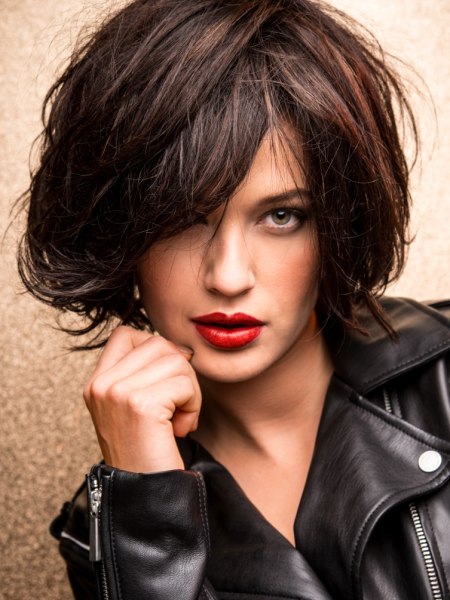 Pump up volume and texture of your bob, add a jagged part and some waves to get this ultimate rocker chick look. Trendy and with a high end fashion vibe that easily incorporates a streak of wild, this hairstyle looks great with a leather jacket or a cocktail dress.

Of course it is the "fresh out of bed look" that makes it so very sexy. The lower ends are curved inward and then disheveled, so that they point in several directions. Texture creme lets you separate strands and mold the hair as wild as you want it.


Choppy Bob Cut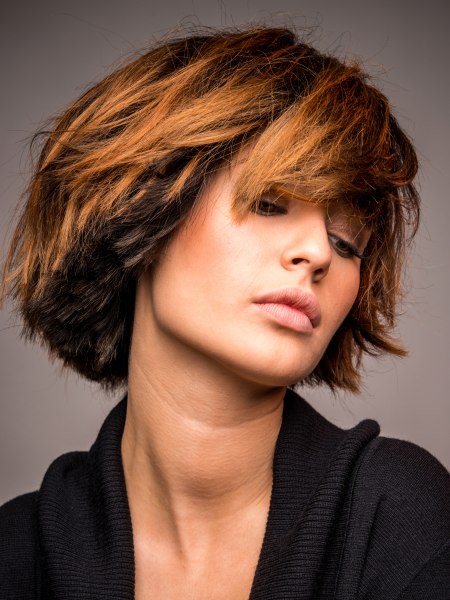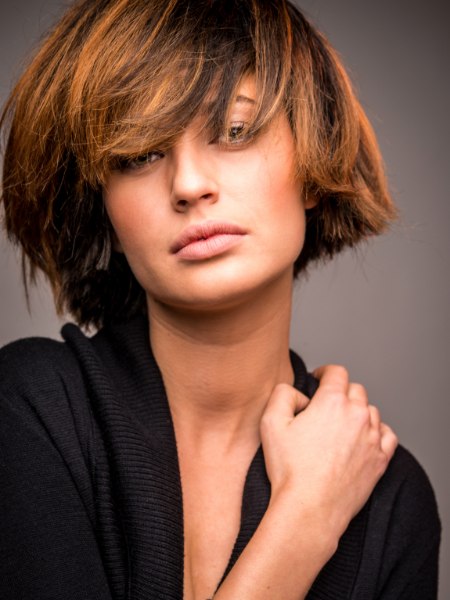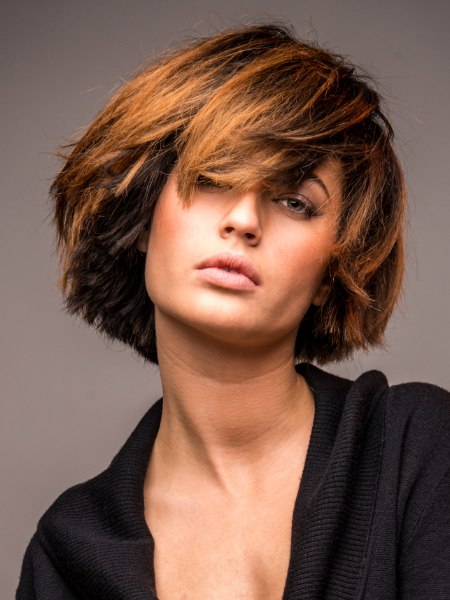 Rough and rugged is only one aspect of this modern bob. The choppy cut features two colors that enhance each other through their contrast. A dark walnut brown creates a deep shadow under the warm and almost golden hazel color that is dominant in the lengths that plunge down in disheveled volume.

Shake it to your heart's content, ruffle and just mess it up. You cannot go wrong. A long fringe and asymmetrical styling make this untamed bob special.


Short Round Bob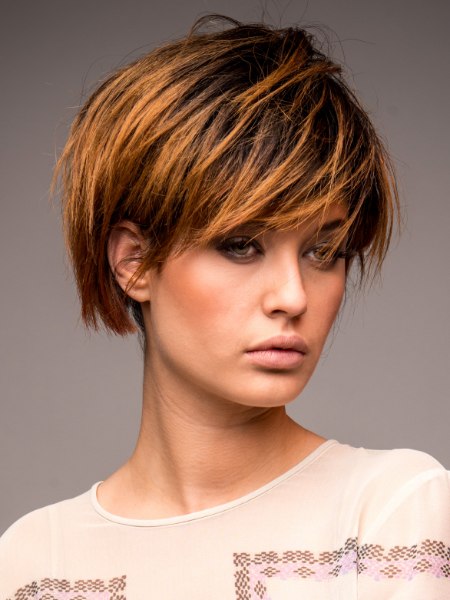 Have you ever noticed how much a new haircut can change how you feel? This short bob is set to bring some energy into your life.

A slightly choppy texture makes it fresh and rebellious, the two tone hair coloring gives it intriguing depth and dimension. A low fringe with a sidewards tendency and a generally loose, disheveled styling mirrors trendy manga inspired looks.

Hair: Eric Zemmour assisted by Jean-David Amoyel
Hair Coloring: Laura Manaira & Laetitia Immordino
Make-up: Justine Lancelle
Styling: Louis Bohème
Photography: Gérard Taride