Coiffure du Monde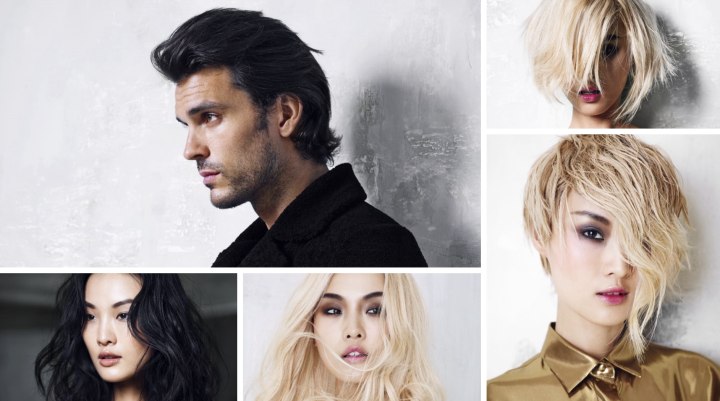 You'll find that this collection is sprinkled with hairstyle gems that have been created with the key goal of extreme adaptability in mind. Some of us need to be able to switch from classy business types to social scene queens or kings in the matter of minutes. If you fall into this sometimes tricky category, you'll be delighted at the sight of these styles.

This range of hairstyles has been created on the style foundations of versatility, hair couture and aesthetic beauty. All of these styles have that "Jekyll and Hyde" attribute in common, enabling you to wearing your hair sleek and glossy during the day, while switching to voluminously sexy and laid-back cool for your evening functions.



The best part is that the structure of these styles has been cut and textured according to practical principles as to empower you to create these styles yourself with little time and relative ease. In a nutshell, you don't need a hairstylist every night to look mouth-wateringly glamorous!


Versatile Long Hairstyle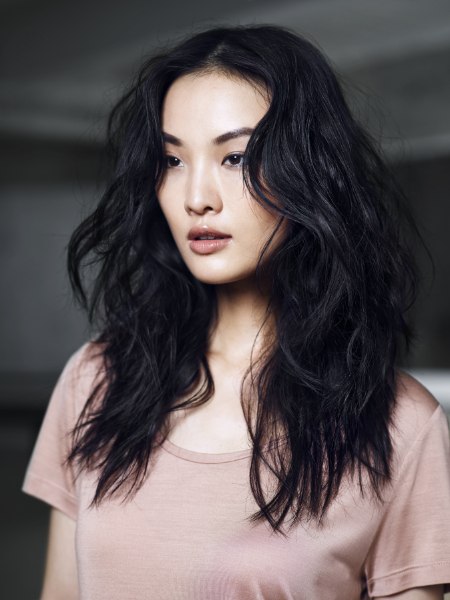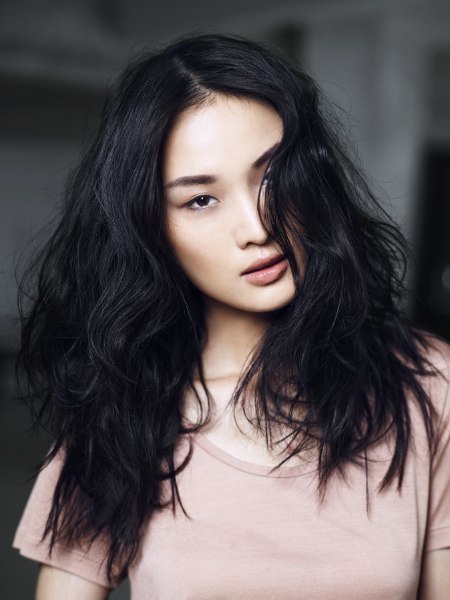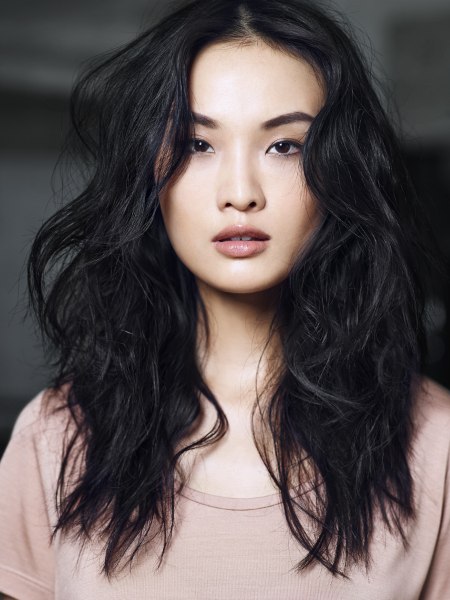 This long hairstyle is a timeless favorite on the catwalk as well as in glamour magazines. The long layers have been texturized slightly at the ends to give it that stunningly seductive voluminous look. This is one of the most versatile looks to have ever entered the world of hairdressing, which makes it so perfect for fashion shows.

The models can walk onto the ramp with perfectly glossy curls tumbling down for their first few walks, and then have their hair transformed into this bedhead-siren look by the stylists literally within minutes. This makes it perfect for busy women such as reps and salespeople who need to be able to transform their look quickly when alternating between the office look and business functions.

The neutral dark brown works well with this style as it showcases the movement of the exaggerated curls very well. This is great for women with fine hair, high cheekbones and a heart or oval shaped face. Also note how well the dark brown compliments her fair complexion and dark eyes.


Hairstyle for Fine Hair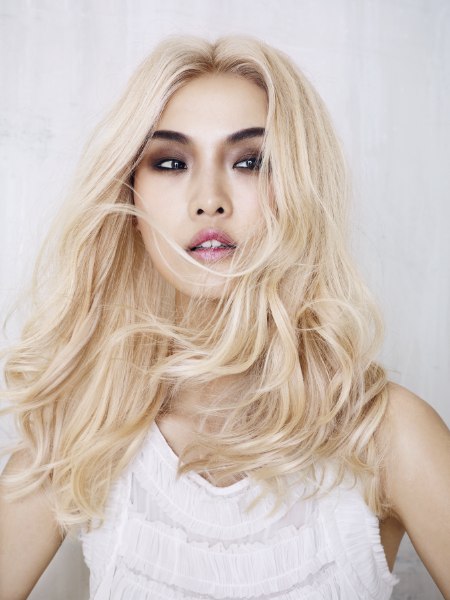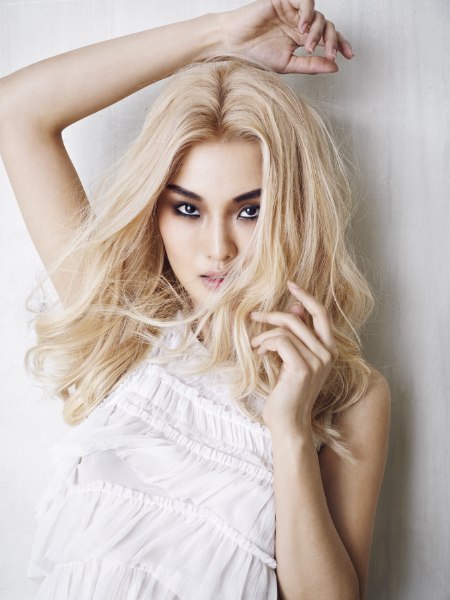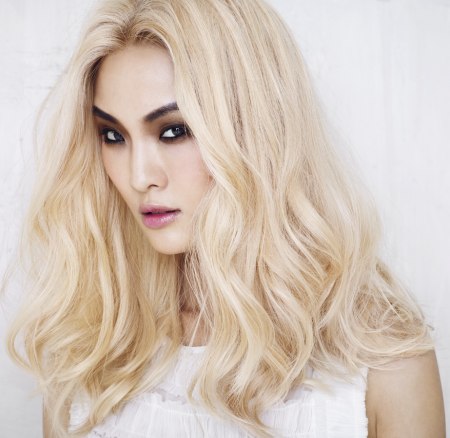 This look will probably never go out of fashion! The summer-blonde hair color is refreshing and über-feminine, while the long-length layers make it one of the most adaptable styles across the spectrum of graceful hairstyles. This is also evidence that pale skin and dark eyes really can work with light blonde hair! Just don't attempt lifting your dark hair to this summer-blonde on you own or at home. This color-base is the work of a talented and professional stylist.

The model's hair is fine, but she has a lot of it, and that's why this style works so well for her. If your hair is relatively straight and fine with a high density, this style will fit you like a glove. Also note how well the style complements her relatively wide, yet oval shaped face.


Razor Textured Bob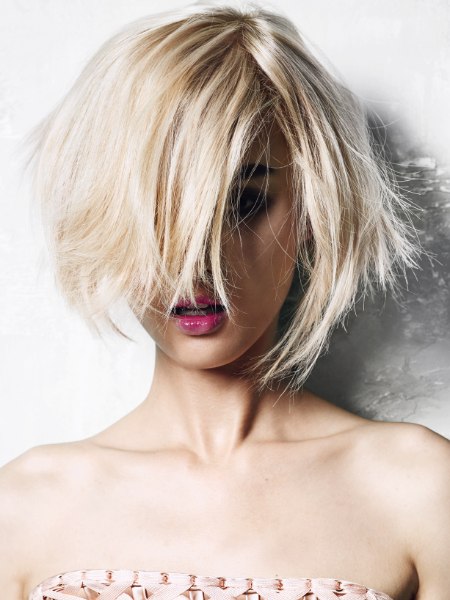 This is really a favorite look of most young stylists. The asymmetrical bob has been texturized to the max among the tips of the hair with a razor. Texturizing hair with a razor is the most effective way to achieve this kind of spunky, slightly disconnected diminutive layers along the tips of the hair. This is the secret to being able to style it into this in-your-face-attitude style with relative ease.



This cool light blonde is also the perfect color to showcase this hairstyle to its maximum potential. The model's naturally light hair is lifted to this beautiful blonde by adding lots of fine and tightly packed highlights, yet still allowing the natural base to flow seamlessly into the colored blonde. This color is really easy to maintain for natural blondes.

The asymmetrical bob suites her slim oval face very well, as the wide sides of the style add dimension to her face, yet still complementing her aesthetic attributes such as her lovely jawline and striking features.


Pixie with One Longer Side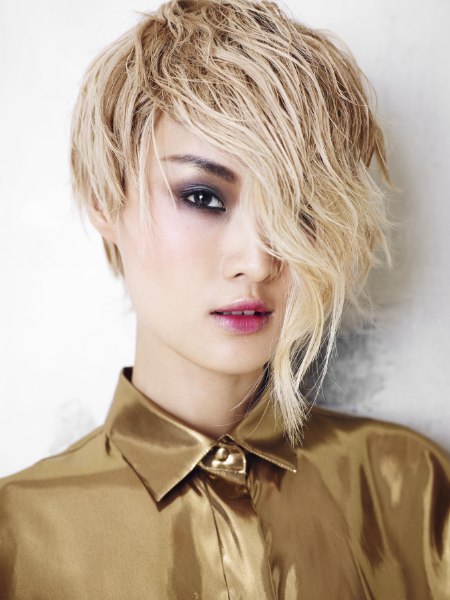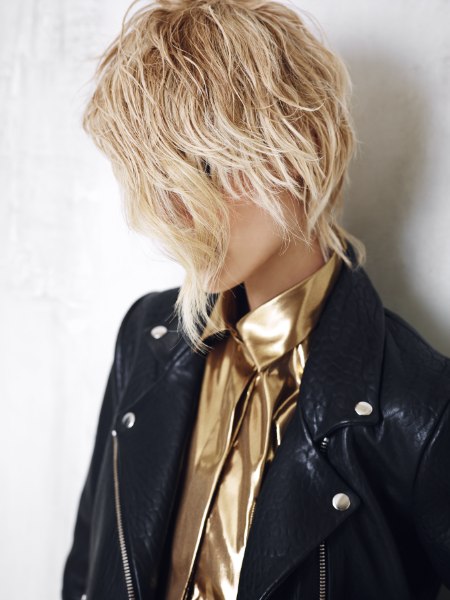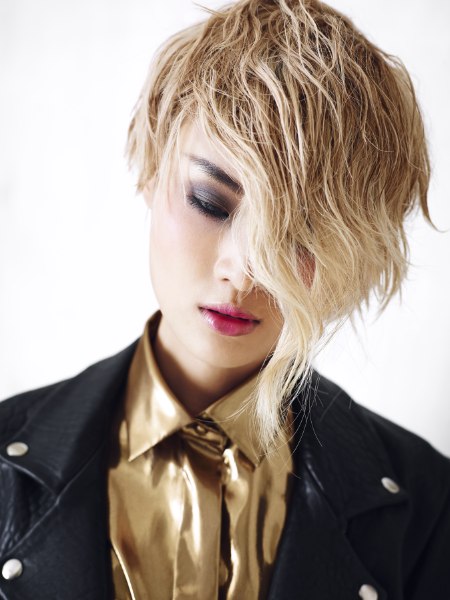 You'll see this stunning style a lot among hairdressing students when you walk into a hairstyling college anywhere in the world. The model's hair is cut into an exaggerated asymmetrical pixie where the one side is very short compared to the long fringed opposite side. The bangs are worn sloped diagonally across the forehead, which adds a huge feminine dimension to this decidedly short hairstyle.

The tips of the bangs are platinum blonde, while the roots and the medium lengths blend together with the use of alternating light ash brown lowlights and blonde highlights. The hairstyle works flawlessly with the model's oval shaped face and distinguishing features.

The overall light blonde hair color is also perfect for this vulpine style, as it complements the fierce attitude while also showcasing the style's impeccable structure and movement. To copy this look, add a small amount of curling mousse to damp hair and dry the hair carefully with a diffuser attached to your hair dryer. We love her shiny gold shirt!


Men's Style for Longer Hair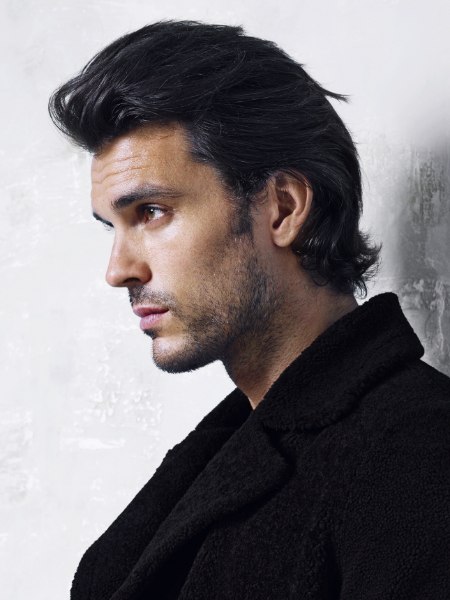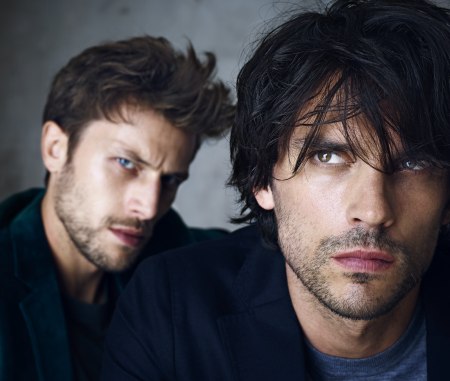 These kinds of debonair and well-groomed styles are coming back with an absolute vengeance. If you open any glamour- or glossy magazines you'll see that the men on the red carpets and silver screens are treating us to an Old-School Hollywood phase. Gone are the decidedly teeny-bopper look of wet-look spikes and other high-school looks… At least for now.

The model's hair is slightly longer than the most men have been wearing their hair the couple of years, which gives it a distinct laid back Alpha male dimension. The Armani couture giant has always favoured this as it resonates with their male clientele.

This hairstyle channels the perfect balance between an astute businessman, and one that dominates social scenes just as easily. The hair is slightly longer on top, while it still curls fashionably along the hairline. The simple and natural light golden-brown hair color keeps the style form looking over-groomed or flashy.

Hairstyles: Jean Claude Aubry Community for Coiffure du Monde
Artistic Director: Nahema Abaroudi
Photography: Laurent Darmon