Cebado Looks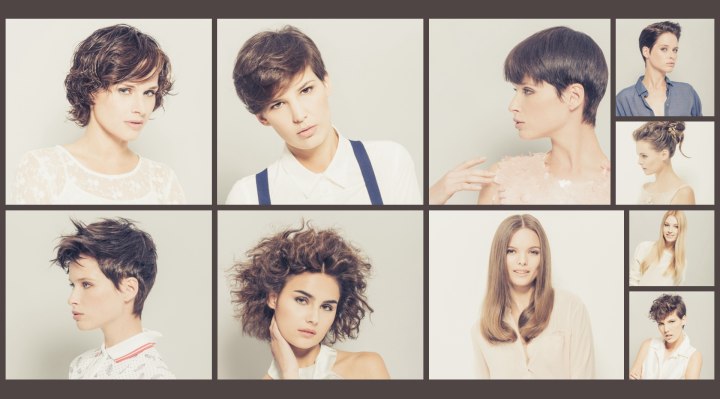 Cebado knows how to read the signs of the times and the desires of women. When it comes to hair that is. With their latest collection of hairstyles the Spanish coiffeur presents looks that capture not only the latest trends in hair fashion, but also extremely flattering ways to express the personality of each woman. And most of all the hairstyles are flexible.

In this line up you can only see a limited amount of variations of individual cuts, but enough to give you an idea of what can be done. Who wants to wear the same dress several days in a row?



The same applies to hairstyles and with these great ideas we are inspired to adjust our hairstyle to our mood and environment of the day. Soft and casual, professional or festive. Braids, waves, smooth lines, spikes or even a whole head full of flowers are inspiring to start playing with our hair again!


Long Tapered Hair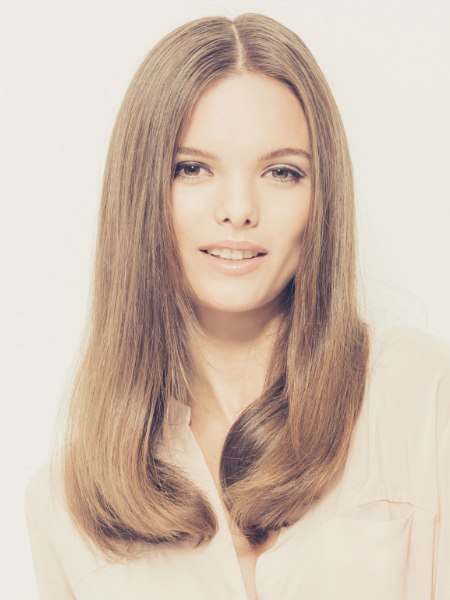 This first of the metamorphoses shows the shape of the long tapered cut very well. She wears it in a simple, brushed out way with a center part. This give the hair a retro 70s flair, which is super popular again.

The front is tapered below the chin, just a little, to add some movement to the tips and to soften the line. The rest of the hair falls in its gorgeous and supple length with a stylish curve in the tips. Dark blonde and golden highlights bring the sunshine in.


Casual Long Hair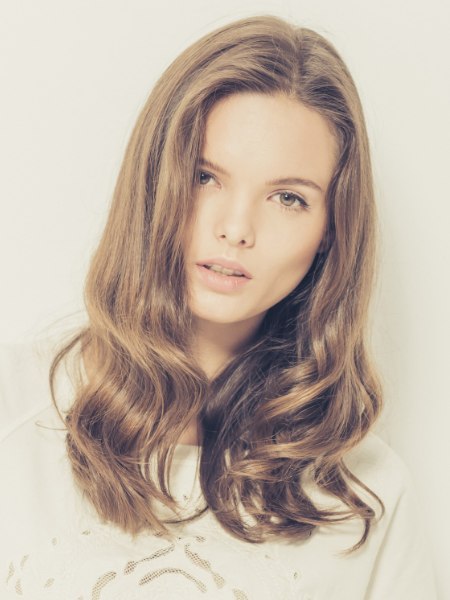 Move your part half an inch to the side and don't be too strict with the brushing. You'll get a wonderful soft and flattering look with enough style to feel sexy.

Chic waves get much momentum in the lower parts and the hair is ruffled in just the right places. This is a great hairstyle when you don't want to put too much effort into your styling and look natural.


Hair Styled out of the Face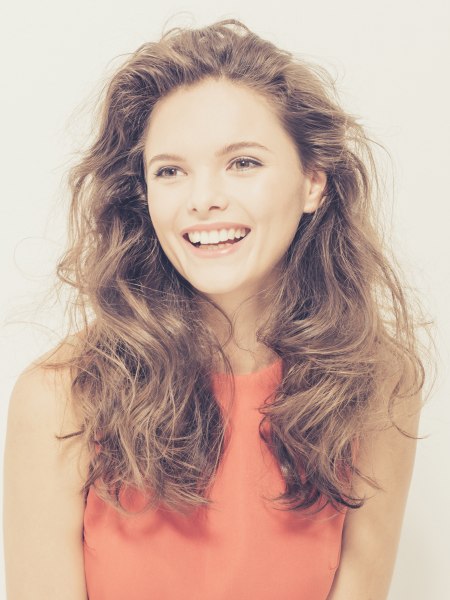 A third version of the very same long cut features a ton of volume and the hair styled out of the face. A windblown beauty with natural movement in every strand, wild texture and flirtatious wispiness. It is as soft and light as a cloud and has the perfect balance of elegance and playfulness.

The hair is teased with a stylish brush to fluff it up and to bring out the waves. A great product to help with this effect is a curl enhancing mousse, which not only adds to the movement, but it will also provide hold. Use fingers and hands to scrunch and elaborate on the texture.


Messy Ponytail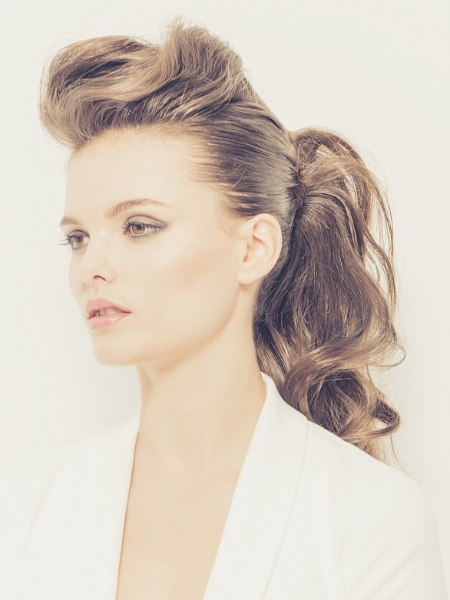 Sometimes we just need to wear our hair up. A ponytail is the easiest way to get all of that mass away from your skin and is the way to go on hot days but also when you want to look a little different.

With a stylish quiff in lieu of a fringe and a fuzzy texture in the tail, this stylish ponytail look takes on a dramatic and very high fashion character. The base was wrapped with a strand of hair to hide the elastic and individual strands were pulled and arranged to have a delightfully messy texture.


Romantic Up-Style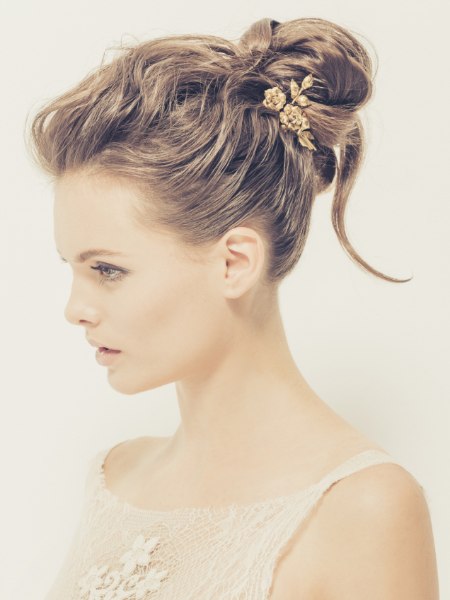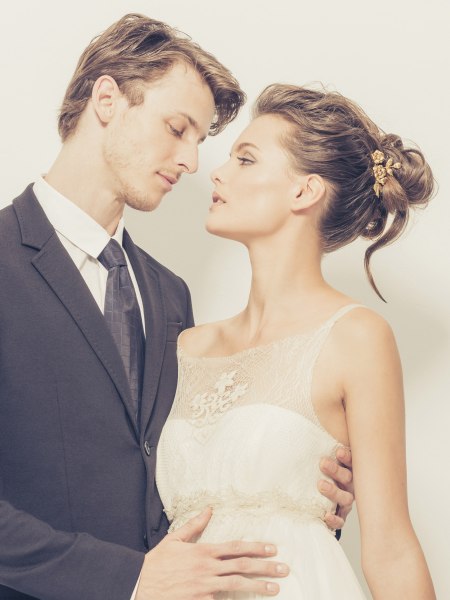 Put a flower in your hair! This little accent makes the soft updo even more romantic and adds a little color and bling. Make it special with a piece of fine hair jewelry or use a real flower, if available, for a more natural look.

The long hair was brought up and bound to a ponytail high on the back of her head. Then it was twirled and wrapped around its own center before it was pinned down to form this light and loose bun. A long accent strand escapes the center of it as a unique detail.


Long and Sleek Blonde Hair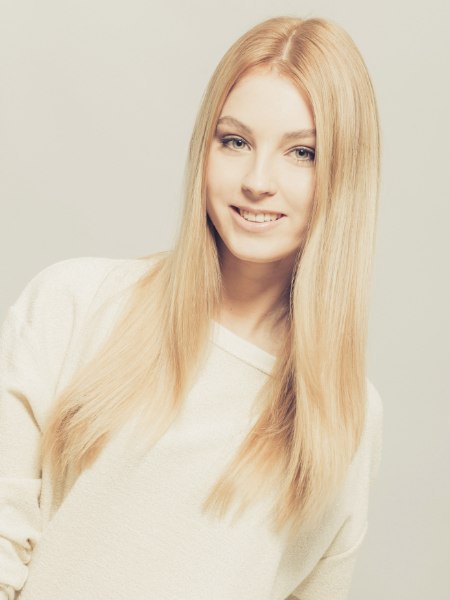 A flash of the past made all new. The retro long hair with a center part turns modern with long layers and a soft natural styling. It is luxurious in its simplicity and gains much dimension with varying light and dark shades of blonde.

With a soft make-up and a neutral tone outfit this hairstyle shines to its best. You'll be surprised of what can happen with this hair. Find out by clicking on the next looks.


Long Hair with Gel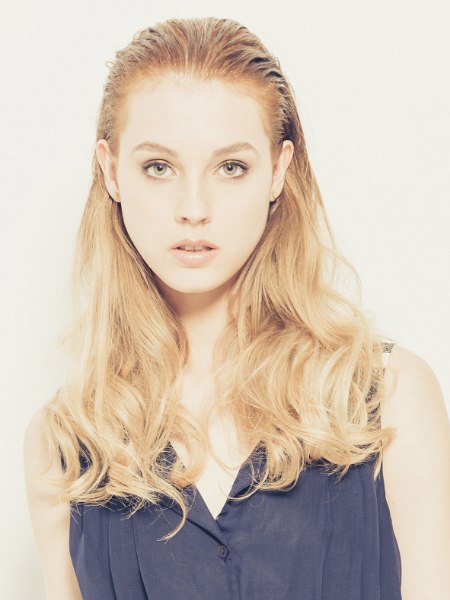 Gel is not for short hair only. When using it to accentuate long hair you need to make sure it does not stick up the lengths but is only added to the base. This partial wet look features a slicked back crown and sides.



The gel is applied to the root area and just between the hairline and ears. A wide comb separates the strands and leaves a great texture. The lengths are a gorgeous contrast with their free falling, wavy pattern and happy curls in the tips. Stylish with an innovative twist.


Glam Look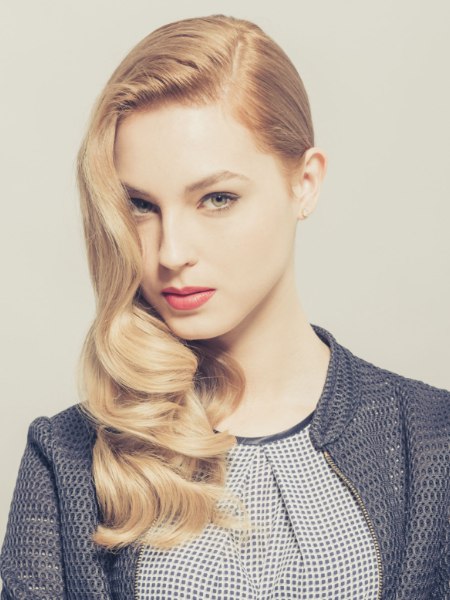 Asymmetry and Hollywood waves are the perfect hairstyle to wear with your gorgeous new suit. Look like a screen goddess with blonde, undulating perfection. The flawless surface of the waves has a sculptural quality just adding to her impeccable appearance.

The hair is combed around the back with a tight fit and stays in place with a pretty barrette or invisible bobby pins. All of its volume was run through the curling iron and arranged to hug the face.


Twisted Braid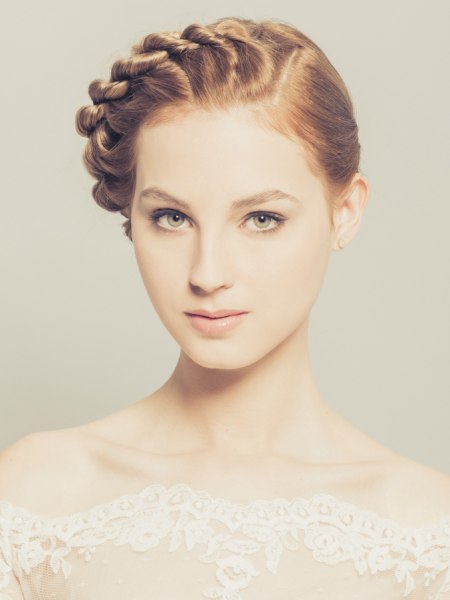 A new take on the crown shaped braid uses a twisting technique to achieve the wavy gorgeousness of this elaborate structure. As a novelty it was created asymmetrically with its onset at the short and neat side part.

The smaller side was combed back strictly. Individual strands are twisted first on their own and then around each other incorporation one by one all around to the ear. It resembles a French braid and puts elegance in the boho style look.


Easy to Wear Hair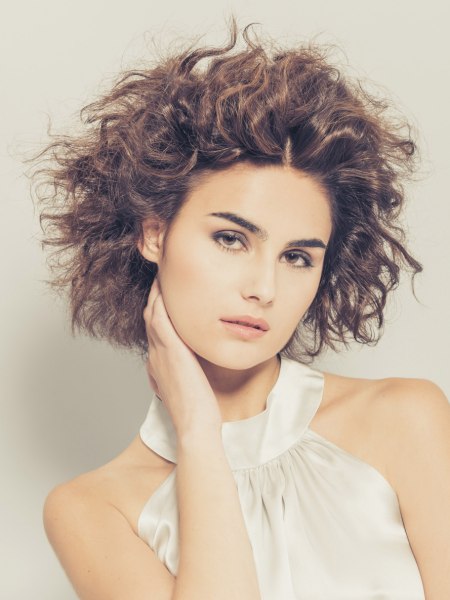 Short layers cut at equal lengths distribute the volume around her head in an even balance. But the main attraction of this captivating look is the wildest texture out there. This is a great way to showcase your natural curls. The part is in the middle to stay with the balanced theme and all of the hair is thoroughly moussed and mussed with the hands.

Her hair color is a warm, earthy brown with subtle, natural looking highlights. A great and basic hairstyle for every day, that is easy to style and even easier to wear. Check out what can happen to it with the addition of a bundle of flowers.


Party Hairstyle with Flowers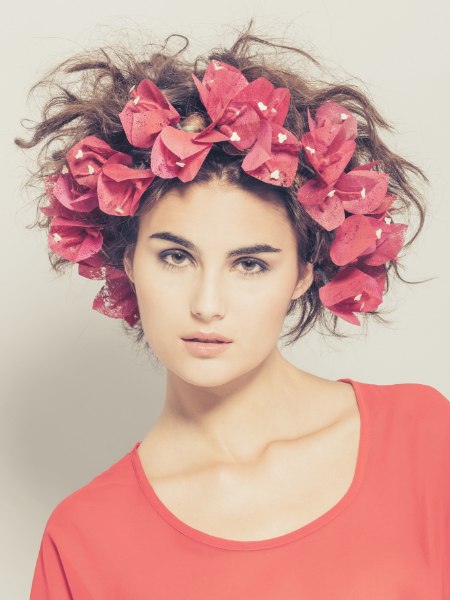 The exotic shape of the bougainvillea gives this wreath of flowers a more eccentric than sugarcoated expression. Since they have short stems it will require a hand full of bobby pins to create this look. The good news is that these blossoms last a long time and will make it through a festive night with you.

Above the pink blessing there are fun wisps of messy strands which provide additional volume and playful movement. Tease the hair to give it enough stand and bring it in place with the fingers before spraying a mist of curl supporting hairspray over it.


Light and Easy Hairstyle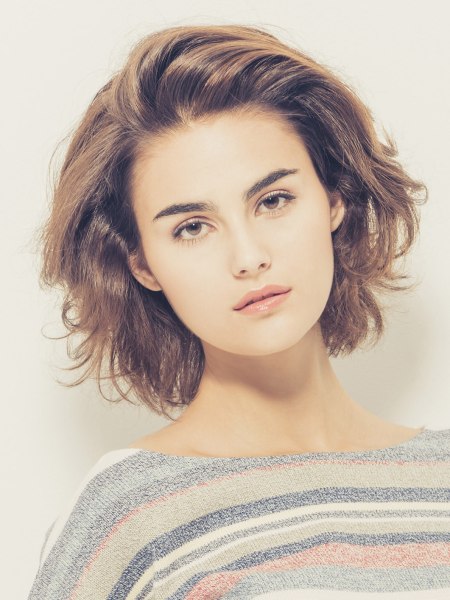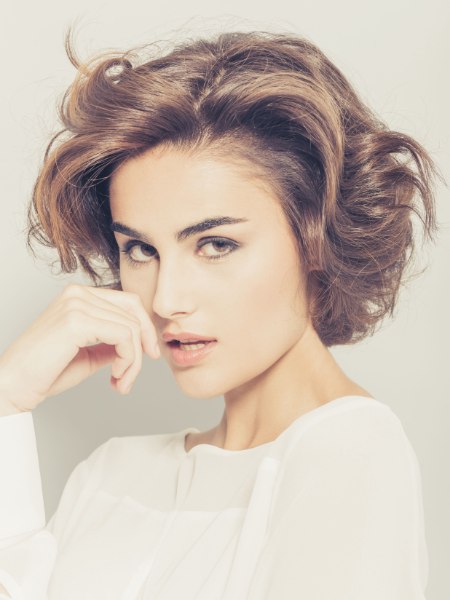 This is a pretty hairstyle for every day. Medium long layers flatter every face shape and the possibilities to style this cut in many different ways are endless. Here the part sits on the side but is soft drawn in a diagonal line, which mainly allows the long bangs to be flipped to one side, while keeping the volume fairly equal on both sides.

A nice rounded shape creates a fluid lower line, where we also find much wispy texture. The top hair is long and thick, styled out of the face. Her dark, earthy brown hair color is invigorated by wide highlighted streaks.


Casual Bob Style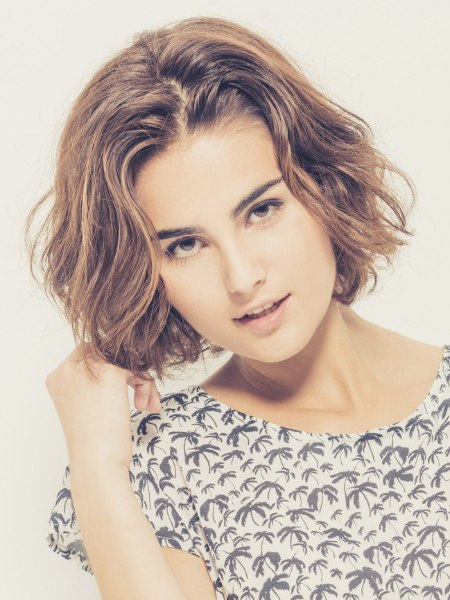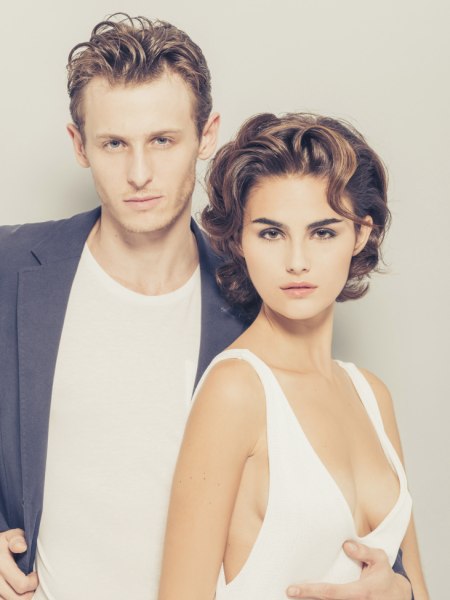 With its jagged center part this bob takes on a very casual air and looks natural with all of the flowy movement in the hair. Long layers help to create good volume when the hair is blow dried over the head with much attention to the roots.

She wears her hair in a natural walnut color with many fine highlights throughout. This is a very low maintenance cut and does not require special skills to style. A handful of mousse, some ruffling with the fingers and hairspray misted over the style from underneath keeps it in its deliberately messy shape for many hours.


Short Wet Look Hair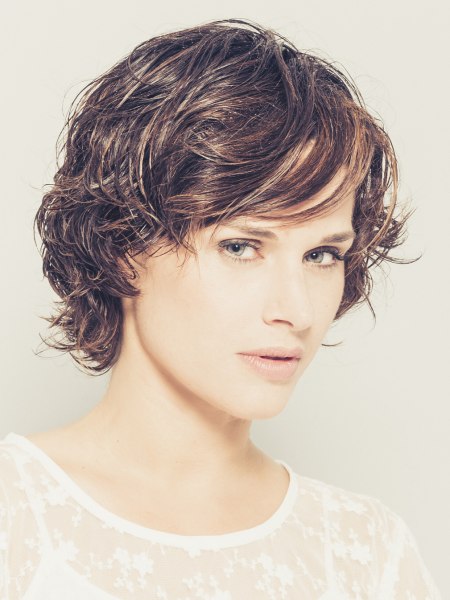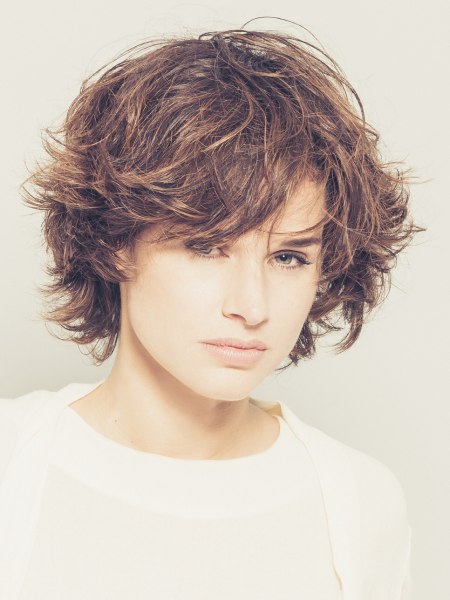 This cut has its longest hair in the sweeping bangs. The rest of it is layered throughout, which makes it a breeze to style and stay in shape. For this intriguing version, which is the perfect look for a long summer day, the hair was doused in gel, which gives it the wet appearance.



Make sure to find a gel that remains flexible and is specifically formulated to support the development and hold of curls. All that is left to do is to scrunch the layers with both hands and plug individual strands into place.


Pixie Cut with Bangs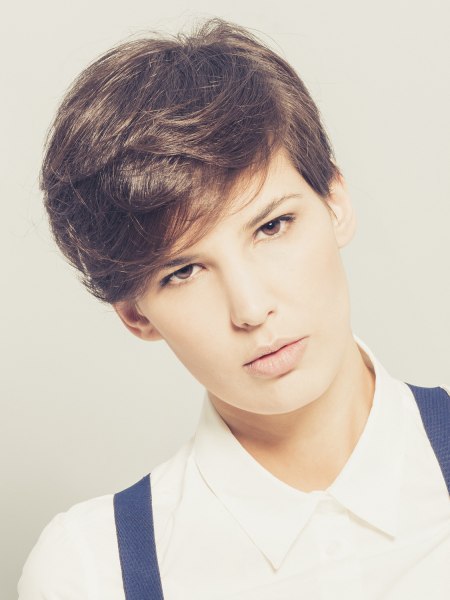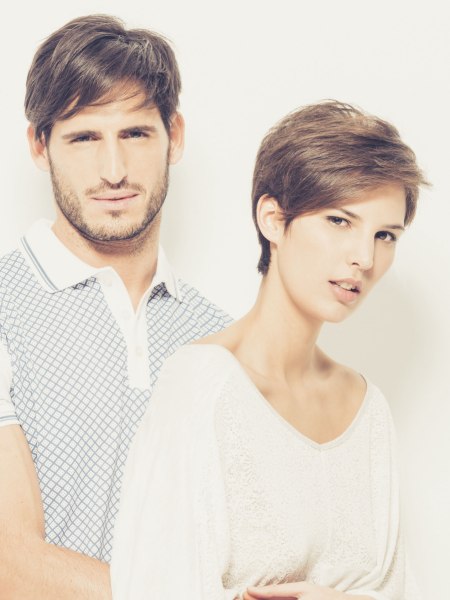 Androgynous is sexy in its own special way and the ease of wear that styles like this provide cannot be topped. A traditional masculine shape with short sides and back contrasted by longer top hair was softened with curved lines and fine texture.

The layers keep the hair light and full of movement, especially in the long sideways fringe. Her natural brown hair color matches her skin tone perfectly and was lifted with very subtle highlights.


Flexible Pixie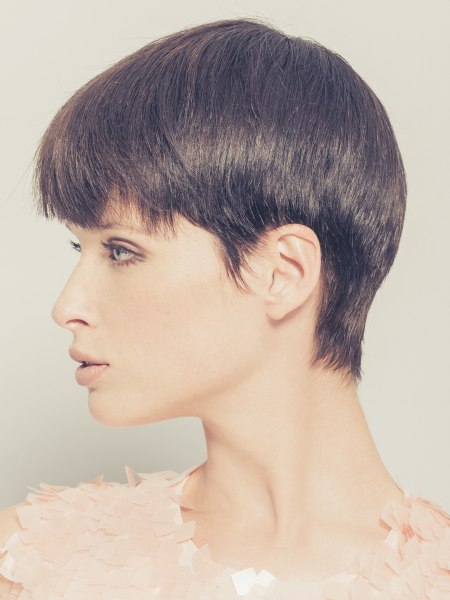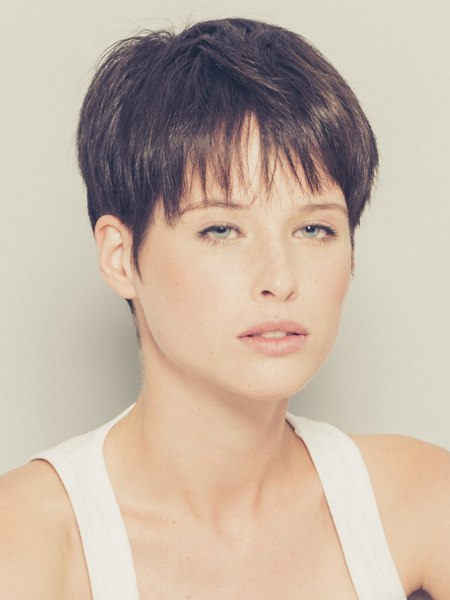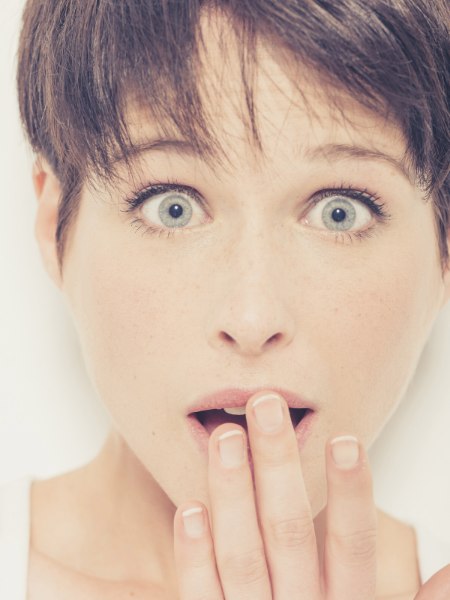 Tiny sideburns tease with their cheekbone accentuating shape and location. The same texture is repeated in the cutting line around her nape and in the fringe.

This pixie cut has been highly feminized with meticulously cut layers that run throughout the hair and allow it to be either worn sleek and smooth as seen here or to be lifted to soft spikes. Even though the hair is so short, there are many chic ways to wear it. Check out the next look for a cool suggestion!


Fun Pixie Style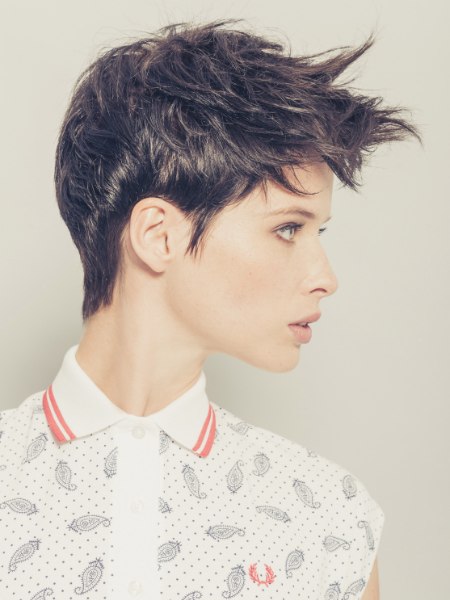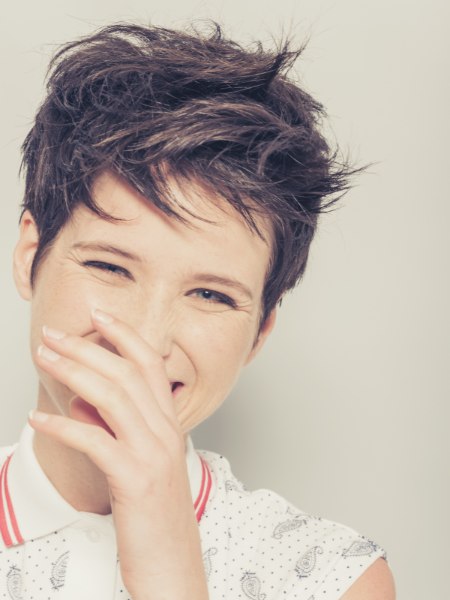 The neck fits as tight as the fringe runs loose. Her adorable boy haircut now has a different and very unique styling with the hair combed towards the front. This is where the layers really come into play and they create gorgeous texture and move with ease.

The longer top layers are fluffed just a little bit more than the denser level underneath and all of the action increases on its way forward. The fringe is twisted and twirled with delight for a feisty, elfish look. The more wispy it is, the better.


Sleek and Curly Pixie Combo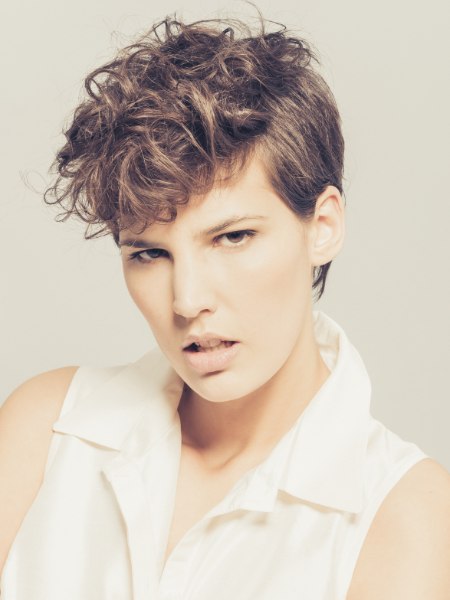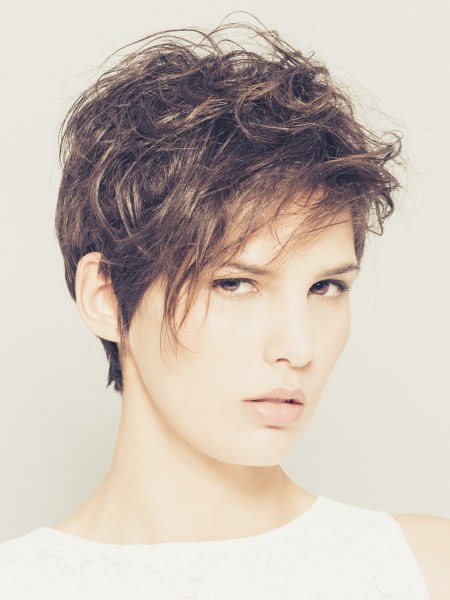 Sometimes we just want it all. And why not. When it comes to hair getting it all is easy and that can even mean to wear sleek and curly all in the same style.

The sides of this short cut which follow a traditional masculine template are styled vertical and sleek with a hint of gel for good hold and a moist effect. The entire top is sectioned of with two parts and styled with frolicking curls that pull deep into her forehead. A little bit rockabilly and quite a bit trendy lady.


Sleek and Chic Pixie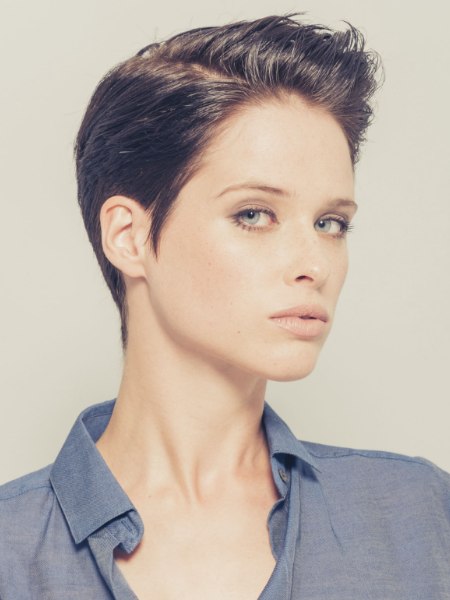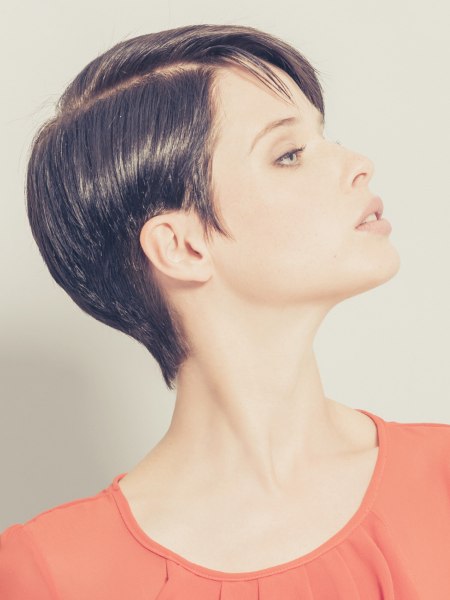 Sleek and chic from root to tips, this short hairstyle is a prime cut with an androgynous design. It even includes thin sideburns and an indicated rockabilly quiff. It is parted on the side and the hair is combed sleek and close to the head after some soft, flexible gel was applied.

The front peaks up to light volume and a wedge shape. With her brown hair color and a soft make-up she looks very natural and full of understated elegance.


High Volume Hair and a Beard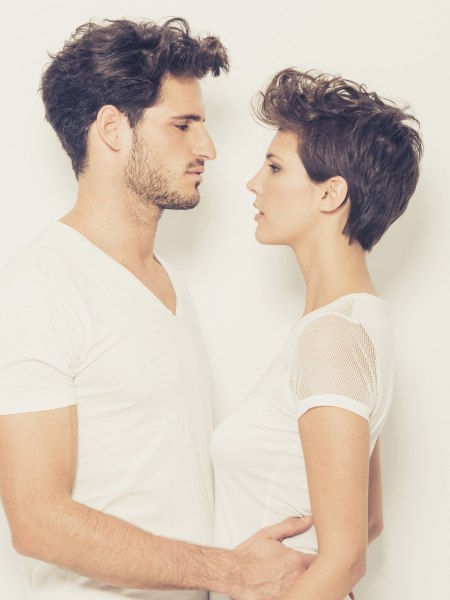 Chiseled contours define the beard, which focuses on outlining the face and accentuating his lips with a fashionably thin mustache. The hair tells a different story with its untamed movement on the top, where his natural curl and a great layered cut allow the ravishing volume to fully develop.

His sides are combed back and a single curl sneaks a little curve into his forehead. This is a handsome way to cut and style very thick hair and to look well groomed, while allowing the wild streak to shine as well.

Hairstyles: Cebado