IT LOOKS by L'Oréal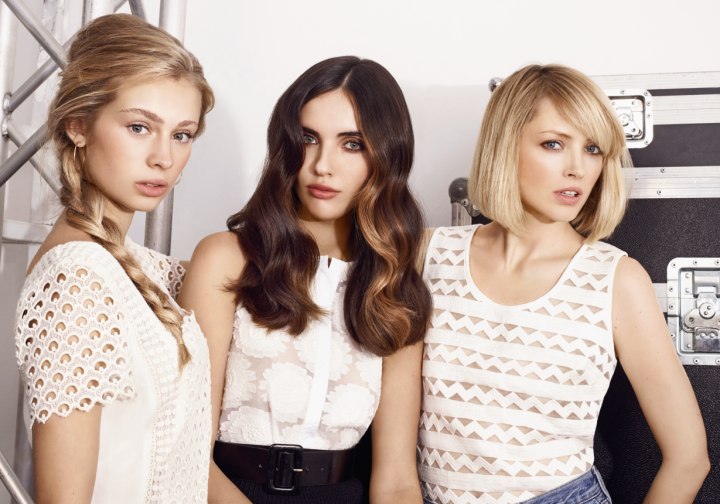 Admit it, you would not mind to be the IT Girl. L'Oréal makes getting the right look easy with its new IT Looks collection. Variations of the bob and long styles are classics in a new and fresh shape.

The most popular lengths and textures are combined with amazing colors in the blonde and brunette ranges. A variety of styling options shows the versatility of the cuts and who wants to look the same way every day anyway?



Give yourself a fabulous makeover and show the world a beautiful, glamorous you!


Bob with Body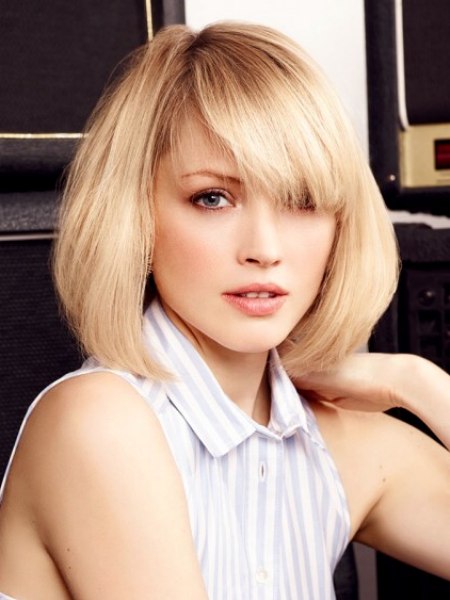 Keep it simple and posh. Go with a classic and you'll always be on the safe side of chic. The time proven elegance of the bob is still a sign of sophistication and today there are many styling versions to chose from.

This cute hairdo comes with a fringe that is split on the side as well as much volume all through the curved inward hair. It is just a little longer than the chin line and gives her face a very pretty, flawless frame. Her beach blonde hair color takes it all to a more playful and light hearted side besides extremely flattering her skin tone.


Wild and Wavy Bob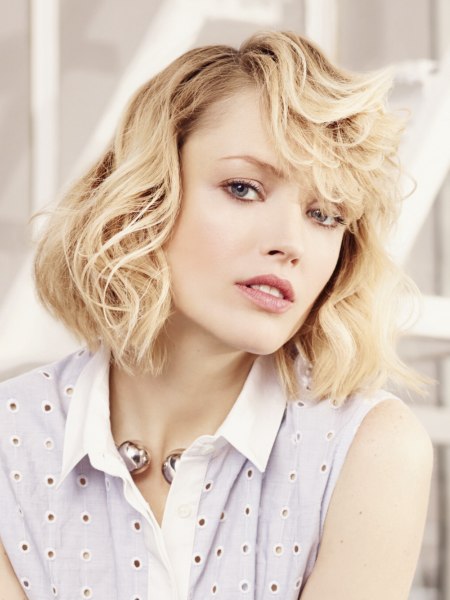 Put some movement in your bob and your look will go from classic to wild. A fun variation to the proper and prim classic styling, this wavy look is a hot topic on the IT list. This styling drops all formality and displays attractive soft movement and an especially turbulent fringe.

The side part gives it a stylish asymmetry and allows the bangs to be flipped up and over to one side. The curls in the bangs are smaller and more plentiful than in the rest of the hair. Darker roots and fine highlights bring much life to the beige blonde hair. The beachy feel can be accentuated by separating and texturizing some strands, while slightly ruffling the hair.


Curved in Bob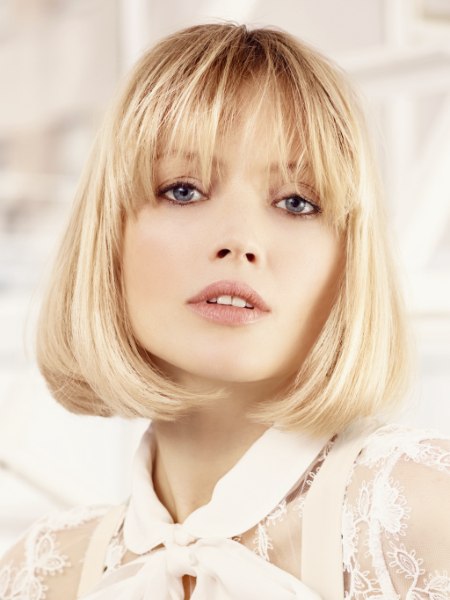 Subtle texture gives lightness to the structured bob with its even and symmetrical shape. Long bangs are styled softly with separated strands, highlights and lowlights.

The sides are compact and heavily curved in at the bottom, which gives the hairstyle its gorgeous rounded and harmonious shape. This is a great style for the office or a date, when you want to show your most organized, pretty and proper side.


Elegant Side Braid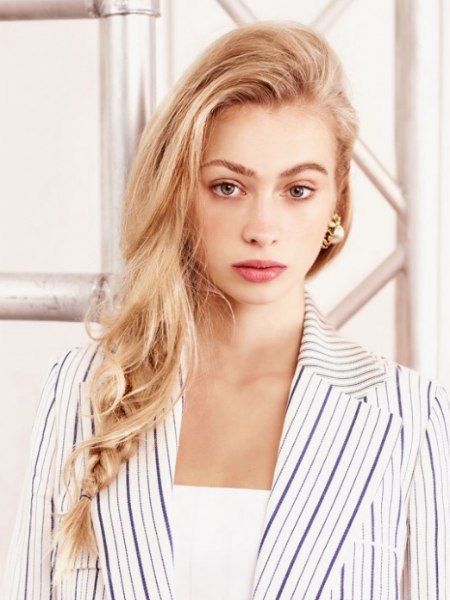 Casual elegance par excellence. Classy and playful with just enough messy elements to keep it contemporary and fun. Her hair was brought over to one side in a soft sweep that emphasizes the high side part with its direction of movement.



The opposite side softly plunges down in low curves that follow the shape of her face and at the lower end twirl around a long braid. The simple elastic in a neutral color is a neat choice and does not compete with the classy earring.


Gilded Waves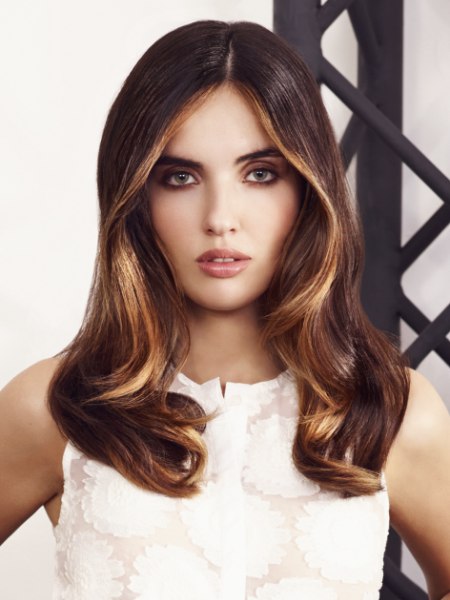 The highlights are only applied in front for an effect that illuminates her face with pure gold. The effect is so intense because of the concentration in just one area and the strong contrast to the dark brown base color. The gilded strands softly wave and curl their precious path along the sides of her face and reach way below her shoulders.

The smooth styling and a part that is just a finger's width off center, add to the character of luxury in this hairstyle. With an earth tone eye shadow and bold brows it is a picture of glamorous balance. Do you like your hair a bit wilder? This cut lends itself perfectly for many stylings. Check out the next IT Look for a great idea.


Wet Look for Long Hair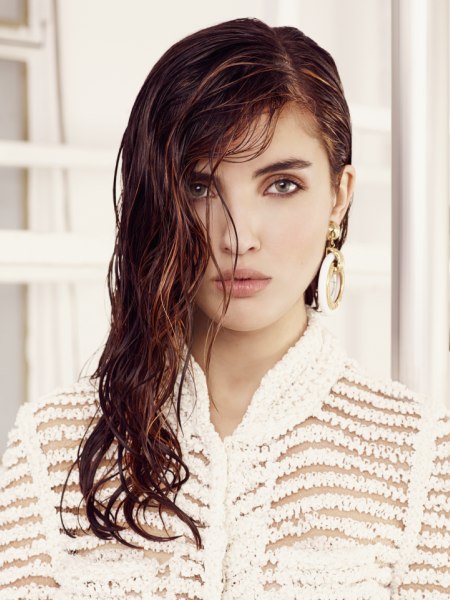 With this wet look and her hair styled to one side she looks like she just came out of the shower looking fabulous. There are great gels that will make this happen. Choose one that is made for curls as it will enhance the waves and curls and not weigh them down.

The hair was parted on the side and then the smaller section was brought around the back to create this asymmetrical styling. Perfect to show of your fancy earrings!


Tapered Long Hair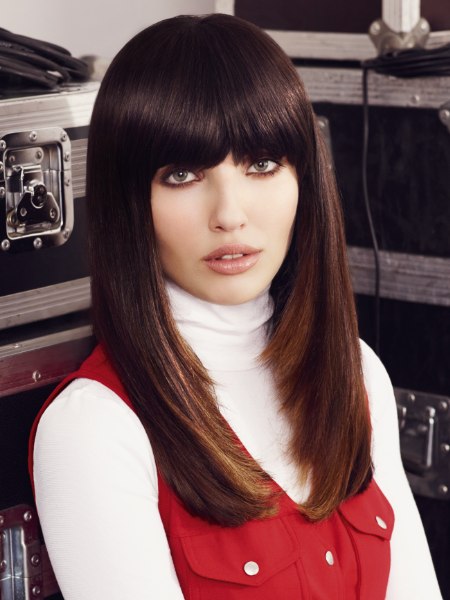 Go vintage chic with tapered sides on a long cut. This 70s inspired look uses gentle highlights that transition from the tapered edges into the dark brown hair to accentuate this unique cut. Her full fringe has a tiny gap and overlapping of two sections right in the center, bringing much attention to her perfectly outlined eyes.

The mysterious and high fashion flair of this hairstyle is intoxicating with its mix of simplicity and extremely refined details. It looks great with a classic turtleneck!


Waves and a Bow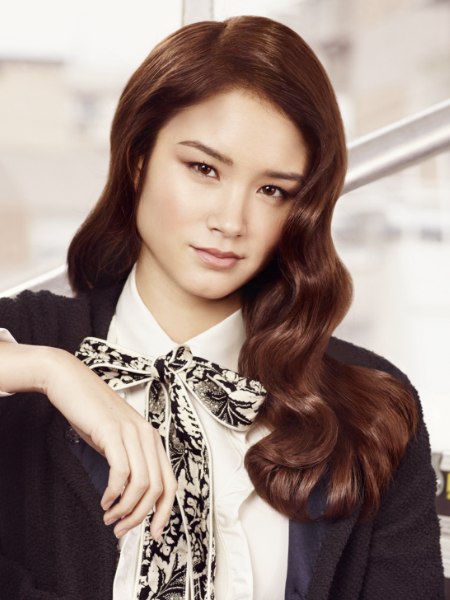 Slick and wavy and styled to impress. This is glamour made in Hollywood is now ready for the office stage. Impeccable from the chic side part to the wonderful curled edges, this look oozes sophistication, but does not lack in the sexy department either.

The silky hair is well brushed and curled with a hot iron, even when there is a natural wave. Her smooth chocolate brown has a deep luster which accentuates every little turn of every wave.

The tied bow around her neck is a very simple and stylish accessory that can breath life in traditional outfits and gives you a good reason to wear blouses with collars.


Not So Casual Ponytail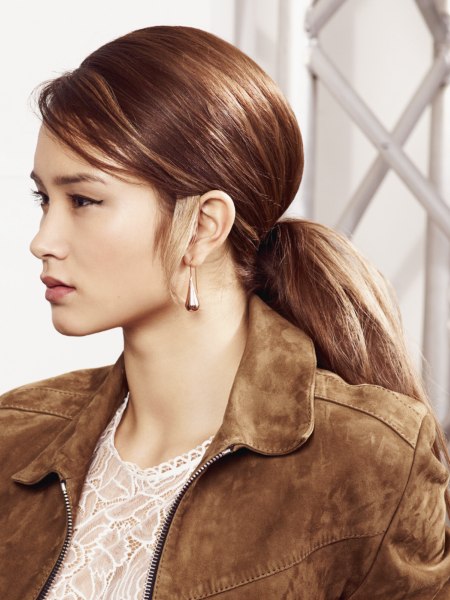 This ponytail turns elegant with several amazing details that were worked into the style. The first eye catcher is the generous volume on the back of her head and in the ponytail itself. A little teasing with a fine comb takes care of that.

Then there is the little flat and waved accent strand right in front of her ears, dyed in a warm blonde color that is the icing on the cake. More highlights in the sides and in the tail illuminate and visually shape this stunning look as well.

Hair: L'Oréal