Bi-Couture by Sassoon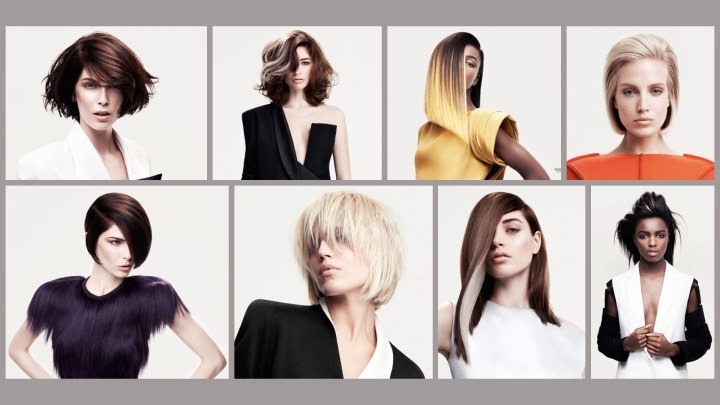 For decades Sassoon has followed and refined a distinct philosophy for hair fashion. The designs are tailored to each individual and cut with geometric precision focusing on the natural growth direction of the hair, its texture and how it best suits each person's features.

High couture of hair today brings together strong visions of bold design, with an unsurpassed wearablitity. The placement of each color effect as well as graduated sections, layers and contours are matched to individual personalities and lifestyles.



Most of all, Sassoon hairstyles are made to last and still look fabulous after washing them.


Bob with a Radical Fringe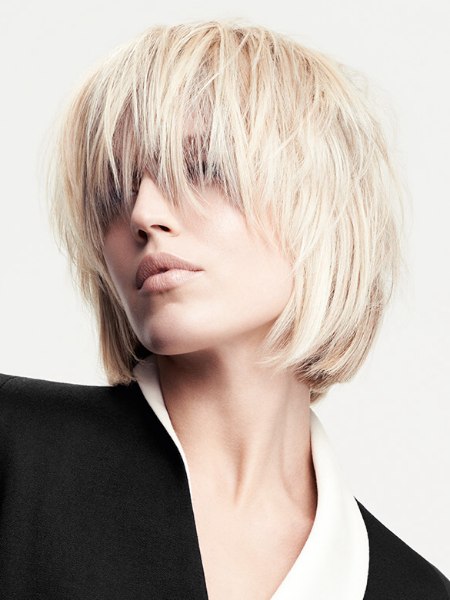 This bob shows how contemporary design and classic shapes can harmonize. To update a traditional bob the talented Sassoon team added an extra long fringe, which covers the eyes in a light and gently mussed texture. It is as thin as a veil to keep a certain amount of transparency, but at the same time it has a delightful messy movement and irregular texture.

The general outline of this sassy and elegant look is smooth and rounded in the edges. It is a high fashion hairstyle that goes with an elegant suit or with more casual looks. Her beige blonde hair color is perfectly adjusted to her skin tone and comes with the flair of summer and moonlight.


Sleek Combed Back Hair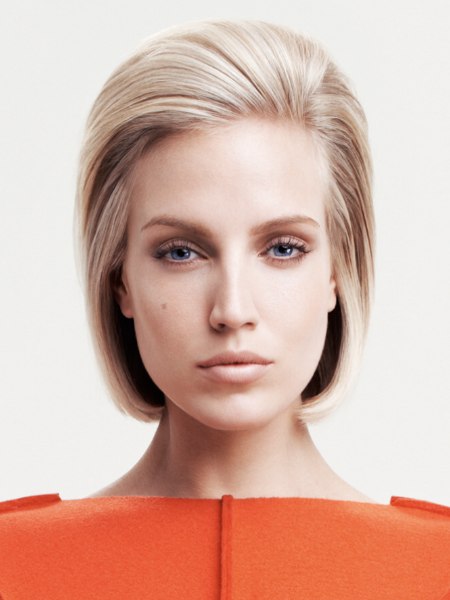 Even though the hair has a silky and sleek texture, much volume was preserved on top. This makes the sides and the face look even more slender. The combed back bob also has an updated 60s energy with all of the vintage lines, but modern details.

It is cut at about chin length and besides the gently curved graphic lines this hairstyle boasts color as refined as can be. Medium blonde is enhanced by subtle shadows and fine highlights. It is parted on the side without any visible line.


Black and Gold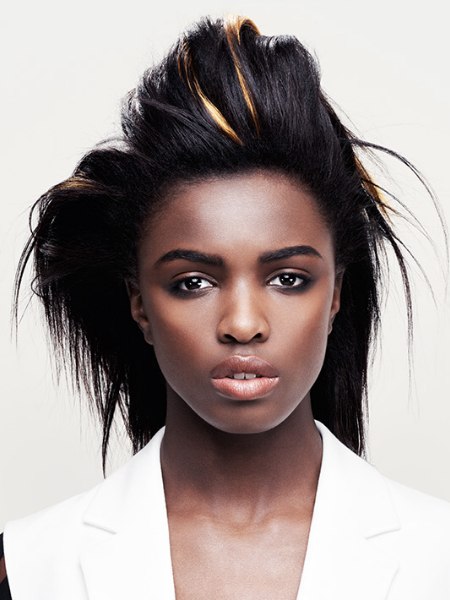 Her straightened hair is combed out of her face with determination. It sweeps back in a voluminous wave before it fizzles out in long, sleek and pointy, disconnected strands. The combination of density and linear accents gives it a powerful expression.

The volume is condensed on one side and on the top in a beautiful quiff construction. The smaller side is defined by a narrower vertical section and a few stylish strands styled outward. Her deep onyx hair color does not need much to be stunning, but the couple of bright golden strands surely add a modern and unconventional eye catcher to this dramatic hairstyle.


Hair with Glowing Transitions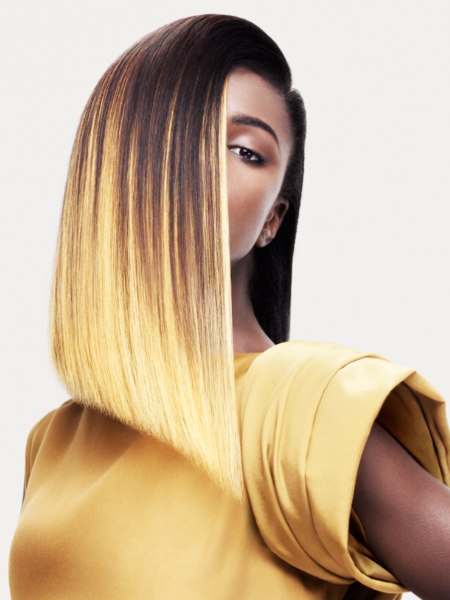 The simple cut with its straight lines and sleek styling is designed to be a canvas for the amazing hair coloring effects that look as if they were painted on. In a way they were, but it takes more than a brush and hair dye to create this amazing transition from a dark brown top all the way to the glistening gold of the tips.



The shadow effects have a trompe-l'oeil effect that suggest a stronger curve than there actually is in the hair. Her super sleek style is parted on the side and the solid darker color on the left creates a very modern graphic effect.


Sleek Beauty in Brown and Gray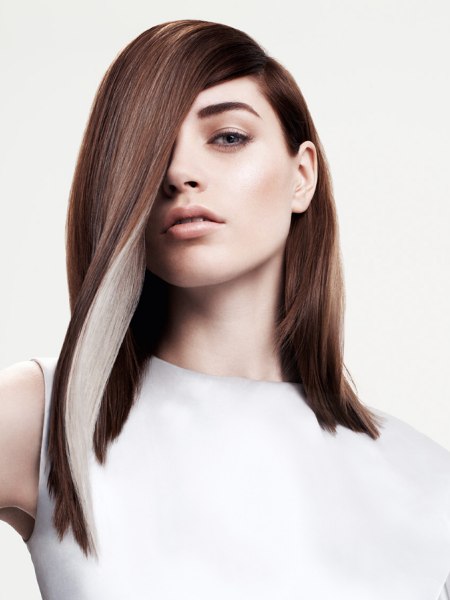 Color accents don't always have to be in bright or strong colors. A silvery gray is a great eye catcher with a cooling effect against the warm, medium brown main color of the hair. The styling of the long look is all about creating stylish and smooth lines with an ingenious asymmetry built in.

The gray eases out from underneath the long front section and then curves outward to make it more visible. A small strand on her forehead is tugged underneath the main flow. The overlap is small and subtle, but a great effect that is easy to do.


Waves with Contrast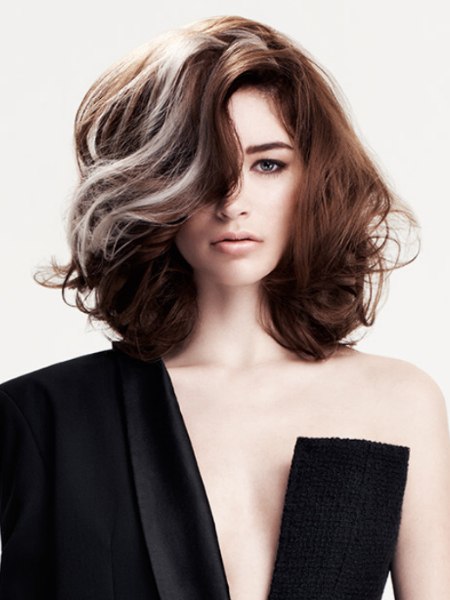 Voluptuous waves are a perfect counterpart to modern geometric wardrobe designs. Her medium long hair boasts as much volume as gravity allows surrounds her face with soft lines.

A long fringe drapes beautifully and covers one eye for an extra dose of mystery. The strands of gray on the warm brown base color are uniquely enchanting. This simple effect and the choice of contrasting hair colors takes a familiar look into new and exciting territory.


Short Hair with Volume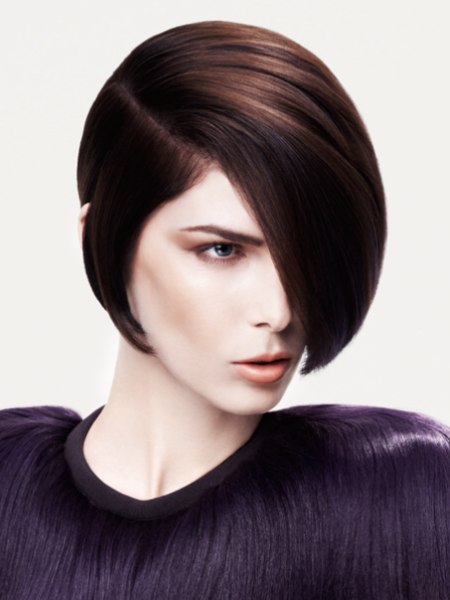 A typical Sassoon masterpiece that displays the refined art of cutting hair that has been honed to perfection by the stylists. Every single hair has its place and the design stuns with its modern and yet timeless composition. Among the amazing details of this short cut is a very low drawn side part.

It separates the petal shaped volume on the right from the small section, which allows the corner of her ear to peek through the sleek curve. Lines follow the shape of her head and face and with a gently highlighted dark brown color, which harmonizes with the color of her brows and make-up, she is set to turn heads wherever she shows up.


Short Trapeze Shaped Haircut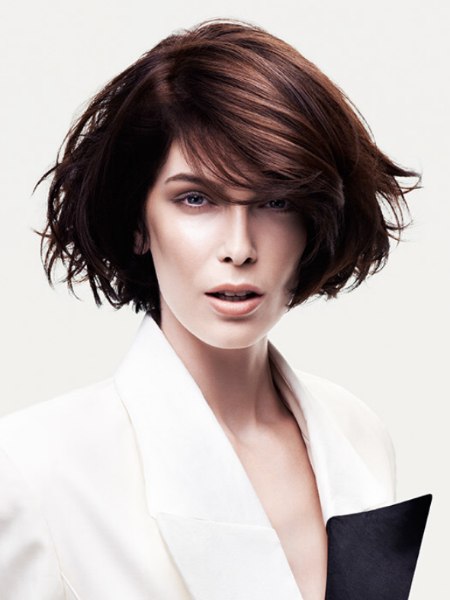 The short trapeze shaped haircut is created by adding steep graduation into the lower third of the cut so that the lower line runs from lip level to the lower neck. A side part and a long fringe in full swing make it elegant and oh so tempting.

With its dynamic movement and the disheveled texture this hairstyle is pure seduction. Very dark brown and medium brown give even more shape and dimension.

Hair: Sassoon