Studio 54 by Framesi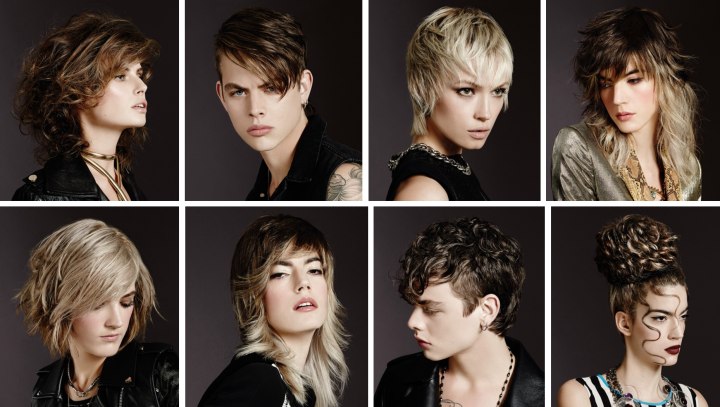 The legendary Studio 54 in New York was once the most famous and talked about night club. Stories of the now mythical locale still fuel our imagination and no other establishment was able to gain worldwide attention that even comes close to it.

Therefor it is no wonder that the Italian house of glamorous hair, Framesi, is picking up inspiration for their spring and summer collection from the daring and over the top energy of this celebrity hotspot of the 70s and 80s. Daring textures, two tone colors, strong cuts and strong attitudes.



This collection comes in mostly cool colors of a muted blonde, and browns and features a strong rock, glam and glitter, black leather and studs.


Pearly Blonde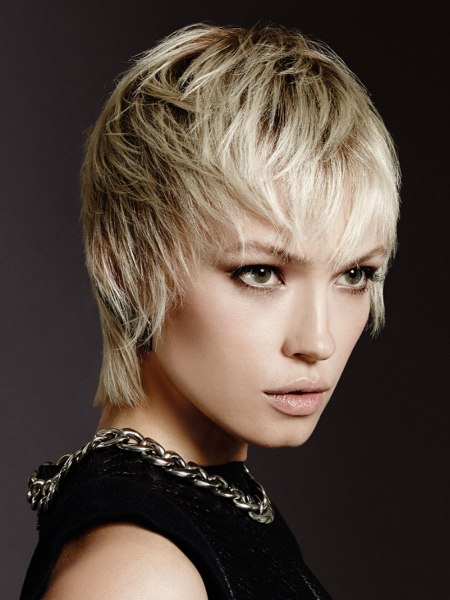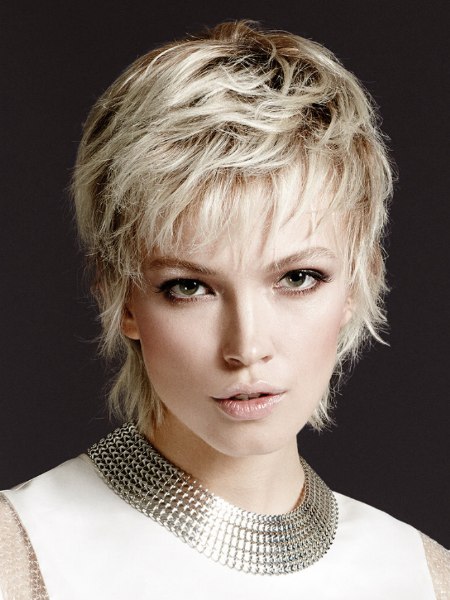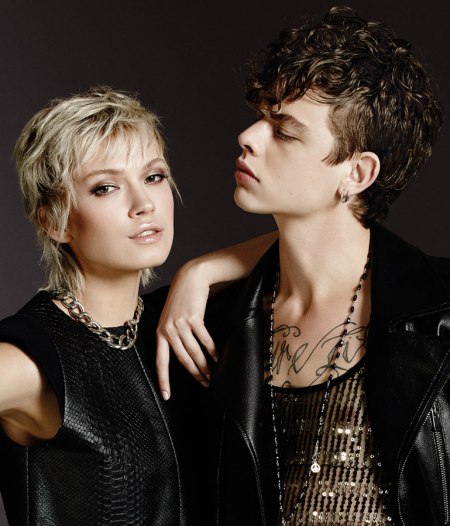 Short blonde hair and a disco ball are made for each other. The pearlescent blonde is highly reflective and cut into a ravishing, textured short hairstyle. The roots are a few steps darker than the main body of hair. This makes the blonde color look more natural and the contrast actually increases the blinded by beauty effect of the very light tips.

With a little texture crème it is an easy task to style the hair to fall forward and surround the face with wispy tips. Finish the look with a good hairspray.


Ruffled Bob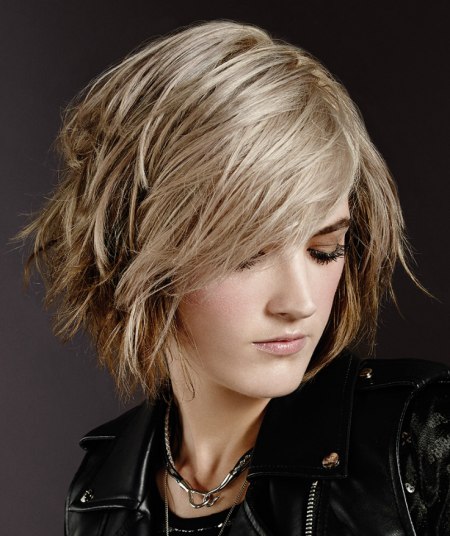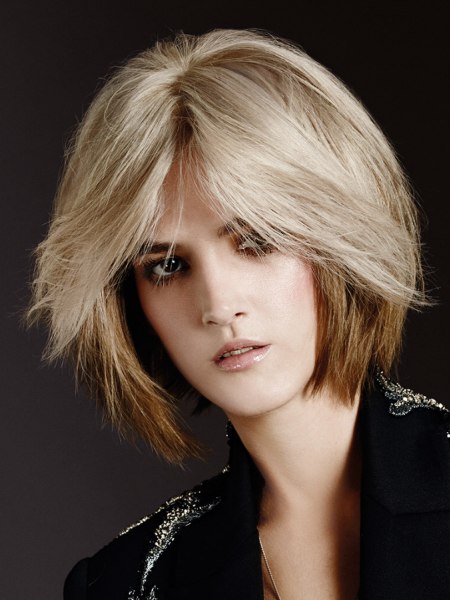 Even with all the layers, the shape still is a bob and has a chic A-line with shorter hair in the back and a gradual increase in length towards the front. The effect is enhanced by the forward plunging angle of the layers. Her hair color is a muted and cool blonde with darker effects on the inside.

Texturing crème, a strong mousse and a hairspray finish after ruffling the entire style with the hands is all that is needed to look this wildly stylish and ready for a long night of dance and shenanigans.


Leather and Curls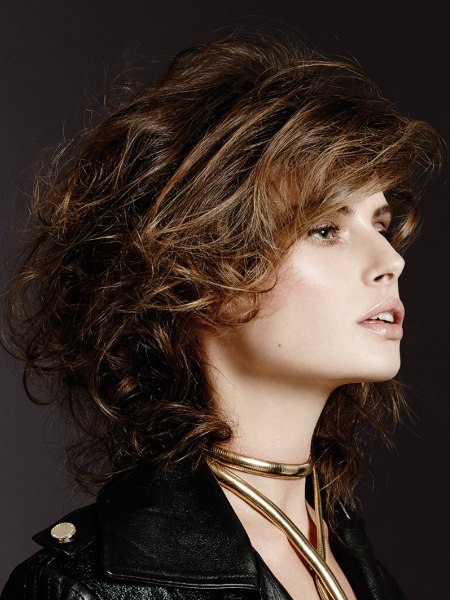 Leather jackets and wild hair are made for each other. Transform yourself with a bold rock star look and put all of your attitude into it. Layered hair with a natural curl is the base. The hair around the neck has a more curly texture and is partially covered by the sleeker, beautiful disheveling on top.

Use a curl enhancing product to give extra boost. Just massage it into the hair, scrunch the hair with the whole hand and separate the curls with the fingers. The hair color uses lighter shades in front and shadows to give the impression of thickness, opulence and intense dimension.


Smooth Two Tone Look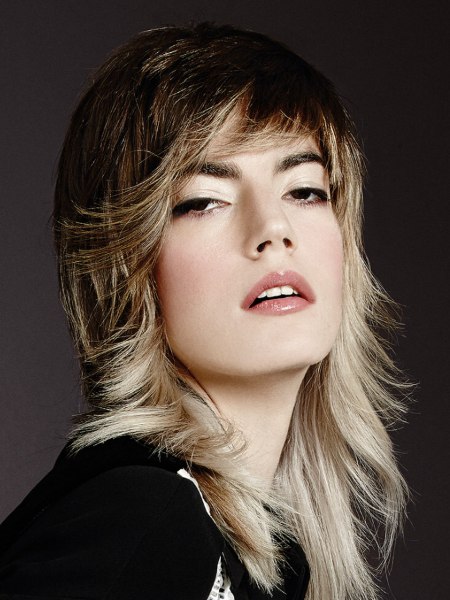 Feathery edges and light under dark color give this hairstyle its inescapable allure. Using a light blonde underneath the darker, brown hair and reversing the natural color pattern is beyond stunning and gives her a modern rock'n roll expression.



This look is more about shape and colors than about volume and the main body is sleek and styled close to her head. Smoothing serum keeps the lengths neat and sleek, a hot styling lotion protects the hair from the damaging effects a curling iron can have. You'll need one of those to get those gorgeous wispy, feathered ends along the sides.


Long Layers in Two Colors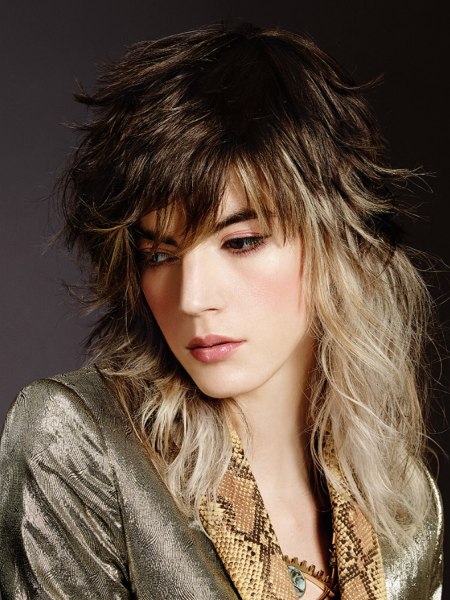 This long hair wants to move. Reminiscent of 80s big hair and glitter sprinkled rock ballad bands, these layers deliver a great vintage experience, but with the fine texture and refined coloring technique, it is all 21st century (despite the faux snake leather collar on her silver lamé jacket).

The lower part is a pearlescent light blonde. A natural brown covers the top, including the bangs, before it transitions into the lighter part with long, overlapping strands. The hair will change its pattern with every step and move she makes, always sure to deliver a fascinating image. This look is styled loose and open for volume. Use all the tricks in the book from blow drying over the head to a root lifting mousse and finger styling.


Intricate Sculpture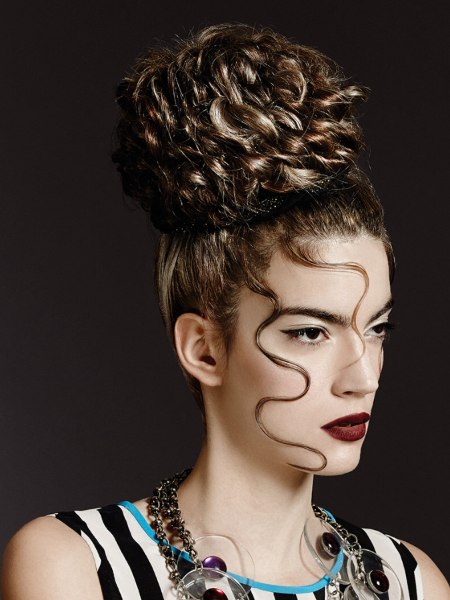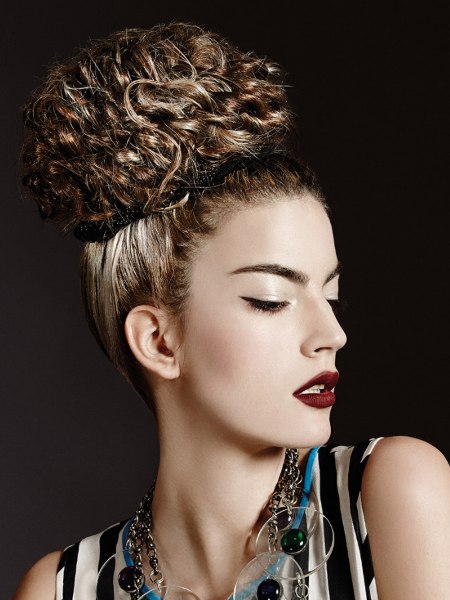 There are updos and there are true sculptures made of hair. You won't be able to create this one on your own as the hair is prepared strand by strand and then woven together to this large pouf that sits just a wee bit off center on top of her head.

Two tone coloring in light blonde, medium and dark brown adds to the drama. Wear it with wiggly strands pasted right onto the face or keep all of the hair up.


Wet Waves for Men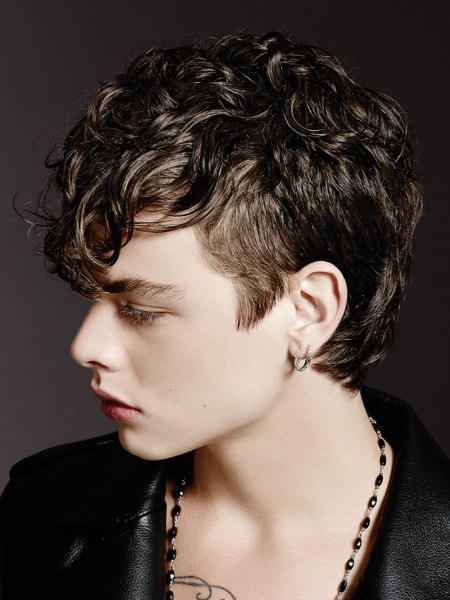 Wet looks are a great way to spruce up your do. It is easy too. Of course you need a great cut to begin with and this Framesi creation features neat short sides with a neck hugging length in the back and enough length on top to generate volume and a ton of styling options.

His natural waves are barely tamed with a good amount of wet gel. Use the flexible, soft styling tip to avoid stiff hair that does not move anymore.


Rocking Comb Over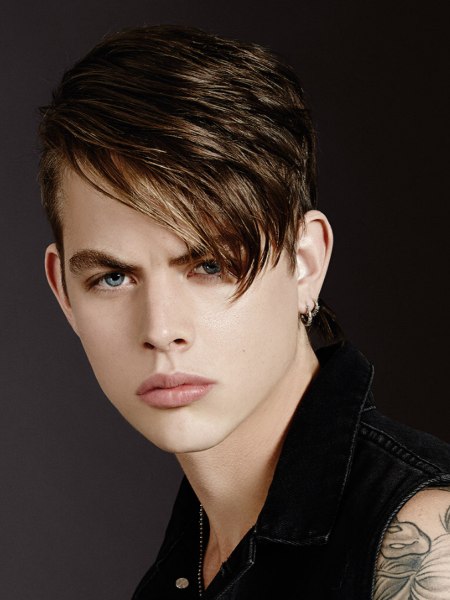 This sleek retro style contributes to his bad boy image. The generous length on top gives him enough hair to play with. Combed over to one side and held on place with a flexible, but strong hold gel it forms a plunging line from the back to the curved in the tip of the diagonal fringe. Slick and shiny and with a rebellious attitude, he flaunts his sense of style and hearts will throb.

Hair: Framesi