Hairstyles 14 by Cebado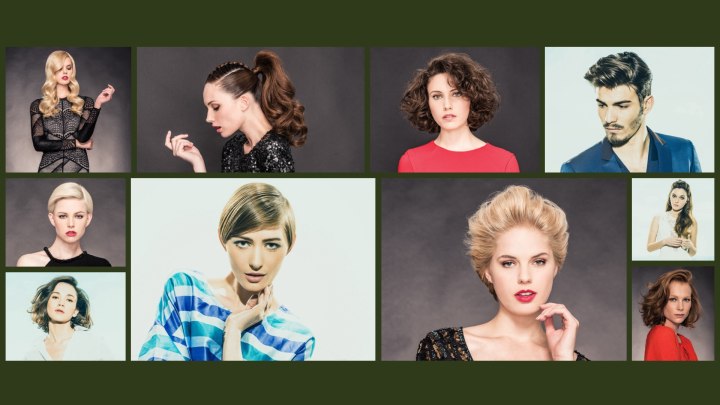 Long, short, curly, pixie, bob, quiff or layers? Find your favorite style in Cebado's huge collection of fashion looks that covers all the bases. Styles for men and women are haute coiffure made wearable with beautiful cuts and stunning stylings.


Out of the Face Style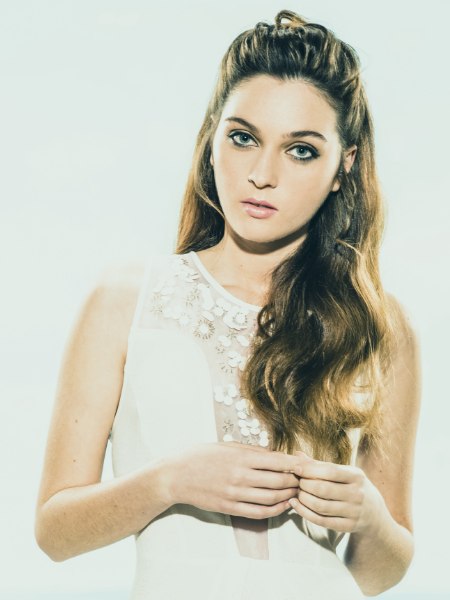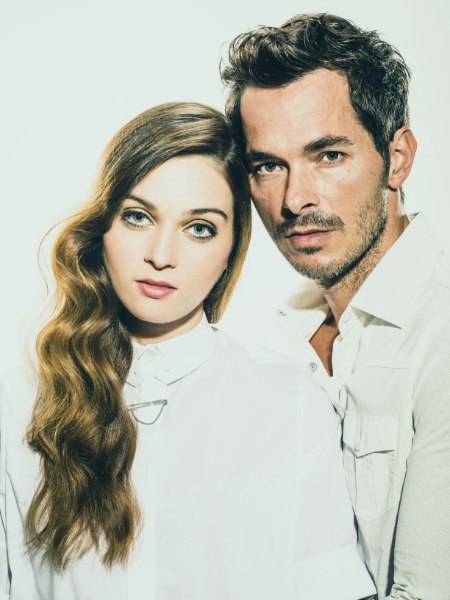 Long hairstyles like this will never loose their popularity as they are beautiful and practical as well.. Keep the hair out of your face by brushing it back and attaching it either right on the crown or further back. Barrettes, hair elastics or little clasps all do a great job.



In this picture the hair has a great natural wave, which also helps with the volume above her forehead. For sleeker hair it is a good idea to gently tease the roots behind the hairline to get this kind of lift. Tip: Don't be too strict and just move the hair backwards in a very loose way, with some random strands on the sides and a slightly ruffled texture.


Light Summer Style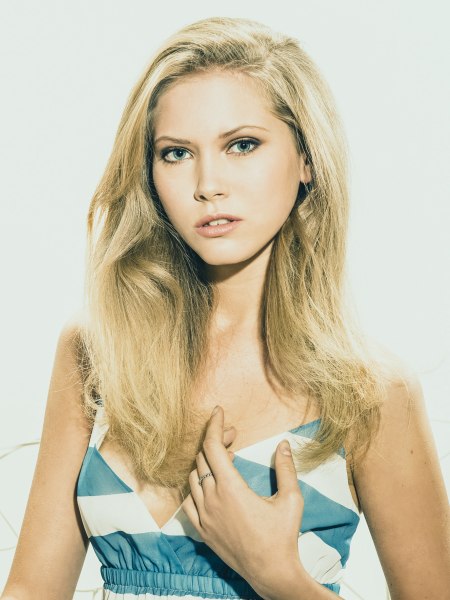 Sweet, easy going and pretty with its natural styling, long hair as it was meant to be. Her long, blonde mane is parted on the side and has a few long layers cut in to facilitate the flow and add more movement and volume to the hair. She brushed it all out of her face and made sure that the natural wave comes out with its soft curves.

It only takes a little bit of styling product to create this look. Try some mousse for the body and perhaps a dollop of modeling creme to style the fringe and to accentuate some tips and strands. Her color is a sunny beige blonde which some darker shades on the inside and along the roots.


Leisurely Waves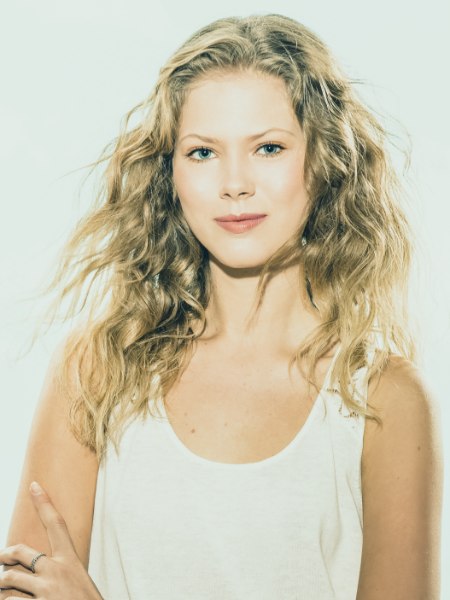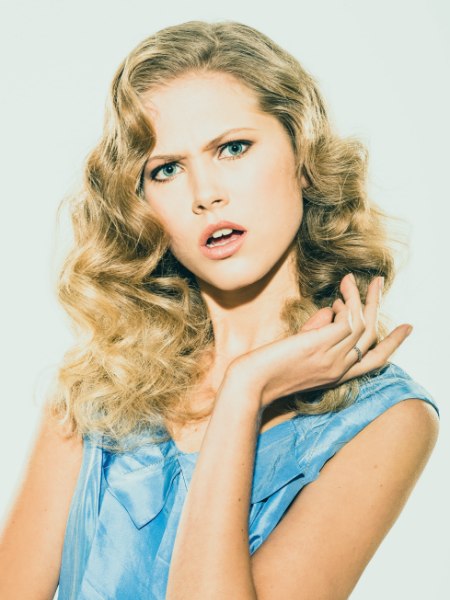 Embrace the summer with its sunshine, walks by the water, playtime on the beach and all else that comes with it. The warm season asks for hairstyles that can keep up with your active lifestyle. Long hair needs some extra protection from the elements, but it can be worn in so many ways, up or down, wavy or sleek, that it is the most adaptable to all of your activities and shenanigans.

In this example her hair has a natural wave, which is supported by a curl enhancing mousse or gel. It is parted just a pinch off the center and the hair falls in long and disheveled layers to both sides.


Medium Long Wet Look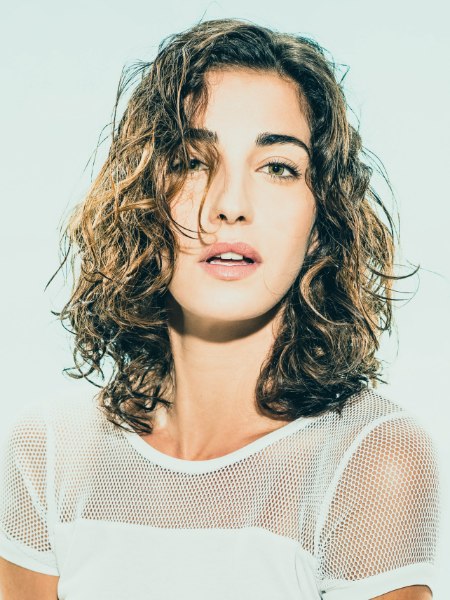 Curls look great when they are wet. This does not mean that you have to stick your head under water every hour to get the coveted beachy look. There are a range of products available at salons and drugstores that will give you this cool texture and make it last.

Her side parted, layered look has been thoroughly disheveled and with a curl enhancing gel and just some finger tousling it will look like she just stepped out of the pool.


Bob with Movement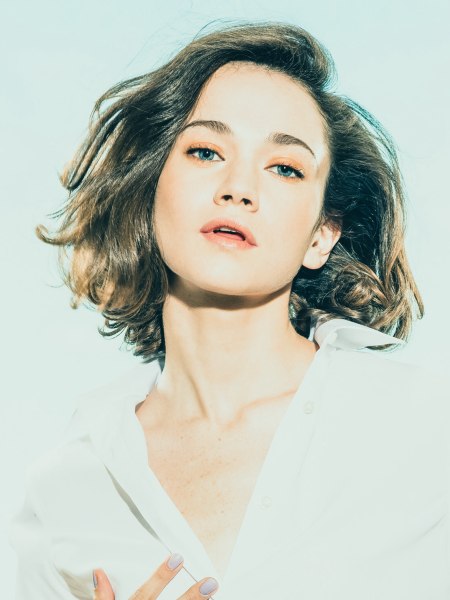 A free spirited bob with a two tone coloring and much movement will put you in a good mood from the first cut on. The hair is light and fluffy, bounces with every step and it is styled out of the face for a fresh look.

The young spirit and effortless styling of this timeless look are elegant and sporty at the same time. A perfect look for active women with high fashion standards.


Layered Curls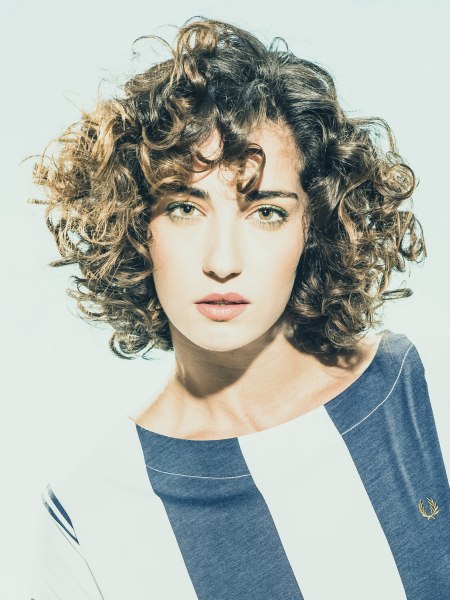 A beautiful look with the most luscious curls and cut at medium length. The effect of the layers is very obvious in the shape of this cut, which first expands to its widest point at about the level of her eyes. From there the silhouette narrows and has its smallest diameter at the base of her neck.

This diamond shape is very flattering and also sexy and stylish. The curls were air dried and pretty much left to themselves without the touch of a brush. Only use wide toothed combs and your fingers for curly styles like this.


Curly Bob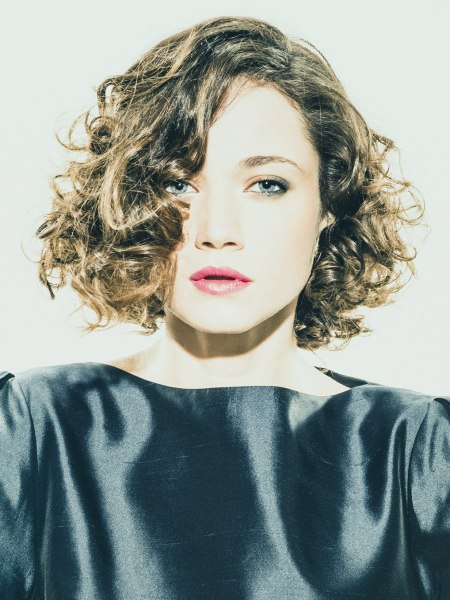 The shape of the one curl in her fringe that curves just the right way, in the right place to open the hair enough, so that her eye can peek through, is no coincidence. Even though this short curly bob has a casual styling with much tousled movement and wild, fresh curls, there is a design and a method to the beautiful styled / unstyled hairdo. Enhance body and bounce with a curl strengthening mousse.


Sleek Vintage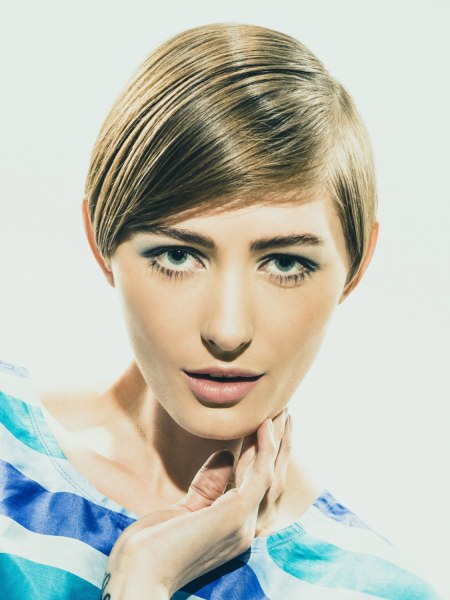 Who says pomade is for boys only? This sleek short hairstyle has a simple beauty and a wonderful vintage vibe. With the right product you can even turn a "bad hair" day into something gorgeous.

Use gel, wax or the greasier pomade types to make your hair pliable and sticky enough to hold together and to display the traces of the fine comb, which was used to get it this close to the scalp. A low side part and a little curve in the diagonal bangs add interest.


Curly Front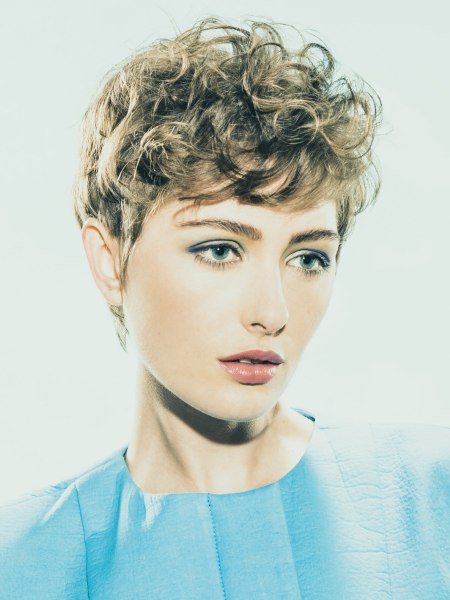 Sleek in the back and sweet curls all about the forehead and crown make it easy to swing retro. Her sleek hair is colored in dark and lighter tones of blonde and with the help of some rollers or a very hot curling iron, the bounce is on all over the top of her head.

Sides fit neatly and have a clean outline with tiny sideburns. The back is graduated for a snug fit. Only use the pointy end of a styling comb or the fingers for the finishing touches to this sweet styling.


Pixie with Blue


Even without pomade or curls this short haircut is most adorable. Even this tomboyish styling comes with a little extra and the special effect is a wide streak of color running diagonally through the fringe.



The deep ocean teal is a beautiful cool contrast to the warm, dark blonde. Her hair is styled towards the front with a sideways twist in the bangs and just a tiny little wisp in the textured tips.


Hair and Beard Match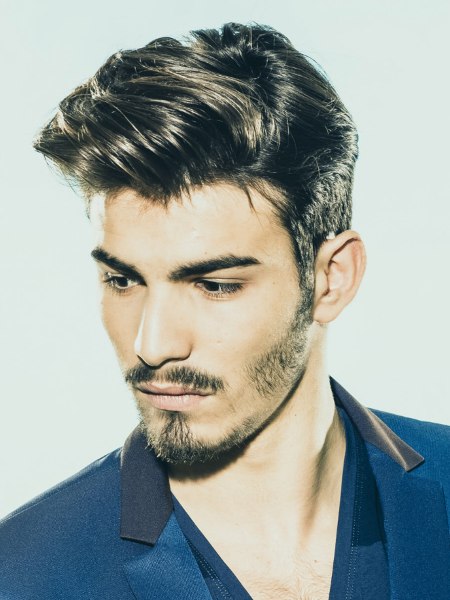 His hair and his beard speak the same language. Both are stylish, well groomed and have a distinct edge, just on the fine line between chic and extravagant. His hairstyle has a basic shape steeped in tradition with short sides, a short back and the longer top hair.

The latter was styled with the strongest lift and volume to create a high crown with a smooth, soft and sexy quiff in front. When it comes to the beard creativity flows freely with disconnected sections on the sides, a very movie star mustache and the pirate shape of the goatee.


Curls and Clip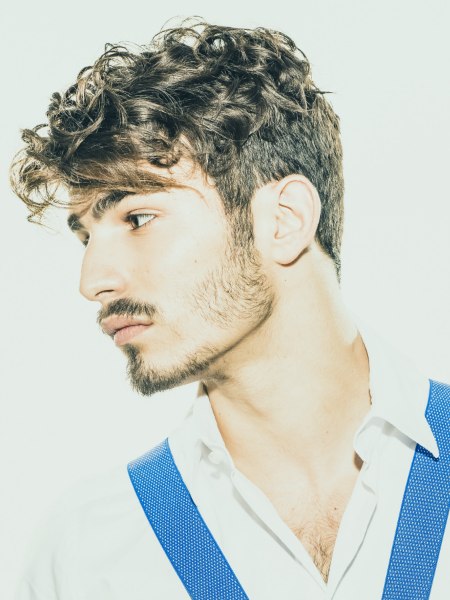 The super short clipped sides and back are topped by a thick bundle of the most delightful curls. Each one of them is well shaped and well defined with the amount of tousling not exceeding a natural fall after a quick ruffle with the hands. The bangs feature a little extra length and a couple of straighter strands that give it direction and more punch in its shape.

The romantic expression of the hair is only rivaled by the heart throb type of beard he his wearing. Cleverly disconnected patches with sideburns, goatee and sexy mustache never fail in their bad boy way of attraction.


Rugged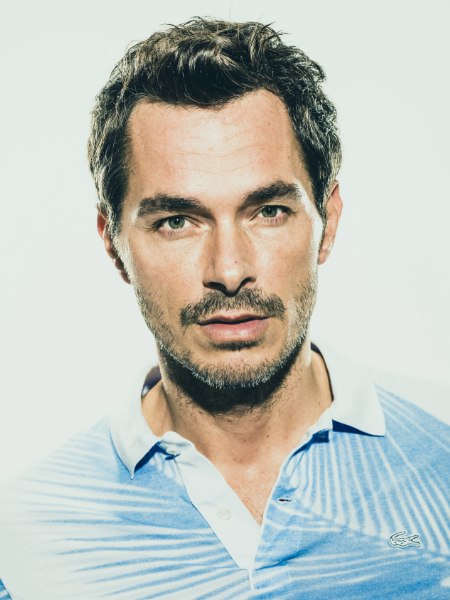 Where is the next campfire? No matter if he just came down the mountain, out of the forrest or from the office, his look expresses a rugged masculinity. The secret is in the combination of hairstyle and facial hair. Both well groomed but a touch longer than what would be considered traditional or conventional.

His hair is long enough for the natural curl to come out again and giving a handsome volume and fullness to his dark brown hair. The beard is a few millimeters long and pleasantly groomed along its edges. A little hair is even left on this throat, each follicle speaking of testosterone and adventure.


Sleek Blonde Day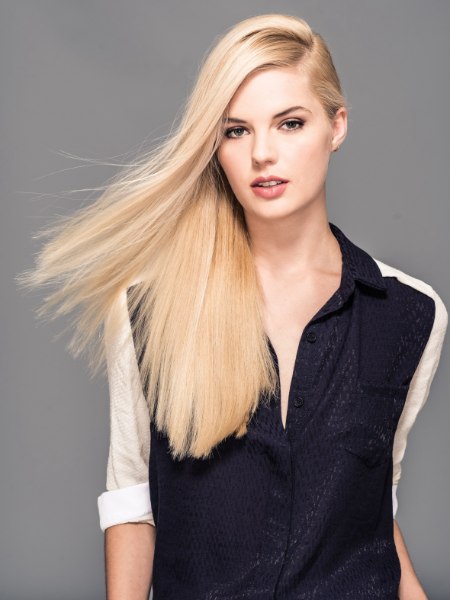 The remarkable part of her long and gorgeous hairstyle is not the seductive blonde hair color or the silky smooth length of the hair. Not even the low side part and very artistic blow of wind that makes her hair take off so stylishly.

It is the shape and texture of the cutting line that sets this look apart. It is blunt and textured to the point of jagged, while following a deep curve. For some very glamorous stylings of this pretty cut, keep clicking and check out the next hairstyles.


Hollywood Waves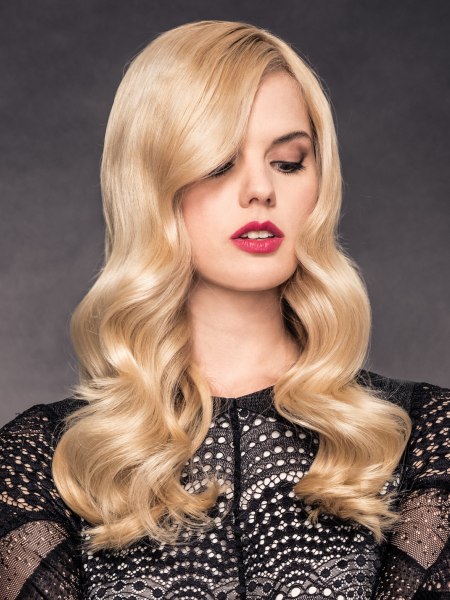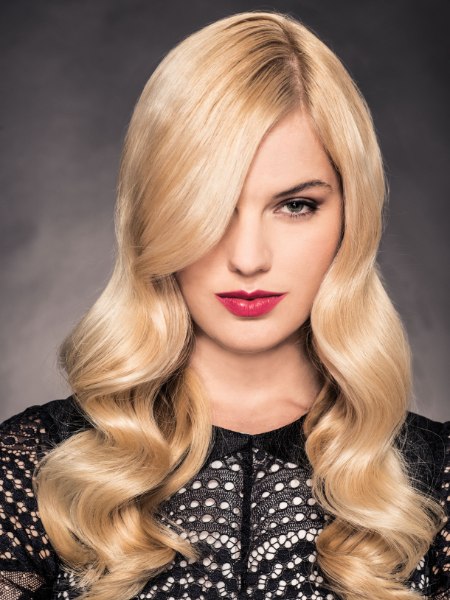 You don't need to be in a movie to be a star. Create your own stage and show your most glamorous self with hair that is made in diva heaven. The long, sleek and super blonde hair from before has undergone a dramatic make-over with the addition of large even and balanced waves.

This hairstyle looks great with vintage dresses and a seriously bright lipstick. And don't forget those stilettos! Her hair is parted on the side but the part was drawn diagonally from the center so that the amount of hair on both sides is almost the same. A clever trick that is worth being remembered. See another great version of this look next ...


Wavy Ponytail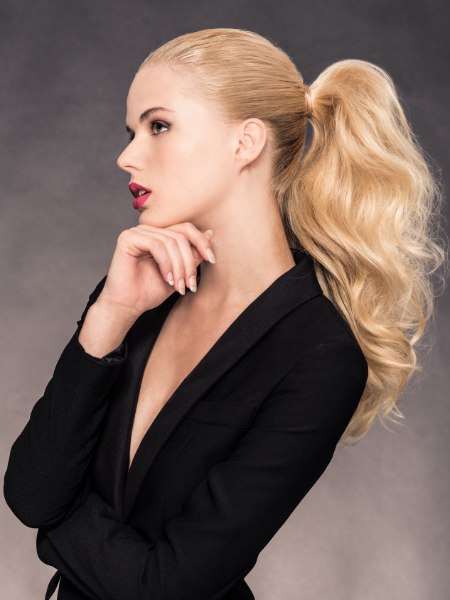 Power and play all in one hairstyle. From the strict front to the frolicking long and wavy ponytail, this hairstyle covers all bases and wins in the department of style. It just looks great no matter what you wear.

The front hair was brought back tightly around the head and bound to a high ponytail first with an elastic and then with a strand of own hair around the band to cover it up. Simple but very elegant. The length was lightly teased to get the best volume possible. Individual tips can be accentuated with a hot iron.


Ponytail with a Surprise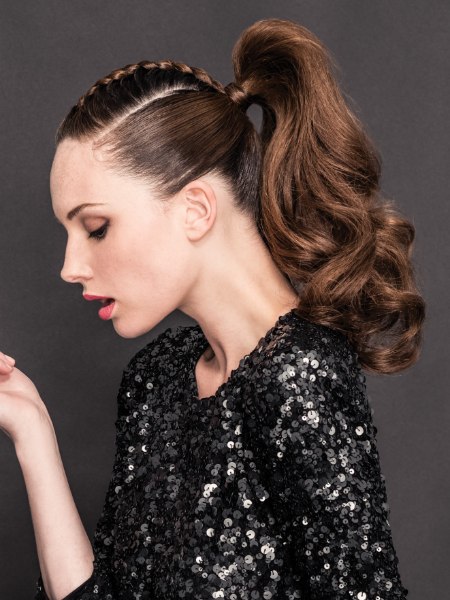 A bouncy, bushy ponytail wrapped at its base with a strand of own hair is already a dramatic statement of fashion, but with a little extra feature on the crown it turns into a dramatic expression of elevated hair art.

Two parts were drawn from the temples straight back and the section in between was braided in a French technique, step by step incorporation strand after strand until all of the hair along this center strip was used from the small braid in the middle. It runs right into the base of the ponytail and all of the remaining hair became a part of it.

The ponytail itself stands out elegantly with its lift, the gorgeous volume and the precious curls that are stronger towards the bottom.


Weightless Elegance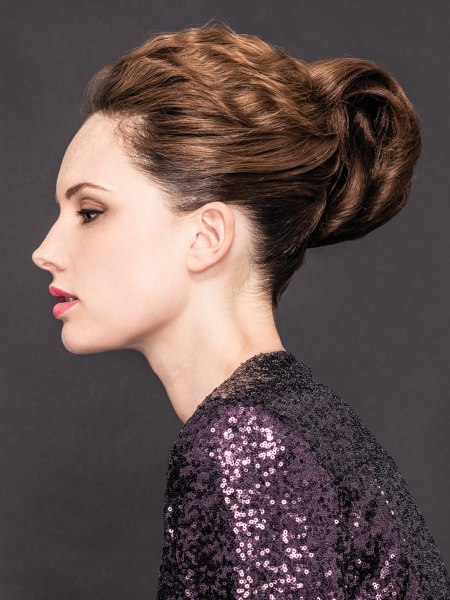 Some upstyles do not betray their secret by a mere look. The tools of creation, pins and clips are invisible and keep the mystery of the magically hovering bun alive. The wavy hair, created with a hot iron is all moved towards the back, where it is rolled to a large chignon and fastened invisibly. Use small pins in a color close to the hair color. Give extra hold with a good mist of hair spray.


Bouncing Bob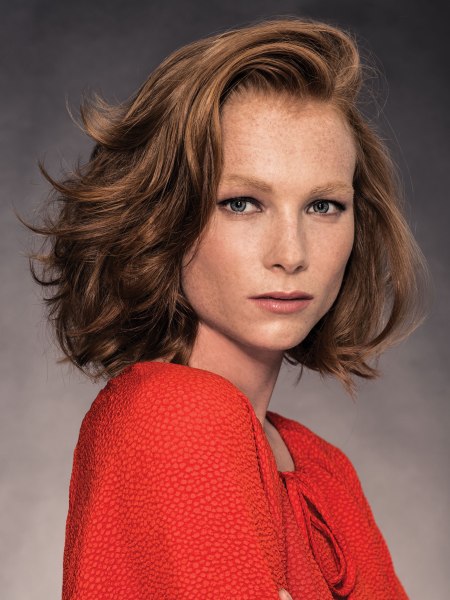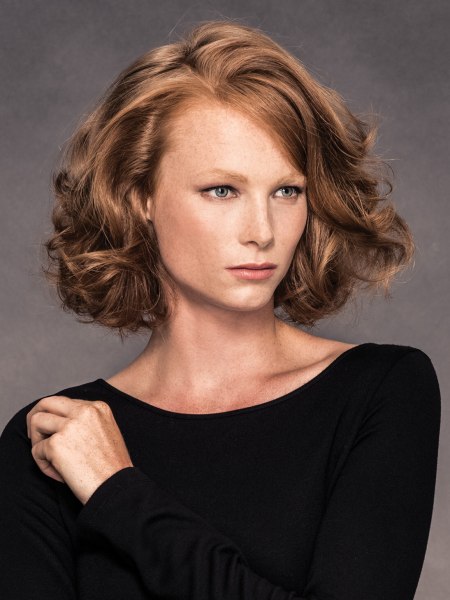 So much swing in the hair deserves a standing ovation. Her outrageously captivating hairstyle is a layered bob cut at almost shoulder length. The low side part enables an asymmetrical fringe to dramatically sweep across her forehead before it plunges down the thicker of the two sides.

All of the hair was dried over a thick round brush to enhance the light natural curve that was already in it and to create more of it so that the hair falls in generous curves and sways like a silk scarf in the springtime breeze.


Full Curl Bob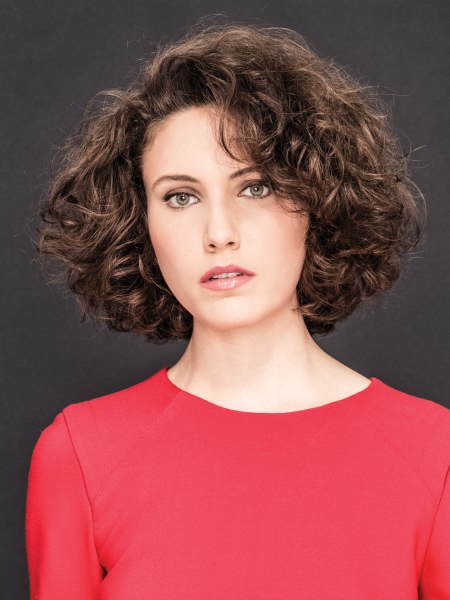 It is the hairstyle that never lets you down. It defies time, age and trends. The everlasting and always popular bob. This version comes with a beautiful abundance of curls and a side part for a stylish asymmetry. Some low layers keep the silhouette in a rounded trapeze shape.



The length is at half of the neck without touching the shoulders. A beautiful look that falls into the desired wash and go category of hairstyles. Feminine, super chic and so easy to wear.


Wavy Bob with a Sidepart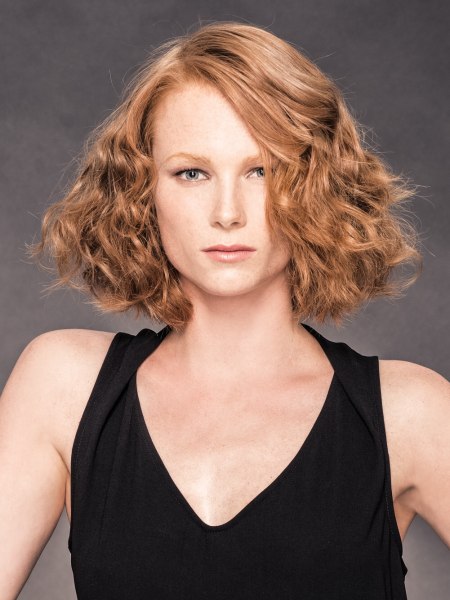 Super chic and a blast to style. This bob comes with enough waves to boost the volume for a stylish triangular shape. The upper third of the hair is still straight, which gives it a very natural and leisurely flair. It is parted off center and has a long fringe that so elegantly flows to one side.

All you need to get it in shape over and over again is a good curl enhancing mousse and a whiff of spray around the front to keep the hair out of the face. A perfect summer look that speaks of joyful times. Her color is a rich golden blonde with very subtle highlights for extra boost.


Pixie with Lifted Bangs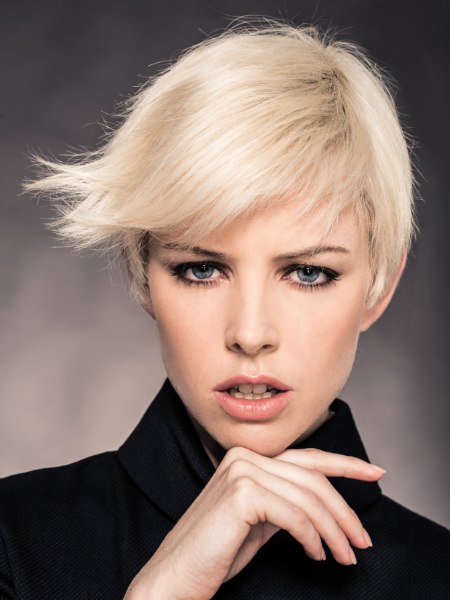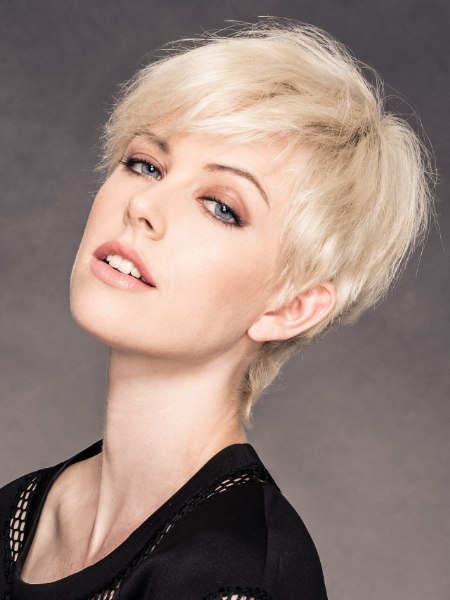 This very new wave type of cut has a hint of the 80s but is much more than just a retro inspired cut. It comes with numerous styling options from sleek and polished to sassy and wild. For this cool version the bangs are lifted with a little outward curve and hover weightlessly off to the side.

The back and sides are simple and sleek. Her brilliant hair color is a vanilla blonde that almost reaches into the platinum realm. Roots are a bit darker to keep it natural looking. Check out the next hairstyle for a styling alternative.


Feminine Pixie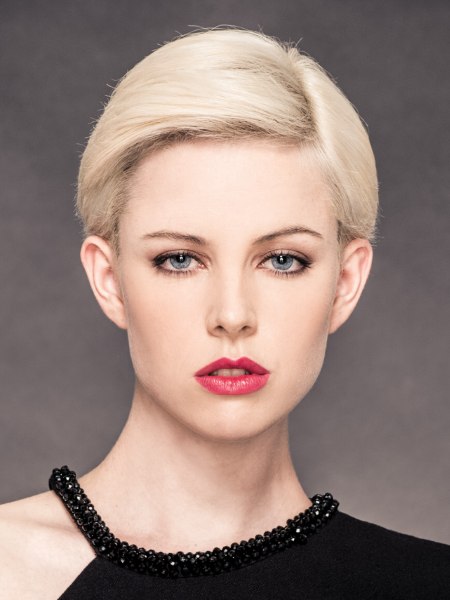 This sexy short hairdo was cut very similar to a masculine haircut, but it is soft and sexy with its light blonde color and the smooth styling. All lines are neat and the body features very fine layers that give it this pretty rounded shape and the soft edges.

It is all styled out of the face with the aid of a little bit of wax and an anti frizz product keeps the hair under control and shiny.


Festive Short Hair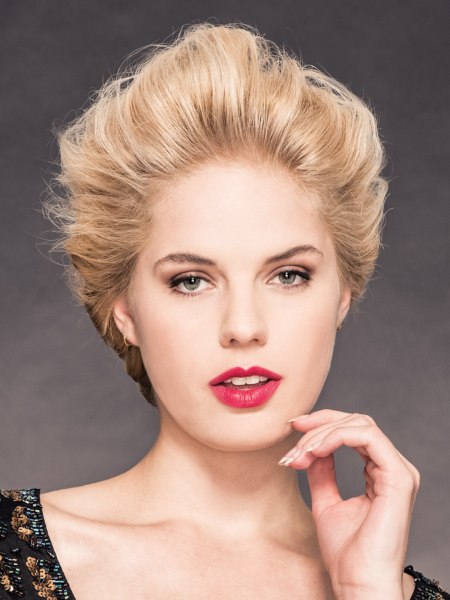 Did you know that short hair can be this glamorous? For a special evening turn your layered short cut into an all out of the face style of pure elegance. It almost looks like an upstyle from the front, but the back hair is also nicely layered and full of volume.

Use a round brush or a curling iron to give the hair along the sides, top and front this lovely curve and style is all to the back with enough hairspray to hold the hair up all night.


Tousled Top for Men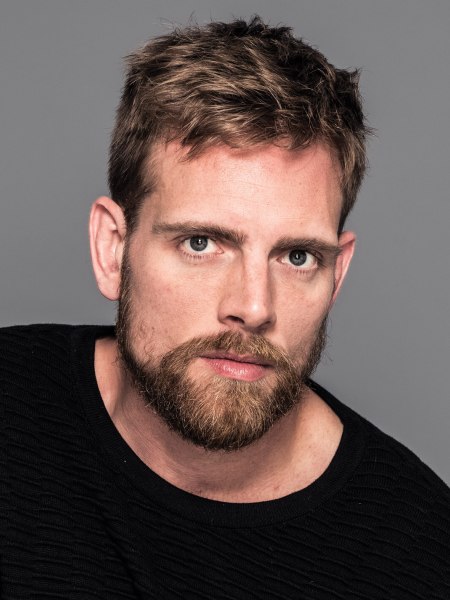 The biggest trend in men's hairstyles is a combination of well groomed beard with a chic cut for the hair. His sides are neatly clipped as is the back, but the length on top allows him to tousle the hair, slick it back or even spike it up.

Here is the charming tousled version with a few strands pulled into his forehead. The beard is short and has a neat outline with a short mustache and pronounced sideburns.

Hairstyles: Cebado