Collection 2 by HAIRLOUNGE-KL


The new trend hairstyles by Hairlounge-KL recycle some of the most popular design elements from the 80s and gave them a modern makeover. Long bangs, texture and movement are dominant in this line which focuses on short and medium looks, but there is a great styling idea for long hair included as well.

Go sassy this summer! Whether you like to wear your hair in your face or out, you'll be delighted about the easy wear and easy styling of these gems. Red, brown or beautiful shades of blonde, all colors are natural and enhanced just with some delicate sprinkles of illuminating highlights.


Neo-Goth Hairstyle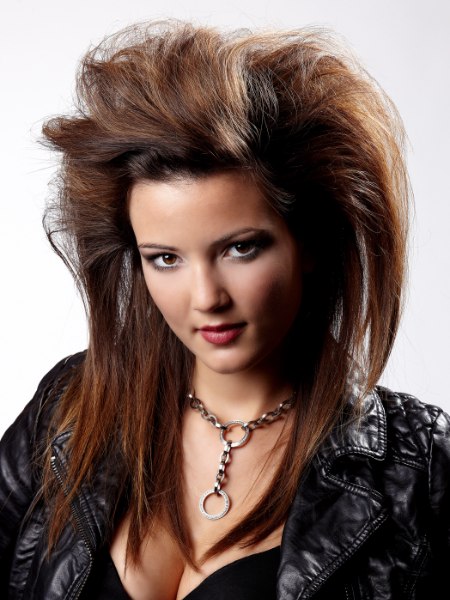 This bodacious neo-goth hairstyle features long layers, raised by a lot of teasing. You better have some good hairspray at hand to make this fab mane last. For the volume and texture all you need to do is take one wide strand at a time, beginning at the hairline in front and tease it from the back until the desired body is reached.

Only tease the hair for a couple of inches from the root. Once all is worked through, simply smooth it back while giving it direction. The lengths are sleek and most of the volume is on and around the upper side of her head.


Shoulder Length in Strawberry Blonde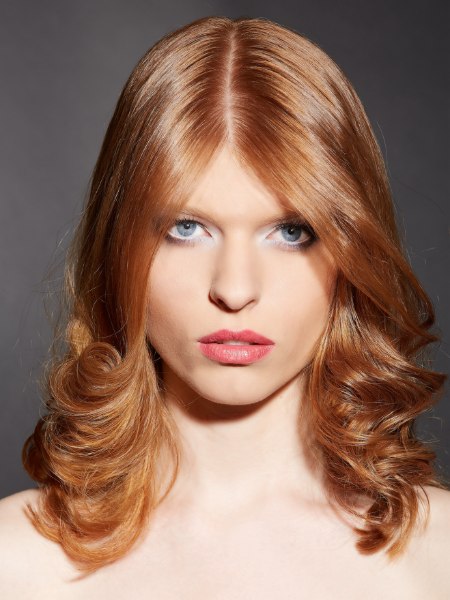 With a center part and soft curls along the sides you are ready for a sunny afternoon stroll through town. This simple, but very refined styling encapsulates the trend for feminine chic with soft shapes. It does not even take long to get ready.

A curling iron and a good heat styling product will get you all curly and pretty in no time. Her hair color is a gorgeous strawberry blonde with golden blonde highlights.


Neat Daytime Updo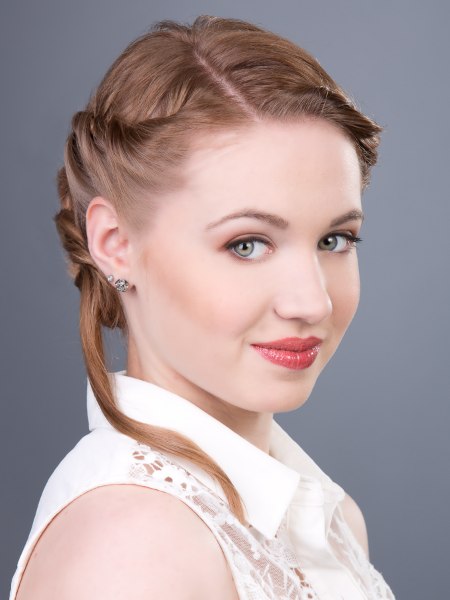 On a warm day there is nothing better than a sweet updo to keep all of your hair out of the face and especially away from your neck. Starting in the front the long hair is rolled and twisted, incorporating more and more strands as the rope of hair continues around the sides.

Once both sides are completed, the ends are tugged under in the nape, except for one long tendril, which playfully falls out on one side. This peasant style look will take two hands and some dexterity to create.


Plum Accent Strands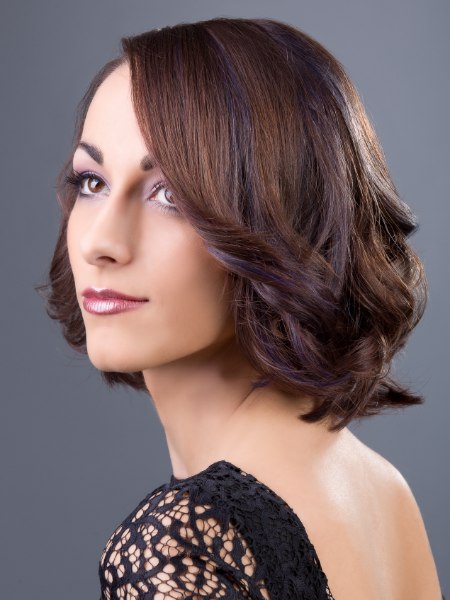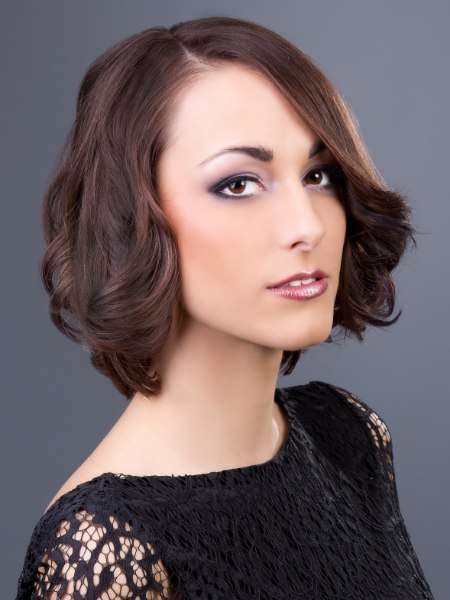 Use color accents to spice up your hair. The trend is for soft contrasts, blending and a mix of natural hair with a few sprinkles of tint. The purple strands work wonderfully with her brown base color and while they are intense, they do not overwhelm.

The cut is in the bob family with a tapered front and long layers at about the chin line and below. This allows the hair to move this softly. Weightless curls dance around the entire lower section.


Rocker Chick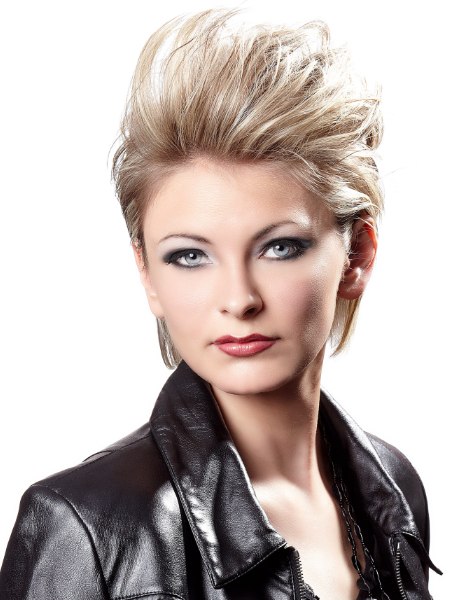 Looking for the right short hairstyle to go with your leather jacket? Here it is! Short layers that are as vivacious and as versatile as you are. There are many ways to wear this cut, but one of the all time favorites is to gently tease the hair and fold it back. Much volume on top and smoother sides give a 50s Rockabilly air to it.



Enjoy the easy styling and great convenience of a short cut while displaying a great sense of style. Her hair color is a warm and not brassy beige blonde with thin highlights. Held back by hairspray and tugged behind the ears it will accentuate your face and your rebellious personality in a very flattering way.


Highlights and Glasses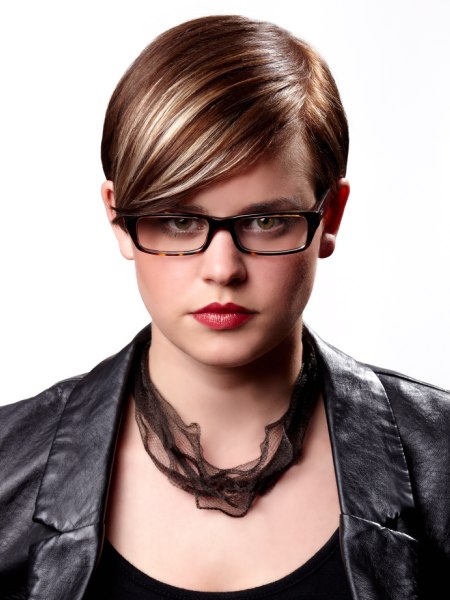 Short hairstyles with long bangs can work this well with glasses! Just make sure to push the fringe to the side. A low side part makes it especially trendy. The hair is brown but highlighted thoroughly in the dominant front. The streaks of blonde add modern flavor to the classic cut.

Use a smoothing serum to make the hair this supple and to avoid random flyaways and static. It also adds shine as an extra benefit. The frame of her glasses has a tortoise shell pattern and coloring, which matches the hair color perfectly.


Little Red Haircut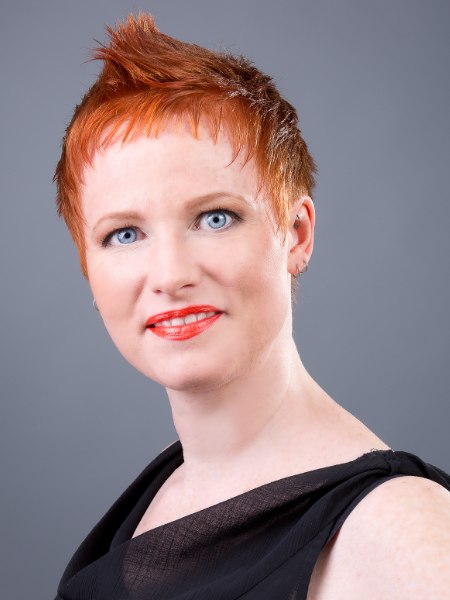 Show your quirky side with a hairstyle that is made for you. Dark Copper with the warmth of paprika is a most cheerful color, especially when your skin tone is this light. Green or blue eyes pop with these gorgeous flames on your head.

The fringe is super short and runs from ear to ear in a textured curve. All of the hair is cropped short with a little more length on the crown than on sides and back. It is long enough to shape it to this cute peak right in the center. Use a good gel for styling.


Face Framing Layers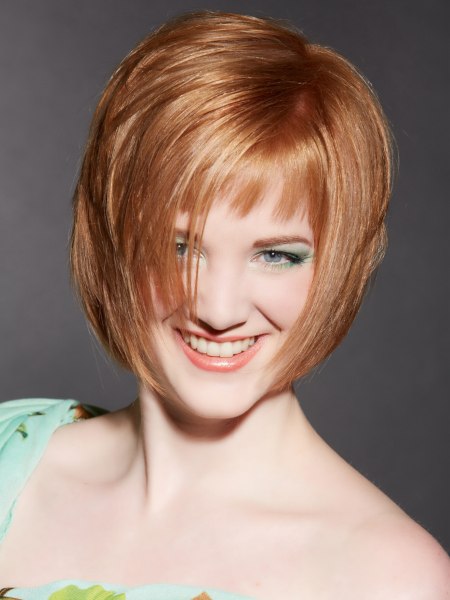 This very cute short haircut comes with all of the face framing you can want. Wear it all the way feathered into your face or less, you can even reverse the direction of the hair. It is a do-it-all cut and the styling options are endless.

An adorable short fringe is partially covered by a longer layer and the shape is very form fitting to the shape of your head. All that fun is sparkling in a light copper, strawberry blonde color with just the right amount of heat to make your cheeks glow and your eyes shine.


Punk Style with Long Bangs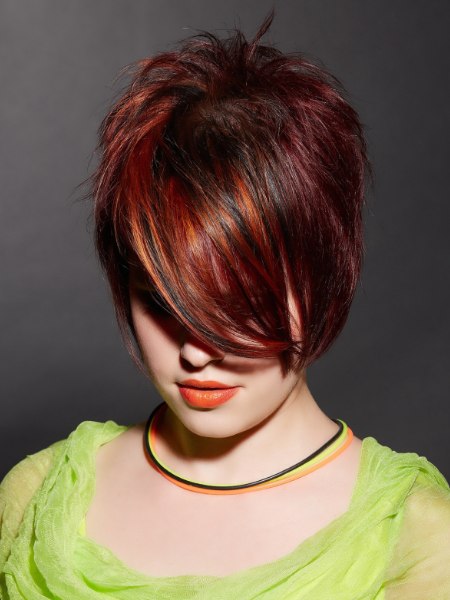 Mix a berry color with dark brown and dark copper streaks and you get this kind for fireworks made in hair. If the color is not stunning enough, then the short cut will convince everyone that you are a free spirit with a highly evolved sensor for modern fashion.

The short back is a great contrast to the long front which falls in a soft curve over her face. Spike it up with some gel or wear it soft.


Elegant in Black and Teal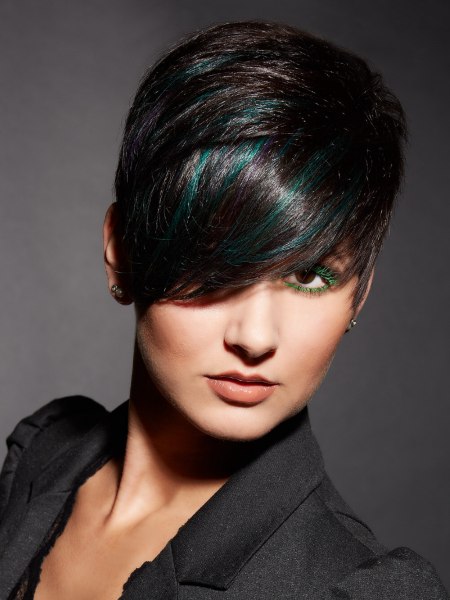 Mysterious in all of its short length. A power cut with color and shine. This short back and long angled cut front vibrates with glossy color in black with deep teal streaks. Her fringe flows diagonally across her face and comes out at her ear lobe, which is decorated with a small stud earring.

A beautiful detail is her mascara in a similar tone as the teal highlights. With that much color on the eyes and in the hair, always use a pale lipstick.

Hairstyles: HAIRLOUNGE-KL