"Creative Dis(orders)" by DESSANGE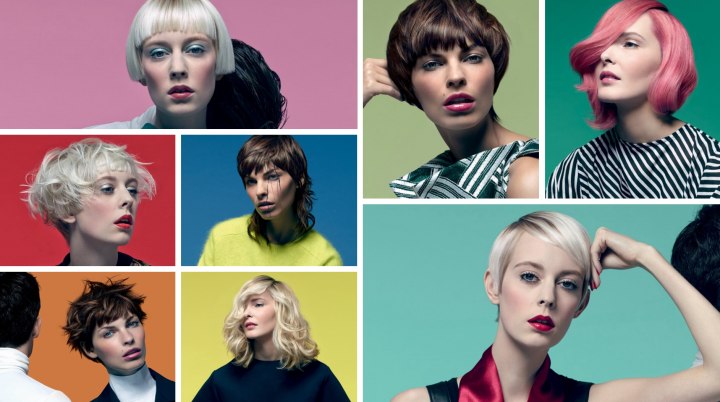 Creativity and order do not really exist side by side, but all art tries to find patterns in the chaos. The patterns and shapes found by Dessange break up the conventional ruts and venture beyond mainstream looks. They explore geometry, texture and color with new eyes and sharp scissors.

Reinvent your style and be amazed what will happen when you redefine your outward expression. Most of all Dessange asks you to stray from the well known and worn out pathways, to explore the unknown, to venture into new territory.



Get creative, dare to be yourself and have fun with it. Messy styles, straight looks, sleek waves and candy colors are waiting for you.


Messy Pretty Spikes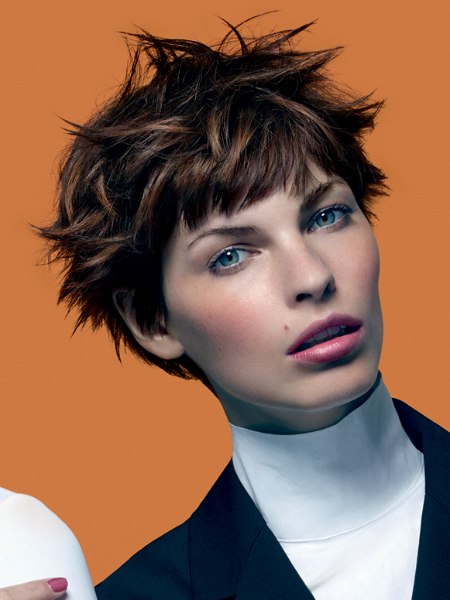 This round cut is shown in two styling versions to display its amazing ability to change. The spiky styling seen here is achieved with a good styling product, for example a hair wax or sticky modeling crème. It accentuates and sharpens individual tips and gives enough stand in the roots for the punk inspired pixie style.

The hair is dyed in light and dark nuances of brown, which come into play very well for this styling, as they pronounce the shape and movement with their added dimension.


Round Cut with Highlights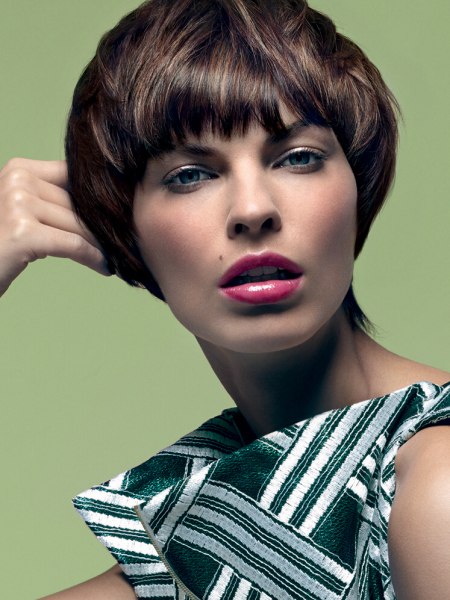 A neater but not less creative styling of the short round cut brings out the various colors that were used. Dark brown, medium brown and blonde play well together as they are all taken from a natural palette.

They are applied in wider streaks for the dark colors and the light colors appear in refined and small reflexes all throughout. The pattern that is formed by the different hues supports the shape of the cut with its forward styled layers and the gently textured cutting line.


Graphic Bed Head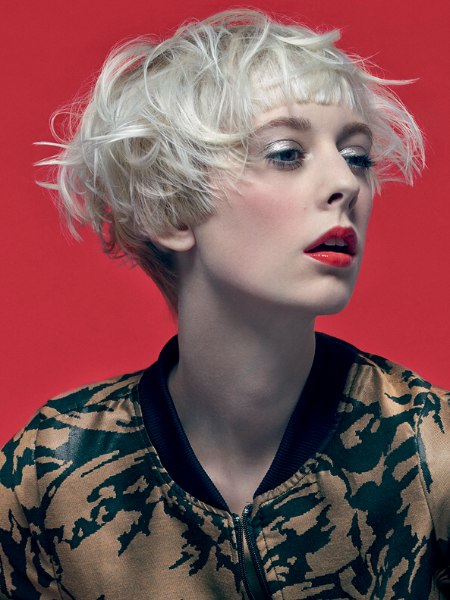 Two extremes are brought together for a short hairstyle that looks like poetry come to life. Vibrant and inspired this look is stunning in its consequent contemporary interpretation. There are two layers to the masterpiece.

Underneath the pure lines and the graceful geometry of the cut are undisturbed. The top however speaks the language of self expression and unlimited creativity. All these energies are presented in a bright platinum blonde color, which resonates in the mother of pearl eyeshadow.


Geometric Page Boy Cut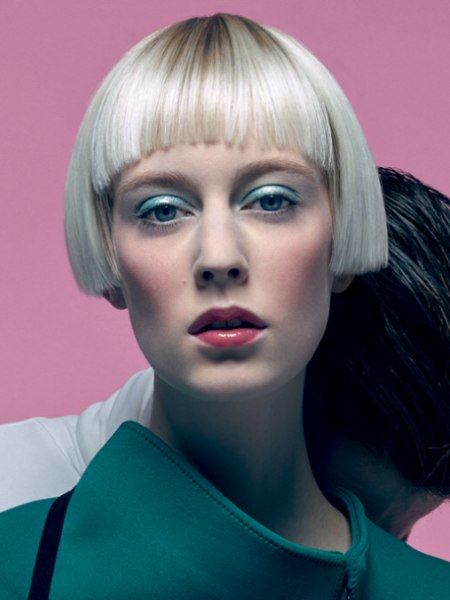 Simplify for the maximum effect. A short geometric cut at its purest with straight styling and a smooth surface. The platinum blonde hair color is so bright that safety glasses are recommended anywhere near her head. The iridescent color is grounded however by darker roots in a natural tone.



A combination that sizzles like the mix of natural wood with a precious metal. Her fringe has a mouse tooth like texture, regular and clear. Sides only leave the very tip of her earlobes revealed. Style the hair with a good anti frizz product to get this balances smoothness.


Tomboy Look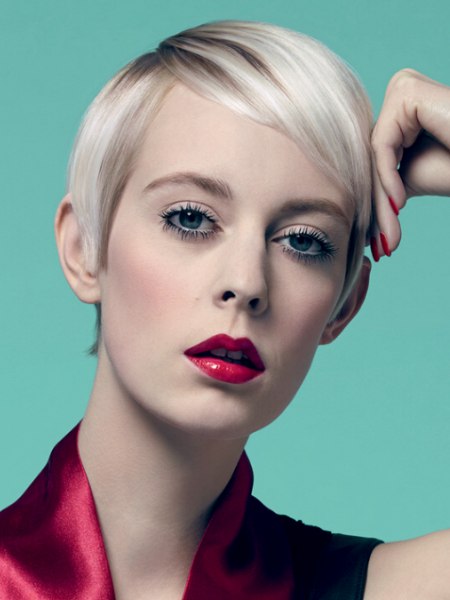 Twiggy was one of the first to sport a short, androgynous look like this and will forever be famous for it. These little cuts are still on top of the trend list and Dessange now introduces its sweet version with intricate coloring.

Deep shadows and ultra bright platinum bring new definition to the tomboy cut. Sides are long and partially overlapped by the slim and long side fringe, which originated way in the back of her crown. Wear it with simple styling and a controlled shape with little volume.


Extensions for a Mullet


A cult look all by itself, the mullet, is back on the scene. It does not even take much commitment to the front short and back long creation as it can be quickly created with the help of band extensions. These come on a ribbon which can easy be incorporated even in very short hair.

This might make the decision to wear the iconic look yourself a little easier. Add some creative face painting and take a trip down the memory lane to the fabulous, colorful 80s.


Roses are Pink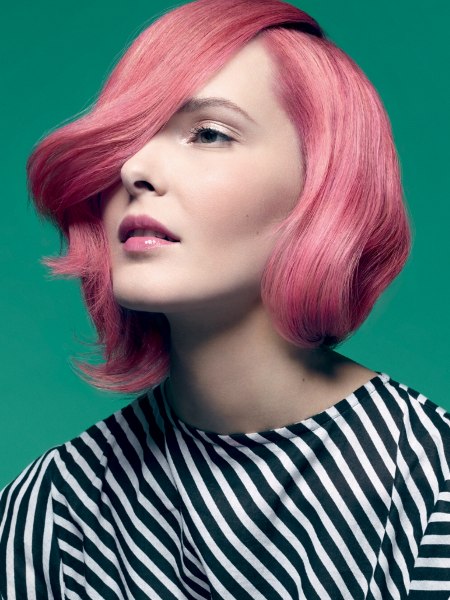 Bubblegum, raspberry or rose, there are many names for the sweet trend color that matches her lipstick so very well. It takes a very luxurious bob to a new level of stardom. Evocative and sculpted with the texture of soft strawberry taffy it flows around her head as if it was painted with one single brush stroke.

This short hairstyle is like a fairy tale dream come true and a wonderful treat for expressive, eccentric women of all ages.


Softly Sophisticated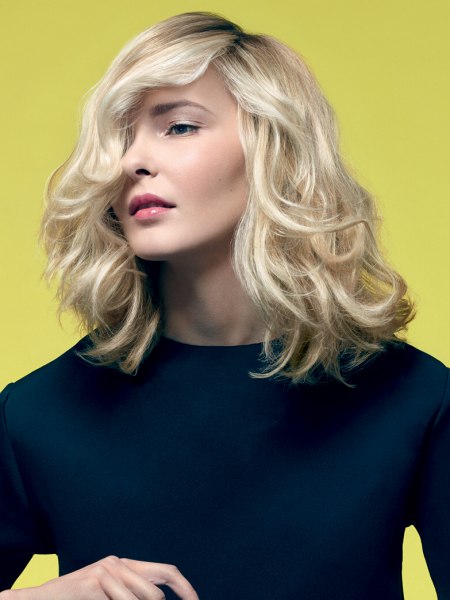 A Heart of Glass and a wild hairstyle made Debby Harry famous. Her songs and her Blondie looks are still popular and look amazing on women of all ages. The wild elegance of this hairstyle is achieved by shaping the layers to large waves with curled ends, strand by strand.

Ruffle a little with your hands for a sexy done / undone or bed head look. Her hair color is a posh blonde with slightly darker roots. A low side part falling over one eye is always mysterious and hot.

Hairstyles: DESSANGE
Photography: Nicolas Valois