The Party Code by Paul Gehring for ALCINA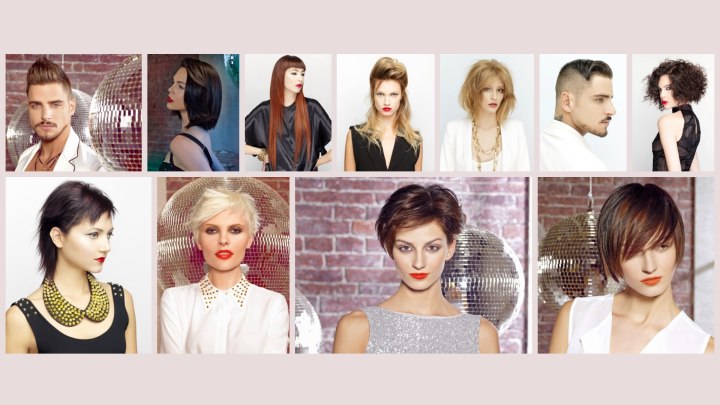 The hairstyles are here and it is time to get that party started! Brunette may be the new blonde, but blondes still have a lot of fun, just look at all this texture in the cuts! A series of platinum, golden, brown and black hair colors are gathered in this sizzling new collection by Paul Gehring.

The influence and inspiration for these fluid forms with their sensual dynamic were hot looks from the 80s and what an exciting déjà vu it is! Rock and punk provide the soundtrack for the long and short styles that are brimming with attitude and power.



The most outstanding feature in this collection is the soft but intense texture that creates a feathery volume and gently spiked edges.


Disco Layers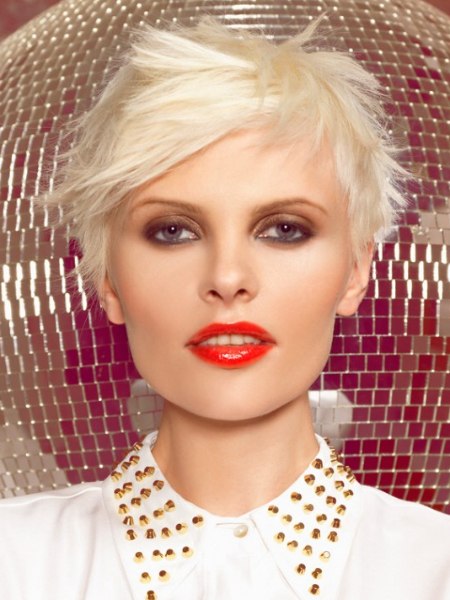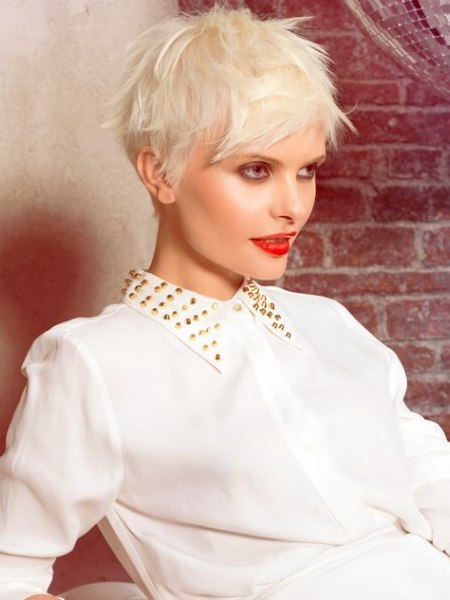 Storm that dance floor with a new do reminiscent of the unforgettable Blondie. Rough texture and soft blonde hair are made for each other, each one balancing out the other. Her short crop competes with the disco ball in its shine. Platinum blonde is the most reflective color and made to be shown off.

The hair was heavily textured and styled with a side fringe and wild, wispy strands. To get this sharp effect the strands in front were ironed flat while some others are natural.


Black, Brown and Short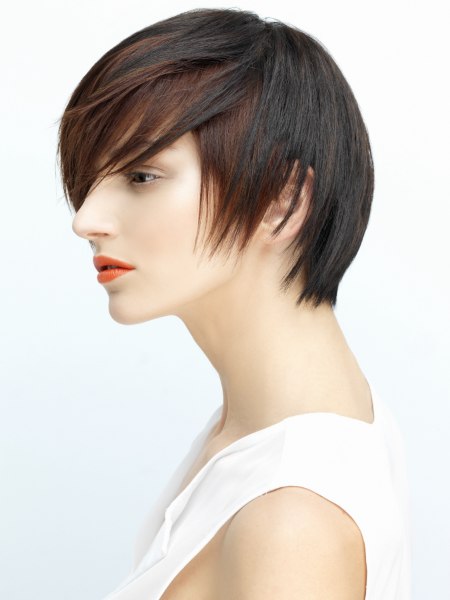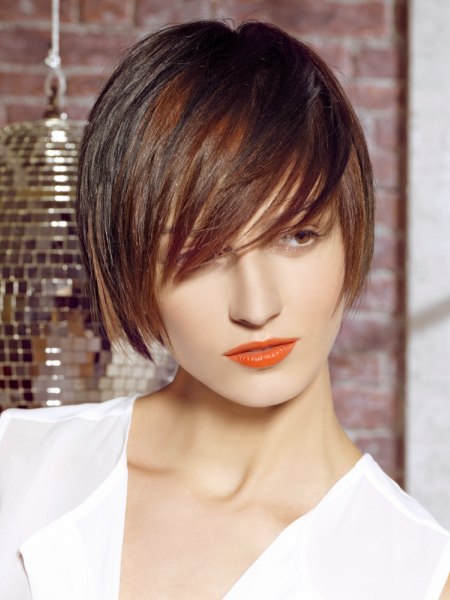 This subtle difference in hair colors, applied in layers, creates a wonderful effect of depth and catches the eye. It does not always have to be a huge contrast to make people look twice. Her hair is cut to a smooth round shape with frazzled edges styled forward into the face.

Her bangs cover the eyes and can be swiped a little more to the side if you want an unobstructed view of the world. Smoothing creme and some wax for individual accents throughout make styling a breeze.


Finger Styled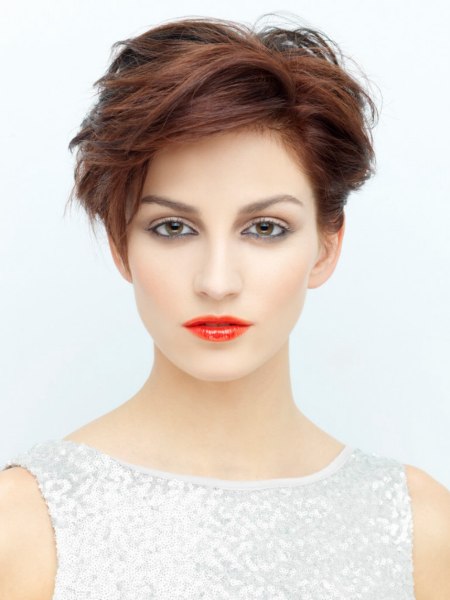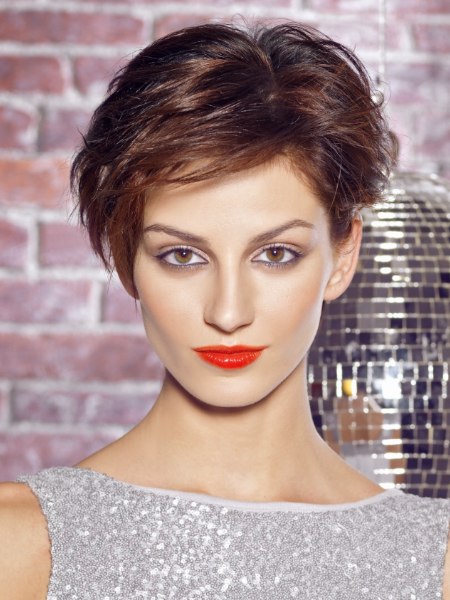 This finger licking good hairstyle has so much movement and texture because it was styled casually with the hands and just a little bit of product added onto the fingertips. Her short layers are artfully deranged with a backward drift to keep her face free and clear.

This is the kind of pixie style that you never have to worry about about sitting right, because it just always looks good and the more disheveled it gets in the heat of the evening, the better. This is a perfect example of sporty, casual and yet rocking chic.


Long Bob in Flow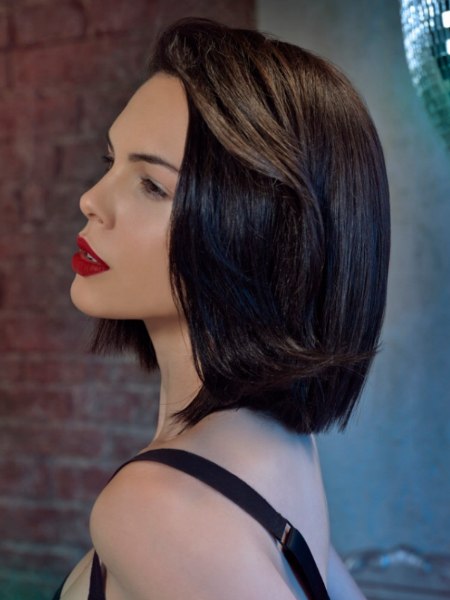 Sleek lines with beautiful curves in the right places and a subtle play with hair color, what more can you wish for? The barely shoulder long hair is styled so smoothly and has an effortless, natural flow.

A little help was needed for that little sway of the long fringe, which reveals a most refined under color of a deep black amidst the brunette hair. Contemporary elegance at its best. Use some gloss or shine spray to bring out the best in it.


Jazzy Curls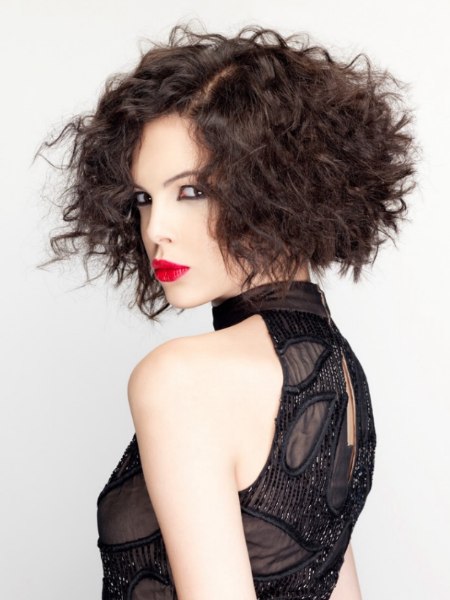 These curls are made to seduce! Their shape was enhanced with a curling iron, which also brought some kinks in the hair. Just a few sharp corners here and there can add this much spice to a romantic hairdo. All this edginess works great in a classic bob cut.



Her chin length hair boosts amazing volume and is parted on the side for a fashionable asymmetry and even more finesse. She is wearing her glorious mane in a warm brunette color, which adds to the effect of her pale skin and allows the bright red lipstick to really pop.


Feathers and Studs


These short layers are so soft and dainty that they have an almost elfish character. The heavy studded necklace brings things back into perspective again. To get such a feathery texture the hair has to be cut with a razor, which is slid down the lengths of the strands.

The edges are now irregular and strengthen the punk vibe of this hairstyle. A subtle mix of black and brown is a new way of adding a little element of surprise into the hair color itself and gives it a stylish tortoise shell pattern.


Big Hair Reinvented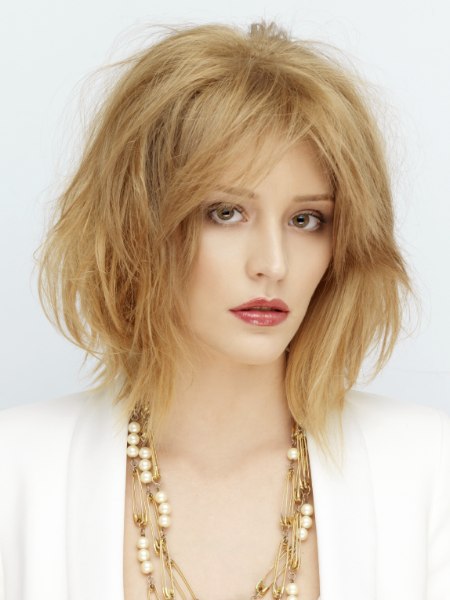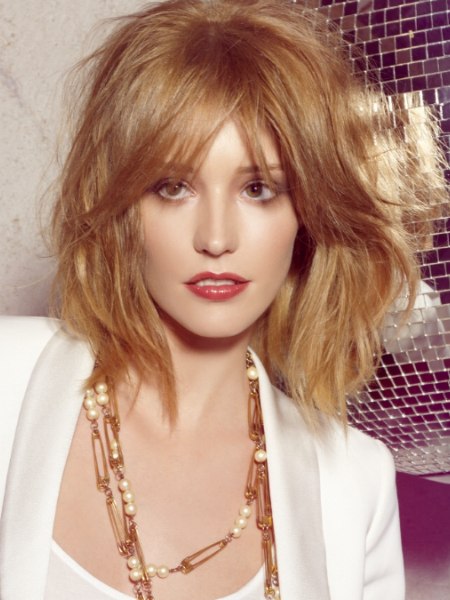 The new styles inspired by the famous 80s big hair are a bit less poofed up and have much more healthy texture and a natural feel to them. This gorgeous blonde look combines wildness with contemporary elegance and offers much freedom to be spiced up or down.

Long layers with equally long bangs are finger styled for a delightfully ruffled body. You can shake it and play with it as much as you want, it just falls back into place all by itself. The ease of wear and the casual, yet refined expression come in a warm medium blonde with gentle highlights.


Half Up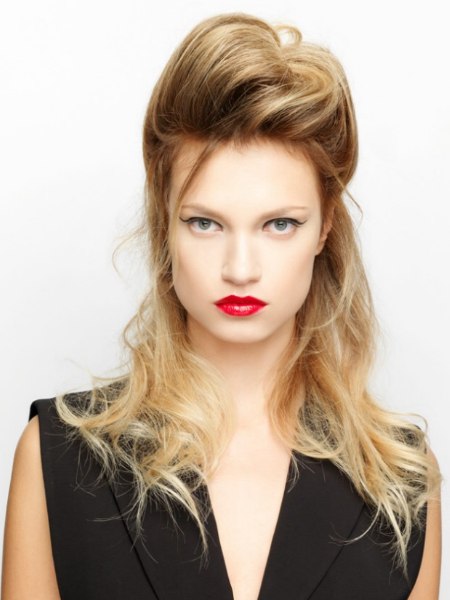 You like upstyles but don't want to hide all of your pretty long hair in a bun? Go for half of it and look spectacular. This posh style does have its wild side in the disheveled lengths and can turn a good girl a bit badder with the clip of a hairpin.

All of the top hair is gathered and softly slung to a high volume structure on her crown, twisted, rolled and pinned to hold its shape. A great style for going out and it takes less time to style it than finishing your nails.


Super Long with Short Bangs


This redhead has a magical aura enhanced by her long hair and the comparatively very short bangs. The stunning color is only topped by the extensive texturing of the sleek lengths.

Irregular but sharp points loosen up the smooth flow of her silky tresses and, although much smaller, the pattern is repeated in the jagged fringe. Slight accents in a dark brown create a marbled pattern of light and shadow around the top.


Less is More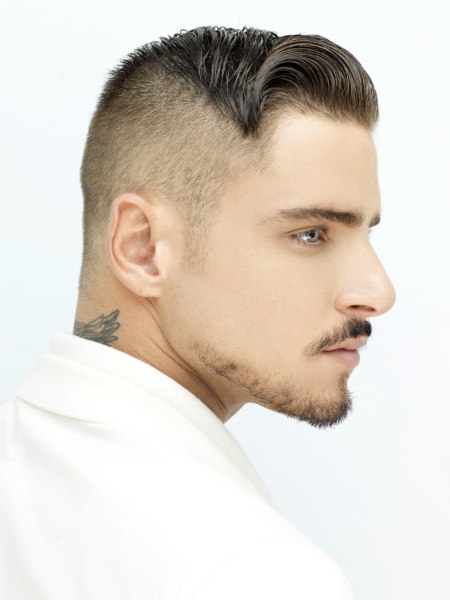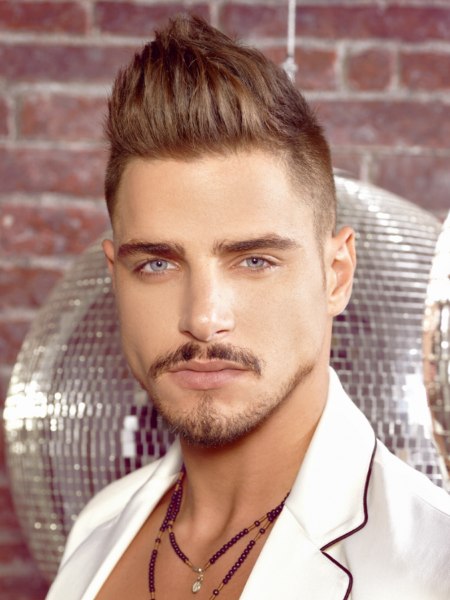 Minimalist brought to the point. The little hair that is left on his head was styled to a dapper little breaking wave. Sides and back are clipped to transparency and only on top does the hair gradually lengthen from the back to the front.

It was cut in an ascending line with a triangular point. A little wave and voilà, he is the hero of the party. Of course the semi visible tattoo and the soave facial hair help too.

Hair: Paul Gehring for ALCINA
Make-up: Fabrizio Camponeschi
Photography: Carlo Battillocchi