"Balance" by Allilon Education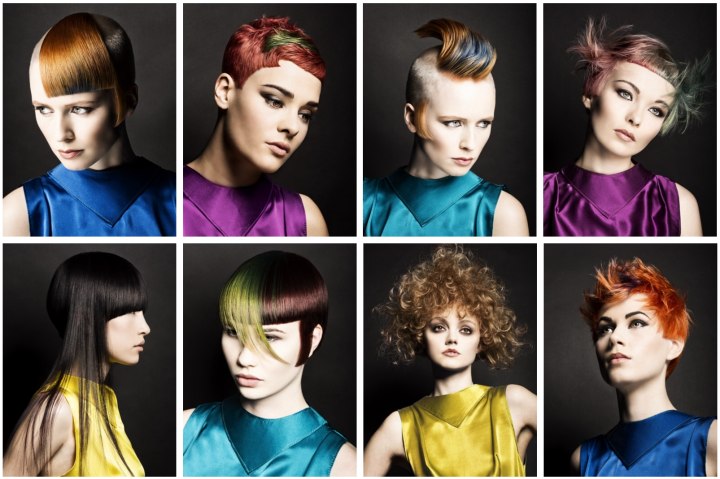 This colorful hairstyles collection comes with a mission. Balance was created to raise awareness for Vital, which is a charity for children in India. This is not only a unique blend of hairstyles but also an extraordinary step in this industry. The title was chosen to make us conscious of the way we live.

This way just got much more colorful with the complementary color schemes and ravishing cuts of this ingenious line. Asymmetrical elements meet calculated geometry, flawless finishes and innovative stylings.



Green flash fringes, solitary quiffs, dramatic curls or long and short combinations all speak an artistic language and will add elegant eccentricity to your appearance.


Triangle of Curls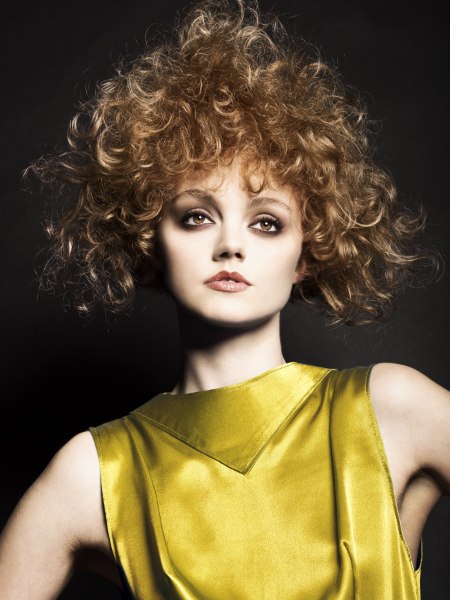 Thick curls in an angelic golden color are shaped to a triangle so even as if it just came out of geometric class. This hairstyle combines a balanced contour with a wild and uninhibited interior for a most harmonious look.

To get this distinct shape, which has its highest peak right in the center above her head, the hair was skillfully layered. The longest section is at her jawbone level and from there the length of the layers gradually decreases all the way to the pointy top. A few loose curls are drawn into her face and soften her features with their gentle dance.


Geometry in Motion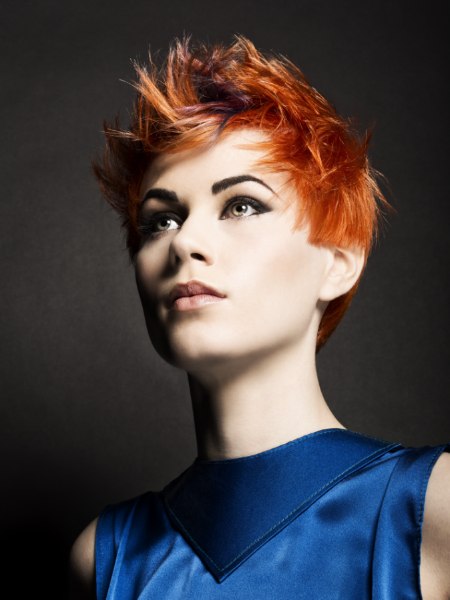 Contrasts brought together in the right way can be this balanced. Her short haircut features strong geometrical lines along the sides and the back. The neat outline with fine points and sharp curves turns into a frothy and fierce delight towards the bangs. Incredible movement is in this disheveled mastery of control and chaos shimmers in the brightest copper.

But that is not all. A stunning flame of purple juts out from the inner core to bewitch and spread its magic. A wonderful fit are the sculpted, bold eyebrows and the intense eyeliner of the same smoky color.


Lime Veil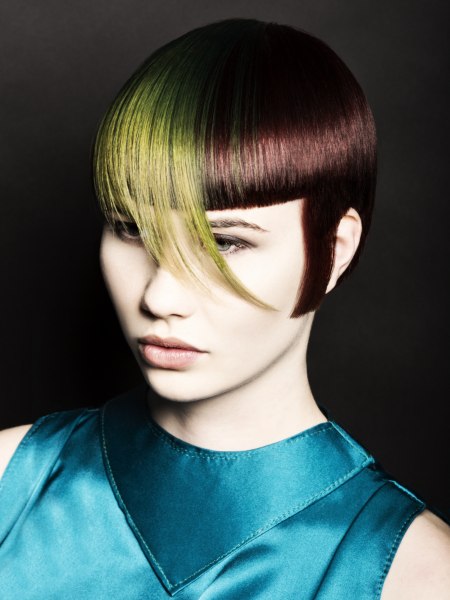 Her exact burgundy haircut speaks a calculated and balanced language. It gains its power from the consequent symmetry and graphic lines. Straight at the fringe to the gentle curve of the sideburns, then on to a graduated, rounded back. The defining element is a lime green veil, cut in a triangular wedge that covers her bangs in a transparent layer.

A little purple touches the longest strand of it and some of the green accentuates other strands in the main body of her short hairstyle. The complementary hair colors are nothing but spectacular in this setting.


Minty Fresh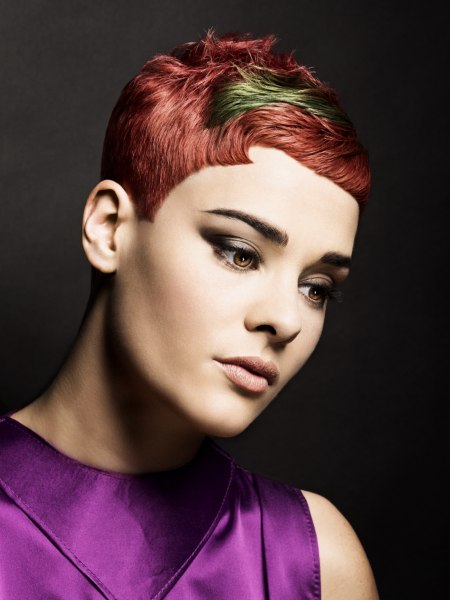 Organized geometry comes with an adorable little curl and a twist of mint. A green flash on her crown is nestled among the dark copper colored hair and freshens up the entire look in a very contemporary and surprising way. We don't see these hair colors together very often.



The hair is cut short in a very neat outline, but the layers are nicely messy after a thorough styling and the addition of some modeling creme or a light gel.


Clipped and Long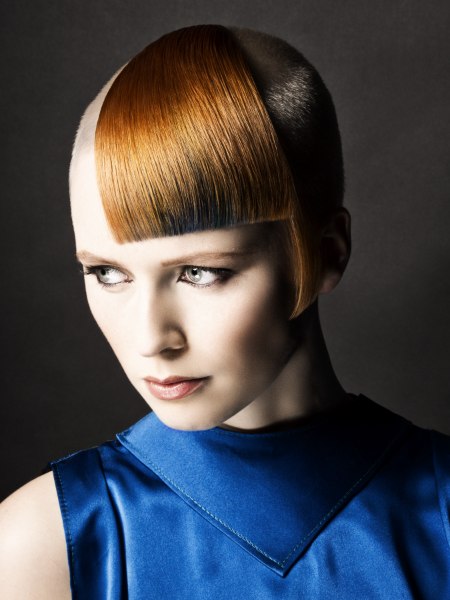 This haircut comes with a secret and that will unfold more in the next look, but before things turn really extraordinary, lets check out this radical, unconventional and extremely artistic combination of short cropped sections, long geometrical cut hair and an interesting range of colors. This is undercut pushed beyond its limits as most of the hair is as short as her eyebrows.

The velvety texture is colored in a silver tone. The big contrast hits double with length and color. Golden blonde and silky sleek are the bangs and the indication of a sideburn. It almost looks like the partial contour of a bob.


Up in Blue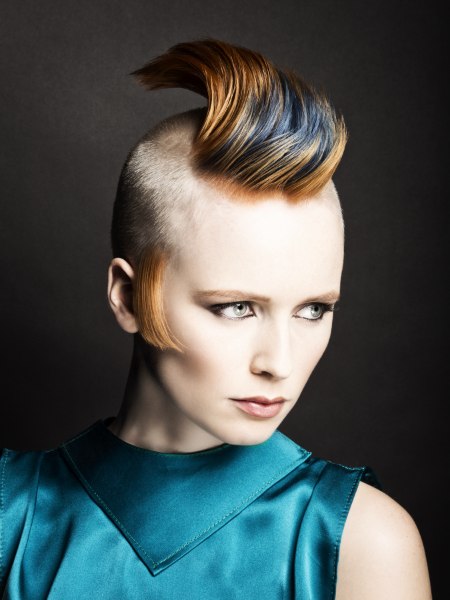 Forget everything you thought you knew about cool short hairstyles. This strike of genius tops it all. Not only is it a head turner, but it also comes with a great versatility for multiple styling options and grandiose colors! Almost all of the hair is barely there with just a fraction of an inch in a shimmery silver color around the head. The exceptions are the long fringe and the feisty sideburns.

The bangs when down have a golden blonde color, but look underneath and you will find the most amazing shade of shimmering peacock blue. This fringe needs to fly. Use a good spray and other strong styling mediums to create your new dream style.


Wispy Rainbow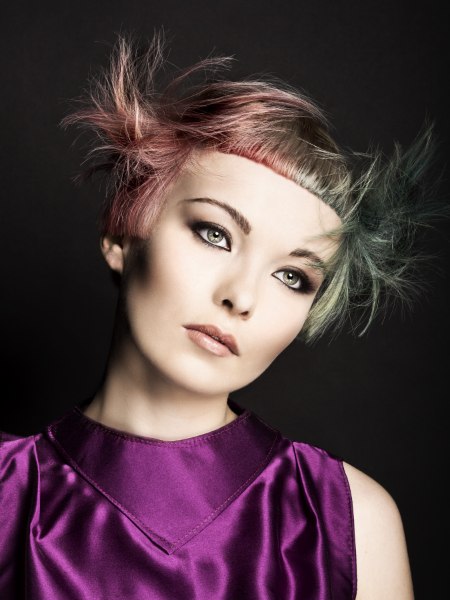 Silky soft feathers in a two tone coloring are balanced by the straight lines of the bangs and the cutting line of the sides. A cut reminiscent of the bob frames her face in simple lines with a classic elegance that is nevertheless very modern. The extremely short bangs show best how the hair color transitions from a vintage rose color to a silvery green on the other side.

Most of the hair is styled smooth and sleek but a couple of thick strands on each side are twisted and lifted to explode outward like weightless little pigtails with extreme texture and dizzying movement.


Veiled Round Cut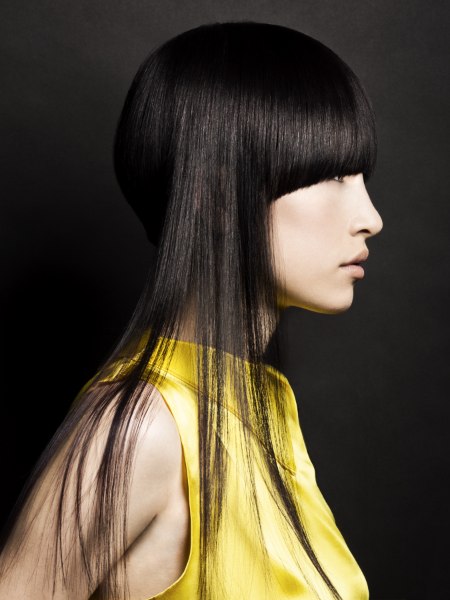 Another mind blowing hairstyle features a combo of a short cut with a long, transparent veil that overlaps the underneath style. Here the base is a shapely round do with a graduated neck and sleek lines all around, a deep fringe and a seamless contour.

This vintage winner now comes with an accessory of a thin, straight layer of at least triple the length of the longest top hair. The longer this is the stronger the surreal effect will be. The black color balances the high energy of the cut and adds a luxurious feel to the look.

Hair: Allilon Team
Make-up: Cheryl Philips Gardiner
Clothes: Amy Day
Photography: Trevor Leighton