Summer Sorbets
Clive and Co. Artistic Team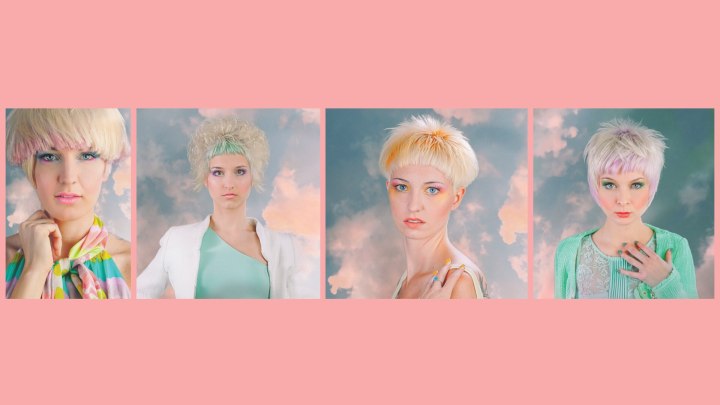 A refreshing sorbet is the perfect snack for summer. Clive Lamb and the Artistic Team now translated the tingling effect of this icy treat into their latest collection of hairstyles.

This small series was inspired by the Louis Vuitton print campaign for this summer and also by the fashion colors that dominate the runways. Fruity and fresh hairstyles that match your latest summer outfit. Go get a scoop!


Raspberry


Frame your face with the cool delight of a raspberry sorbet hair color. The soft hue was infused into her otherwise platinum blonde hair, dominantly around the edges and in the lower layers. Subtle and still decadent.

The short round cut boasts plenty of layers for volume and movement, which can be adjusted to your level of daring. The bangs are sweet and short and leave enough room for her eyes to sparkle with their extravagant make-up.


Lime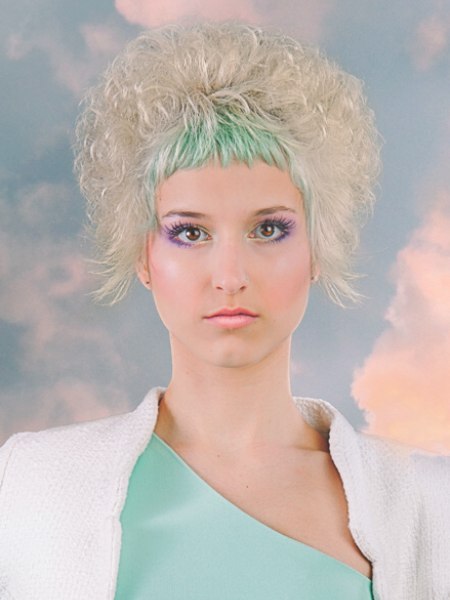 The flavor of a lime is always invigorating. With the bangs dipped into this sweet hue of green delight this short curly hairstyle is a favorite of the season. All around her face the hair is sleek and textured at the ends of the super short bangs and the longer, flared out accent strands on the side.

The top of the hair is bubbly, frothy fun with more platinum blonde curls than one can count. Contrasts of color and texture take this creative and playful style to a high sizzle level!


Mango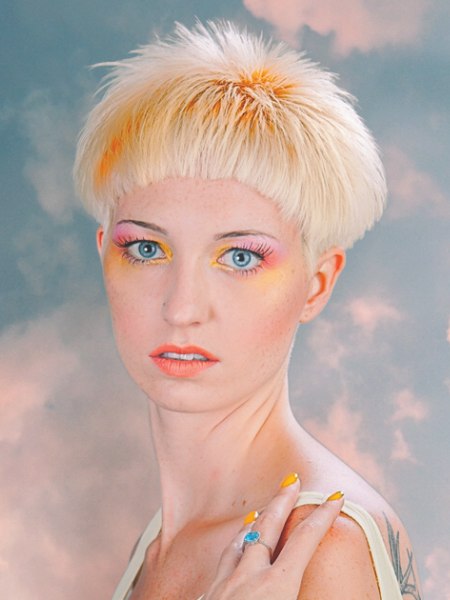 A bowl full of mangos. What a luxurious and exotic treat. The sorbet effect stands out beautifully in the combination of the deep orange color with the icy light platinum blonde.

Her short hair has a classic bowl shape, however elevated above her ears with a curved fringe and tiny spikes rendering the silhouette incredibly soft. Her eye make-up is just as tropical as her hair with a combination of pink, yellow and orange.


Strawberry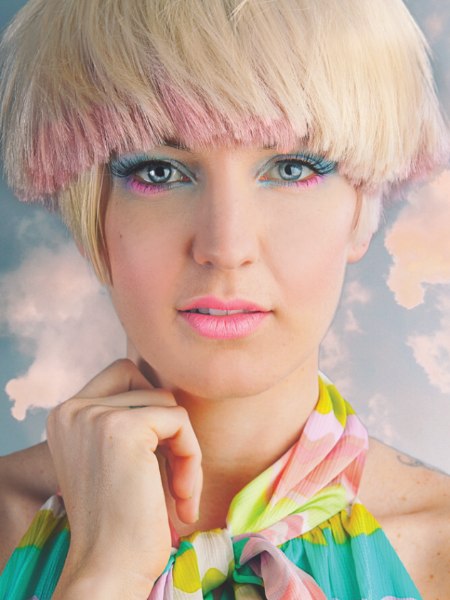 Rugged edges and a hint of asymmetry give this short and round bowl shaped cut much personality. The rim of the round top part which is the line of the fringe that continues all around the head displays a soft and delicious strawberry pink hair color.

Underneath triangular shapes peek out right before the ears, one of which is a little thicker and longer. To accentuate the asymmetry more these shapes shimmer in a pearlescent vanilla blonde tone.

Hair: Clive and Co. Artistic Team
Make-up: Kaia Bellanca Beggs
Photography: Phoenix Taylor