Illumination by Intercoiffure Mondial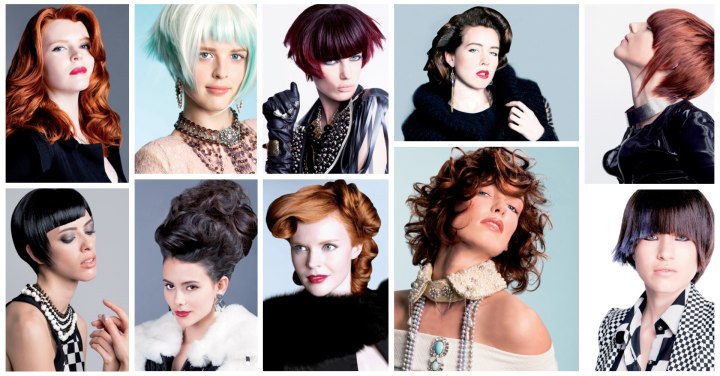 Be glamorous, show your sexy side and go all out. The days of being demure and conventional are over. Now it is your time to celebrate beauty your own way. Illumination is a grandiose line of hairstyles, boasting daring femininity and high style. Flashes of lightning and soft shimmer, styles from eccentric to nostalgic, all infused with poetry and a deep love for fashion.

So stop to secretly play dress-up and let Intercoiffure Mondial be your guide to the land of plenty when it comes to hairstyles. Whether you like it playful and wavy or your heart jumps with graphic geometry, you'll find the right look for all of your desires right here. Go for the light!

Click here to watch the video of this collection.


Romantic, Dramatic Nostalgia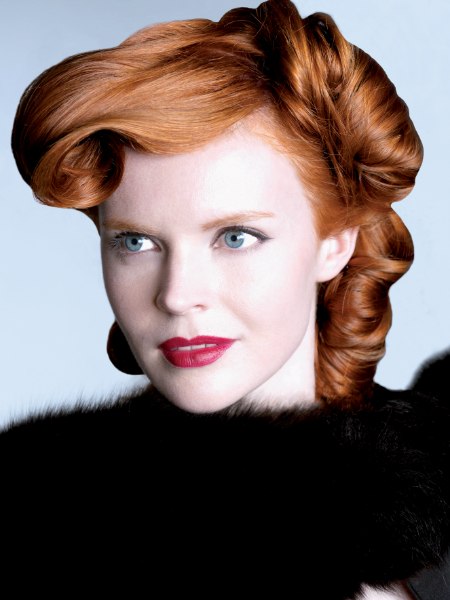 Look as if you had just jumped out of a nostalgic Hollywood movie! Red hair color and curls are always a super dramatic combination and the pink lipstick makes it even more daring and contemporary. If this is not your natural color, make sure the eyebrows match!

Her long hair is shaped to slightly uneven barrels that are attached to the side of her neck, above it and a special one in the very front. The large roll that replaces a fringe juts out and turns into a turbulent roll of hair, magically and invisible held in place.


Glamorous Out Of Face Style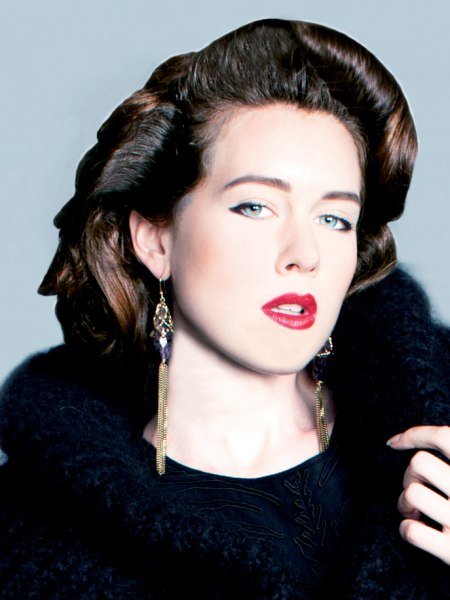 She has a pretty face and flaunts it framed by her dark hair, which is fully moved out of her features. It has waves towards the back in a large rolling motion with a high section just above her forehead and to the side.

The length reaches the shoulders with the amount of curls increasing towards the back. Layers make the shape and the volume stable. Her hair color is a mix of medium brown with golden sprinkles and a contrasting, very dark brown. Let the light shine in!


Victorian Chic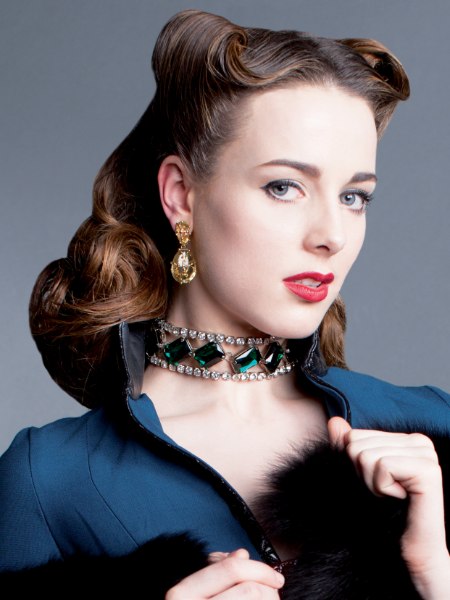 A little hint of diabolic does not hurt. She is wearing her little curved horns well with the rest of her elegantly flowing hair. This look has vintage written all over it and the flair is enhanced by her jewelry and the distinct make-up.

The hair was parted in the very center and the two parts above her ears where rolled up tightly to the small barrels that give this hairstyle so much character. The lengths are carefully curled and placed just right. Smoothing serum and hairspray are a must to hold it all together.


Rhinestone Power in a Loop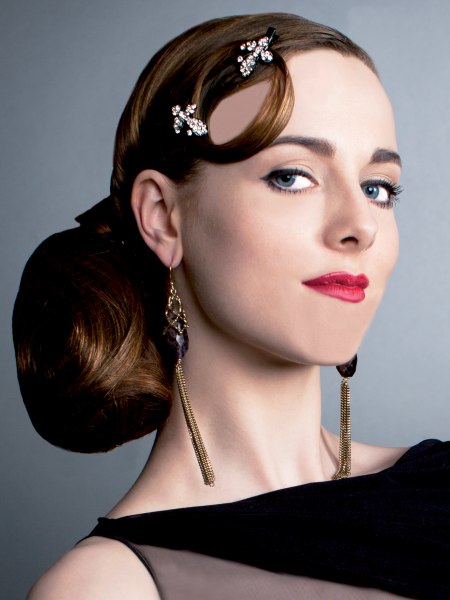 A beautiful look that uses a strand of hair as an accessory together with two other accessories. This ingenious idea has a big effect that almost distracts from the beautiful deep chignon in the back. That massive creation displays the most gorgeous texture on its surface with winding strands of hair that all come together in one big and soft ball.

Her brown hair color has a very pretty golden shine, subtle but very intense and a perfect match to her light skin tone. This style reminds of the Spanish Flamenco hairstyles and likes big earrings and high heels to come with it.


Luscious Layers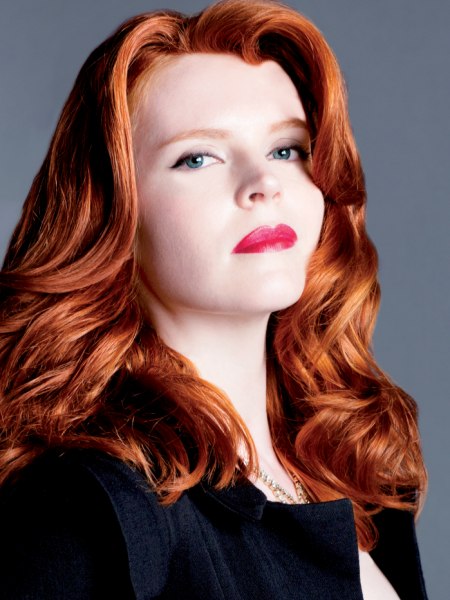 Go for the volume and make it big. A wild and very feminine mane shines in a luminescent red hair color that should stop everyone in their tracks.



The layers are long and let the hair fall in these beautiful and opulent waves. Movement and drama galore with a sexy messy finish. A natural and yet extremely refined look, that is easy to wear every day.


Grande Opera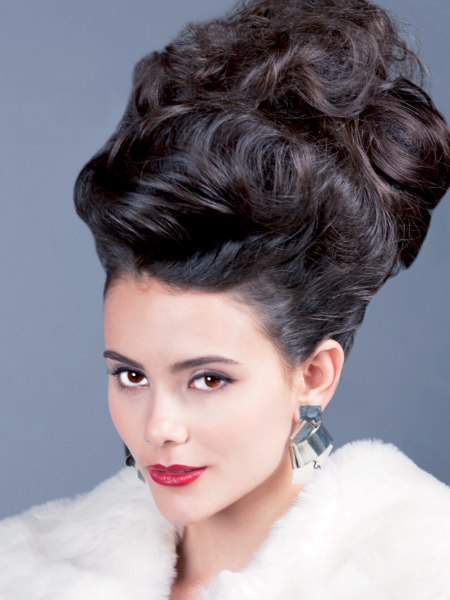 If furs and diamonds are your thing, then show that you are a woman of taste with this aria of a hairstyle. Vavavoom is an understatement and mere words cannot do this architecture made of hair justice. Let's just say it is breathtaking.

This high octane beehive is composed of teased sections and large curls, some are more defined than others. The mix of controlled and open textures is mesmerizing as is the subtle transition of the color from a dark, almost black to cool brown with just a whiff of lavender.


Wild Country


You may think this is what the princess looks like after she met her prince in the castle's secret dungeon. This style does not reflect the classy sophistication from the previous style, but is an equally glamorous contrast, focusing on the untamed nature that we have.

A combination of country braids, slung across her forehead, and no-rules tousling and teasing wakes up the inner goddess of the land, all doused in a celestial shimmer of wheat blonde and pink. There is poetry in every strand, which are not as randomly placed as it may appear, but instead they are artfully placed and fixated with the help of modern hair styling products.


A-Line in Blue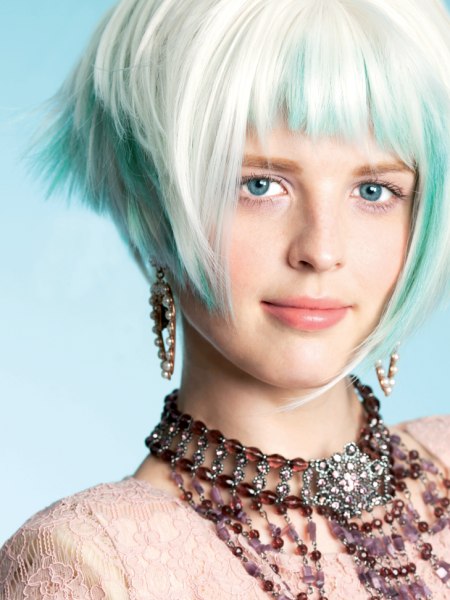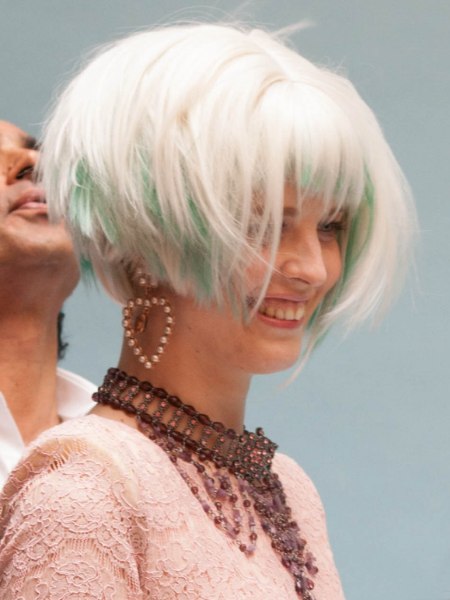 A most adorable bob in a sunny summer color. If this one does not keep you cool, then we don't know what else would. A basic A-line bob with a high graduation around the sides and back comes with a cute short fringe and playful long strands to frame the face. A wee bit of asymmetry is build in as well.

The color is a snow blonde with soft accents in a blue curaçao hair color that are dominantly in the lower layers. The colors enhance each other and spread their refreshing glow all over her face. A bit of wispy texture and some ruffling make it casual and fun.


Free and Easy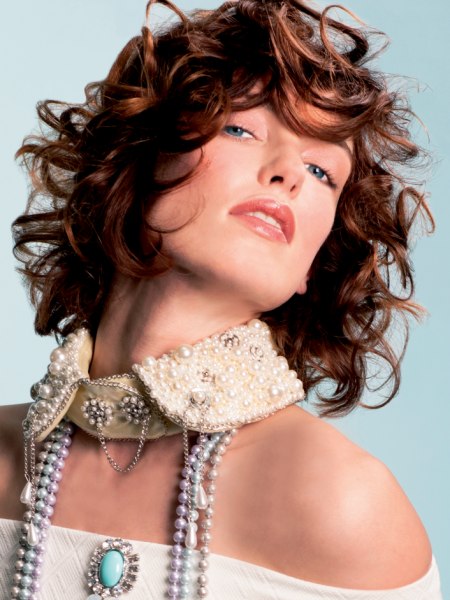 With this hairstyle you never have to worry about the wind, the more the better. The layered cut comes alive with movement and is styled with a casual texture. It features large curls that bounce around her head in an untamed rhythm.

Gently mussed it is just disheveled enough to have a sensual flair, but not as much as to distract too much from the exquisite design of this medium long hairstyle. Her hair color is a soft and yet fiery brown with illuminating accents in gold.


Feathers and Braid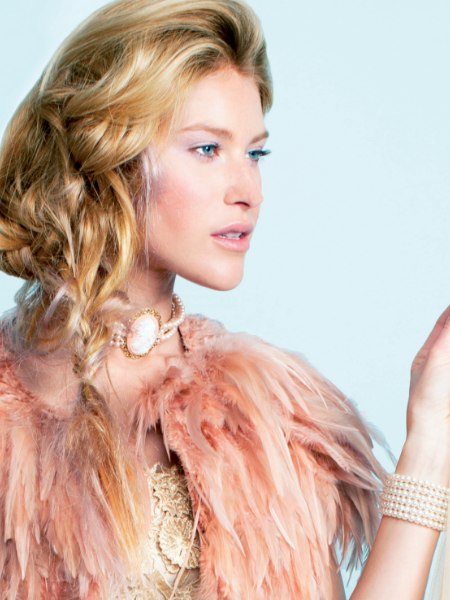 Soft in all its aspects, this look is candy for the eyes. A most intricate braiding technique leads to the heavy texture on the side with rough strands being slung around each other before they turn into a small braid on the side. The front and top sections are a contrast to this sexy construction with their neat and styled appearance.



It is all about the balance! And much balance can also be found in the hair colors of this incredible look. A warm honey blonde is combined with intense streaks of a reddish-golden glow and also with bright platinum rays of light.


Bowl Cut with a Twist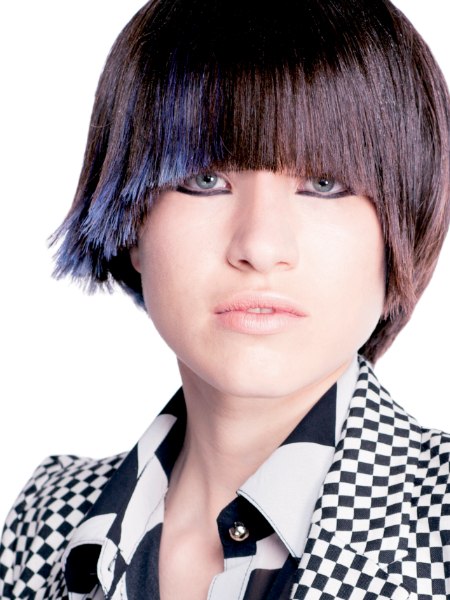 A classic made all new! Remember the 60s? A classic bowl cut is made over with a few texture effects along the cutting line. Straight and blunt run into jagged and point cut. Color is used to enhance and amaze. What a beautiful contrast the cool electric blue makes to the warm brown!

It does not have to be much color to achieve stunning results, but the strength of the contrast and placement are key. As can be seen here, little is much more.


Hot Graphic Style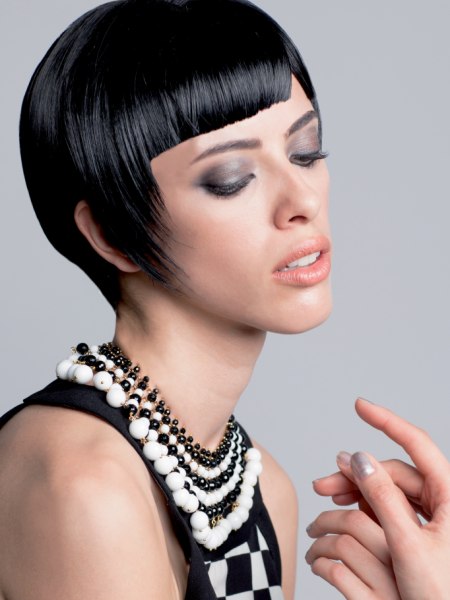 A bit of art nouveau and a lot of spunky edge make this vintage inspired short cut irresistible. All is sleek and slick from front to back.

Black and shiny as oil on water, the design of this haircut thrills with its corners and unexpected extensions, textures and then again the smooth serenity of the round styling. Wax and smoothing lotions are your best friends to make this look work.


Around a Pink Corner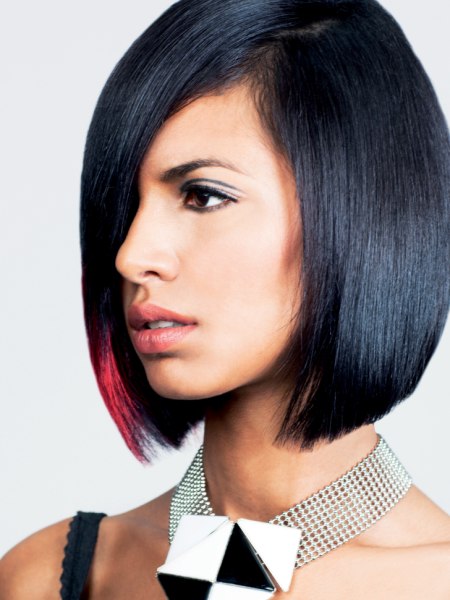 If you think your bob is too simple, then add a little color to it and all will change. A magical ray of pink on the front corner of this beautiful classic bob looks as if a rainbow just hit this one small area and decided to stay there to display its most alluring shade.

The base color is an equally luminous black and styled asymmetrically. Classic, sophisticated but with an elegant twist of modern.


Exciting Short Cut in Red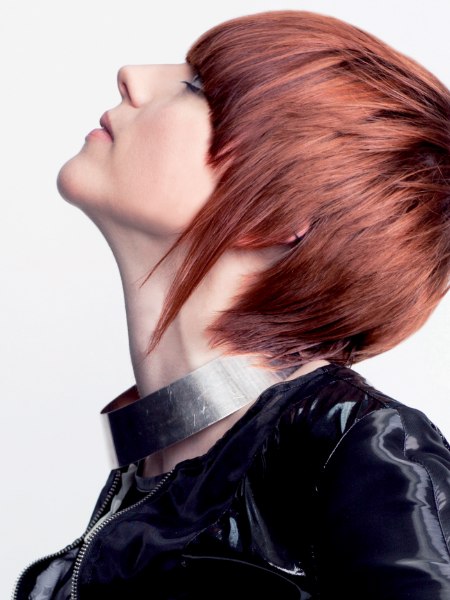 Simplicity is overrated and if you like short hair this spiky sleek look might be the perfect match. Layers are abundant in this round cut and they come in all lengths! A neat line defines the fringe, but the sides are where the action takes place with bold textured spikes jutting down before her ears and more angled texture follows right after.

Her hair color is an iridescent red with a multitude of hues to create light and shadow for a sublime dimension and depth.


Jazzy Short Bob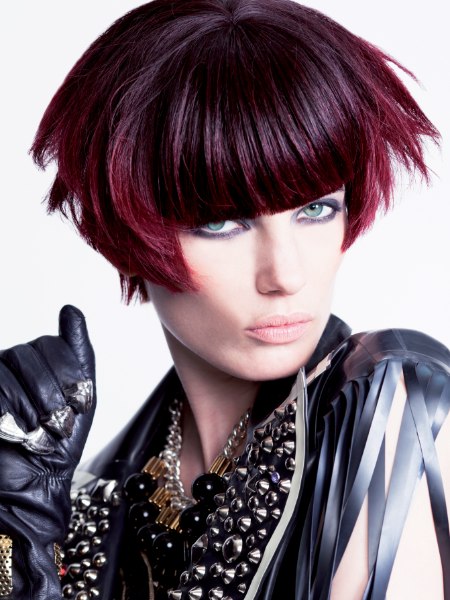 Got color? If not then get inspired by this fierce short bob sparkling in a blackberry hue with accents in a smooth dark fuchsia. The sides and the back are cut with steeply angled layers all the more emphasizing the sleek top section with its beautiful movement and magical shine.

This style thrives with a little lift in the roots and lengths and the finesse of the forward curve in the ends. A small round brush or a curling iron can help with that. Pair it with your most outrageous statement jewelry!


Gentle Color, Soft Cut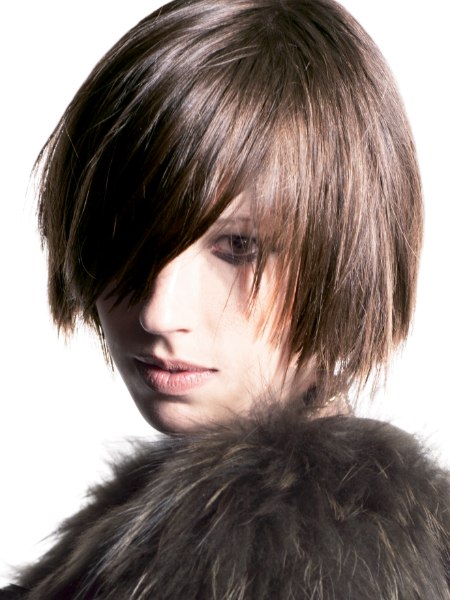 This one is a real charmer. Smooth and friendly with a feel good texture and a hair color that is grounded and natural. While the soft brown is super appealing, the art is in the cut.

Fine tuned in every tiny tip, the scissors created a soft but distinct texture around the entire perimeter with the finest of strands coming together for a needle fine jagged line. Her asymmetrical styling partially hides the eyes in a very fluid and playful way.


Teased Bob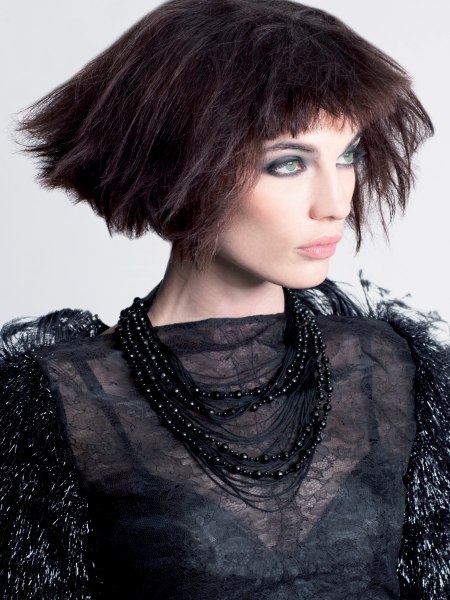 One of the best and quickest ways to add enormous volume to your hair, besides using hair pieces, is to tease the hair. Do it carefully to not damage it, but the results are worth taking a little risk.

A bob was transformed to a formidable specimen of hair art with raised sides, a short fringe and a trapezoid silhouette filled with this much texture. The dark brown hairstyle is a great match to her black lace outfit.

Hair: Intercoiffure Mondial Artistic Team
Fashion Styling: Jonathan Mahaut
Make-up: Noriko Okubo & Natsuko Nakayama - Shiseido
Photography: Rob Peetoom