Perfect Me by BUNDY BUNDY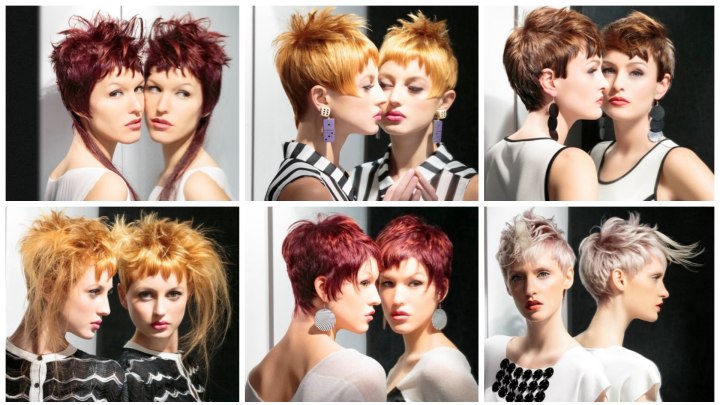 Perfection is part of the mission of BUNDY BUNDY and listening to the wishes of their customers. The hairstyles collection mirrors both and is a breath of fresh air in hair!

When the hair is cut according to its natural shape and direction, it always falls into place. With a little help of styling products these wonderful creations can come to live also on your head. Go for the sassy this year and go short!



If you are ready to change your life, start with a new haircut and none are more expressive than this new line-up. Short layers cut with a refined technique allow much versatility when it comes to styling.

Click here to watch the video of this collection.


Round Back and Feathered Bangs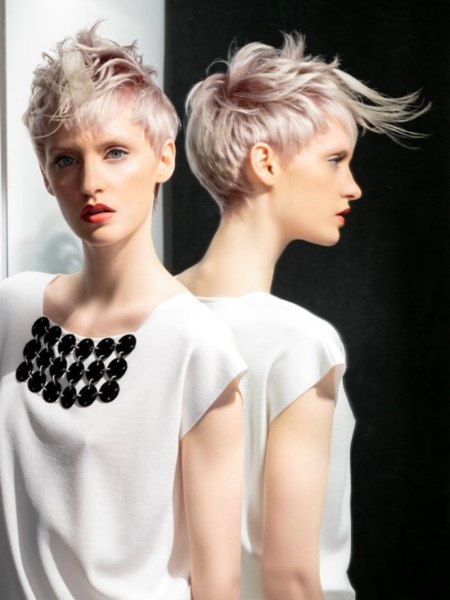 The clear outline and roundness of the back and along the sides are playfully contradicted by the long top hair that runs into an even longer fringe. Defying gravity the hair lifts up above the forehead and shapes an exciting wave towards the front with a highly textured crown.

Forget the brush when styling this masterpiece, all of the shaping while blow drying is done with the fingers. Her hair color is a unique silver metallic and lilac experience.


Extensions in Short Hair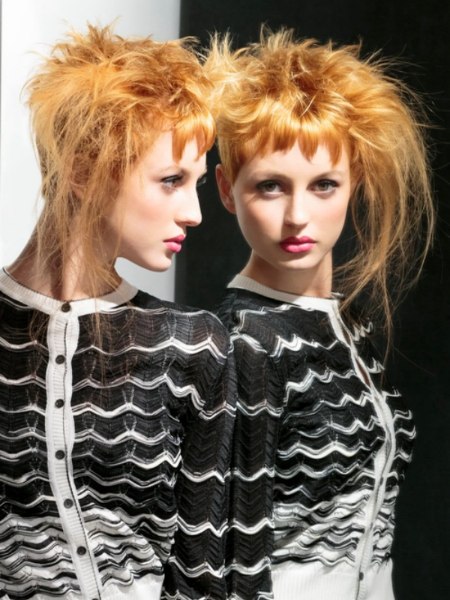 Just because the hair is short does not mean one cannot play with longer hair. Extensions are the answer to all of your whims.

Woven into her cute short cut with spiky texture and a bright golden color, a few strands can make such a dramatic impact. Wear them to one side and in a very disheveled fashion.


Short Chic with Extravagant Bangs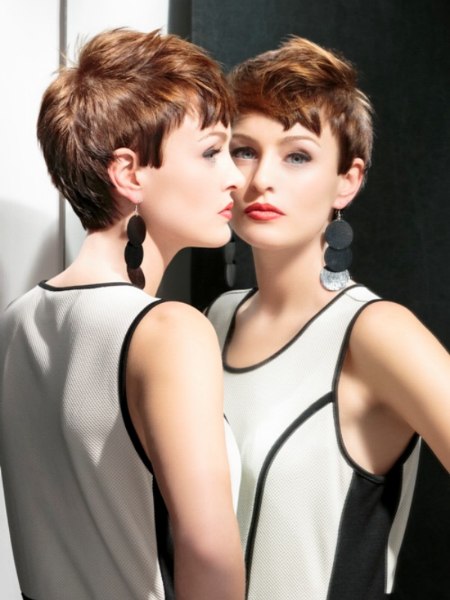 The simplicity of the layered and meticulously shaped cut brings even more focus to the beautiful twist in the bangs. These are constructed by styling layers of hair in different directions.

Just a small amount of tousled strands on her crown lends a modern touch to all of the extravagance and elegance. Her hair color is a smooth brown with a few lighter sprinkles to enhance the texture and the movement of the pixie.


Happy Spikes on Sleek Style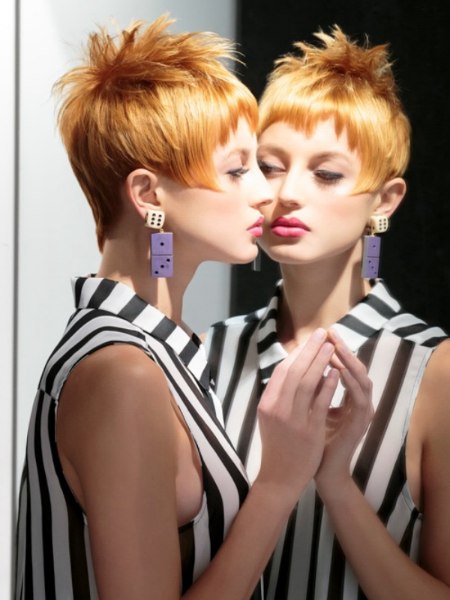 It is all about opposites that makes this short hairstyle so thrilling. Soft lines meet jagged texture in the fringe. Sharpened points highlight her cheekbones and are contrasted by the soft and unruly spikes on top. This hairstyle is as versatile as you could want it and gives many options for many occasions and moods.

Wear it in this punky elegance or keep all of the hair sleek and low for a sophisticated expression. It is stylish no matter what you do with it and a big part is played by its bright copper color, all polished up with a shine spray or serum.


Go Wild with Extensions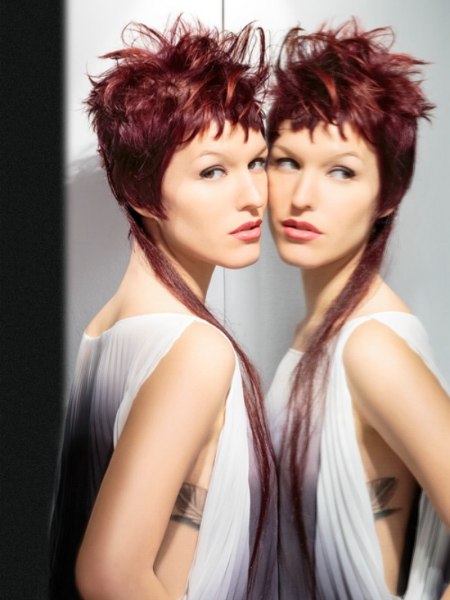 Mirror, mirror, who is the prettiest in the land? This wild thing uses the layered structure of the cut to mix sleek and wild textures. All around her head, the hair clings tight like a gorgeous Merlot colored cap and the upper level was doused in a good styling product and lifted up while blow drying.

Pull it, scrunch it and ruffle to your heart's delight. A very special eye-catching effect is the very long extension of the same color that runs from her neck all the way over her shoulder. This short cut also has many faces as you can see in the next image. Less tousles, but still good volume on top with some strands pulled into the face make it sexy and very flattering.


Alternative Styling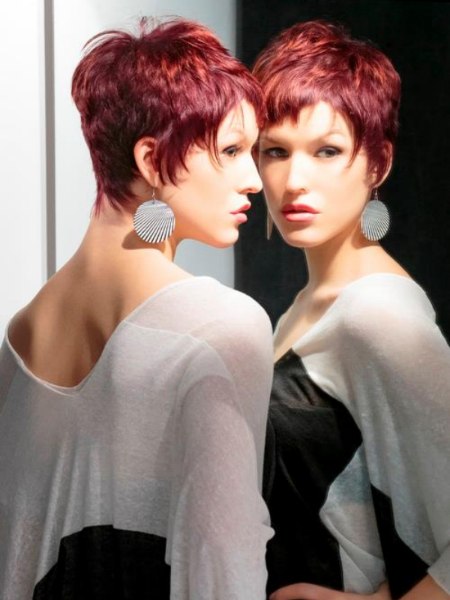 This short cut is a compliment magnet even without an extension. Styled with volume on top, but a smoother surface it takes on a very classy feel. A geometric base cut is still visible through the fine strands that are pulled over it and into the face.

With this styling the cool color combination really becomes visible. Dark orange highlights bring a new flavor to the Merlot red base color.

Hairstyles: BUNDY BUNDY Artistic Team