Big City Style by KLIPP Frisör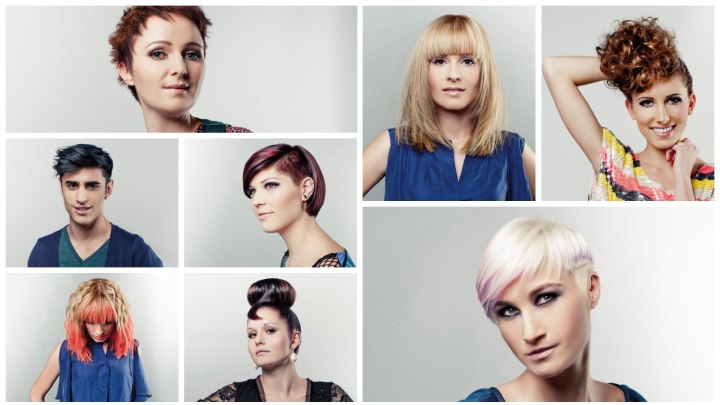 With new techniques and vivacious esprit Austria's KLIPP Frisör brings the fashion of the world's most exciting cities right to our heads!

Their scouts visited the new trends from Paris, New York, Vienna, Berlin, London and much more to compose a fresh, modern and especially colorful collection of hairstyles that is so eclectic that every type and taste can find the right trend for themselves in it.



Short looks with undercuts, beautiful long looks and sophisticated up styles are all in this international party of style. Check out the new ideas for hair colors! Dip dye and neon splashes are fun new ways to create stunning effects.


Amsterdam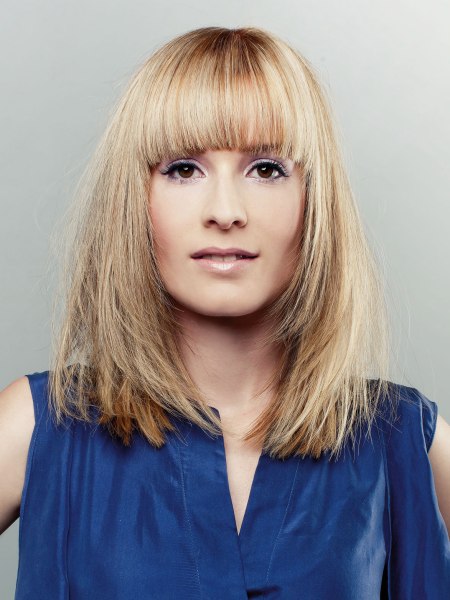 The coolness of the North Sea permeates the champagne colored hair. Highlights accents in darker tones are applied with much care in super thin strands for a breathtaking effect. The hair was cut with a full fringe, slightly rounded at the corners and tapered lines that complete a beautiful frame to the face.

The hair was blow dried over a thick brush to get this sleek and supple texture and also the chic little curve of the sides toward the face. Just reaching a couple of inches over the shoulders, the bottom line is cut more blunt to provide a contrast to the feathery texture above.


Dip Dye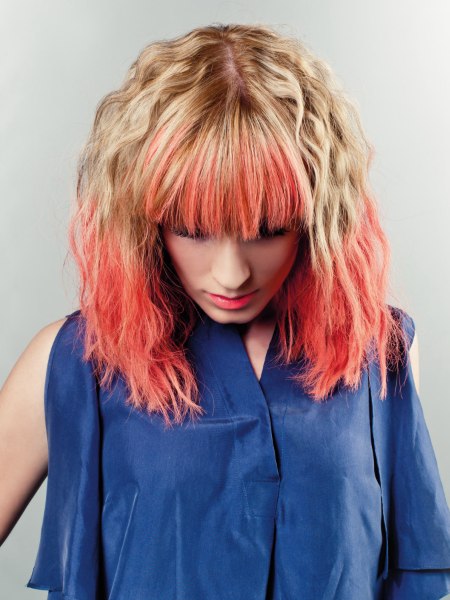 Amsterdam has many facets and so does this haircut! Go from nice girl to inspired girl with some waves and a dip in the color bath.

This new technique for color effects in your hair is easy and fascinating, but should still be done by a professional, especially when you are looking at colors as bright as this strawberry red. The tips of the blonde hair are dipped into the color, which gets soaked in and travels up for a fun tie dye look.


Vienna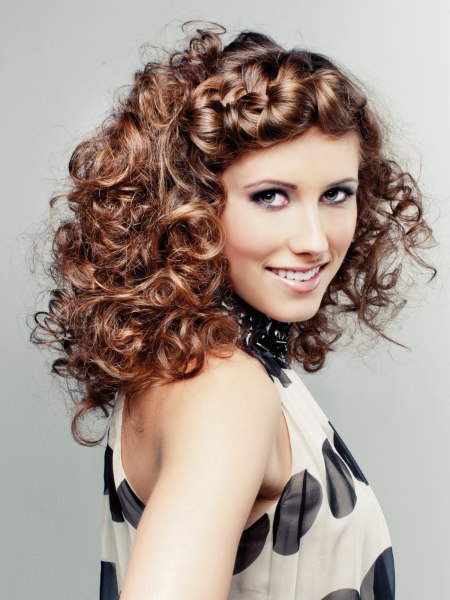 All of the opulence of historic Austrian art, architecture and the elegance of a metropolitan city went into this playful and romantic look. The nostalgic curls are combined with a wide braid that runs sideways above her forehead in lieu of a fringe.

Her natural golden brown hair color turns especially vivacious with gentle highlights. What a great look for the opera or the coffee house. If you rather wear your hair up, check out the next photo to find out about a most fabulous style that can be made with this curly delight.


Vienna - Updo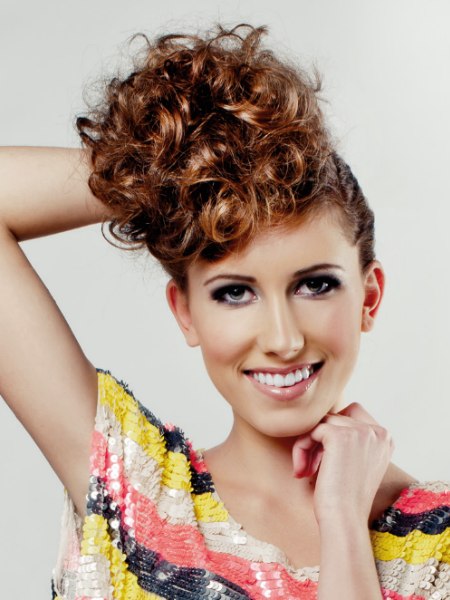 Put on that sparkly dress and lift up your hair to such a breathtaking bundle! A mass of long curly hair can be transformed to this ballroom ready up style just by gathering all of the hair at a spot close to the front on the crown of your head, with just a tiny touch off center.

Tied together the hair will stay in place and look this stunning when brought into shape with a hot iron and fixed with a good hairspray. The curls are well defined and very lustrous through the golden highlights on the chocolate richness of the brown base.


Venice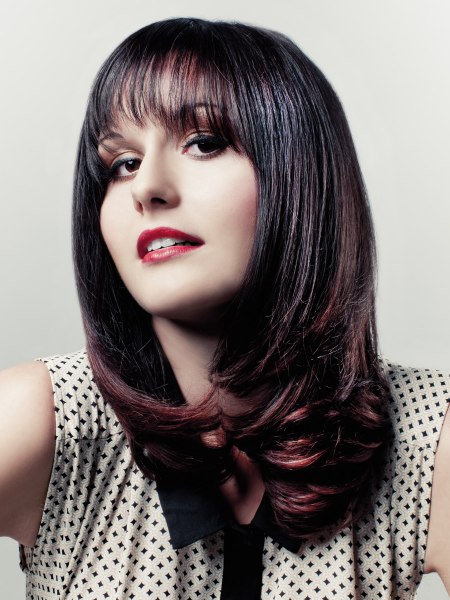 Classy elegance with an Italian flair comes with a most refined coloring technique called ombré, meaning shadow. The color flows from a dark espresso tone almost seamlessly into a reddish, warm teak that is strongest in the tips.



Another great feature are the thin and round cut bangs and the large inward curve in the lower perimeter. High style with elegant effects for every day glamour.


Venice - Updo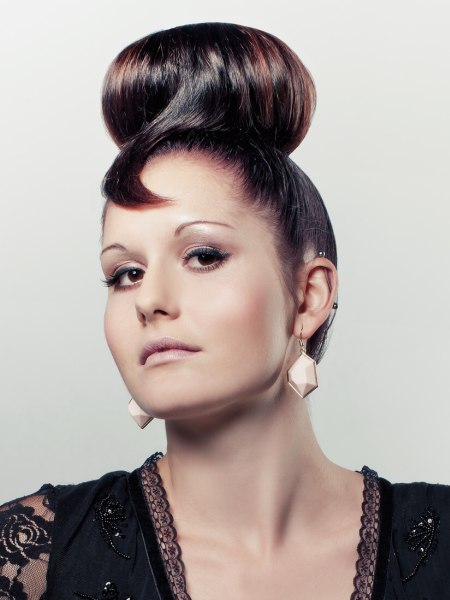 There is always an occasion when a woman needs to look her most glamorous best. If there is none coming up, you can still use a round foam insert to create this stunning bun and be gorgeous beyond belief!

The hair was styled strict and flawless around the inserts, which gives the bun volume and hold. A curved strand reaches into the forehead and breaks up the uniform shape. Combine this look with soft make-up and statement earrings.


Berlin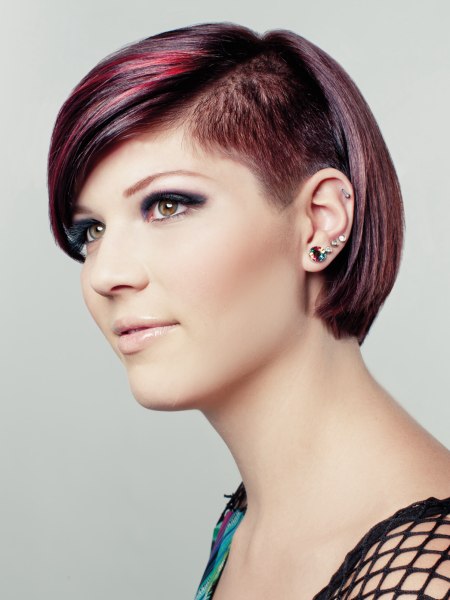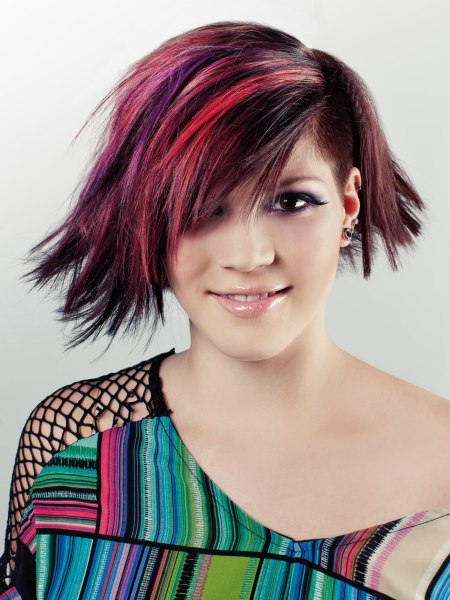 A short round cut turns urban hipster style with the triangular undercut on one side. The clipper cut texture is a great contrast to the satiny sleek lengths that are styled very smooth and round. A high side part sets the direction of the sweeping long fringe which is even more enhanced by slivers of bright pomegranate red.

The sides feature color accents in a soft lavender, keeping most of the attention to the front. This hairstyle is a great balance of classy chic and contemporary boldness. Check out how you can transform this very cut into an entirely different expression of yourself.


Berlin - Updo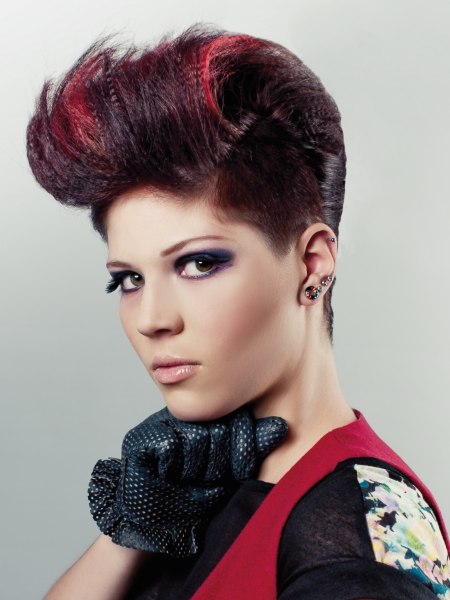 Crimping irons are experiencing a revival and the texture they leave in the hair truly is unique and beautiful. It takes just a little effort and the smooth round look transforms into a high quiffed rockabilly look.

The sides are slicked back with pomade or wax and cling close to he neck, allowing the high volume on top to be the star. The crimped hair was styled to a roll, highlighted with the neon pomegranate strands for a truly rocking style.


Paris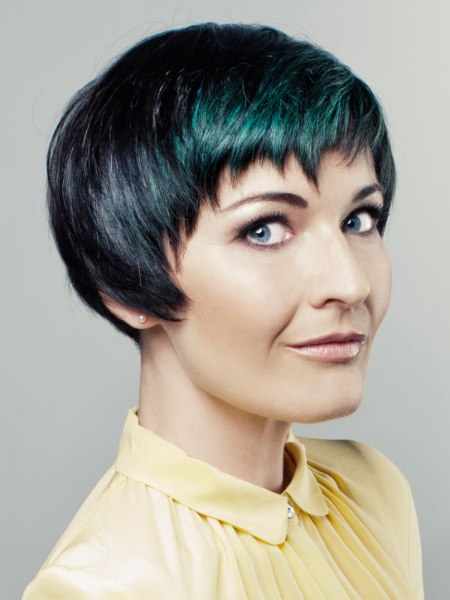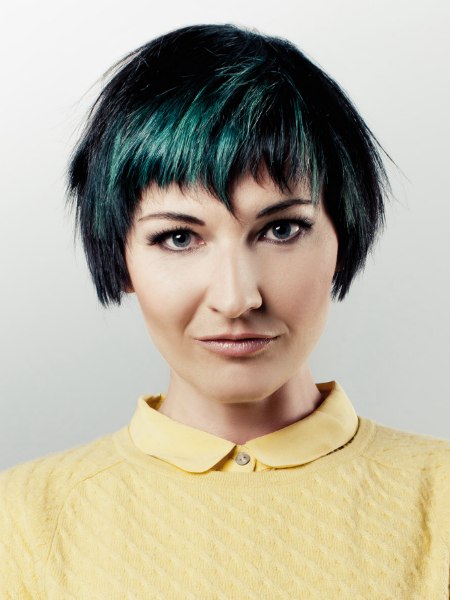 Short and feisty in a boy cut with a jagged fringe and richness of color. This look is feminine and effortlessly elegant, but comes with a playful esprit. It reflects the innovative and creative fashion world of the "City of Lights", which always reinvents itself.

Shiny turquoise (greenish blue) stands out against the dark brown hair color like the reflections of the streetlights on the river Seine on a moonless night.


Dublin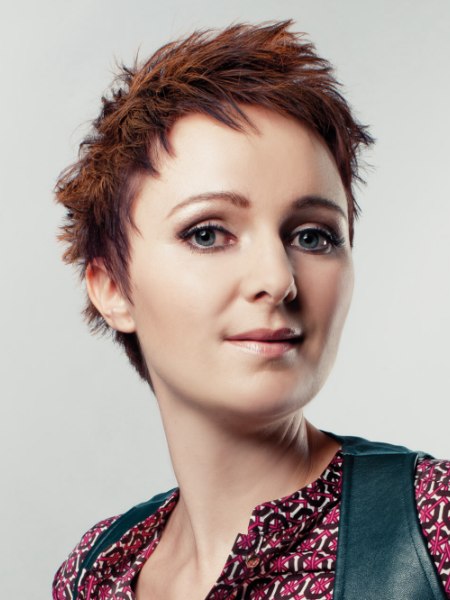 This short crop represents the ongoing trend for women to wear their hair in an androgynous fashion or boy cut. Jagged, spiky and full of life with short, textured hair all around from fringe to nape, this adorable hairstyle stands out with its tips that were just dipped slightly in a lighter, reddish tone.



A little sculpting crème goes a long way in short hair and is always worth the extra effort. Style the hair into your face, straight up or a combination of both.


London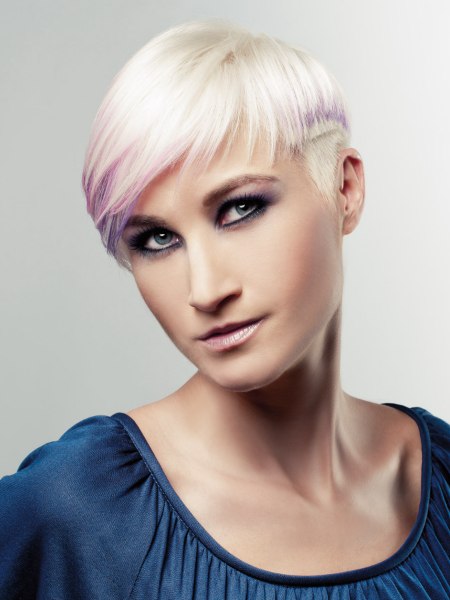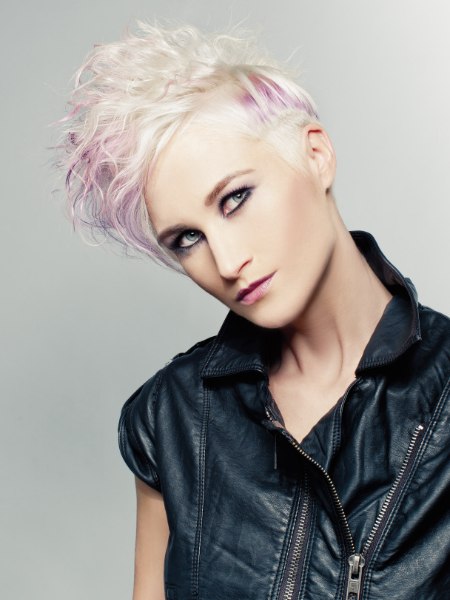 Get that London swing and punk style in your hair. This eccentric blonde look is constructed with three tiers of lengths and textures, the short clipped undercut as the base. Then a blunt line separates a straight section which is again covered by longer, feathery hair.

A dip into purple generates yummy effects all around the iridescent silver extravaganza with most of the color effect in the sideways fringe.


Tokyo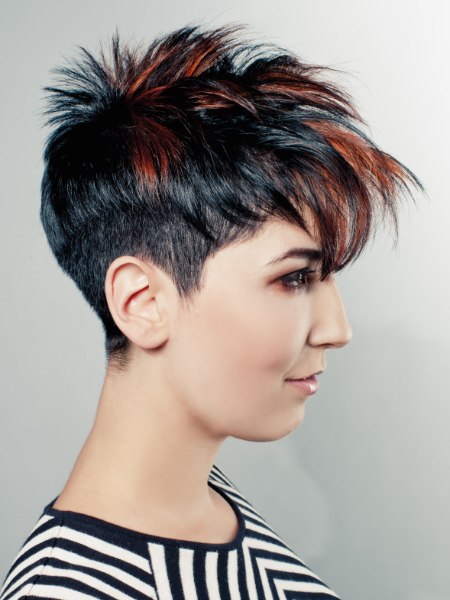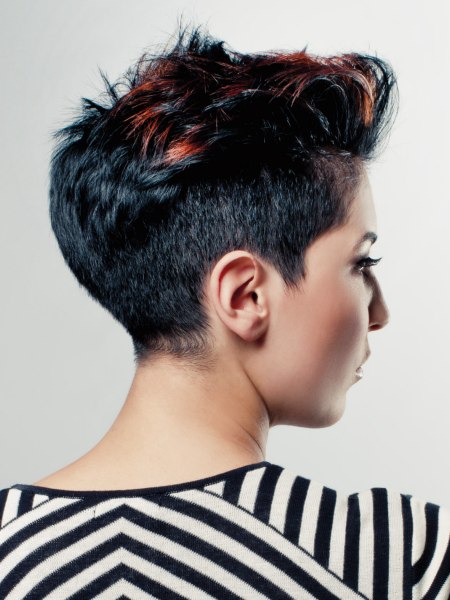 Punk with a Japanese flair. Sharp and bold with long strands in front and shorter, more form fitting hair in the back.

The progression of movement increases from back to the long bangs and with the right cut this look will fall in place all by itself and does not require too much product to give it stand and hold. Black hair as a base gets a great kick of energy with the copper highlights.


Los Angeles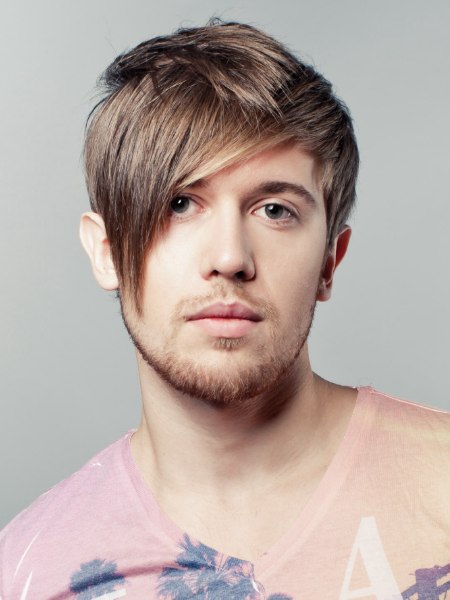 A few rays of the southern California sun made by chemistry complete this casual and edgy look for men. Tinseltown is all about showing off and also about an active lifestyle and this haircut combines both. It is flashy with its long, asymmetrical fringe, but the rest of the hair is short, low maintenance and sporty.

The hair is styled in overlapping layers showing much care in styling without any random fuzzies. It looks especially good with well groomed facial hair.


New York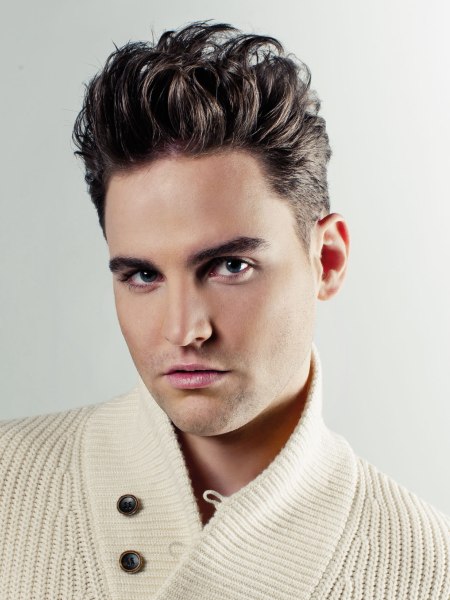 Dapper and classic. A traditional cut that is perfect for career oriented men with an appreciation of timeless style. The length increases from the ears to the top, which gives him many options to style his look.

Here the natural curl was invigorated with some mousse and given lots of room to develop its formidable volume. The contours are flawless and the very short stubbles give him a sexy morning after look with a dose of bad boy.


Sydney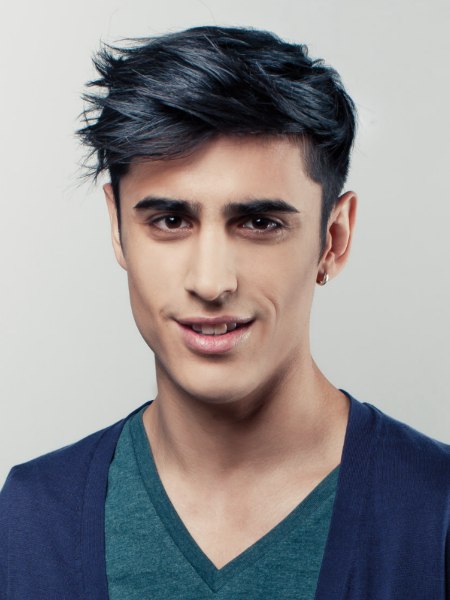 A little rough around the edges, but well behaved and refined. A perfect cut for the adventurous man who likes his outdoors, but is also at home in urban environments. The long top hair is styled in a dynamic motion to the side, while the short sides retain their traditional and masculine appeal. A bluish metallic shimmer provides mystery.

Hairstyles: KLIPP Frisör