Unmistakably Chic
Zentralverband des Deutschen Friseurhandwerks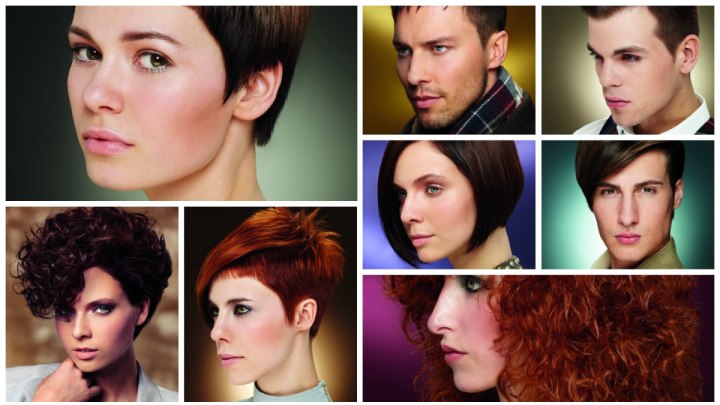 Scroll down for more photos ↓

Special effects are not just for the movies. The Zentralverband des Deutschen Friseurhandwerks included a few of them in their collection. Variable, convertible hairstyles are designed with the busy lifestyles of modern women and men in mind, where one look just is not enough.

Each one of them, short or long, has interesting facets that want to be discovered. A common trait is the soft and round character of the shapes, warm hair colors and technically perfect haircuts. Undercuts, texture are used for great structure. One other technique is especially noteworthy since it is celebrating a comeback: the perm!


Very Short Garçon Haircut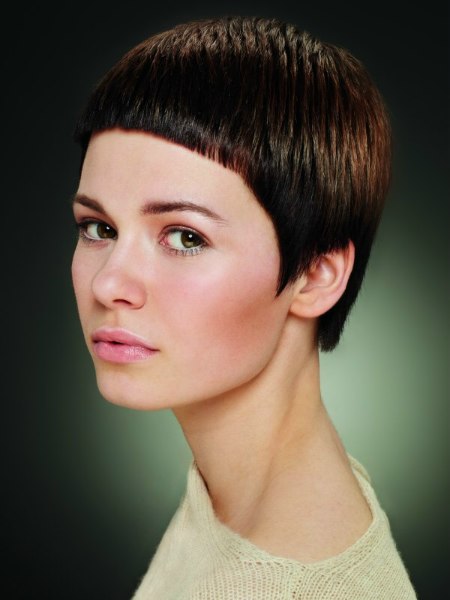 Celebrities discovered short haircuts a while ago and now more and more courageous women sport a well coiffed garçon look. Despite the minimal length these cuts are surprisingly feminine and have a sensuality all of their own. Extreme short haircuts draw attention to the face, and that is their secret.



This very short hairstyle was designed with a clean outline, dramatically short bangs cut in one large curve from one cheekbone to the other. Besides the very fine texture in the tips, there is also a sculptural texture that was put into the hair with a comb after a smoothing product was put one. The fine stripes are the traces of it.


Wispy Short Pixie Cut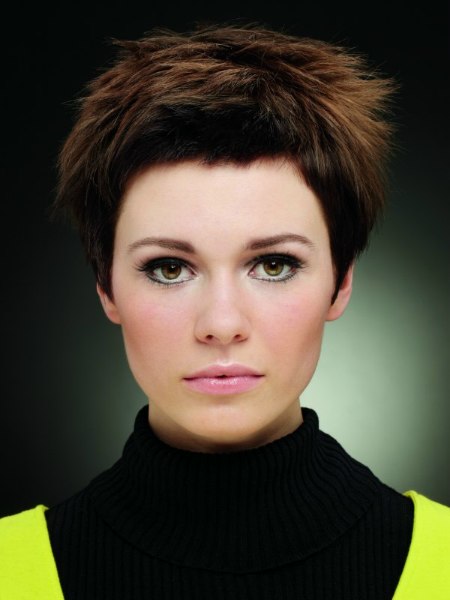 You might have guessed that there is another aspect to this adorable short haircut! Here it is, restyled and with a big punch of feisty infused into every hair.

Instead of being flattened and slicked up with a smoothing and texturizing product, the very short hair now is fluffy and full bodied with uprising ends and wispy styling. The fine layers of the pixie cut are visible now and also the intricate balance of light and dark hair colors reaches its full potential.


Clipper Cut Sides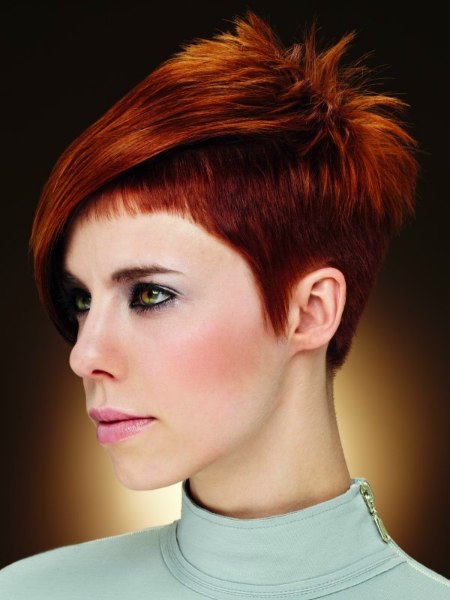 Postmodernism at its greatest. A creation of hair that could not be more eccentric and fun with its architectural design. Short hair close to the scalp and cut with fine precision is topped first by a burst of soft spikes which then extend to a long and sleek layer of shiny beauty.

Not just to the forehead but in a large curve these diagonal bangs reach the upper part of her cheekbone. The mix of a short clipper cut undercut and the long section of this women's haircut is full of sizzle, which is intensified hugely with the fiery copper and orange color.


Messy Styling for Short Hair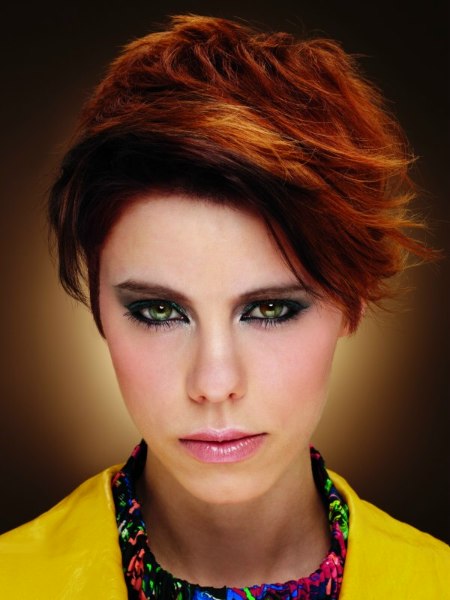 With the geometry taken out and more softness put into the look, the undercut avant-garde hairstyle turns soft but with velocity. Many gentle curves will sweep him of his feet and keep her on top of the trend charts.

The hair was first directed to the front and then the fringe moves to the side in a casual and just a little bit messy way. Darker colors underneath make the lighter top vibrate and also increase the dimension.


Brunette Bob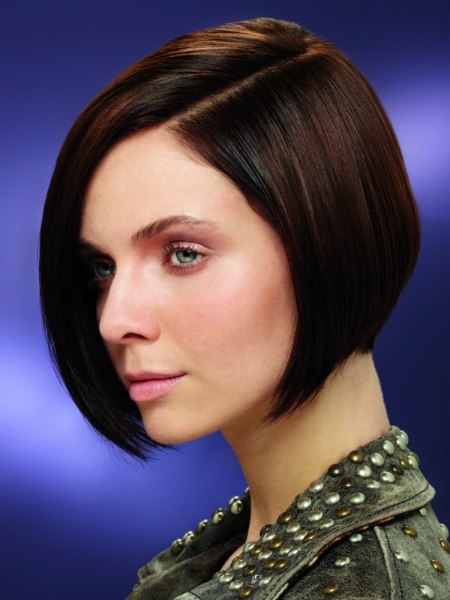 Hair fashion would not be the same without the short bob. For decades this classic has beautified countless women all over the world and continues to do so in ever new and exciting forms with innovative details.

This brunette bob with edgy sophistication is graduated and slightly layered to keep the volume under control and the shape close to the head. The longer front gently caresses her chin and gives her face a great outline.


Very Short with Curls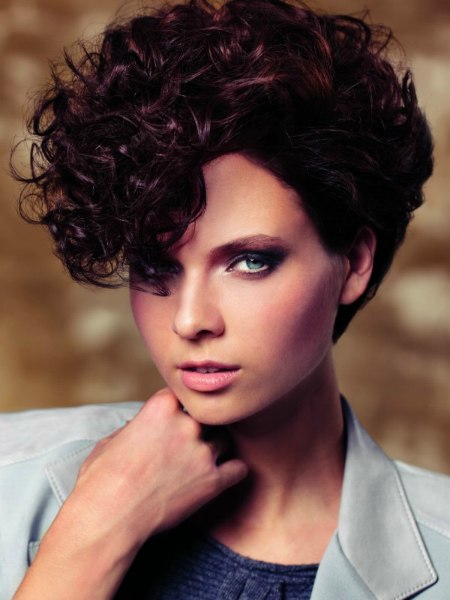 Girls want to have fun, that is a fact even before Cyndi Lauper brought it to everyone's attention. From about the same time, the fashion forward 80s is the inspiration to this very short topheavy hairstyle. Heavy in terms of attention but not when it comes to the hair, as these curls are as light as feathers.

Intense coiling brings about well defined curls that fall nonchalantly into her face in a big asymmetrical bang. Sides and back take a more humble position and keep the focus on top. Her color is a very smooth cocoa color with a snazzy hint of purple.


Perm for Curly Hair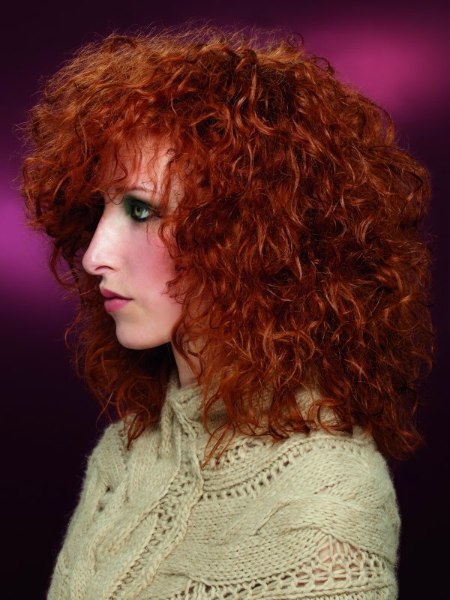 It was not necessarily on the "in" list of the trendsetters in recent years, but the perm has survived and comes back with new vigor and new tricks.

A more gentle treatment and new techniques turn flat medium long hair into a curly mane of sheer delight that will last and last and last. Her copper pride and joy is layered for an optimal distribution of the volume. A long fringe is sexy and allows for a variety of stylings.


Blown Out Sleek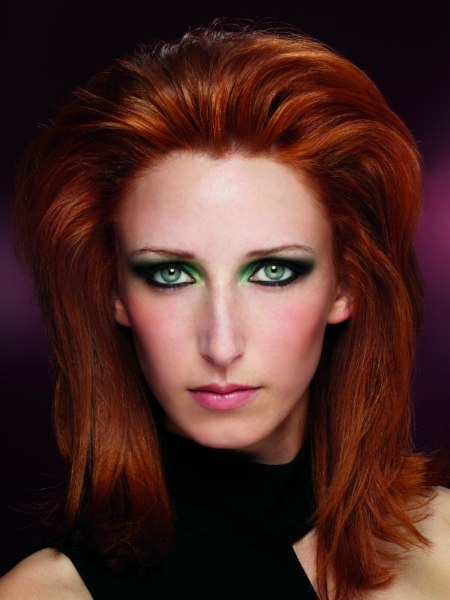 A perm does not mean that you have to wear your hair in curls every day. With a good round brush and a blow dryer it can be turned into a light and full sleek look. With the bangs lifted and turned to the back a very classy and stunning shoulder-length hairstyle develops.



The highlighted streaks on the hot, hot copper increase the diva factor, and that is something that we all need every now and then. To make this style work make sure there is enough volume on top and at the roots. The rest will fall in place all by itself.


Manly Cut with Texture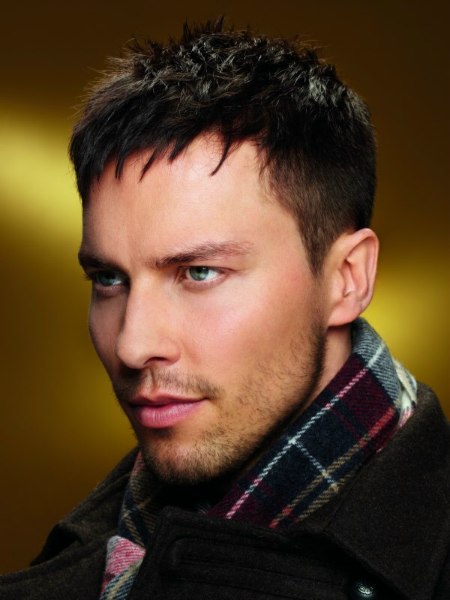 Fashion haircuts for men can be quite unconventional and extreme. This sexy short one however bets on a classic approach, spiced up with modern texture. Sides are clipped millimeter short, smoothly increasing the length towards the top.

Individual strands are accentuated with a tish of styling product. An effect that looks especially good in his short bangs. The cut is very dapper and accurate, the styling can be as wild as he can handle.


Clipped Men's Hair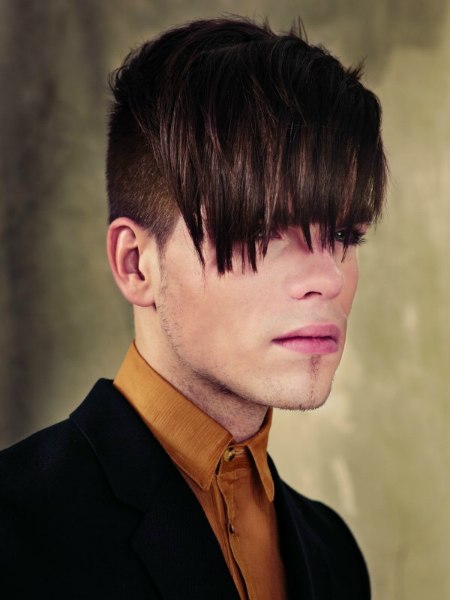 Geometry has found its way into the male hair fashion and calls for some extreme heads. This short and long haircut is the work of a genius, as it is one of the most convertible hairstyles for men out there.

He can go from an extreme bangs with texture look to a dapper dandy, as you can see in the next image. The hair was clipped short all around and has long top hair, which is the material for all of the different stylings.


Clipper Cut Sides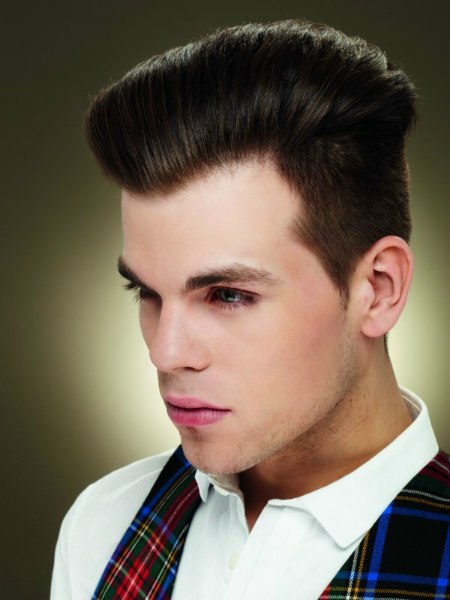 In this version he puts the longer top hair to great use by styling it as a retro quiff. All smooth and slick hair sits above the clipper cut sides with decent volume and a fine surface structure throughout.

Pare with a nice shirt and vest, this is a real heart breaker! The top hair can be boosted with even more volume for an even more intense look.


Long Fringe with Attitude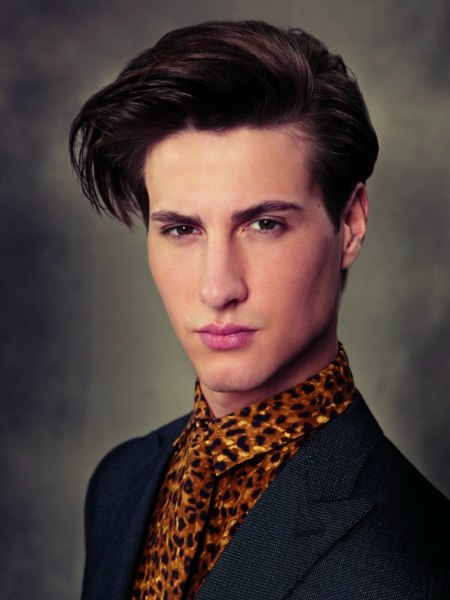 This fringe has character and does not like to be controlled. Curved to the side with determination it shows off its cool texture and makes sure that everyone knows he is a man of taste and fashion sense.

The hair is longer on top, but also has a little more length on the side than the all popular retro cuts have. The outline is impeccable, and the possible styling versions are endless. With his dark brown hair and eyes of the same color, he will be hard to ignore.


Soft and Fluid Styling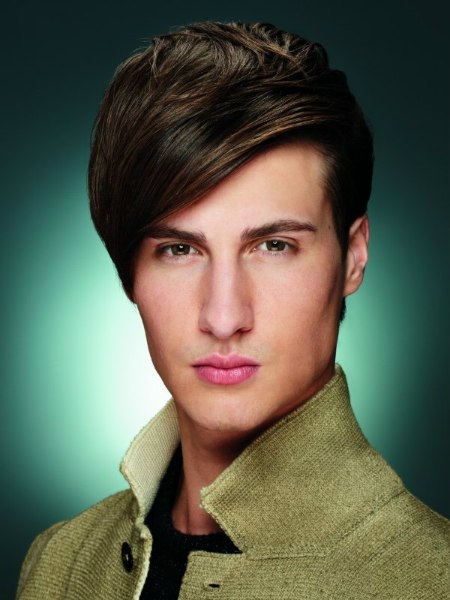 A new approach to the styling of men's hair is much softer than it has been in the recent past. One important part is still longer top hair and impressive bangs.

Here these were treated with a sculptural product that offers a flexible hold so that they remain in their diagonal line across his forehead and stay pliable. More texture was created by styling some of the back hair towards the front with some movement an a separation of strands.

Hairstyles: Zentralverband des Deutschen Friseurhandwerks
Photography: Michael Petersohn, Berlin

See also: Short hairstyles | Medium hairstyles | Men's hairstyles