Tchip
Hairstyles Autumn-Winter 12-13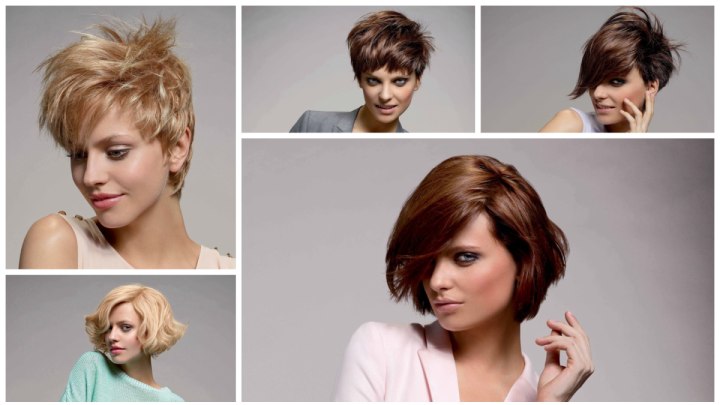 Scroll down for more photos ↓

In the world of Tchip practical never means dull and once again the creativity and style of the looks in their fall and winter collection is just refreshing and inspiring. If you are ready to visit your stylist, check out these sassy short hairstyles with their whimsical allure, beautiful texture, casual attitude and all of the chic of the season.

Hair colors of the year are natural in a mellow range of soft browns and sparkly blondes. Texture is still a big topic and styling is easy. Have some fun with your hair again!


Thick Fringe with an Angle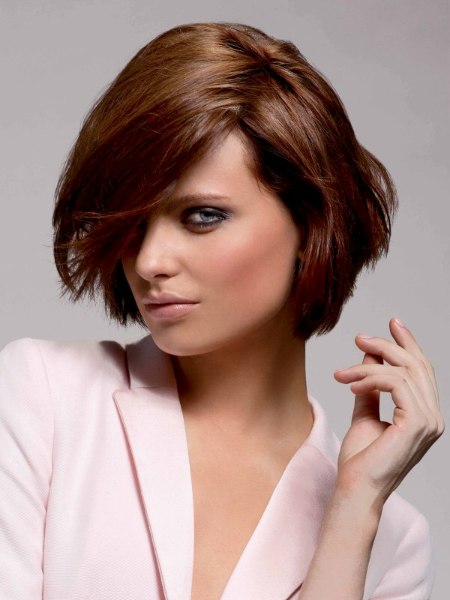 A few low layers and a slight A-line spice up this short bob. Diagonal is the way to go if you want to get away from blandness. Opt for a little asymmetry, and you will be surprised about the new energy you will have. This might just be a reaction to all of the compliments you will be getting.

The thick hair frames the face with a lot of movement, and the long fringe swept sideways and subtle texture keeps everything soft. With a little bit of tousling the look is finished to perfection.


Pixie Cut with Frontal Allure


If you cannot get enough texture, this might be the perfect short hairstyle for you. It has three major elements that set it apart: the long fringe, the two tone hair coloring and the fresh texture throughout.

The bangs are the longest part of the entire style and are cut to a teardrop shape with built in layers, all ending in a fine point. The hair color is a soft brown that begins high on the crown. The sides together with the back shine a few tones darker. Subtle but noticeable. Styling is a breeze with this one.


Short and Messy Hairstyle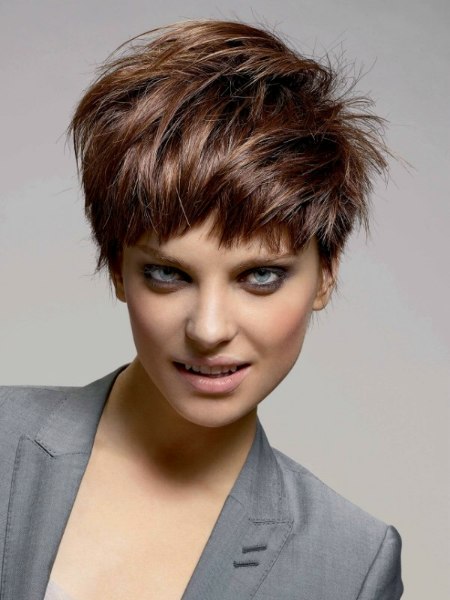 Great for the office but a lot of fun everywhere else too, this pixie cut is trendy, chic but also has a feisty edge. Layers over layers, thick and textured, gradually lengthen from the ears to the crown where there is enough volume to play with.

For this trendy look the hair was loosely styled forward in generous curves that have a lot of lift and are separated and tousled with some product and the fingers.


Short Curly Bob


A short side part with long side bangs on the short, curly bob. That is the look that screen dreams were made off and it is still sexy and ever so trendy. A few layers give lightness to the billowing locks that frame the face with sensually soft movement.

Her hair color is a medium blonde, like the color of a delicious caramel latte. To style the hair was curled with a hot iron and then slightly disheveled with the fingers.


Pixie Cut with Long Bangs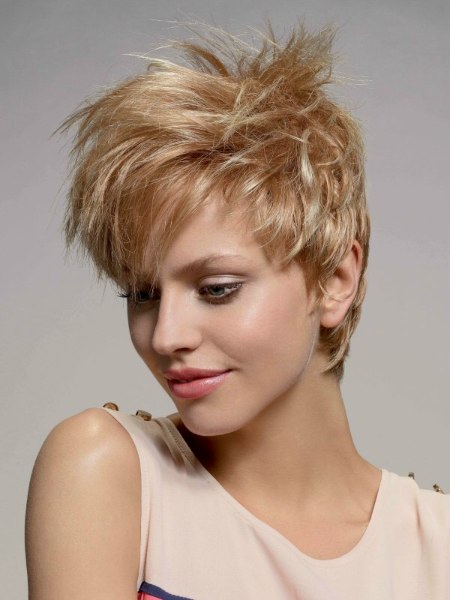 Keep it light and fluffy with a pixie cut. The wispy and feisty effect of this layered short haircut will brighten every day and every mood. Styled more form fitting in the back, but up and wild on top, it is truly adorable.

Her already light blonde hair gets even more dimension with a few highlights and a good shine treatment.

Hairstyles: Tchip

See also: Short hairstyles