Flat Irons and Thinning Hair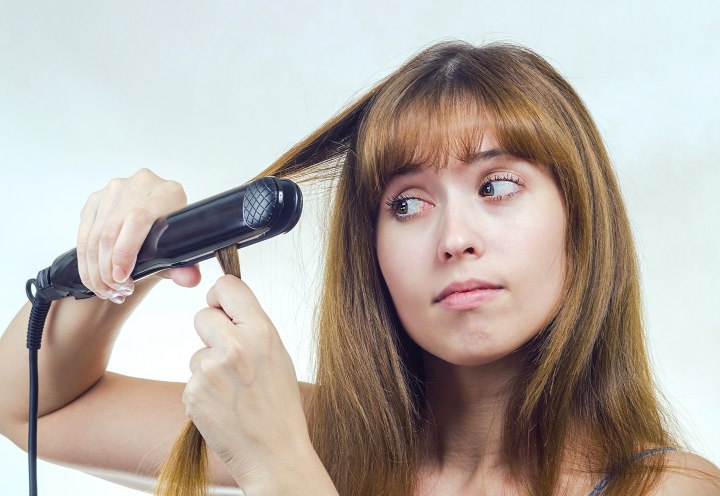 Q: Ever since I bought my new iron, my hair has been getting thinner and thinner. Should I buy a new iron? My friend said a ceramic one works the best. Is that true? Or is there something I can use to make my hair thicker or thicker-looking?

A: I'm concerned that you are making the connection between your thinning hair and the purchase and use of your new iron. This would indicate that the new iron is damaging your hair and causing breakage. If this is the case, buying a "better iron" may not be the solution.

A number of questions come to mind regarding your situation, such as "What is your hair's current condition? Is it dry and frizzed? Does it show other signs of damage? What other chemical processes have you had? Has your hair been permed? Has it been 'relaxed' or 'straightened' chemically? Is your hair bleached to a shade lighter than your natural color? Has it been colored repeatedly?" These are all factors that, when combined with the use of heat styling appliances, can result in damaged hair.

If the thinning of your hair is a result of breakage and damage due to the styling with the flat iron, you need to stop ironing the hair and treat the real problem. If your hair is breaking and being damaged by heat styling, you need to begin a regimen of deep conditioning and moisturizing to restore some strength and resilience to your hair.

If your hair doesn't show evidence that the loss of hair is because of breakage, you may be suffering from a form of alopecia and you should see your doctor to determine the cause of the hair loss. Chronic illness, allergic conditions, and hormonal changes can result in thinning hair, and most of these can be treated medically by a qualified physician or dermatologist.

In the meantime, there are thickening serums and volumizing shampoos on the market which will help your hair look and feel thicker. Brand names and manufacturers vary, and most have common formulations, so feel free to try brands whose names you trust.

As to the question of whether ceramic irons work better than others, the answer is both "yes" and "not necessarily". Thermal appliances are like every other technology and are being constantly improved upon. Ceramic irons have the benefit of providing a more even heating and better 'non-stick' surface, than older models of flat iron. However, beyond the advance that brought us ceramic irons is the newer "ionic" technology which can smooth and flatten the hair with less static and offers superior straightening results.

Even so, traditional flat iron models can work wonderfully on normal hair when used properly. So, make sure that whatever iron you use you aren't working with an iron that is too hot for the hair, and that your hair is fully dry before you apply a heated appliance to the hair.

To summarize, I think a more important issue here is the thinning of your hair. Once you've addressed this issue and found the source of the problem, you can then correct it and hopefully return your hair to a naturally healthy and lush state.

©hairfinder.com
Photo: Zoteva/Shutterstock.com

See also:

Thinning hair Q&A

Curling iron and flat iron damage

Is using a ceramic straightener better for your hair?