Long Hairstyles
Piles of Curls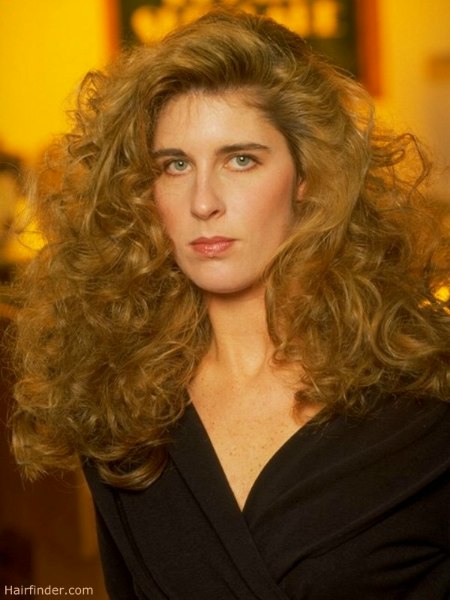 The king of the jungle moves silently around tall tropical plants with grace and power and when he shakes his glorious mane, not a sound can be heard. So it is with our model who is wearing rolling piles of curls in her long hair that stands out at bay from her head.

The top is instituted to meet most of the glory on the side. The other side flows in unison and is fashioned back exposing the intensity of her eyes and then splendidly wrapped around the neck and shoulders. Total hair and all hair! Big hair is back!


Resting upon the Shoulders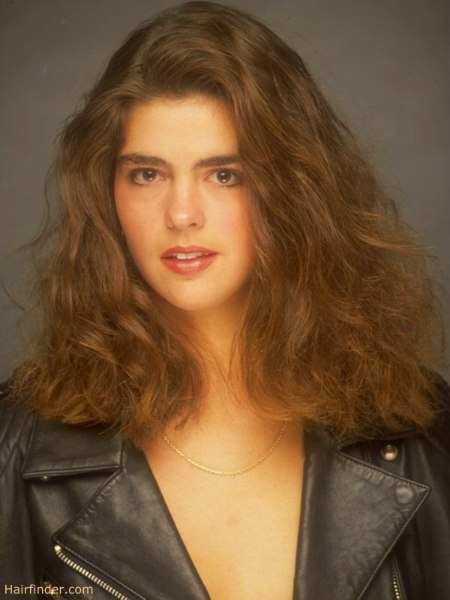 A high side panel extends our model's hair over with a poufy surf and then, falls with great delight into long fluffy threads of angelic hair that rests upon her shoulders. Subtle dippy waves are integrated throughout the hairstyle with plenty of movement and action.

An easy long style to keep up when you have the right haircut! Just blowdry underneath the hair and when dry, spray with gloss on the top.


Curls and Waves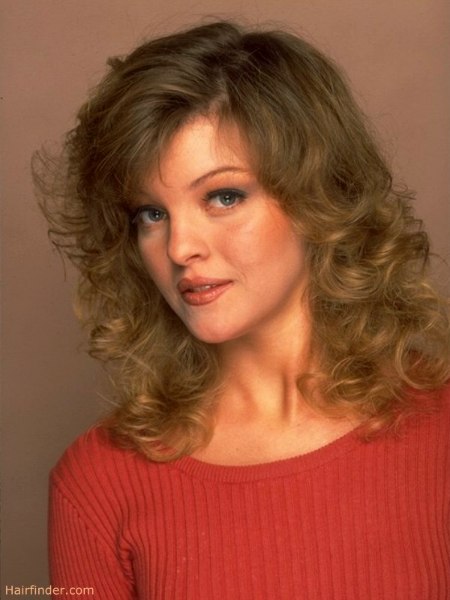 Check out this delicately smooth hairstyle surrounding the top with a jagged side part that generates the hair over to the one side and joins with the curls and waves that are made by the fashionably layered haircut.

This ideal length can be a permanent image with a body wave and wore up or down for your ultimate pleasure.


Stacks of Curls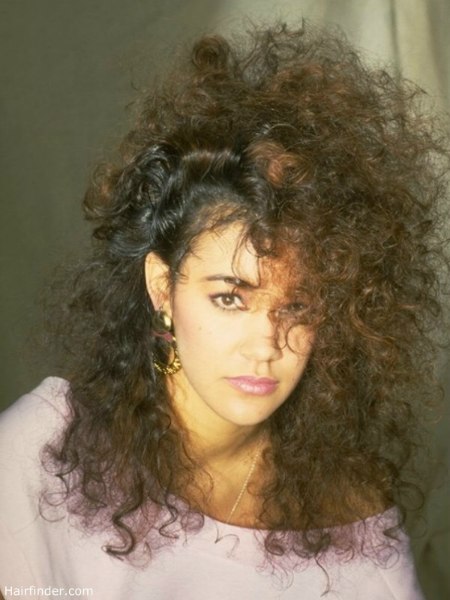 Stacks and piles of curls are blended in together as the artist brought up one side section to be fastened upon the head creating this ultra high sizzling hairstyle that bushes up, out and eventually lies below the model's shoulders. Use generous portions of gel that is especially made to build curls and scrunch while you blowdry.


Hairdo with a Body Wave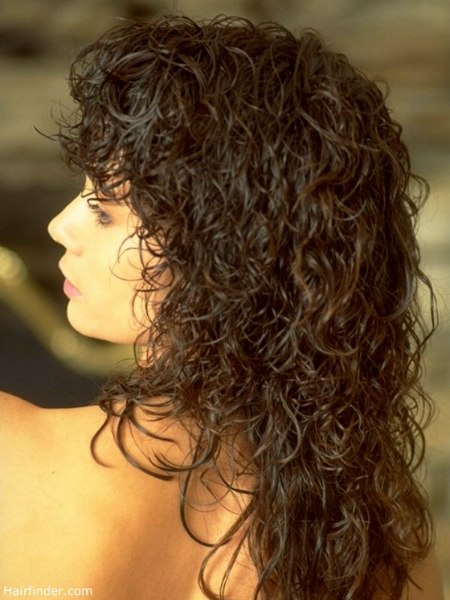 Observe this delectable picture of what a body wave can do when clipped in layers and left to dry by itself. Many waves and curls are prominent through the hairstyle with the longer area in the more relaxed state, while the shorter clips are a bit tighter. A true shag gypsy effect. Use gel for curls and lightly dab throughout your hair and leave to dry.


Curly Coils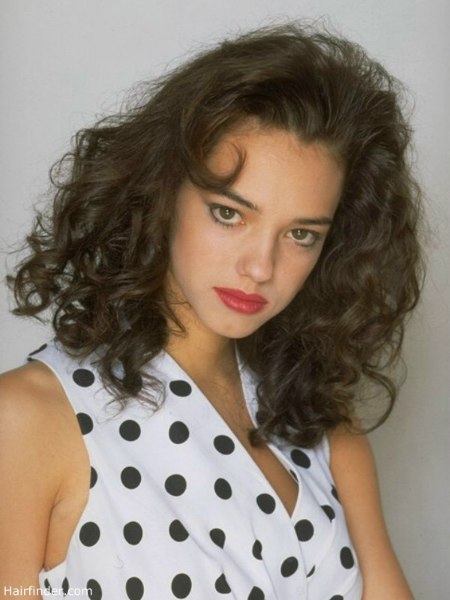 Curly coils are rampant in our brunette with the delightful pouf on the top that is designed over into a bold wide curl that brings attention to her eyes. The selection of a customized body wave would establish this inspiring look for you.

Blow dry the top and with a little back brushing the pouf you need for this most unique hairstyle will be all yours.


Nostalgic Long Hairdo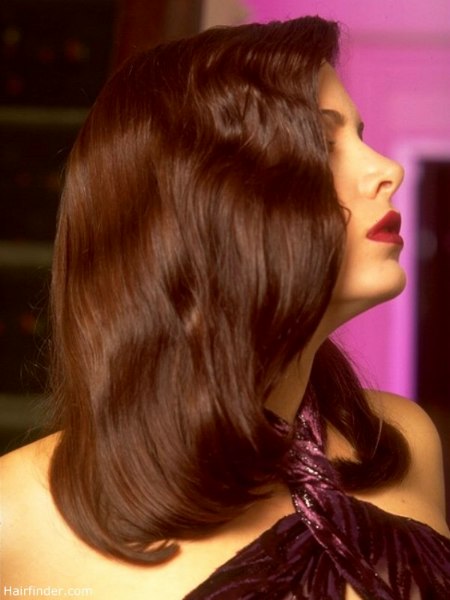 Most attractive is the photo of the bluntly edged clip that is styled under like that of a pageboy with a few casual dips and round blends that spring the nostalgic cast of yesteryear.

Roll jumbo rollers under all over the head and vigorously use a good stiff brush to lie in waves and tilt under when dry. Lightly spray gloss.


Revealed Forehead and Coils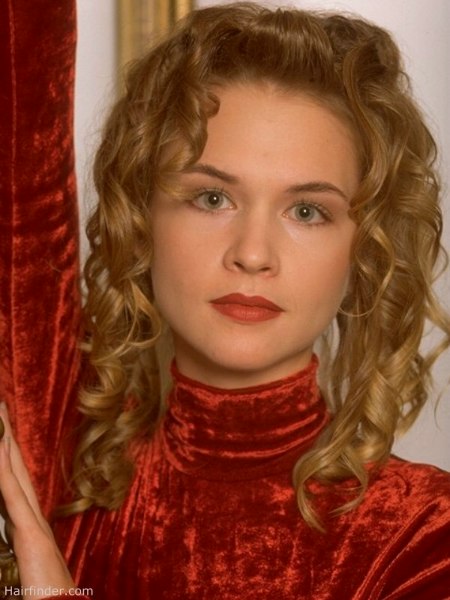 Many times when the forehead is revealed like the model in the photo, the eyes become more prominent, especially when there is a fringe type lace and softens the overall look, in which case; is what we see in the coil on both sides upon her temple.

The top is poufy and clipped under and the rest has been ribboned in delicate wheaten blonde spiraled colors around her head. Use a good setting spray while you curl your hair for staying power.


Ravishing Red Hair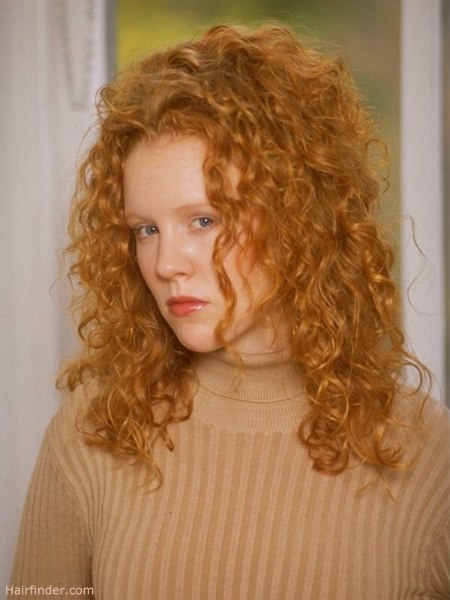 Ravishing strawberry red hair becomes a courtship of wooing when tongues wag from idle green stares and wouldn't you like to be the subject of their envious whispers! Our model has her hair in long layers that have been given a gentle body wave that quite becomes her fancy.

Constructed coils are placed in selective locations along with the waves side by side. Apply curling gel and spray gloss.


40s Era Look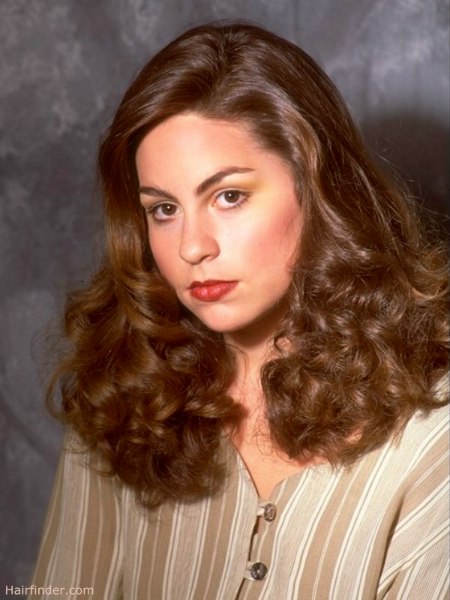 Just a touch, a simple touch, of the forties era is maximized in our model's most winning hairstyle. Get a load of the irresistible smooth appeal on the top with a side panel brought over to frame her face on both sides and then, a slight sculpture combed out and held with super spray.

The rush of feminine curls doesn't begin until just below her cheekbones and lace around her shoulders like an old-fashioned petticoat! This particular hairstyle is super feminine and sexy and if you have the slim figure to go along with it, all heads will turn when you walk into the room. Take this picture to your hairdresser when you decide for a change!


Long Hair with Braids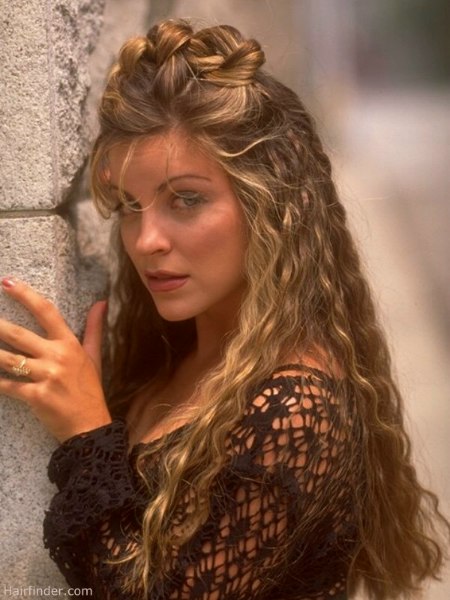 Check out the duo samples of blonde streaks that are woven into knots of hair which have been sectioned and braided together on the top of the model's head and ripples of waves flow in a lengthy abundance upon her back. A few transparent pieced threads dip over the forehead centrally taking over the model's eyes.

Long hair becomes a class act with a tiara of braids that sets the stage for this exceptional hairstyle. This is an excellent example of how excessive long hair can look good, neat and sexy at the same time.


Sixties Hippy Look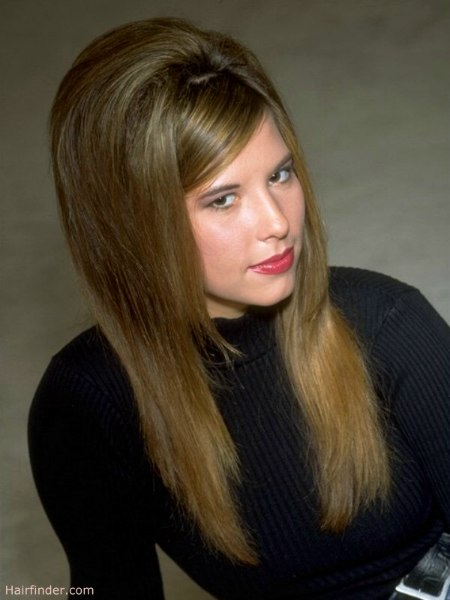 Shades of Priscilla Presley and the sixties are presented in the photo with backcombing high on top for the coveted height and the smooth hippy image from Haight and Ashbury! The slick whip like bangs are slicked over from one end of the top and flatly sprayed to rest under the side hair.



Defined long angled sides lie below the shoulders and seem light as a feather presenting the uniformity of the layered textures. After shampooing, relieve the dampness by lightly toweling, and then use the blow dryer and large brush for smoothness. Back brush the top, smooth over with gloss and spray.


Seducing Waves and Curls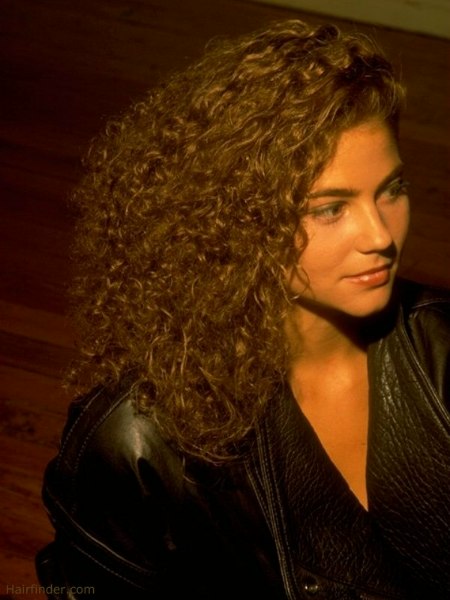 A tantalizing attraction of massive heaped up seducing waves and curls of hair brings a gavel down for a commanding verdict! Guilty as charged! And, who wouldn't want the sensual appeal of layered tresses that billow out from one another that a good moisturizing permanent can offer?

The hair is brushed over the top of the head while instructing the style to plunge and pour like fine raining curls. You might wish to consider a good permanent to bring you through the next season for your hair.


Curls and Waves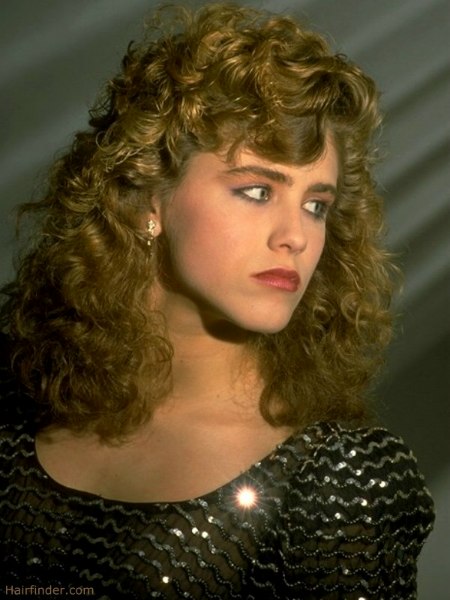 The glitter and glam of a natural colored blonde tone is hard to compare with other colors when it looks this fetching. Bits of curls and small dips of waves lie easily around the face with a spectator's sigh toward the deep wave in the frontline.

Hoards of waves chivalrously ride over the hair until a slight relaxation begins to happen and homes itself upon the shoulders of the model that only a good permanent would bring. Get the haircut first and talk to your hairstylist about the upkeep.


Windswept Look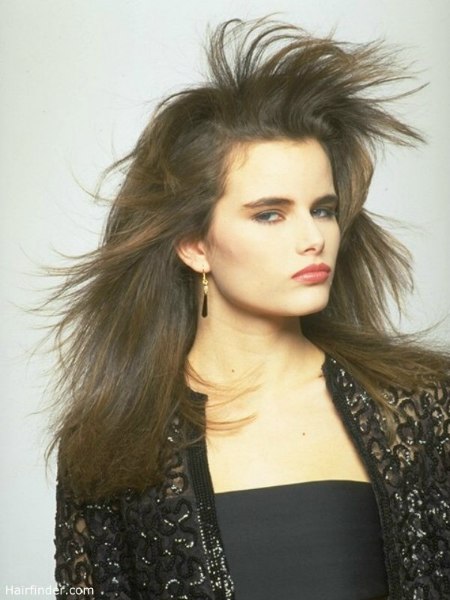 The defiance of long dark straight hair that flows in the winds and is allowed to stray anywhere it pleases is portrayed in the photo in textured layers that are gelled into an association of a stiff crested top that is styled high above the rest in long semi-circular spikes!

There's more besides, the sides dance out with wings exposing the splayed ends and the precision of the haircut. A total windswept scene by any sense of the word!


Casual Long Hairstyle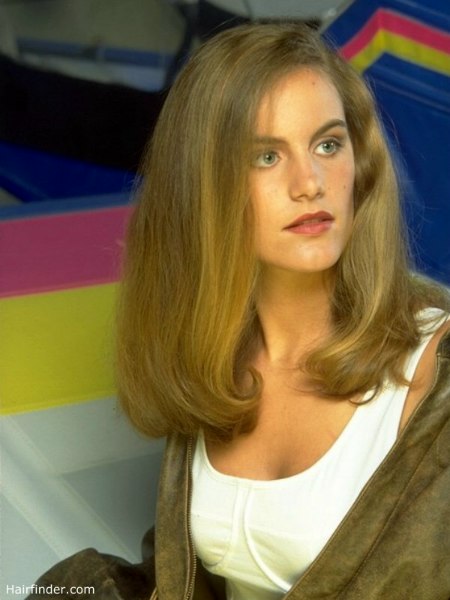 Lauren Bacall, is that you? Or perhaps it is a likeness of Veronica Lake's hairstyle of many years ago. Our mystery model brings a time of reflective thought to the idyllic casual fashion of a page boy that begins with a sectioning on the one side and brushed over to nearly covering one of the eyes.

An effortless wave is formed and ends with every hair brushed under lying softly upon the shoulders. A flip of a brush, moving the hair to swing under while blow drying will bring about this hairstyle or you can always roll your hair under with conventional rollers as well.


Long Hair & Thick Blunt Bangs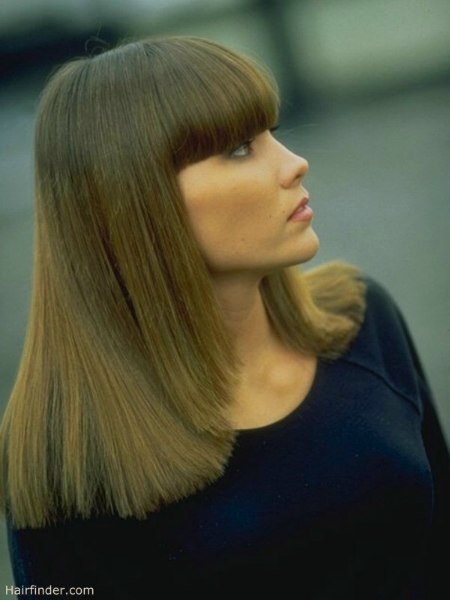 Smooth as a tiger's eye with specks of gold threading about the hairstyle lends an aura of Egyptian appeal to our image. Thick blunt bangs hide the eyebrows and make their way towards the temples.

Obvious clipped angles address the sides and cover the neckline as the hair circles around to rest upon the shoulders. Employ a flat iron to achieve the desired straightness and spray with gloss when finished.


Free Form Motion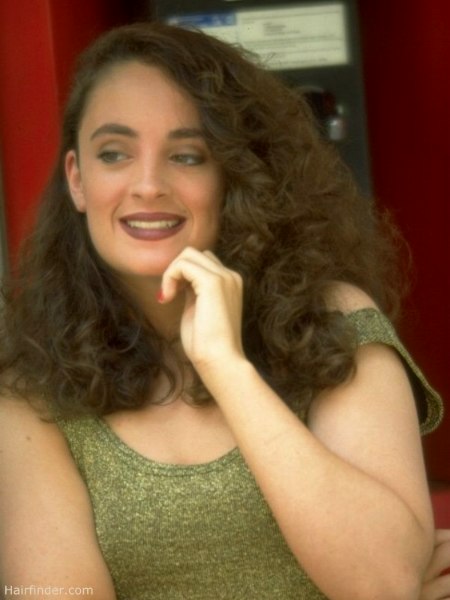 Stacks of busy coils topple over one another in a side section of hair that frames the face and bushes out from the head in an impressive free-form motion. Cool and warm tones of brown work together portraying the luxurious appeal of harmony.

The use of a medium sized curling iron around the hair will assist in this hairstyle. Spray gloss.