Victoria Nebbett @ Monroe Hairdressing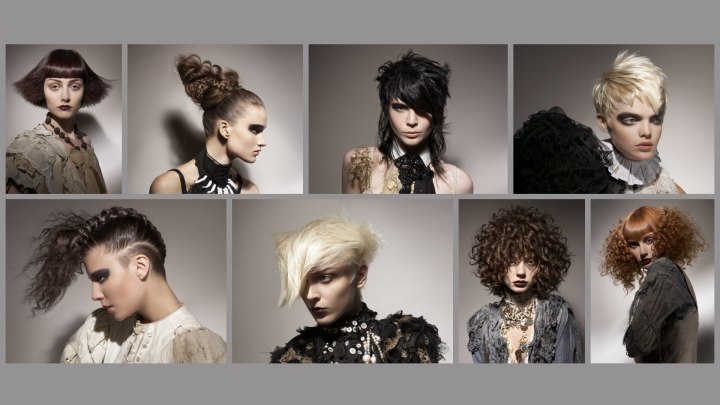 The thrill of swift moving lines becomes apparent in Victoria Nebbett's crafts that evolve into chunky clips, spiky bangs and crowns. From bold racy tapers cut close to the head to long kinks that bounce around the head or flitter about in the air, are all here.

Plunges of hair that sweep over the face in flashes of light and dark colors splash across your screen and the whirl of hair piled into an exuberant mod cone, demand our attention.


Crimped Hair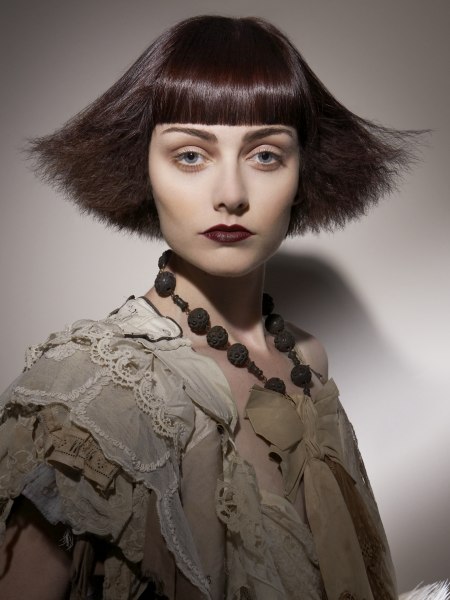 Fans of chestnut crimped hair wave to us with textured ends for us to see the rhythm of the precision cut. Temple to temple bangs are polished in a bold bluntness just above the brows. A simple flick of the dryer is presented with the right clip.


Choppy Blonde Hair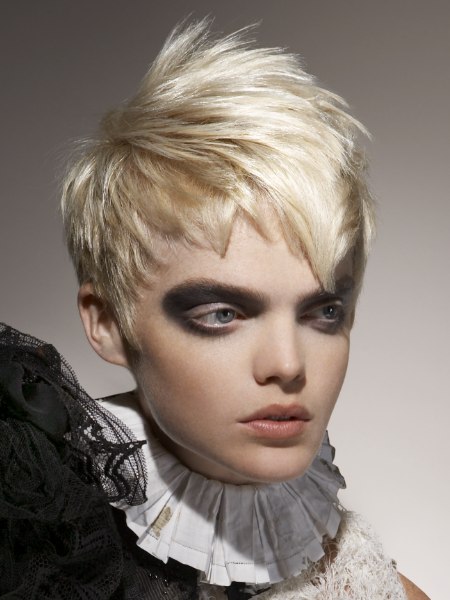 Choppy chunks of platinum hair become cheeky and naughty with spiky threats whipped up around the crown and the top. Piecy thick portions of bangs are elaborated around the face with the large dive of hair touching the brow.

The rest of the hair is clipped closely around the ears and along the nape of the neckline, extending a boyish contrast to the back.


Adventurous Braid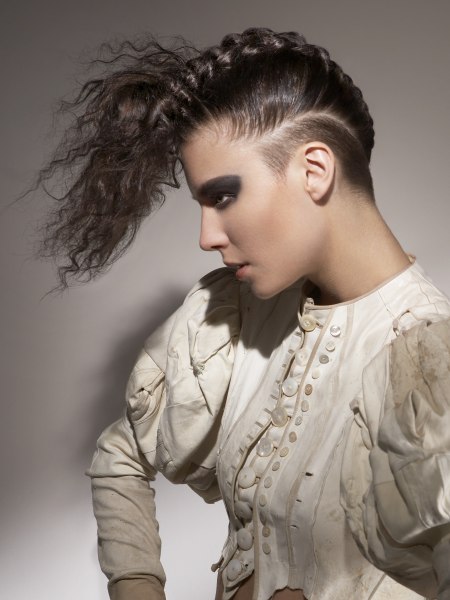 An adventurous braid begins from the nape of the neckline and is meticulously woven upward and over the maiden's head with a spray of rippled brown ribbons of hair waving over the head.

Directly under the hair, we can see a section of hair that is clipped tightly around the ears and along the nape of the back, promoting this one of a kind hairstyle.


Batman Bangs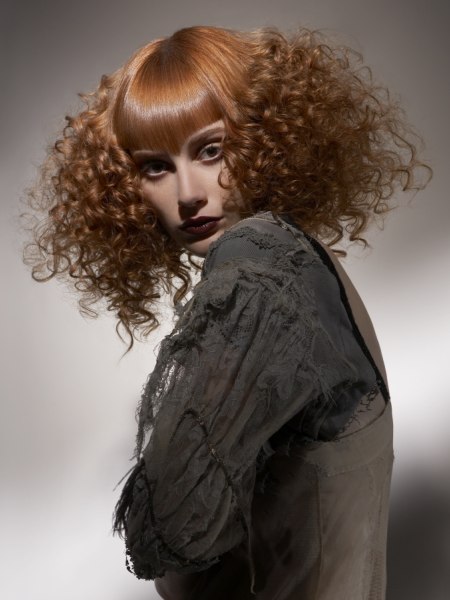 Funky strawberry colored hair is designed with playful batman bangs. The top is smoothed down until it flowers out into a bouquet of frolicsome curls along the sides. The itsy-bitsy coils are bought into such mass production of frivolity, they're sure to charm the socks right off of anyone.


Wrapped Hair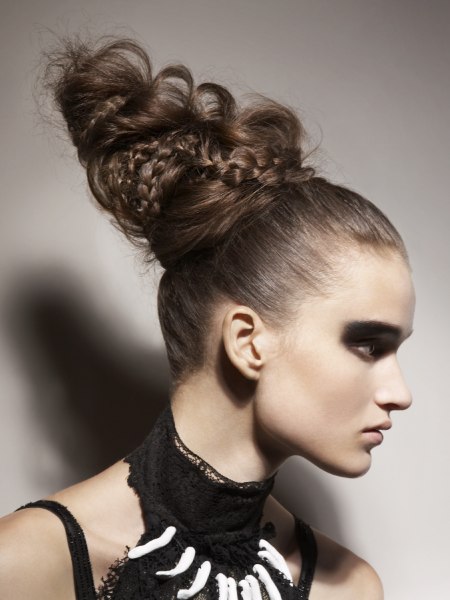 Remember Robin Hood's true love, Maid Marion? The artistic challenge of designing a pile of hair wrapped around into the shape of a renaissance hat would be thrilling at anyone's hand. All of the hair has been brushed back and toward the crown.

There are bubbled ribbons of hair that are accompanied by an irregular braid woven into interlocking positions throughout the cone creating a one of a kind hairstyle.


Spirals and Loops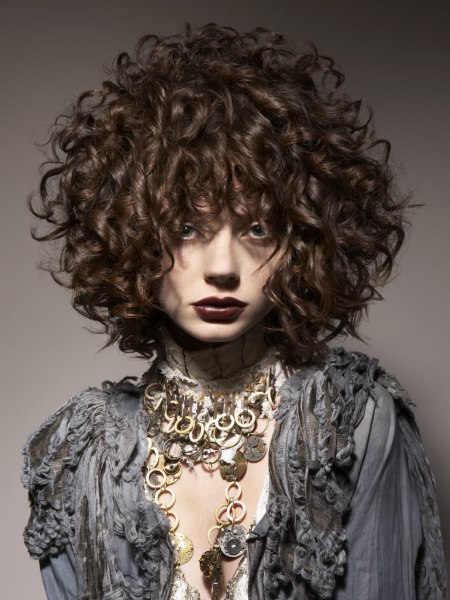 A throng of auburn brown hair is glamorized in hundreds of spirals and loops that blouse over the eyes and billow up and out for volume and around the head. The model's hair has been styled layer upon layer. Use a good styling lotion should you attempt this for yourself.


Platinum Waterfall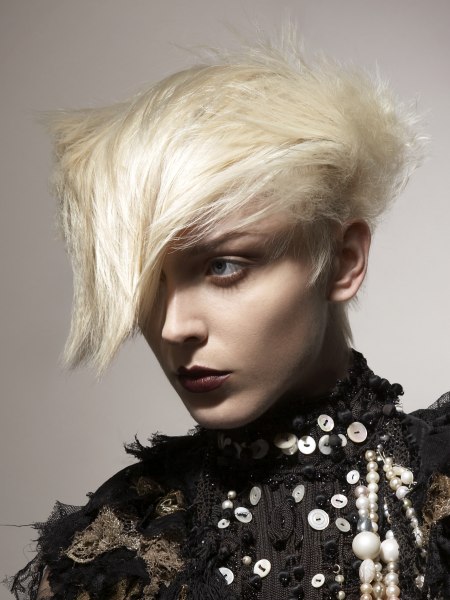 A commanding statement is announced with the white platinum waterfall that is dipping over the model's eyes. The style begins about midway on the back where the hair begins to be blown up while gathering momentum on the sides and over the crown. Spritz spray to stay.


Choppy Irregular Layers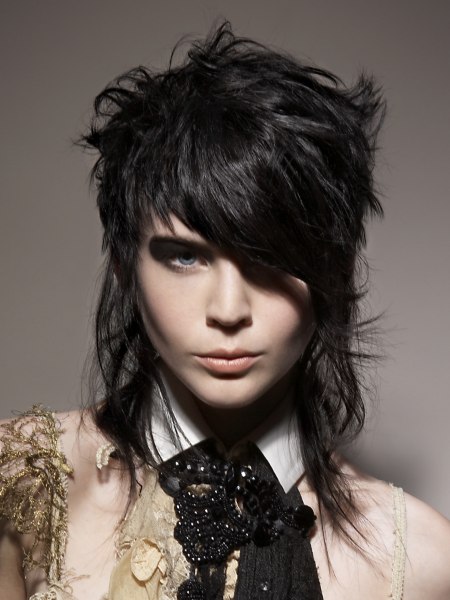 Snips of blue black tufted hair become a conglomerate of choppy irregular layers upon the crown and about the head with thin threads of hair touching the shoulders. There is also a heavy sash of hair that hangs over the one eye while moving over to the side with the rest of the hair. Freezing gel and lotions will aid with this fun hairstyle.

Hair: Victoria Nebbett @ Monroe Hairdressing, Leatherhead
Make-up: Irena Rogers
Clothes Styling: Harris Elliott
Photography: Daniel O'Connell
Art Direction & Production: Gary Gill
Products: Wella Professionals

See also: Short hairstyles | Medium hairstyles | Up styles