Davis Hair Creation
The Art of Dressing Hair - Vol. 4 Limited Collection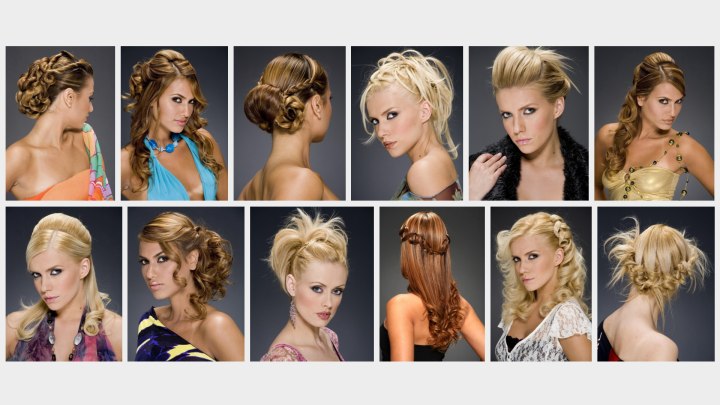 Scroll down for more photos ↓

A limited collection of hair ups from Davis Biton's "The Art of Dressing Hair" - Vol. 4, the step by step book presents 30 astonishing hair ups for all occasions from evening and bridal hair styles to summer parties, proms and more. Davis' techniques are simple, and the steps are easy to follow.

As a sampling of the hairstyles available in Mr. Biton's book, these upstyles should serve as reason enough to expect copies to fly off the shelves. There's something for everyone here - from the hip and trendy, to classic formal - and when you add that the books include instructions on creating these styles, it's a must have for any salon or even for those who just want some fresh styling ideas for their own hair.


Side-swept Partial Up-style


This side-swept style features soft twists and full sprays of curl to create a casually elegant look in a partial up-style. The finely executed highlights add accents and definition to the look without being too artificial.

The hair color is rich and dimensional, and the style would make a great spring formal or fancy garden party hairdo.


Inspiration from Ancient Greece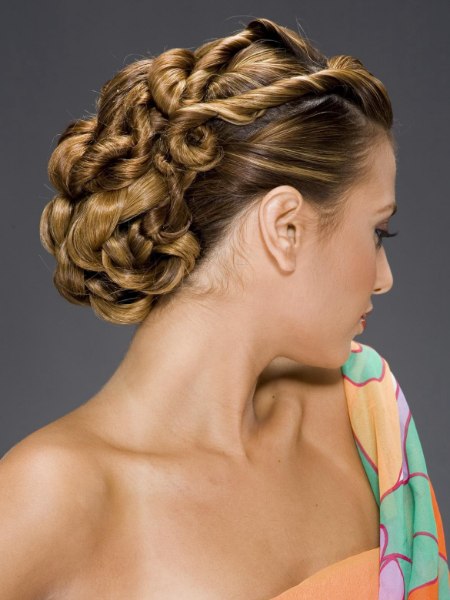 Smooth and sleek twists draw the hair away from the face in this hairstyle that calls to mind an inspiration from ancient Greece. The mass of knots at the nape give texture and interest to the hair while maintaining a controlled, sophisticated look.

The multi-tonal hair color gives each independent twist its own demarcation enhancing the look of the up-style.


Half-Up Half-Down Style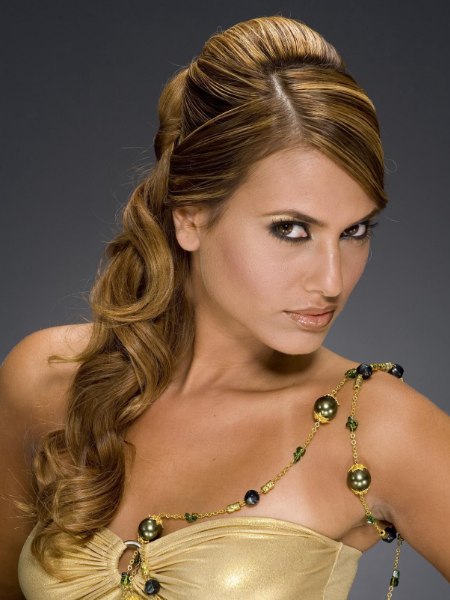 Half-up, half-down. With the foreground divided into an off-center parting. This partial up-style keeps its casual glamour with a volumized crown and a fall of smooth waves.

The look has a 60s movie star image inspired by the likes of Brigitte Bardot and Sophia Loren. It's a perfect style for any woman who wants to sing her siren song.


Partial Up-Style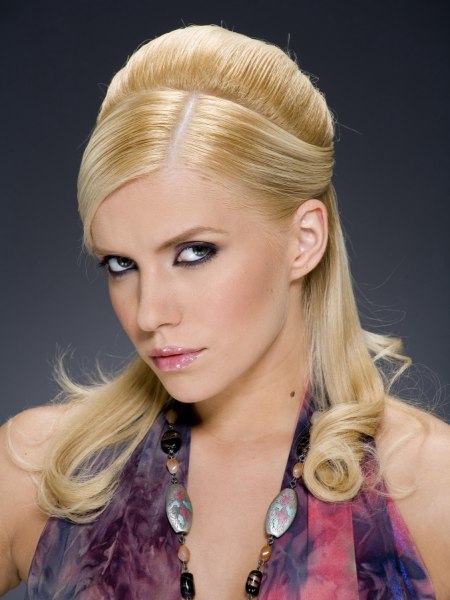 Once again into the classic styling, this partial up-style features smooth, sleek lines and soft sweeping curls in the ends of the hair. This clean, crisp silhouette is perfect for an evening in the clubs or at an upscale event.

The styling and finish of the look make ample use of the finely tuned hair color to give the hairstyle a glistening shine.


Sausage Curls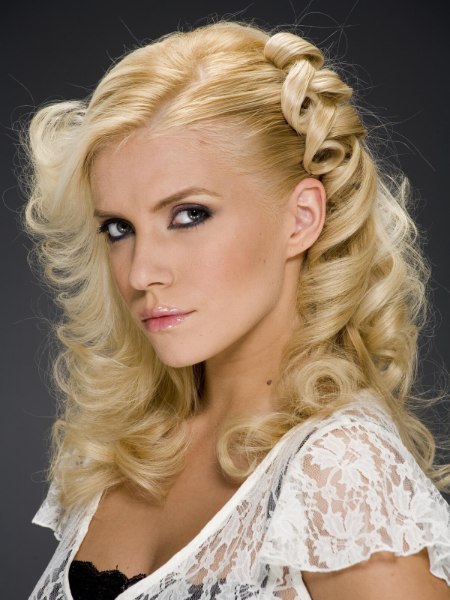 Feathered layers and sausage curls scream the 1970s, and this buttery-blonde hair is literally glowing with this super-soft style. With one side swept smooth along the scalp to fall in a spiral of cleanly defined curls, the hairstyle is balanced by the diffused fly-back layers framing the opposing side.


Chic Up-Style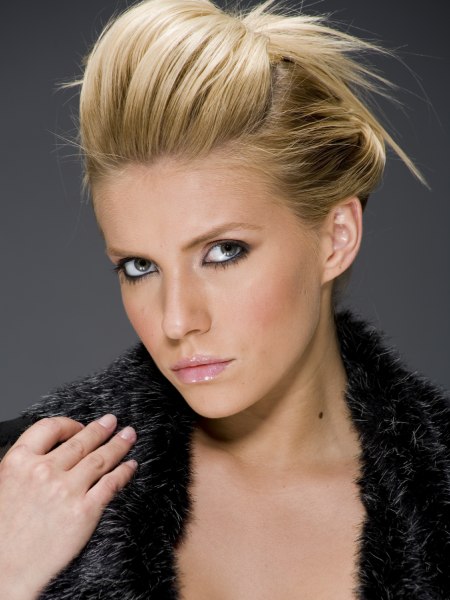 If the 1990s gave us anything, they gave us an appreciation for simple hair styling. Bumping up the volume in the top section of the hair and drawing the lengths back loosely to the crown section gives us a chic up-style that is made edgy by the straight ends of the hair beyond the confines of the styling.



This is a quintessential 1990s hairstyle and would be at home on the red carpet or at the hippest clubs in the city.


Fan of Hair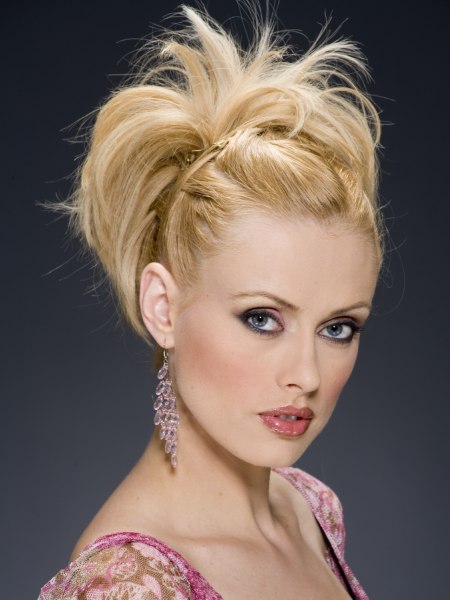 Proving that you don't need waist-length hair to wear your hair up, this loosely confined up-style is crafted from neck-length layers gathered at the crown and arranged into a soft fan of hair.

The hair is lovely and makes a dramatic statement. It's an ideal hairstyle for any medium haired woman who wants a dramatic up-turn and to create a high-end profile.


Cocktail Party Hairstyle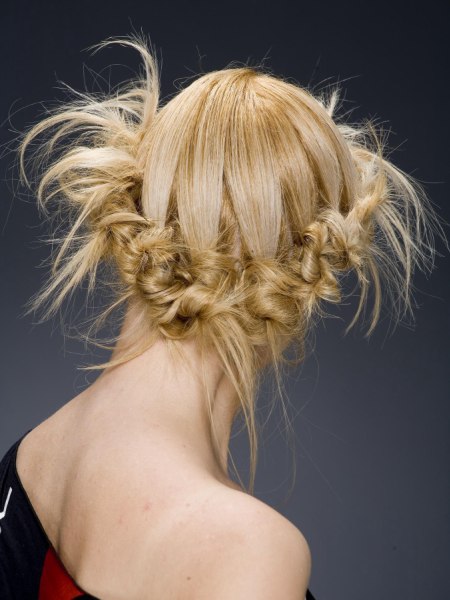 Whether it's an outdoor wedding in an autumn forest or a cocktail party at a Malibu manse, this hairstyle is all set to combine up-styled elegance with a soft halo. The tendrils create a visually impacting crown and can be dressed up by adding simple elements like flowers, beads or gemstones.


Up-Style for Younger Women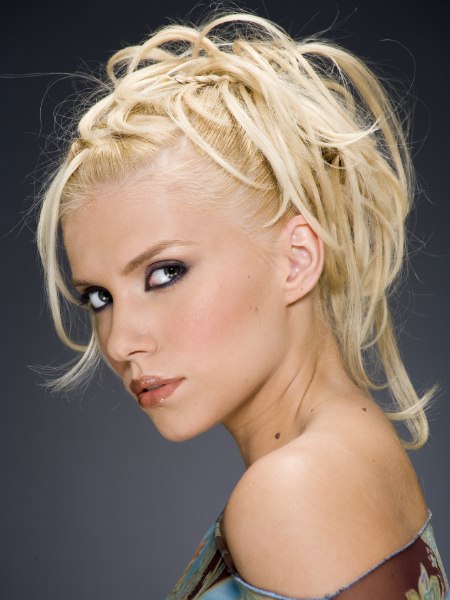 This knotty look gives up-styles a whole new element. The pale blonde locks are drawn up into scalp-hugging knots and the loose ends are arranged in soft curving tendrils to create a hairstyle that's playful, yet elegant in its whimsy. This makes a fantastic prom style or fancy dress style for younger women.


Daytime Event Hairstyle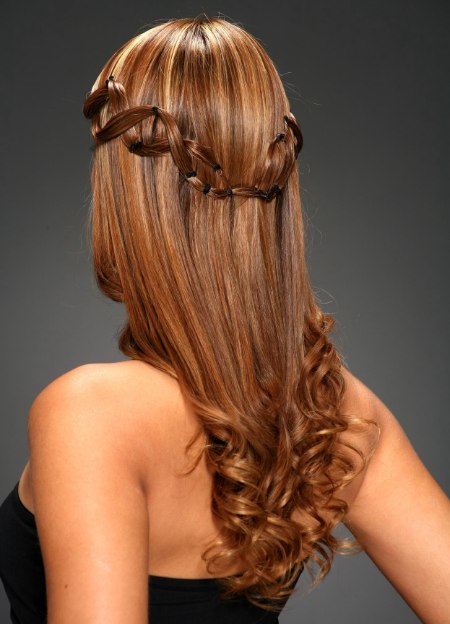 While not really an up-style, this multi-tonal ginger-hued look features an elegantly woven coronet crafted from the wearer's own hair. The smooth tresses beneath the crown fall to form spiraling copper coils at the ends.

The hairstyle is ideal for a daytime wedding or special event and make a dramatic statement of elegance.


Almost Up-Style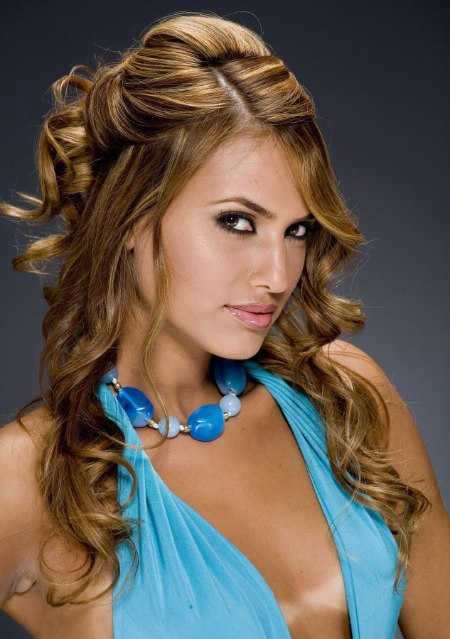 An almost up-style that features a bumped up crown section, a parted fringe, face-framing tendrils and long, flowing curls. All this is created in a head full of multi-tonal colors with rich, natural hues. Anyone who says a woman can't have it all, needs to give that woman this hairstyle and watch her shine.


Nape-Gathered Knot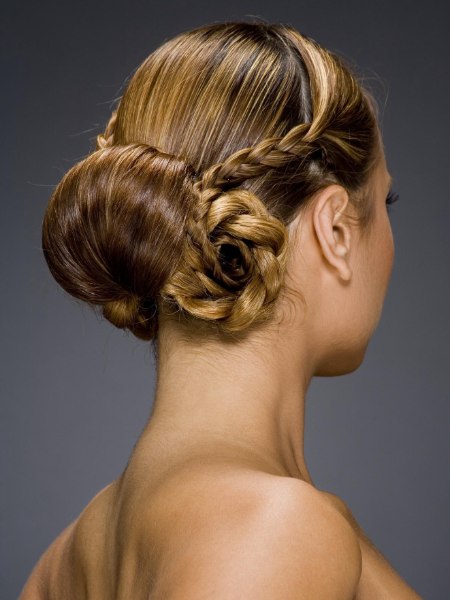 This nape-gathered knot features elements of old-fashioned inspiration. Calling to mind the old-world chignon, the classic roll-up bun and the braided coils, this hairstyle combines these elements to create a unique look that is both simple in its silhouette and still visually captivating. The braids and coils are playful while the smooth-tucked roll at the nape says pure elegance.

Hair: Davis Biton
Photos: Ohad Romano

See also: Long hairstyles | Upstyles