FW 08-09 by Top Model Coiffure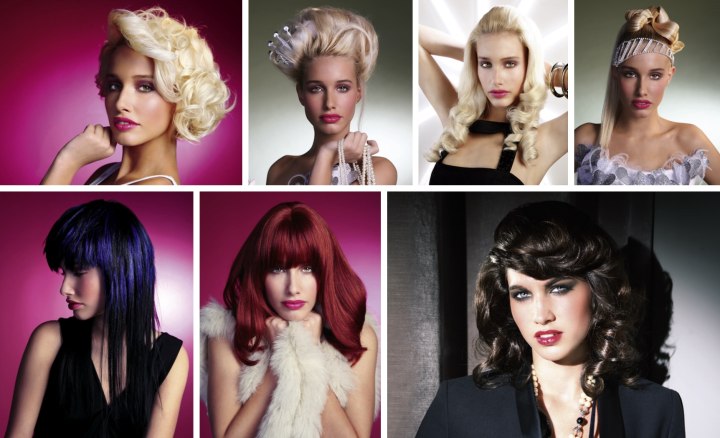 Scroll down for more photos ↓

For the cooler season, Top Model Coiffure turns up the heat with seductive, incredibly feminine, highly sophisticated hairstyles. Leaving all the deliberately messy and fringy looks far behind, the hair takes off in polished splendor.

The inspiration spans centuries. Digging deep into history, the creative Top Model team came up with glamorous updos that remind of Marie Antoinette. Large curls bring up a flavor of the glory of old Hollywood and a pinch of the 60s and 80s is obvious in long, sleek but voluminous looks. Curls are well defined and meticulously shaped. The hair is long and opulent with lots of volume on top. Emphasis is on definition and clear, clean lines.



The hair colors are pure bright. Top Model makes no compromises. The range is from icy platinum blond to deep reds and even unusual colors like a full royal blue. The colors resemble rare gems, and the shine is soft, transparent and elegant.

The new hairstyles make every woman feel like royalty. She can be the queen of her own world. By looking precious, she will feel good about herself and spread the radiance.


Polished Updo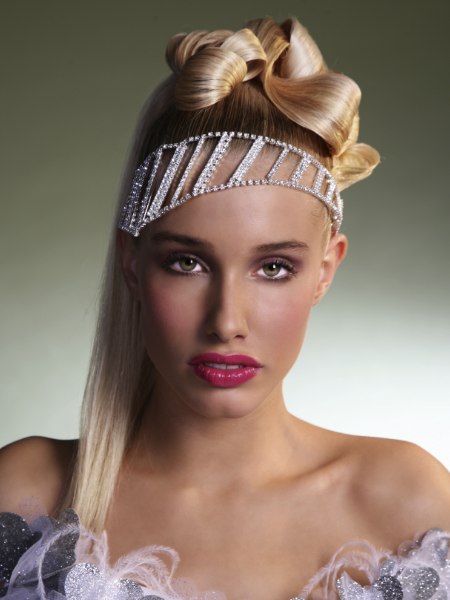 Polished updo for a very special occasion. The largest amount of the long blonde hair is pulled into a tight ponytail which is anchored high on the crown. A section of about 5 centimeters in width is pulled to ultimate sleekness and then curled over an iron.

It is then positioned in a slithering, undulating shape on top of the head and invisibly pinned tight. Hair jewelry is in heavy competition with the shine of the hair and makes a perfect style even more luxurious.


Opulent Hairstyle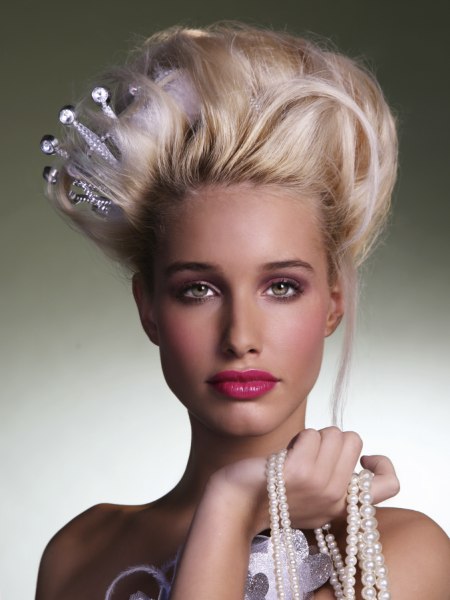 A hairstyle fit for a queen. Reminding of times when skirts had crinolines and waists were held in by strong corsets this opulent style transitions smoothly into our century. Pure abundance is the heart and soul of this style. Long hair is slightly teased and pulled up in a large barrel shape.

A couple of strands are granted their freedom, to let them loosen up the round silhouette with a sexy wink. Depending on the occasion you can go wild with the hair accessories. From tiara to flowers, let your imagination free.


Glamorous Short Hairstyle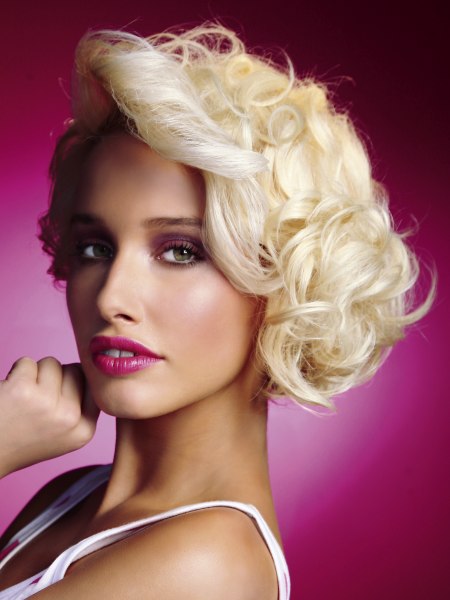 These large curls turn a short bob into a glamorous fashion statement. Sporty, elegant, sophisticated and with a strong sensual kick, this style is made for the modern woman who is looking for a strong expression.

The curls are well defined and shiny. The fringe part is shaped into a barrel wave in a lighter color than the beige blonde base color.


Rolled Curls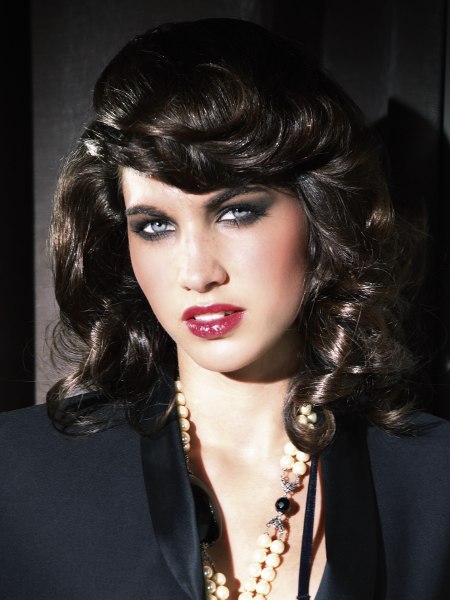 Think glamour. Think about the eternally feminine styles of Sophia Loren and Gina Lollobrigida. This opulent hairstyle deserves attention and will bring out the goddess in a woman. Long hair is rolled into large curls, the hair parted on the side to have extra volume on the upper head.



A nice touch is the rolled, rope shape front section that frames the face in dynamic curves. The extreme shine like black onyx can be achieved with a touch of serum.


Large Corkscrew Curls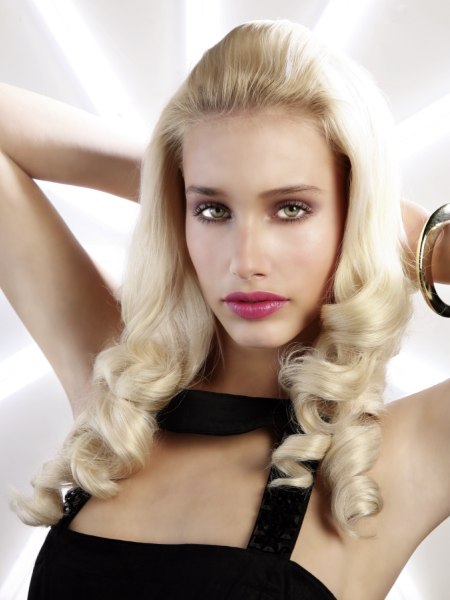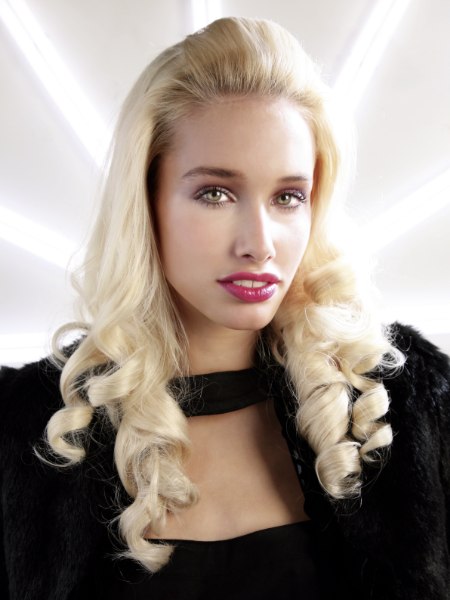 Have a grand appearance with large, corkscrew curls. Ready for the theater or the opera or if you just want to feel like a princess, this elaborate style will let you shine.

The fringe section is taken to the back of the head in a straight and slightly puffy layer; the long sides are mostly straight but curl up in magnificent cork-screw locks at the lower half.

The hair color is a light and sun kissed blonde with some medium blond nuances for a natural look.


Ruby Red Hair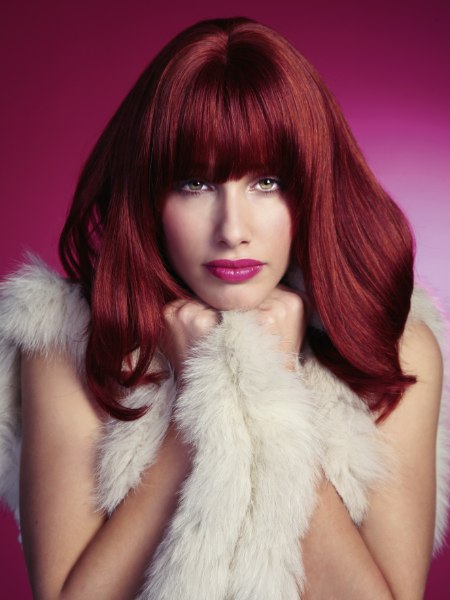 This look does not need an elaborate cut or styling. Simplicity in both makes the intense color even more precious. A deep ruby red is evenly coating the thick hair. A simple, straight fringe and fluffy volume in the straight style is all that is needed for a passionate, extravagant and utterly spoiled expression.


Indigo Blue Hair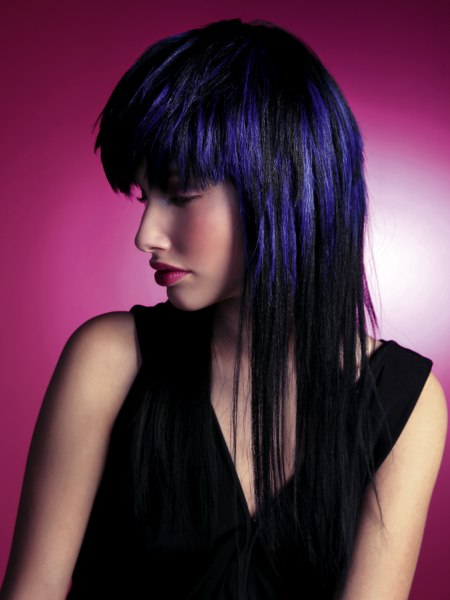 There are no more limits to styles and hair colors. Thanks to innovative products we can play and color to our hearts desire. One of the most beautiful combinations is deep ebony and a bright indigo blue that we only see on the wings of butterflies.

The hair has a full fringe and is steeply layered to create a veil of long, tapered black strands that flow from the indefinite depth and gentle structure of the blue.

Hairstyles: Top Model Coiffure - France
Photography: Sandra Fourqui

See also: Short hairstyles | Long hairstyles | Up styles