Artistic Hair by Caprice Salon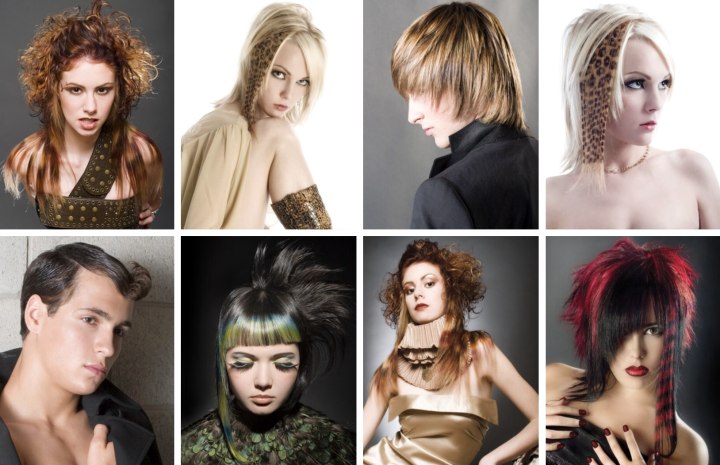 Caprice presents outrageous designs of artistic talent that are portrayed with hot and cool colors in hairstyles brought gallantly up and down, splayed with fans, curls, smooth lines and closely clipped napes for.


Bird of Many Feathers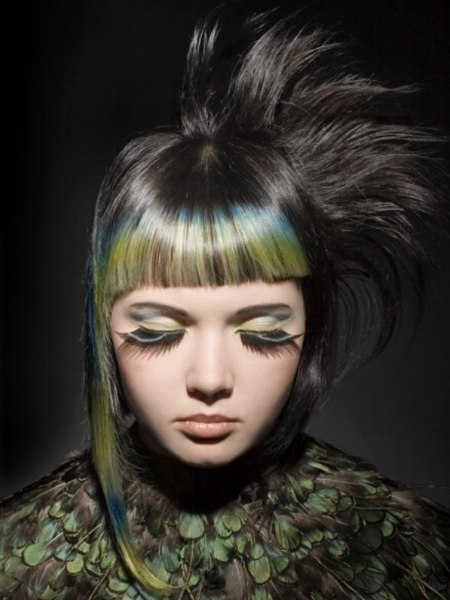 The cleverness of an artistic visionary is displayed upon cool brunette hair with standing frills set up in the back and blonde and brunette bangs encircled with a blue and green rim along one side of the face. Truly a bird of many feathers!


Red Streaks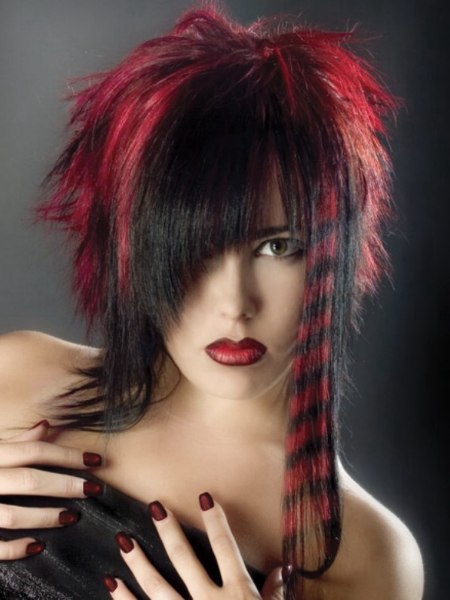 The flamboyancy of sparkling red wine resonates throughout the designer's color creation with a candid red and dark brown ring that flaunts one side of the face. Choppy wild layers and textured angles extend high visibility and exhibit true ingenuity.


Brown and Caramel Gold Hair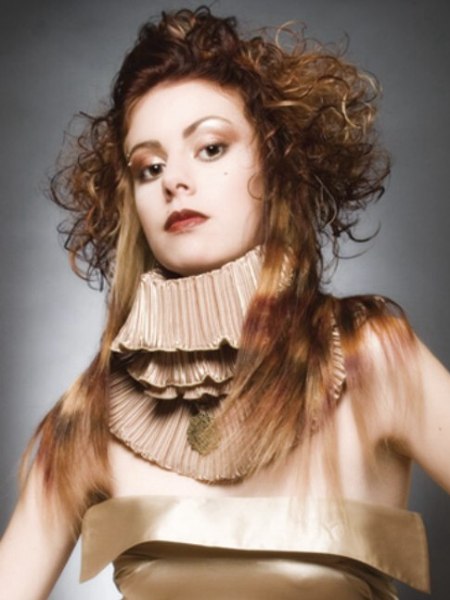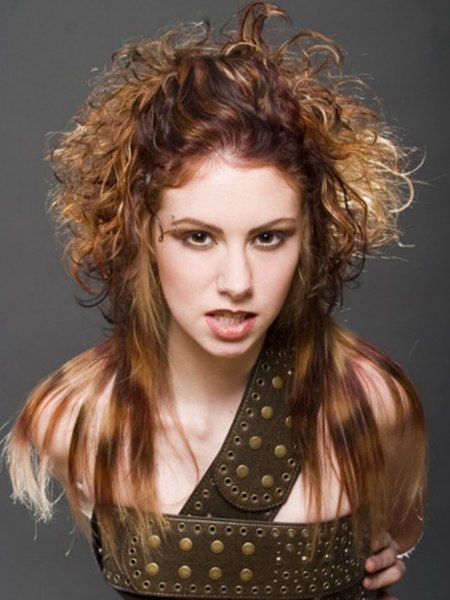 The conception of brown and caramel gold hair slices are integrated into curls, dips, waves and long rings that cover the shoulders and provide us with a touch of insight into the work of the artist. Can it be a falcon or an eagle he has tied?


Leopard Look Hair Piece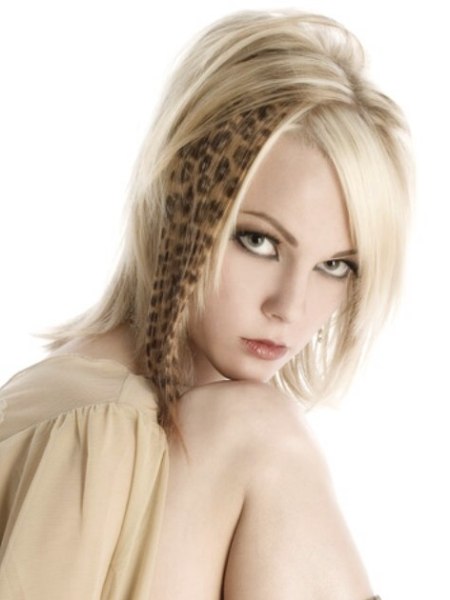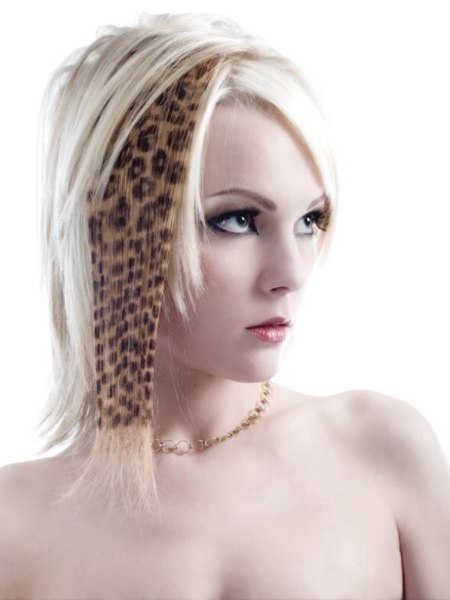 The rousing appeal of layered platinum hair is impressive with the off angled part that moves into another direction. The crown has notable sections created for volume and is blending well into the rest of the shag. Most exceptional is the leopard color pattern that enhances this remarkable hairstyle.


Shades of Blonde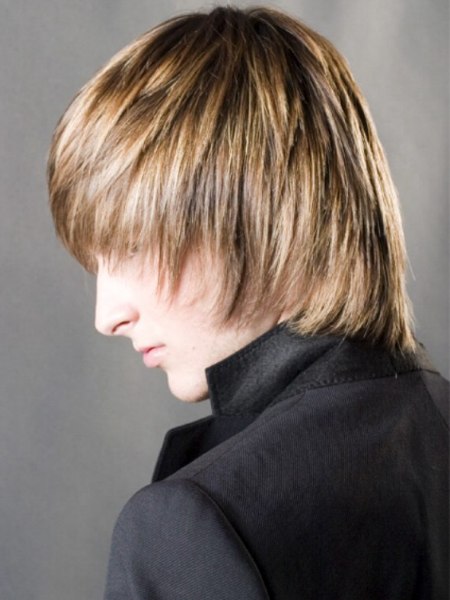 Multi colors of blonde, brown and a little bit caramel configures with a strong layered haircut that falls half way down the gentleman's collar. Angles are evenly splayed along the face while the top hangs well over the eyes. Blend styling lotion well before you blow dry.


Men's Hair with Gel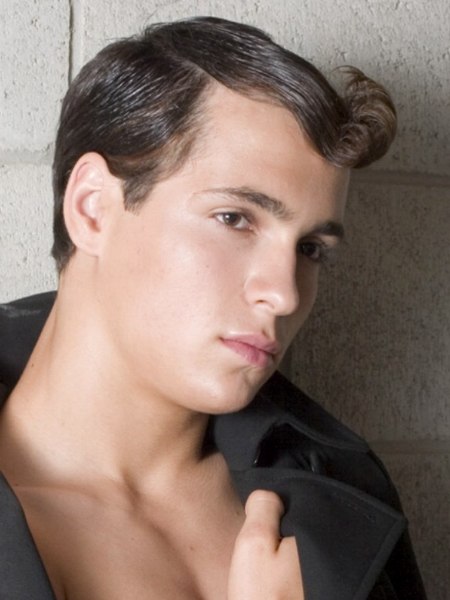 Revealing forms of a tight tapered effect in the nape with graduated hair length moving up towards the crown. The sides are clipped closely but are long enough to comb over the ear. The top begins with the side part and moves from the crown toward the face and ends with an angled curl slightly over the man's forehead. Styling gel will help with this hairstyle.

Hair & Make-up: Marina Boukin - Caprice Salon
Photography: Asya Akhoundov

See also: Medium hairstyles | Long hairstyles | Men's hairstyles