Undone by Sanrizz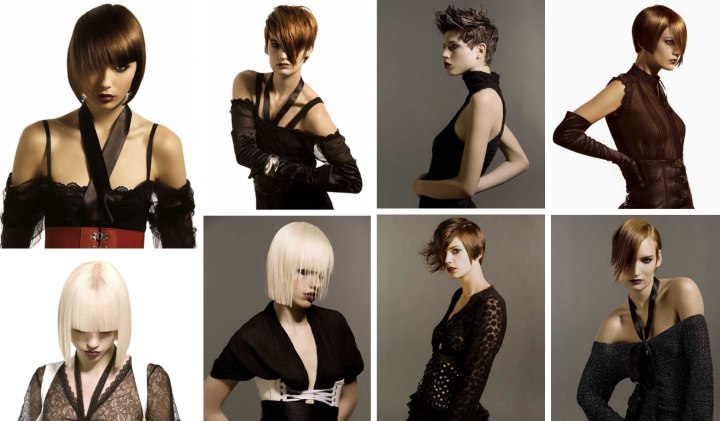 Scroll down for more photos ↓

Cuts: The Sanrizz triangle cutting technique with laser cut lines and mismatched textures allows these looks to be versatile. From neo geo cuts to bobs, are all tailored for the individual.

Colors: Strong glossy hair colors with underlining tones. Dark golden browns, deep coppers, moody golds and pure metallic ash blonds.



Styles: Raw edgy hairstyles epitomize the new glamour. Strong lines and bold shapes framing the face. Precise styling whether it be sleek or textured.


Fashion Statement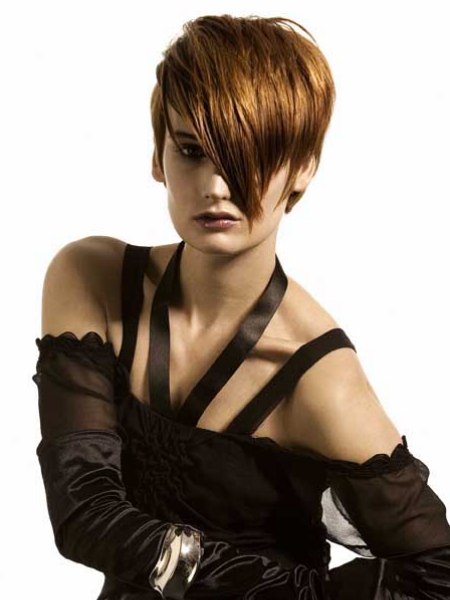 Sweep them off their feet with this bold fashion statement. Every strand of this new short hairstyle is planned and executed with perfection. The styling is precise and to the point. Literally.

The hair is pulled forward from the crown, resulting into the "bangs of all bangs" that are ending in a single point right next to your lips. Light layering keeps the volume on top.


Super-Trendy Bob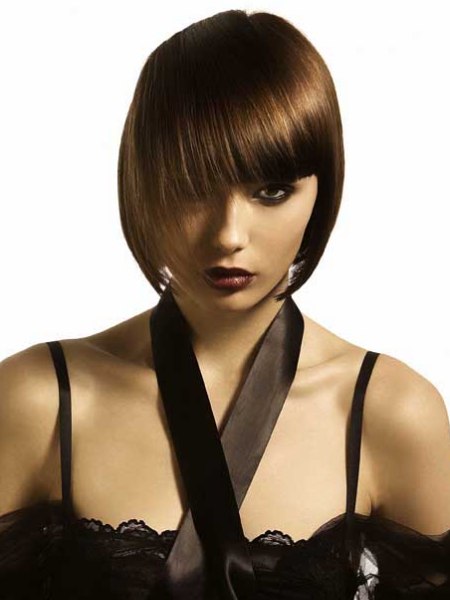 We all carry different sides within us. Show your inner self outward and dare to wear one of the new hairstyles showing off contrasting textures.

Here a classic bob gets a super-trendy makeover with one side cut with a ruler whereas the other half is styled into the face, straight from the back of the head in tapered and fringy edges.


Super-Straight Bob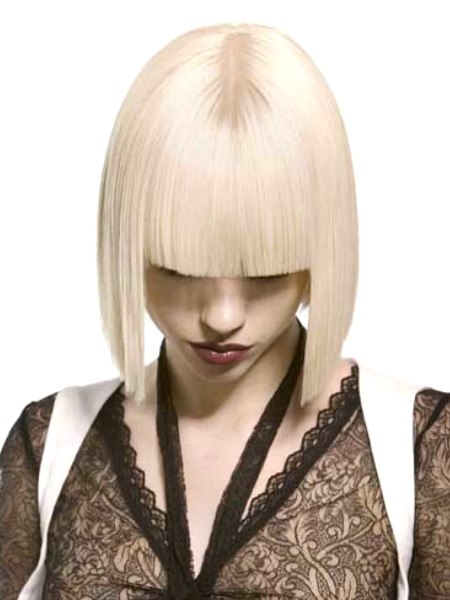 You need clarity in your life? Start with your hair! A straight as can be bob that could have come out of a geometry book will help. Clean and fully horizontal bangs touch the super-straight side in a 90-degree angle. A perfect formula to be right on top of hair fashion.

This hairstyle comes out best in bold and pure colors like this iridescent platinum blonde with a hint of gold and pink.


Jaw Length Bob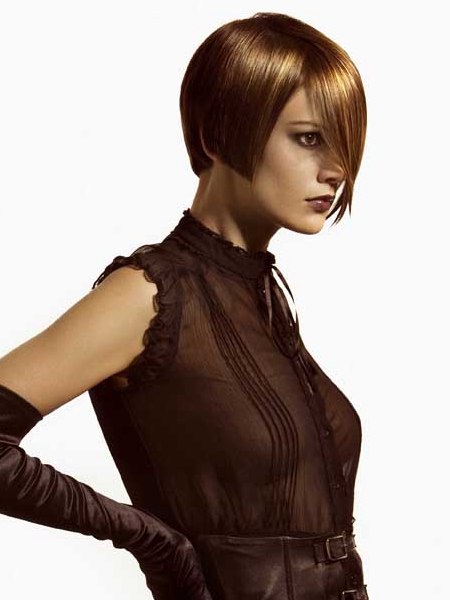 A perfectly cut short bob hairstyle turns avant-garde with a new and surprising front. Ruler-straight sides are at jaw length and are just a pinch shorter than the long flowing fringe area, that covers half of the face like a mysterious but futuristic veil.

A hazelnut base color is spiced up with gold highlights ad some darker shadow effects.


Modern Hairstyle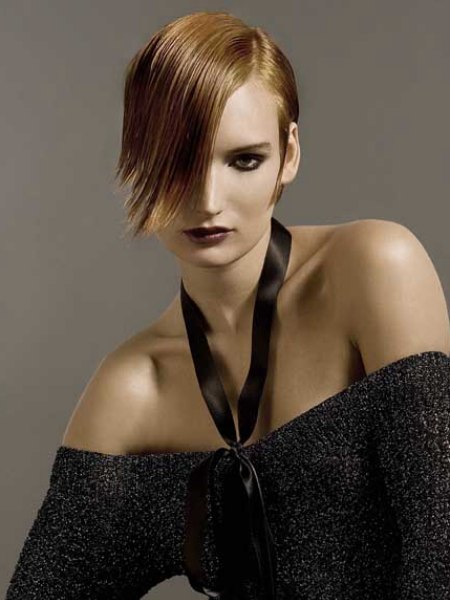 A short style that celebrates two amazing decades. The 1920s with a hint of Valentino and the 1980s pop band style are combined in this modern creation.

Sleek on one side, straight and close to the head opening up to tongue like bangs flowing over one side of the face. Contrasting texture comes with the fringed edges of the bangs.


Geometric Bob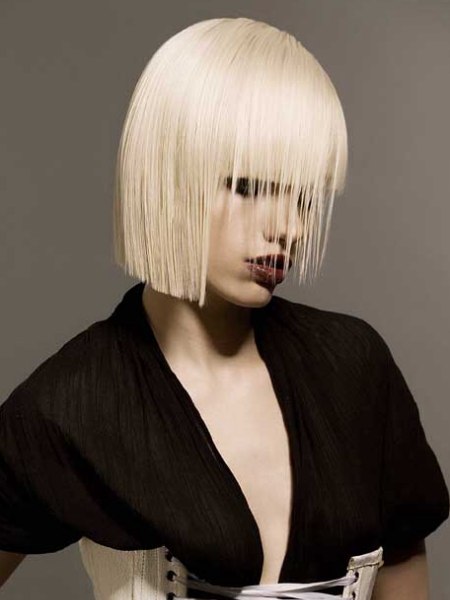 No matter if you enjoyed geometry in school, you can still wear it on your head and be on top of the new trend. A geometric and symmetrical bob, cut with laser precision confirms you as a fashion maven.

Special with the contrasting very thin veil of hair in front of your face. A cut like this needs an equally strong color. Try one of the new metallic blonde nuances.


Short Sides and Back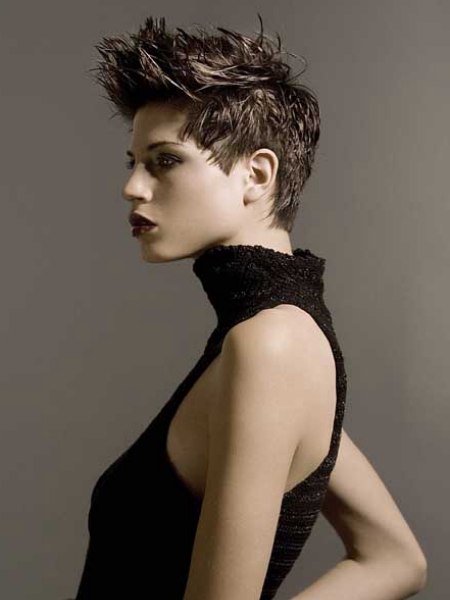 Art does not always have to be on a canvas or in marble. Turn your hair into the latest sculpture and play with the new styles. Here exact outlines stand in friendly confrontation with the highly textured hair, cut in short layers along the sides and back, longer layers on top. Style with sticky and shine giving products (gel) to bring out the effects.


Mixed Texture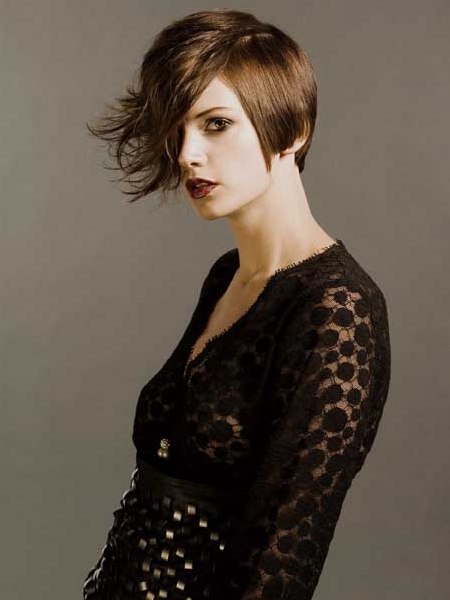 Nature meets high tech. Free-flowing forms attach to precision work. Show your contrasts with the short mixed texture hairstyles of the season. One-third of the hair is reminiscent of the famous garçon style, but super straight and sleek.

A low side partition is the transition to wild strands nature could not have designed any better. Try it in a cool chocolate hair color with hazel highlights.

Hair: Sanrizz Artistic Team

See also: Short hairstyles