"Charm" by Moving Hair

Scroll down for more photos ↓

"Stylish Charm"

Bernd Nicolaisen, Moving Hair Creative-Director explains:
"We formulate our fashion looks with the most beautiful key words – pure shapes in natural, fluffy volumes – undercut lines for sensual, asymmetrical looks and a glowing, simple finish for strong and individual statements. The passionate, light creations are based on the Moving Hair "Light-Waves" – the providers of volume for fine hair and the "Mixed-Paintings" the mystical, soft shine agents per se."

"Amazing Cuts"

The trend: the creative minds of the Moving Hair Art Team combine feathery and hard elements of a cut in the look. They emphasize classic design with undercut areas and celebrate "double slicing cuts" for sensual volume in long hair. The shapes are pure, the structures avant-garde. Being fresh, feisty and relishing life these volume cuts support the feminine self-image.



"Flash Zone"

The new "Light Waves Styles" come across alluringly sexy. Based on asymmetrical, trapeze shaped and layered top hair, the generous curls support a beautiful shape and styling. Tip: you'll achieve absolutely spectacular shine with LC2 Curl Care Shampoo and Treatment.

"Mixed Paintings"

The new "Mixed Paintings" use flowing colors in three corresponding nuances that are based on the natural tone and work together in harmony. Partially lightened transitions not only bring shine to the bangs. The shimmering hair color alliances for the new shining times are" dark ebony and mocha tones, combined with soft, watery glowing bright copper nuances all the way to light luxuriously shiny gold blond.


Very Short Hair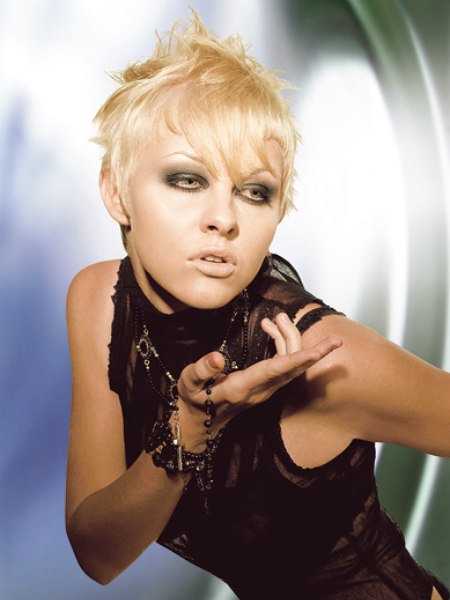 Soft feathery layers composed to perfection. Special effects all over catapult this style to the heights of trendiness. Very short hair tousles its way around the crown of the head. The bangs were cut in fringes that are lengthening towards the middle will make you stand out. A baby soft platinum blonde tone ads shine and that famous je ne sais quoi element.


Crisscross Hair Styling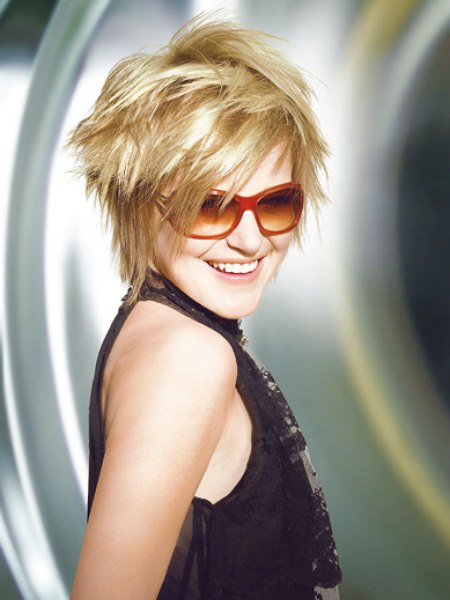 Keep it shiny, get wild. New coloring products and techniques create amazing results like this lustrous blond shine. The hair is sliced with the same length of rough layers all around the head. It is styled crisscross with the fingers and then fixated with some spray. Medium and ultra blonde strands bring blinding shine and volume.


Curled Hair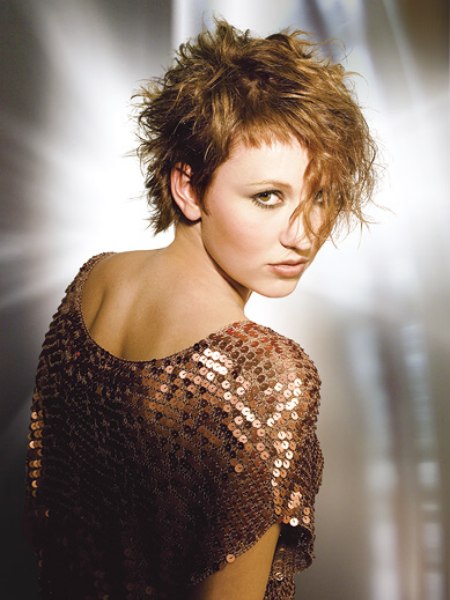 Express yourself. Start with your hair length. Short layers of the same length around the head find a surprising element in the bangs that are split in a superlong and a supershort part. The sides are longer as well and delightful curled towards the cheekbones. Add mousse and crunch hair with hands to make it curly. Light and shine are achieved through hazelnut and golden blonde highlights.


Luscious Hair Colors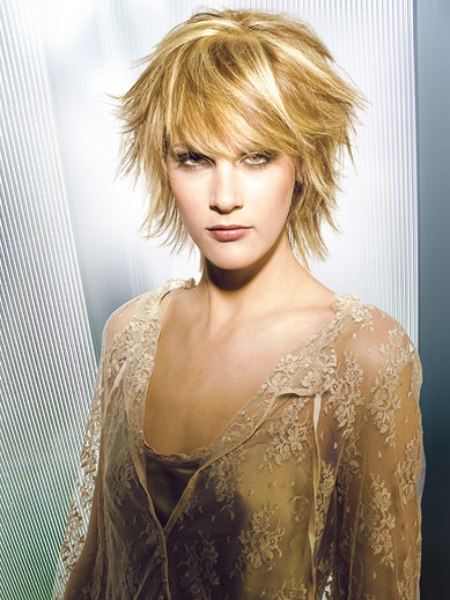 Long, straight layers are the perfect base for an alluring play of luscious colors. A glow like this in three shades of caramel, mocha latte and glossy vanilla makes you almost want to take a bite out of it. To style just blow dry your hair while straightening with a brush, then add product and dishevel with fingers.


Trendy Hairstyle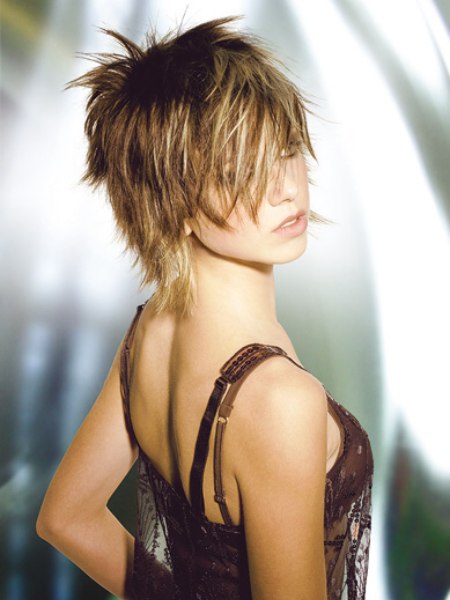 Trendy, shaggy and oh so fun. Show your creative side with a look that reflects it. Short layers on top of the head ease over into extra long, layered bangs and a medium long neckline. The edges are razored for a smooth finish. The color transitions from mocha to light blonde in the neck.


Sexy Look for Hair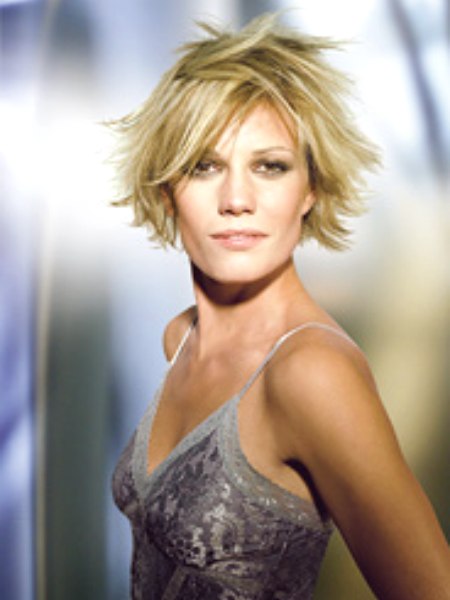 You feel like a force of nature - show it. Strong, distinct layers cut to perfection in a clean bob like silhouette, but then deliberately brought into disarray to achieve this sexy look. The blonde base color comes to live with color reflexes in two tones - a very light blonde and a muted walnut nuance.


Hair with Sensual Waves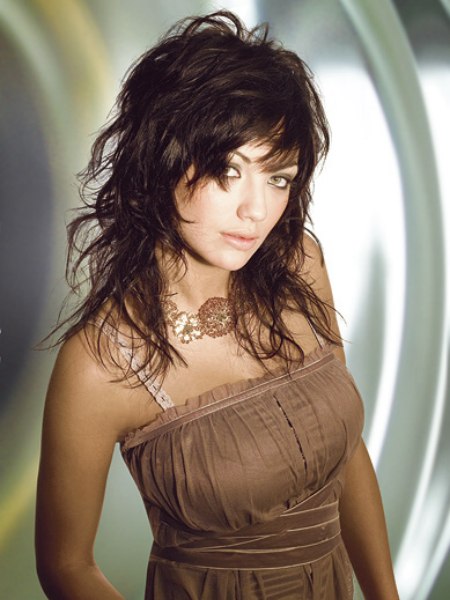 Pump up the volume with a new "light wave style". Long and generously layered top hair frolics in large curls and slightly "messy" waves that spread a rather sensual allure. Short but irregular fringy bangs frame the eyes for a mysterious gaze. The color is a supple mocha brown brought to extravagant shine.


Hair with Shimmering Light Effects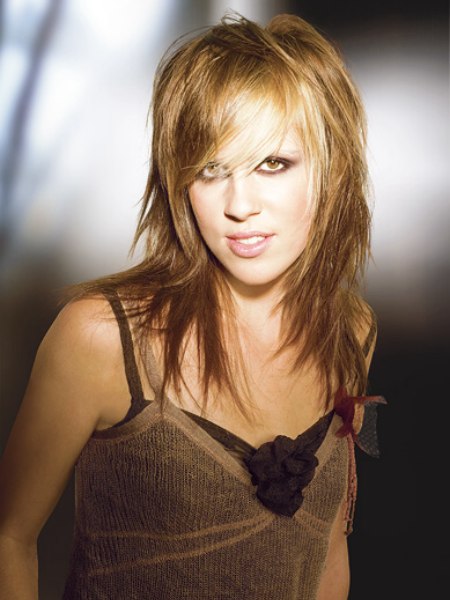 Colors like the dunes of the Sahara. Sandy blonde, a touch of cappuccino and bright platinum at the bangs and sides adorn this long layered cut and bring out the best sides of it. The hair colors are artfully applied to result in shimmering light effects and an amazing depth and shine. Just air dry and style with your fingers.


Hair with Bounce and Shine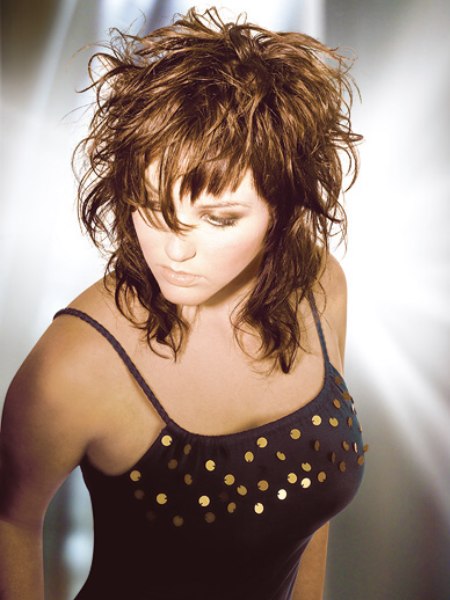 Bounce, shine and asymmetrical effects are the ingredients to a supermodern haircut that also shows a romantic side with its large curls. The hair is evenly layered starting at eye level. Bangs are cut asymmetrically with choppy short and wispy longer parts.

A yummy chocolate brown is highlighted with golden blonde accents. Crush hair with fingers and mousse to achieve curly effects.


Modern Marie Antoinette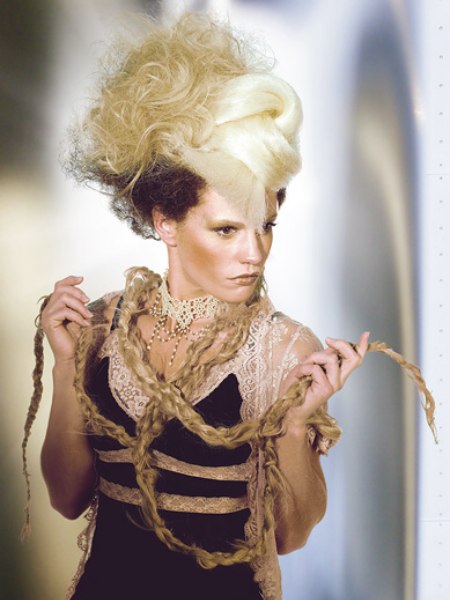 Marie Antoinette meets Rapunzel. This extravagant hairstyle explores all new trends of the season. Contrasts in texture, style and color. A fluffy, curly and teased back portion is complimented by a huge knot-like up styled front part. The color goes from light blonde to dark espresso at the bottom. Wear false braids to celebrate your own uniqueness.


Trendy Men's Hairstyle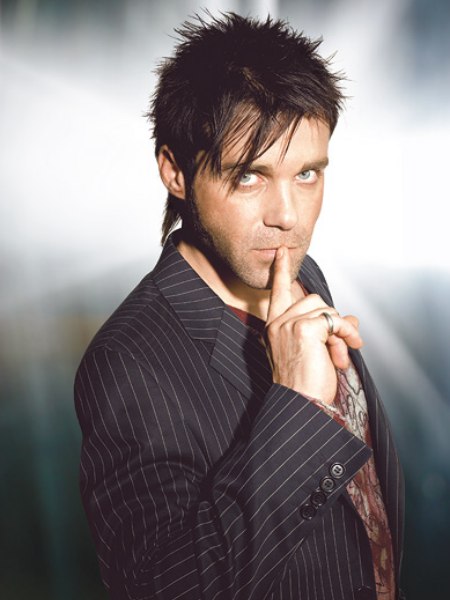 Today's urban warriors like to be as unpredictable as their hairstyles. A mix of elements, at times neat and straight, then again edgy, wild and adventurous. The hair is cropped extra short leaving small strands stand out all over. Several long portions bring attention to the eyes and add a masculine urban pirate flavor to the style.


Updated Classic Silhouette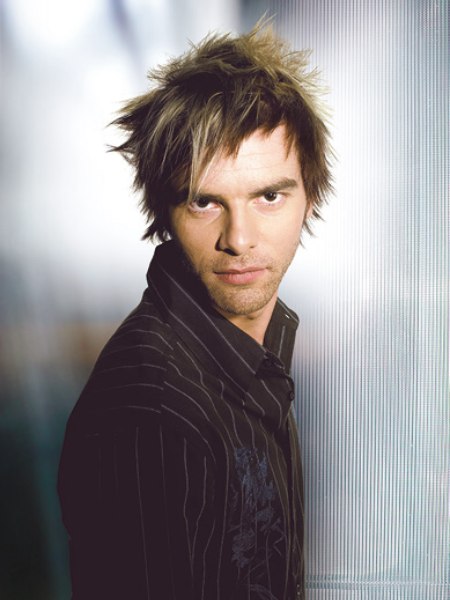 A classic silhouette with a new interior structure catches the creative energy of the time. Layers from stubby short to shaggy long parts, arranged in an asymmetrical layout and textured with several techniques make this hairstyle.

The hair color looks natural but had some help for extra dynamics. Golden blonde areas and highlights interact harmoniously with the darker, woodsy tones.

All photos ©Moving Hair – Switzerland

See also: Short hairstyles | Medium hairstyles | Long hairstyles | Men's hairstyles