Festive Hairstyles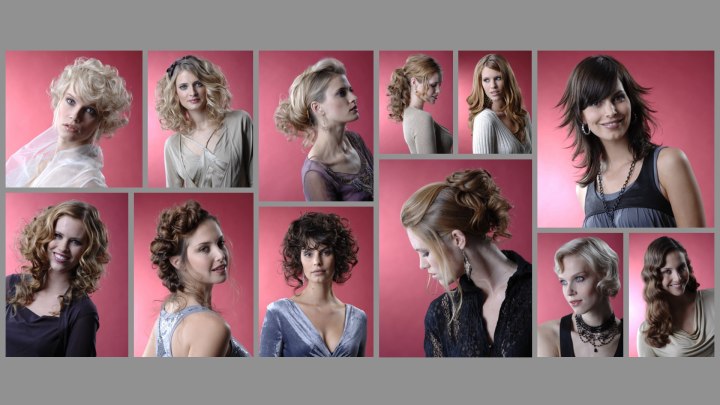 Who does not love the time of festive evenings and great parties? Its time to dress up and all festive and trendy outfits need the right make-up and also the right hairstyle to go along.

It is actually quite easy to switch from an office-proof look to a glamour and diva look. Essanelle shows us how with their festive hairstyles.


Soft Straight Bob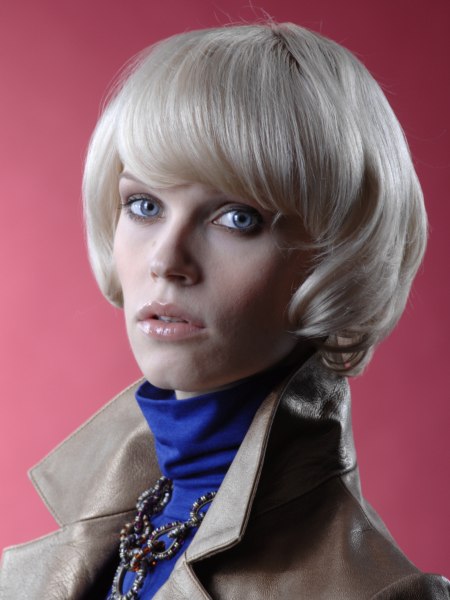 From the office to the party. Just done typing at the office and now already at the club? And the hairstyle? The straight bob was just freshened up with a round brush. The softly falling hair blow-dried inward. As a final touch, a very narrow silhouette was styled with a comb and shine spray was added - done.


Transparent Curls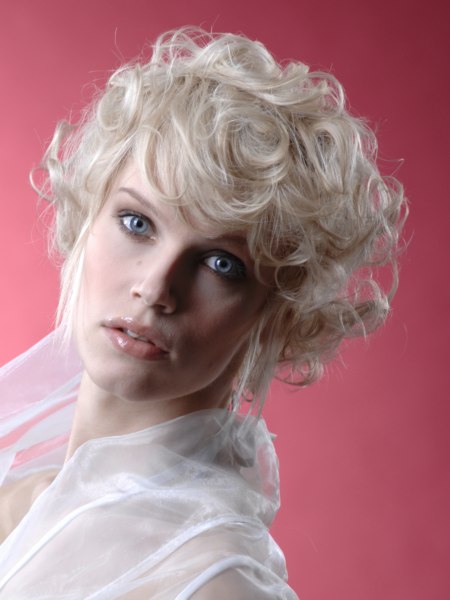 Transparent curls for small, fine festivities. Chiffon and silk go so well with transparent curls. They flatter the face and are almost as feminine as the luxurious fabrics. The short hair is about 10 cm long and curled over heated rollers or soft papillotes.

Don't brush the hair; just shake the curls and bring them in shape with your fingers and modeling crème.


Marilyn Monroe Look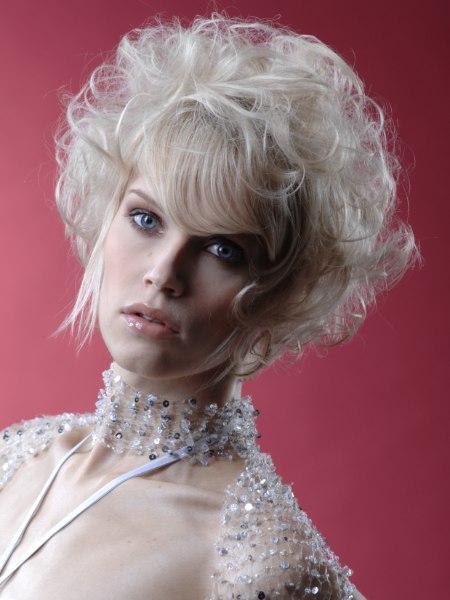 Short hair and curls with much volume for bigger celebrations and gowns. The more bodacious the outfit the more dramatic your hairstyle can be. But even here the motto is: transparency is not only a trend with the clothes, but also when it comes to curls.

Roll up hair, dry well and cool off. Brush out hair and tease roots with the brush. Fixate with some hairspray - this creates much volume. Comb out the bangs until straight; accentuate some strands of the sides with Keranelle Wax Attack and shape into curls.


1930s Soft Waves Hairstyle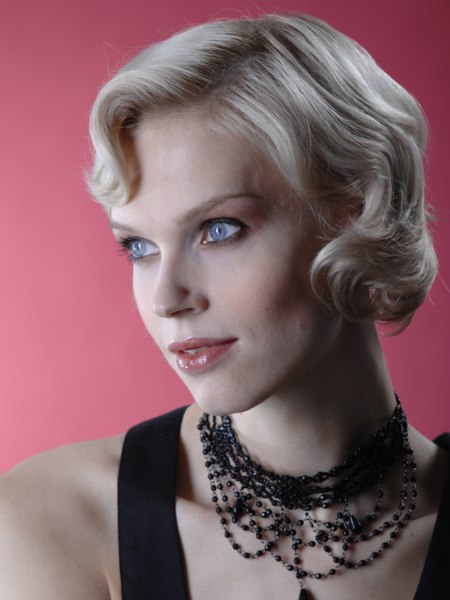 From work to a festive dinner. Often the timing of Christmas parties does not give you a lot of time for much styling. Grab the small black cocktail dress and style your short hair in soft waves like a 1930s diva.

This is how the sportive bob turns into an elegant Hollywood look in no time: Put mousse or modeling crème into hair. Shape to waves above the forehead (alternatively set with wave clamps) and shape one wave on each side. Done!


Shoulder Length Layered Hair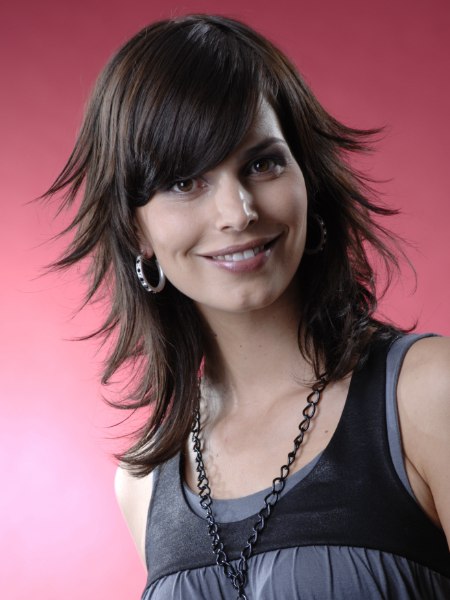 From the office to the party. Off with the sweater, put on a sleeveless top, get brush and styling products ready. The shoulder length layered hairstyle will turn into an eye catcher!

Pull single strands with a skeleton bush outward so that the ends turn up wispy. Accentuate those with modeling crème or Keranelle Wax Attack. Comb the bangs over straight to the side and polish them with shine spray.


Feminine Hairstyle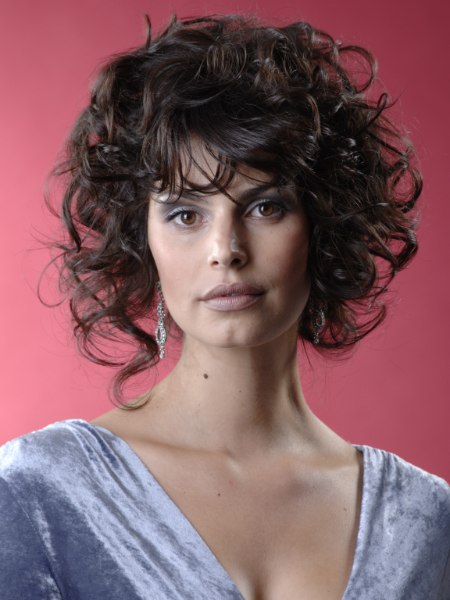 Diva look for big festivities and big appearances. Especially feminine and of classic beauty - whether with a low cut or high-necked dress, this hairstyle always looks fantastic! Roll up the long hair and let it cool off. Shake them quick but do not comb out. Just shape the style carefully with your fingers and fixate some of the curls.


Up-do with Volume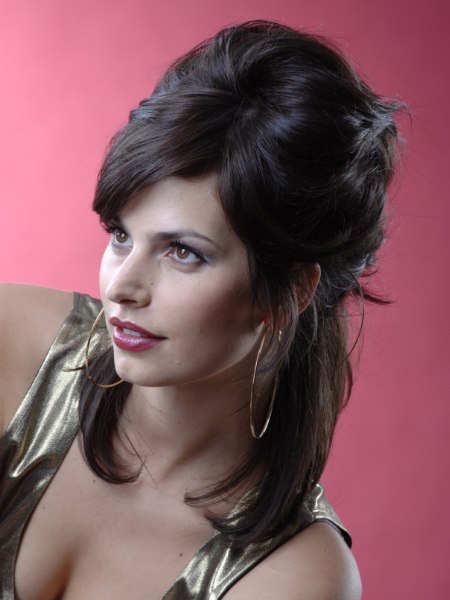 Big hair for the small dinner or the grand gala. Up-dos with much volume and flattering lines match each festive occasion. The good thing about it: this way long hair can be tamed quickly and look glamorous and precious.

Start with blow-drying the hair straight and tease the hair on top of the head. Ad some hairspray into the teased hair to make it last. Pull sides together in the back and pin them. Twist two strands to curls; comb the neck straight back and the front parts sideways.

Special tip: It is easier to pin hair up if it was washed on the previous day.


Soft Feminine Curls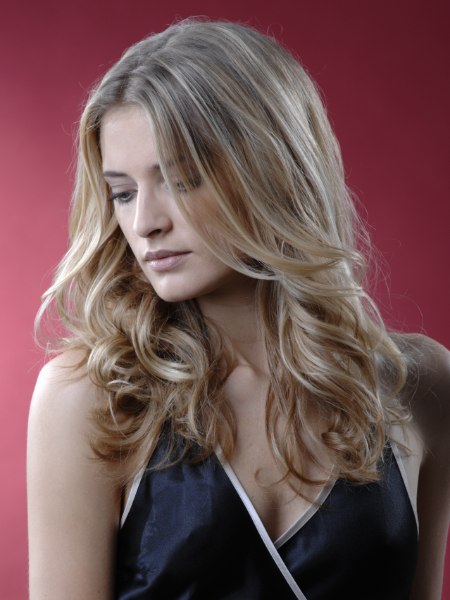 From the office to the party. While working at the office, long hair is often hidden in a strict ponytail or in a butterfly clamp. For the party they are set free and present themselves in soft and feminine flowing curls.

The upper hair remains straight and just the side areas are rolled outward on thick rollers of different sizes. Carefully remove the rollers after drying and use a wide comb to style the hair into generous waves.


Celebrity Look Curls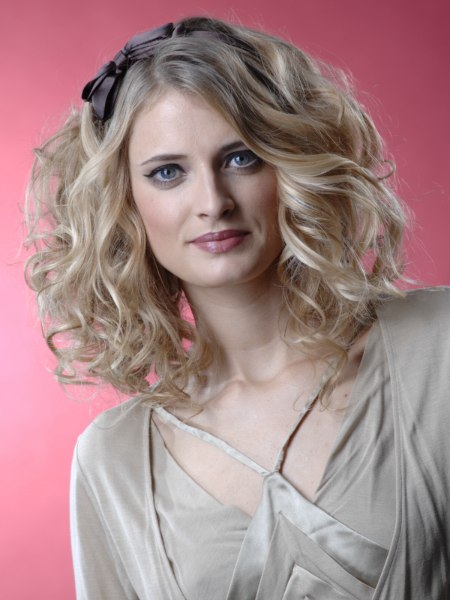 Celebrity look for small festivities. Stars and starlets have discovered this hairstyle for themselves a long time ago. No wonder, as it is done quickly and is versatile.

First the hair is curled over heated rollers. Let cool off well. Carefully remove the rollers. Then tease the hair lightly at the roots to give it some height. Twist individual curls over your fingers. Fixate style with a good dose of hairspray.

You can change this look easily with a ribbon or other accessories. Make it more playful or stricter - just as you like it.


Glamour Bun Hairstyle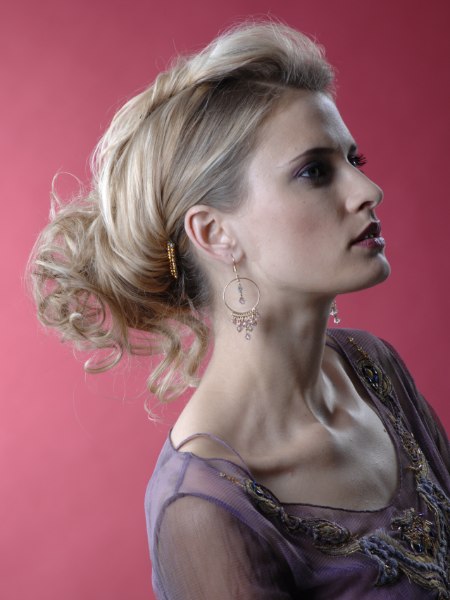 Pure glamour - super sophisticated and super easy. Missing the great Figaro to get you in shape for your great appearance? You don't need him. This hairstyle may look complicated, but you can very easily create it yourself.

First tease the hair at the forehead and pull hair backwards. Twist to a soft and generous bun in the lower neck area and attach with pins. Pull out the ends and treat them with a curling iron. Of course the professional team of the Essanelle Hair Group would be happy to help!


Retro Water Waves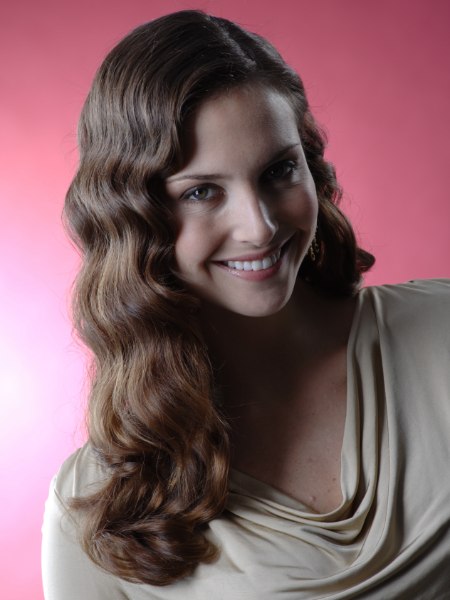 Wonder waves for theater or party. Remember those wave clamps of grandma's beauty secrets used for water waves? Now they are celebrating a revival. Miraculously and in no time they bring wonderful waves into your hair.

Just clamp the wave clamp into your damp hair, blow dry and carefully straighten with a wide toothed comb. Add some shine spray. That way the light will be reflected more and the hair will look healthier and lustrous.


Bouncing Curls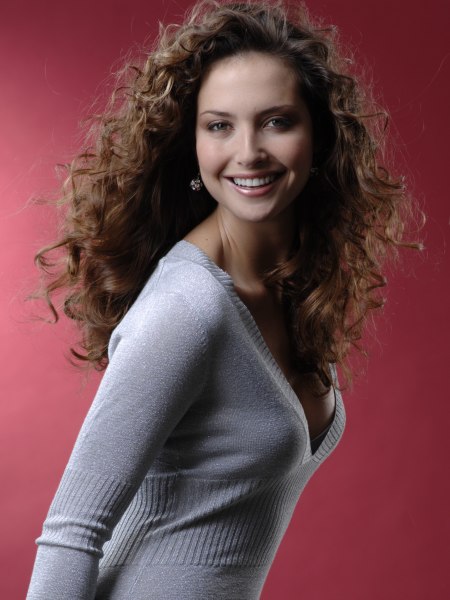 From the office to the party - and the waves are alluring. It is every woman's dream: Waves that keep their bounce from morning to night. The trick: roll hair over thin flexible papillotes before bedtime. Take out the papillotes in the morning, do not out brush out the hair, instead just shake them loose.

For the evening you can define the curls even further with some modeling gel or Keranelle Wax Attack. Put product on fingers and twist individual curls.


Romantic Sissi Up Style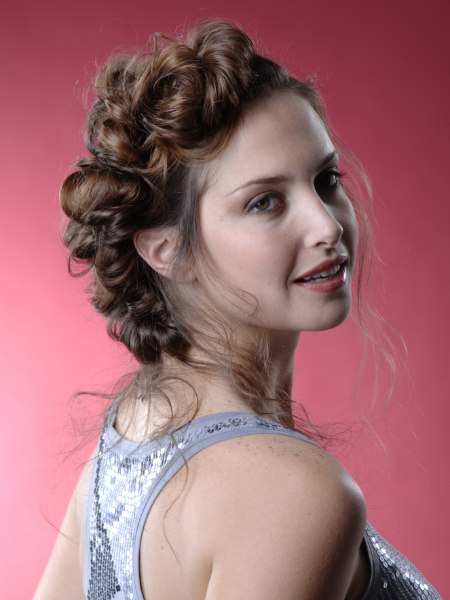 Romantic up style for grand galas and small celebrations. This style, reminiscent of Sissi the Austrian Empress works great with a big evening gown or just for hopeless romantics: partition the hair and separate two small areas on both sides.

Curl strands around fingers, twist them and then attach them with a pin. Pull out small strands on the sides and at the back of the head and style them to gentle waves with your fingers.


Festive Curly Hair Ponytail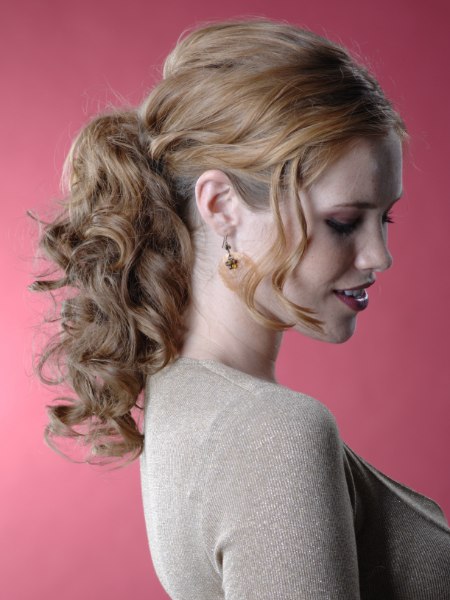 Festive-fiery ponytail for natural curls. Even natural curls can be tamed uncomplicated and fast. Comb the upper hair straight and pull hair together to a ponytail. Pull out some strands at the front of the head and twist curly with fingers. Large earrings and low cut tops make this sporty look festive.


Lasting Curls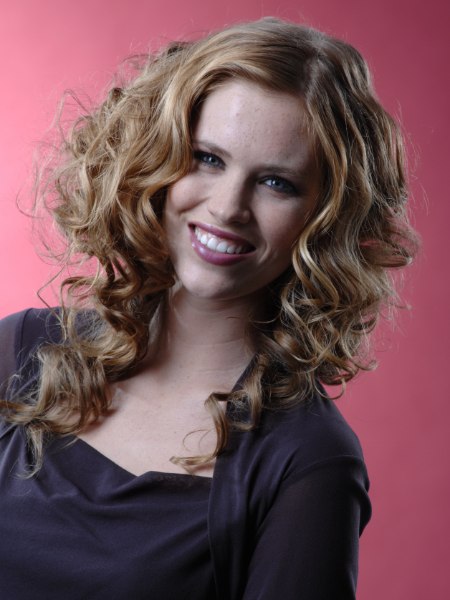 Celebration-proof curly mane for long hair. It is not very hard to get some long lasting curls into long hair. It may take a while for the hair to dry, but then the curls will last all day and all evening.

Put a lot of mousse in your hair, separate some strands and roll up with medium size curlers stopping before the top of the head. Let dry completely. Cool off well, then remove curlers and carefully comb hair. Style the front part to a wave using a wide brush and fixate with hairspray.


Pinned Up Hair Style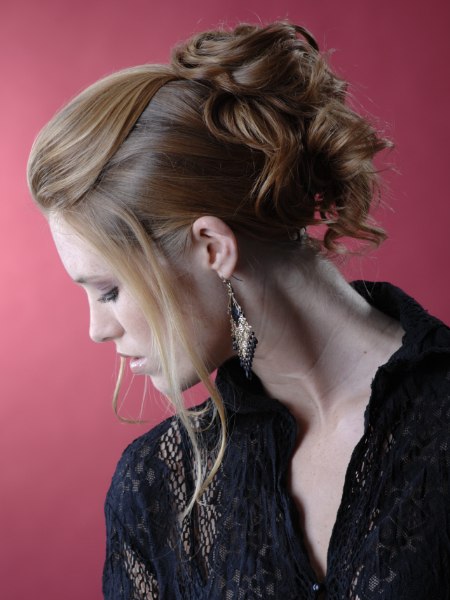 Pinned do for business or party. Be it an important business appointment, a romantic dinner or a night danced away - up with the hair and go!

First partition the front section, then pull all the hair back. Pull the front part upward and tie with the rest of the hair to a ponytail. Roll ponytail over your hand, attach with pins and work the ends with a curling iron. Pull out several strands into the face.


Party Hair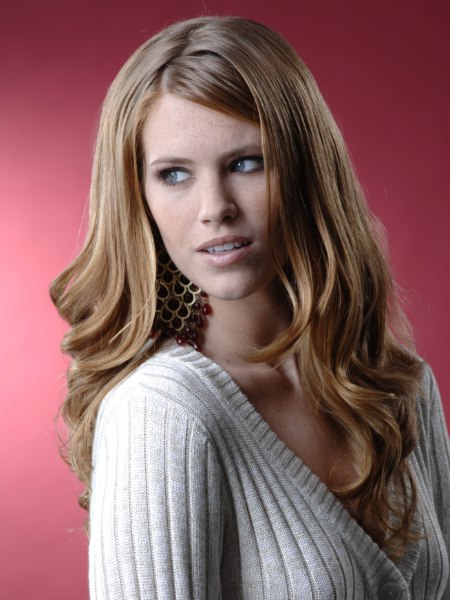 Red hair almost straight - from the office to the party. Just change the jacket or top, or put on large earrings, ready you are for the festive appearance. For that special evening the wispy ends are easily and quickly made with the help of a curling iron.

Hairstyles: Essanelle Hair Group

See also: Short hairstyles | Medium hairstyles | Long hairstyles | Up styles