Summer HairCollection by Team John Beerens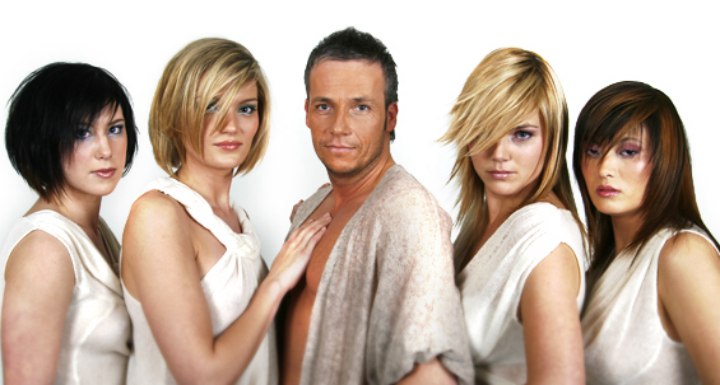 Scroll down for more photos ↓

John Beerens' summer library of hairstyles ranges from short precision lines to long threads of hair that lie below the shoulders in an incredibly smooth display. There is also a men's look that can be easily styled with your hands.

Be our guest and walk through these magnificent hairstyles with us.


Bob with a Short Nape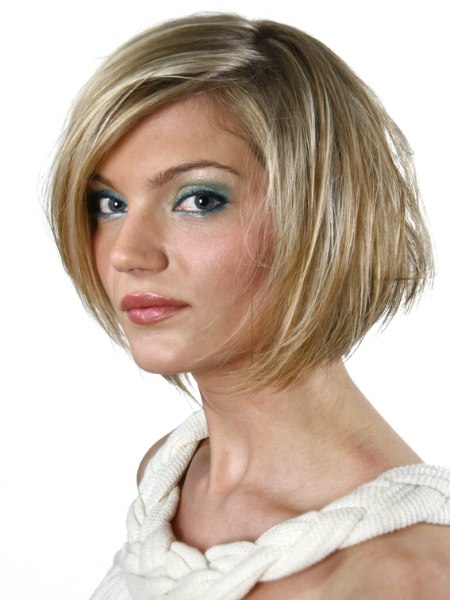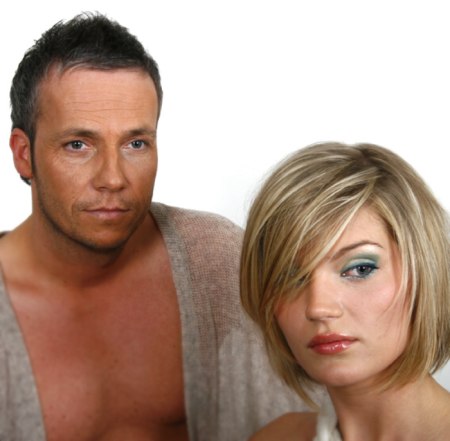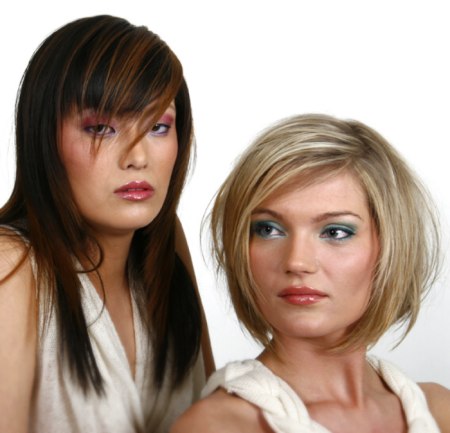 Our blonde exhibits the artistic skill from the profile of this short bob haircut. The back around the nape has been cut close to the head, while select layers bring volume that move into the lengthier sides. Everything moves lightly over and around.

This gorgeous blonde hair color has high and low slices, presenting a magnetic charm in the photograph. The hair in the nape has been undercut to give a natural draw under effect. Moving toward the face, the hair gathers momentum in length. There is the uneven side part that brings the hair over to blend in with the hair on the side. A large curling iron and smoothing crème will assist in this hairstyle.


Bob with an Irregular Side Part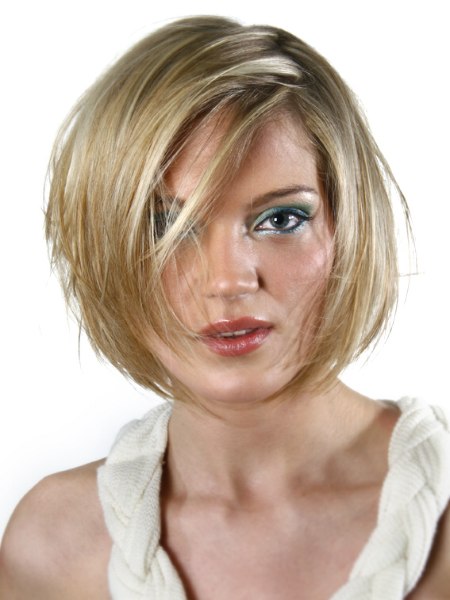 Our stunning blonde emphasizes one bob hairstyle with a world of different portraits. Glamour cannot be hid when the zenith of creativity deserves an encore. The irregular side part expresses itself with a few lone strands over the face, as if windblown.

This short haircut rides along the neckline and graduates into greater length expressing itself toward the sides. This most unique sandy blonde hair color flows with life, encircling the frame of the model's face and enhancing her beautiful face. Use gel and a large round brush.


Long Hairstyle with Angled Sides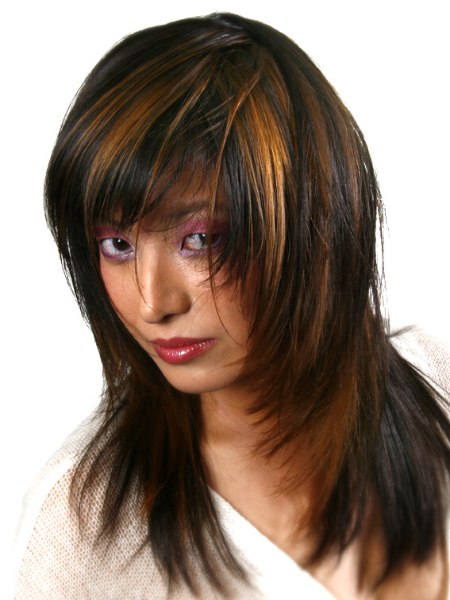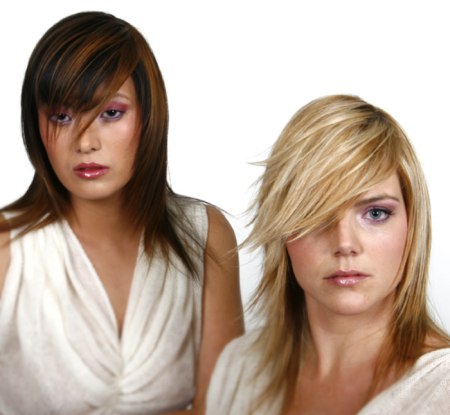 Our brunette strikes another pose bringing a fetching appeal of the uniform angles on the sides that begin with the bangs and flow all the way below her shoulders. Most noticeable are the golden reddish streaks that put bounce in this long hairstyle.

Night and day pose together in harmony. The brunette hair has layers and angles that beckon with warm golden brown portions that are interchangeable on her ends and throughout her hair. Theres is some gold we can see on the ends, angling along her face line. And then again gold that splays over her bangs that are tweaked to her eyebrow. A flat iron is a must for this hairstyle.


Long Hair with Peek-a-Boo Bangs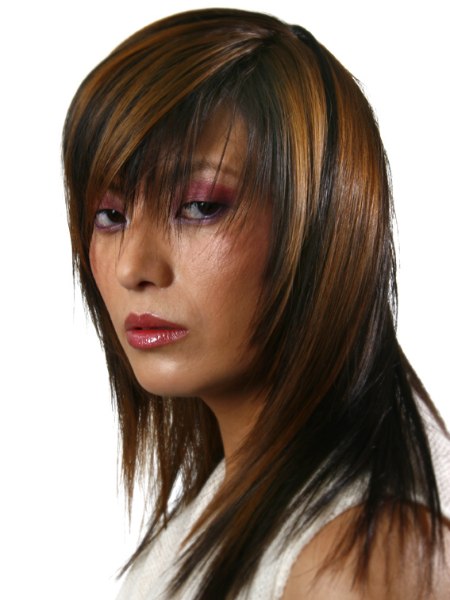 Once again the sultry brunette gives host to her reddish golden hair that hangs over her eyes and that glazes along the sides of her face. The appeal of this rebellion gives credence to today's hairstyles.

Seeing is believing as we view our brunette with the long smooth layered lines that are placed around hair face in select and obvious positions over the brows and presenting a peek-a-boo bangs effect as if wearing a veil.


Long Hairstyle with Razored Ends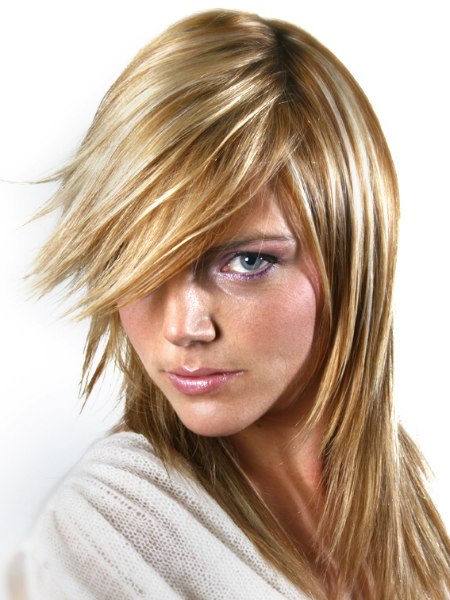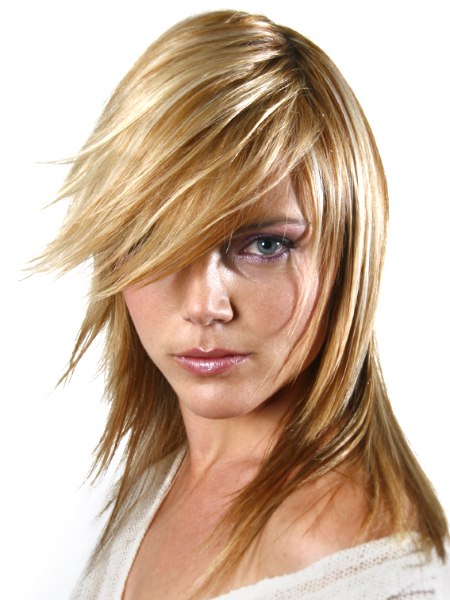 This breathtaking long hairstyle is magnified through the multiple tones of blondes, golds and warm browns, sculptured in lines that are clearly seen through the projection of layers. All glossy and smooth, this look is completely irresistible.

As if on a yacht sailing the Mediterranean, we can see the model's blonde hair with razored ends flow up and out as if windblown and revealing the excitement of this layered haircut. The delightful hair coloring with tri-tones of blonde completely radiates this image. The entertaining low side part circulates over while covering one eye. Generously use your gel as you blow dry.


Bob with Jagged Edges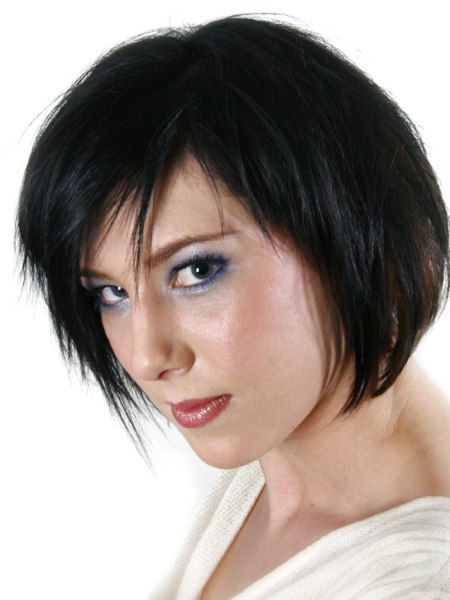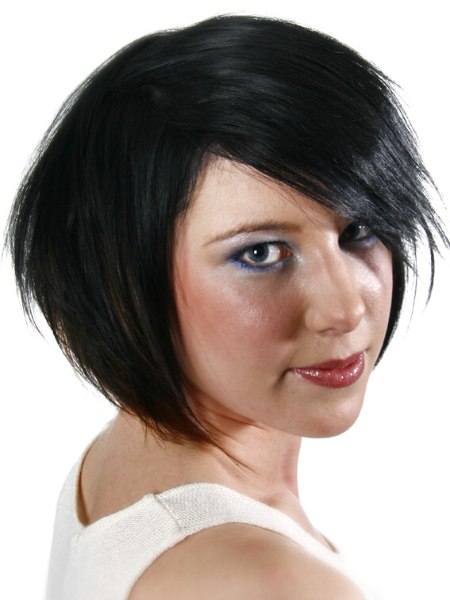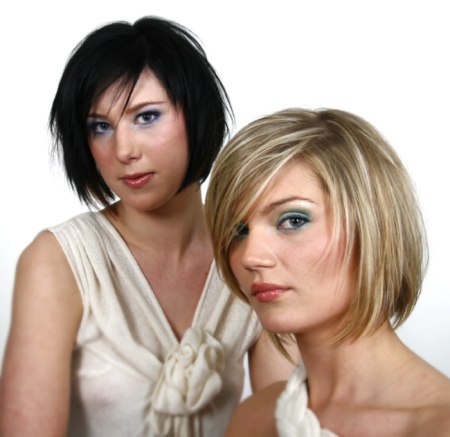 Our lovely raven-haired model clarifies the imagination of a skilled talent and sports a short bob haircut with jagged edges encased over to one side of her face. The layered lines are down and around, capturing just a taste of golden brown on the ends of her black hair and secretly under her hair. Use smoothing crème after blow drying.


Short Manly Haircut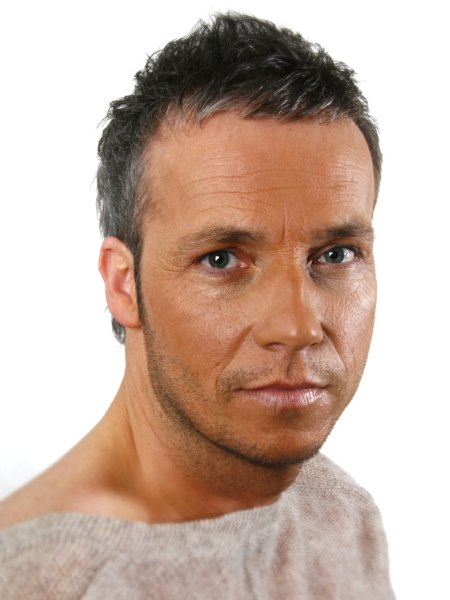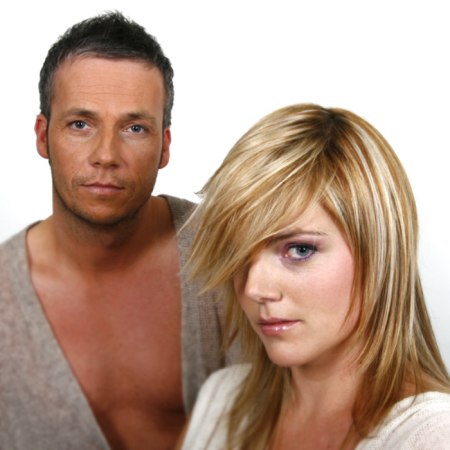 This true rugged and manly haircut is cut up closely on the sides and over the ears, with state of the art sideburns. The nape is left just a bit longer and the top and crown area a wee bit longer. There are hints of gray blending in attractively. Just a touch of gel and gloss will give way to this athletic look.

Hair: Team John Beerens Haarstudio Tilburg
Styling: Cecile Paul
Make-up: Fanny Kuipers for Pupa
Photography: Paul Bekkers
Models: Patrick, Christel, Kirstin, Cristel, Cindy

See also: Short hairstyles | Long hairstyles | Men's hairstyles