Colormetric Collection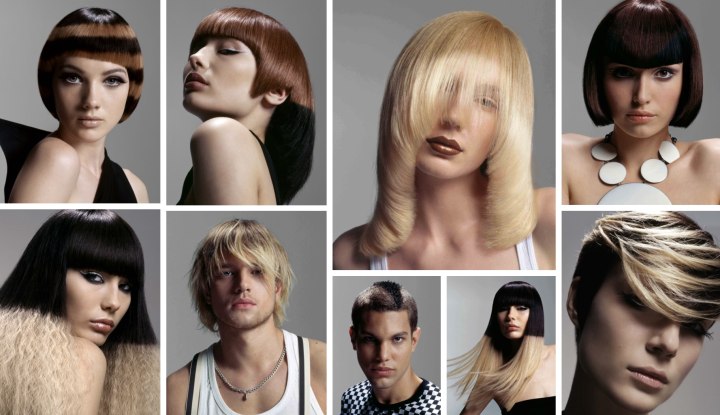 Scroll down for more photos ↓

Take a deep breath and allow yourself to be taken to a place of unmatched beauty. The world of Trevor Sorbie is full with hypnotic hair colors and contrasts that seem to be out of an extravagant and even surreal dream. Extreme juxtapositions in the hues and cuts redefine what we are accustomed to.

Trevor Sorbie's style challenges our perception and appeals to our senses in a new way. The haircuts are balanced and geometrical with great proportions and avantgarde lines.



Textures can range from ultra sleek to frothy rivulets in one style but are mostly on the satiny, straight side. Feeling flamboyant? This is the way to go.


Geometry and Hair Color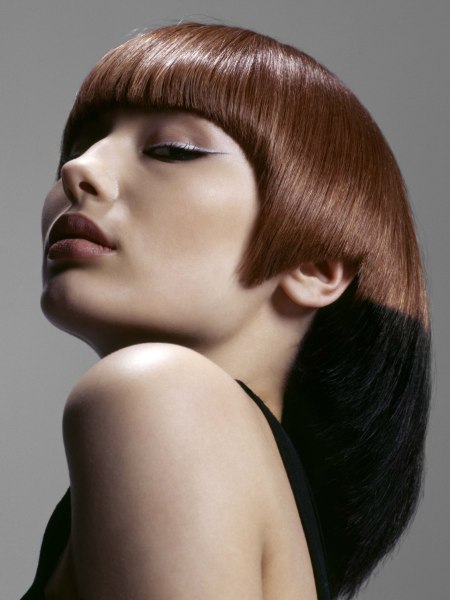 Exquisite lines give this haircut immense character, but it is the color that takes it to a new level for hair. A straight line separates the golden brown from the deep black, and it runs at mid-ear around the head to the other side. Blunt cut bangs curve into deep points.

A disconnection reveals her ear and then the back plunges deep with its tapered thick line. The entire surface of this work of art is silky, shiny and sleek with great reflections of fine golden threats.


Veiled in Vanilla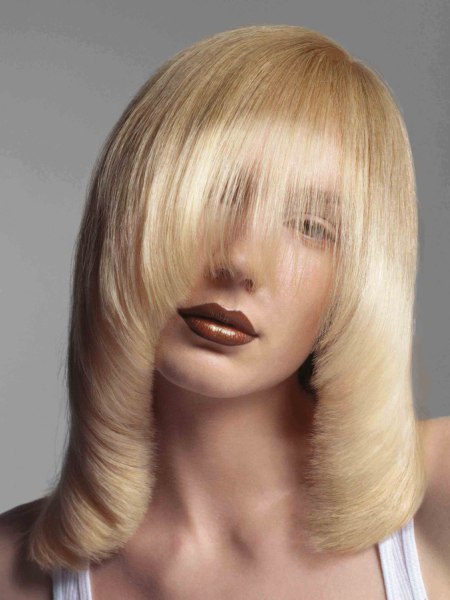 Our model Anastasia gives a sultry look through the thin veil of her long bangs. Her vanilla blonde hair was cut in an homage to the 70s with tapered and rolled frontward sides.

The meticulous lines of the almost vertical sides with a soft and blunt edge seem to lengthen her neck, and this modern classic with the touch of Trevor Sorbie gives her a very ethereal touch.

With this styling all of the attention go to her lips and the mystery of her gaze is grandiose. Movement and geometry are the elements of this sculpture of silky, sleek hair.


Ebony and Ivory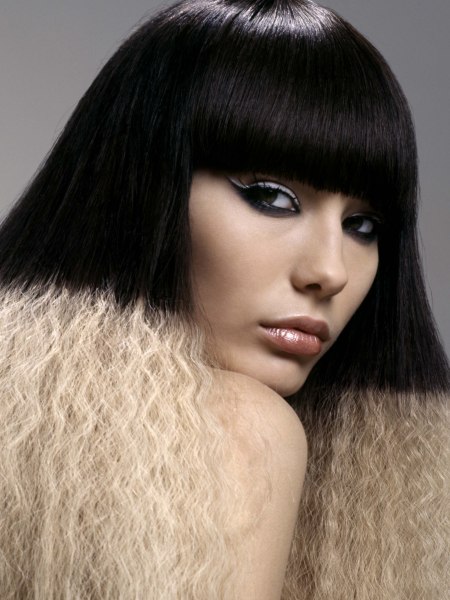 These contrasts are of the intense kind. It does not get any stronger. Color and texture are paired with their ultimate opposite - black and blonde, straight and wavy - all in one long haircut. What begins as a classic black, jaw line length bob ends in long angelic and blonde rivulets, crimped with passion.

On a mission to make the world a more beautiful place when it comes to how we wear our hair, Trevor Sorbie goes way outside of the box and takes us on a journey to rediscover the true creative limits of our hair.


Light and Darkness


Long, straight lines with thick bangs are designed with elegant simplicity in mind. But this is where the minimalism stops. Hair color is used in a dramatic contrast of black and blonde to create a double illusion. The top resembles a short, classic bob in an equally classic raven color.

The black ends at the jaw line and is followed by a mellow sandy, beige blonde. Both meet in one very straight, perfectly drawn line, which can only be created this way by a professional.

The best of all worlds in an extravagant look, which will hopefully inspire many more of its kind. Imagine this hairstyle in an up version and how the two tones can play out then! Possibilities are fascinating.


Shadows all Around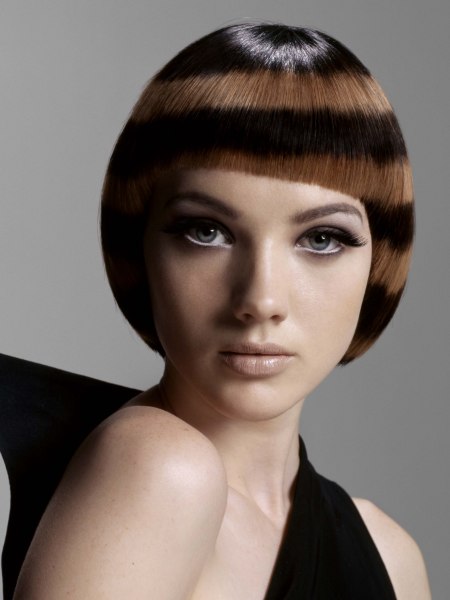 The bowl cut fascinates with its clear lines and cap like fit. Retro chic par excellence and still one of the most beloved hairstyles. Of course it underwent an inspired make-over and comes back a slight bit shifted in the fringe, now showing a subtle asymmetry. This is repeated, however in the opposite angle to keep the esthetic balance, in the amazing hair color application.

Black color is applied on the light brown base in tilted circles that move around the entire head. The effect is that off a play of shadows on her hair. Intriguing!


Off Center Mini Mohawk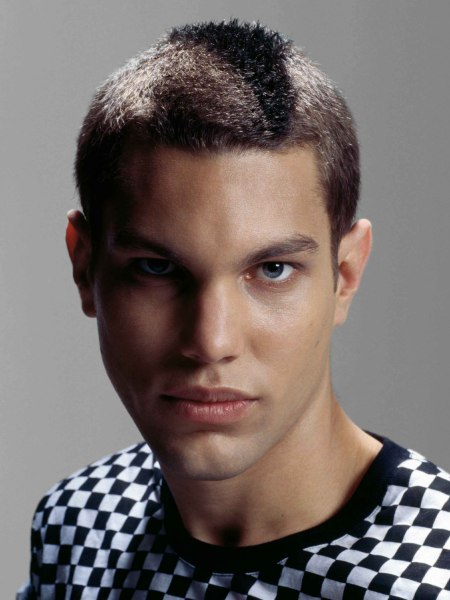 Sorry guys, there are only two examples for men's haircuts in this fabulous collection. But even if a minority they are nevertheless inspiring and show a new direction, literally. Elements that are popular and familiar have been redefined and combined in a surprising way.

A close crop, same length all around, is topped by a mini Mohawk arranged slightly askew. It is wider in the back and runs over his head in a diagonal, pointed and long triangle. In addition this effect of a different length in the hair is enhanced by using a darker color in this segment.


Bob with a Dip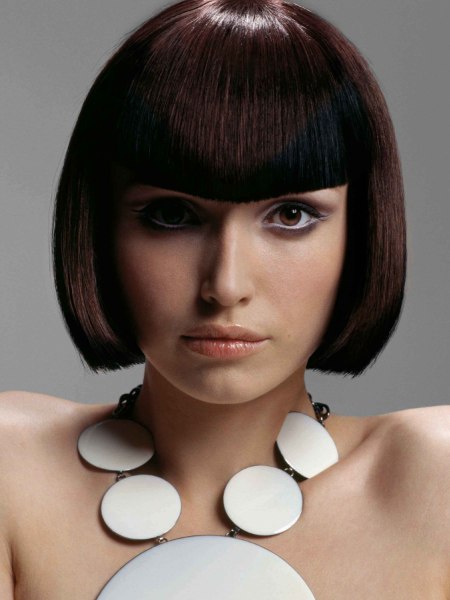 Not every bob is the same and sometimes it only takes a minute bending of a line to create a new vibe exuding from the evergreen classic of all classics. The blunt cutting line is angled ever so slightly and caresses her cheeks at he level of her jaw.

Styled with a center part and blown dry over a round brush, all stays in the familiar realm. But then there is the fringe and this one comes with a big bang. The line takes a gentle dip right in the middle above her nose. The effect is delightful!


Beach Look with Highlights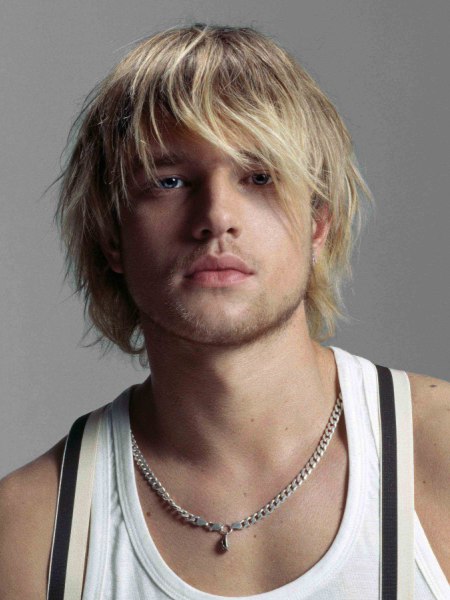 There he goes with his sun kissed highlights and disheveled hair. A true sight to see in a very natural color and texture of the hair, which looks much more effortless than it really is. There is a method to the tousling and it comes with a great cut, long layers and skillful texturing.

The blonde is lighter in the tips and makes him look like he spends most of his days on his surfboard and on the beach. A great look for sporty men and sexy heart breakers.


Blonde over Black Hair Coloring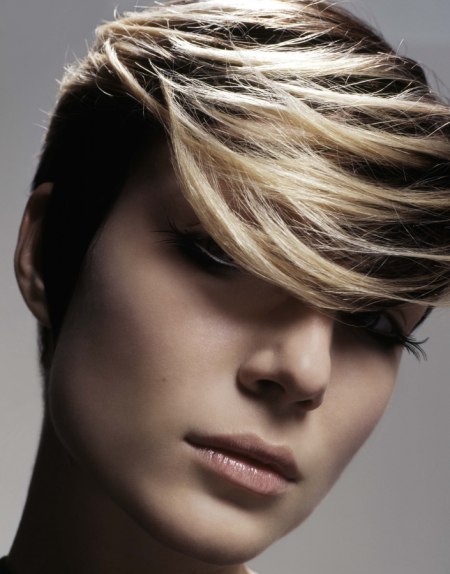 Oh, the possibilities. All you need is an inspired short haircut like this and your world will become a little brighter with every strand. Her hair is cut very short along the sides and in the back, but then comes the surprise.

Long top hair is placed across her crown and in addition it is blonde over black. Two contrasts in one and texture galore. What are you waiting for?

Hair: Trevor Sorbie Artistic Team at Trevor Sorbie International
Make-up: Mario Comparetto
Products: Trevor Sorbie Professional
Clothes styling: Xenia Bous
Photos: Stephan Ziehan

See also: Short hairstyles | Medium hairstyles | Long hairstyles | Men's hairstyles