Hairstyles 06/07 by Hob Salons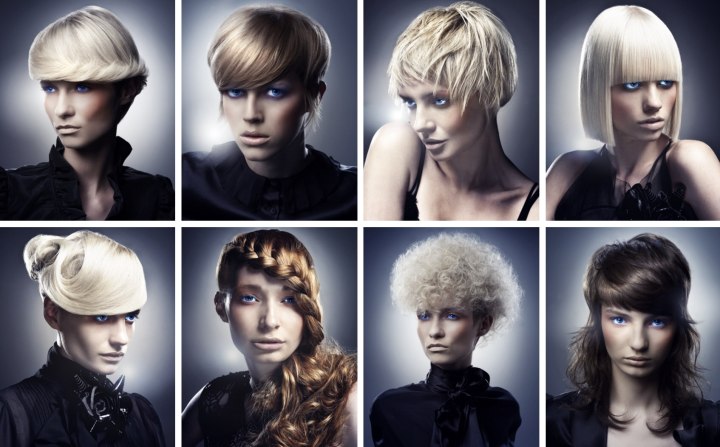 The unmistakable artistry of short layered lines to thick lush braids, strictly smooth coifs and outlandish piles of plump curls bring a standing ovation and endorsement of this hob hairstyle collection.


Closely Clipped Back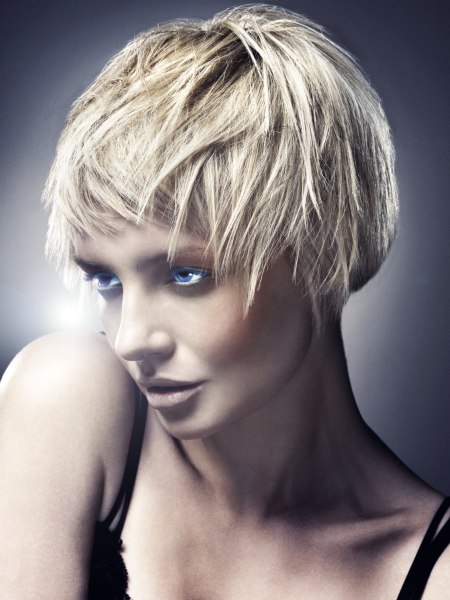 Hob proves to be a catalyst as he paves the way for this fun in the sun short hairstyle with the razor textures energizing the face. The ears are covered, while the back has been clipped closely into the nape.

There are high bangs that bring attention to the eyes. A light styling lotion will help with blow drying this beautiful hairstyle.


Strawberry Blonde Braid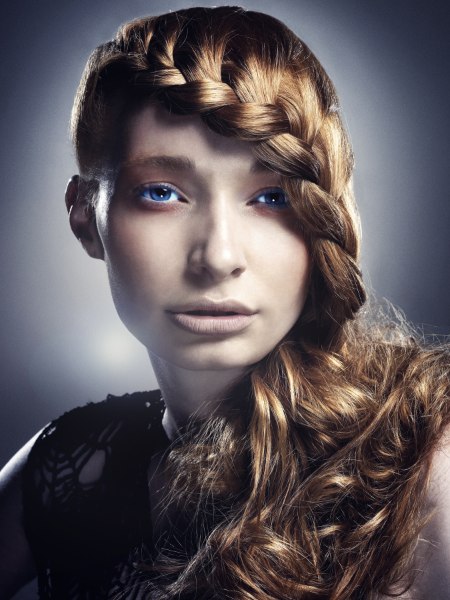 The enticement of a luxuriant strawberry blonde braid dominantly in control speaks volumes for the hands who designed this masterpiece.

The long hair all flows toward the face with scatters of ruffles and lacey fluffs gathering along her shoulder. A good hair crème will help with the braiding and the curls.


Centered Chignon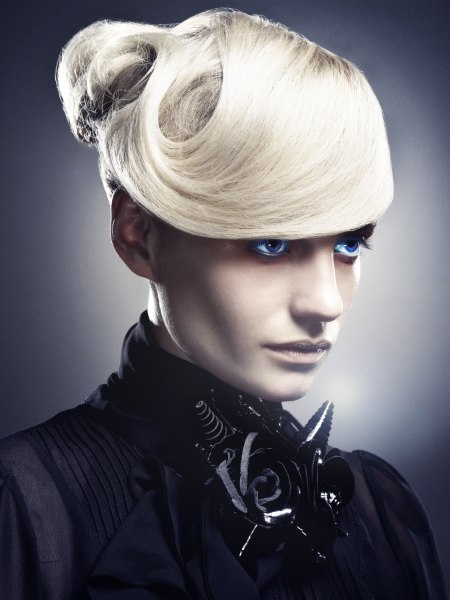 A smooth deliverance gives a swirl of heavy hair dipping over the front and ending into a nest along one side and a centered chignon in the back. Back combing and smoothing will allow for this hairstyle with plenty of styling gel and gloss for luster.


Dutch Boy Hairstyle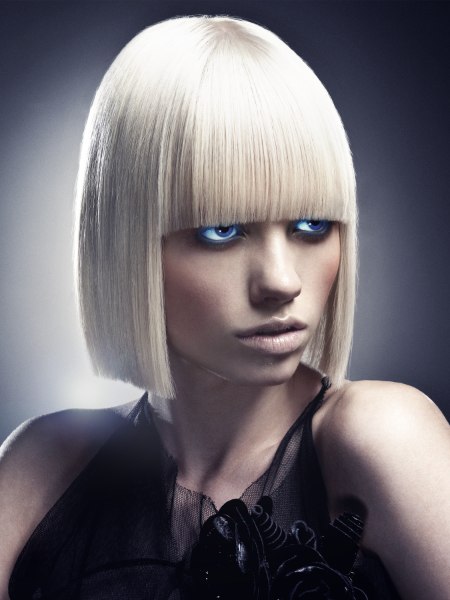 This dutch boy hairstyle (a bob with bangs) is ultra straight, slick and smoothly edged with unerring precision just below her chin line. The blunted bangs hang just above the pupils of her eyes producing a mysterious intrigue. Styling lotions will help master this marvelous creation.


Flip Up Hairstyle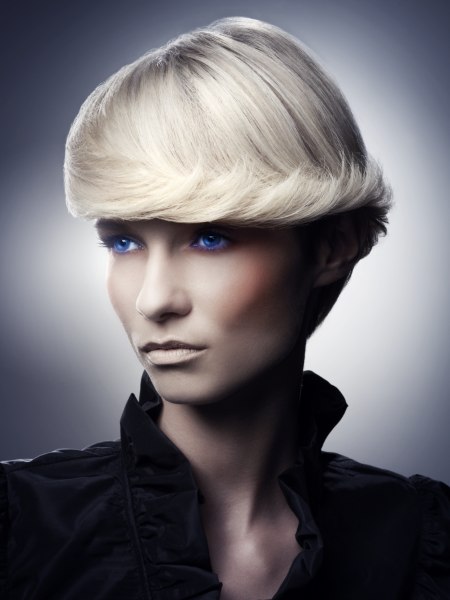 Savoir-faire moves to the top of the list with this element of collected layers that flow together over to one side and flip up on the ends. The hair is edged along the back and would normally lay about half way over the ears when wet, on the sides. The use of gels and fixatives will help retain this short hairstyle.


Efficient Shag Hairstyle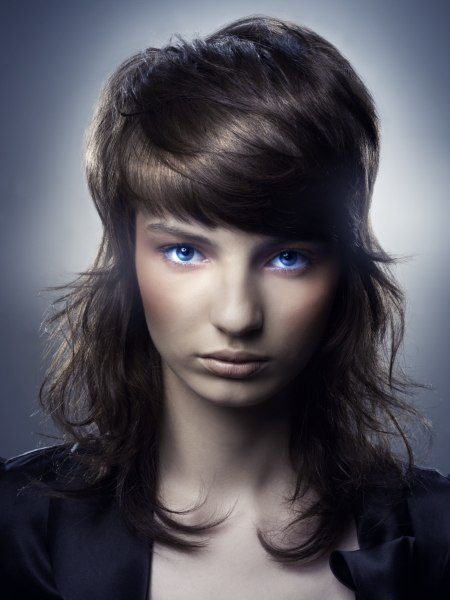 The efficiency of a shag runs full tilt from the shorter and heavy area on the top for volume and wisps to the longer strands that blend in with the lowest areas. An easy care blow dry with your hands, can be obtained with light styling spray and a small amount of gloss afterward.


Bush of Curls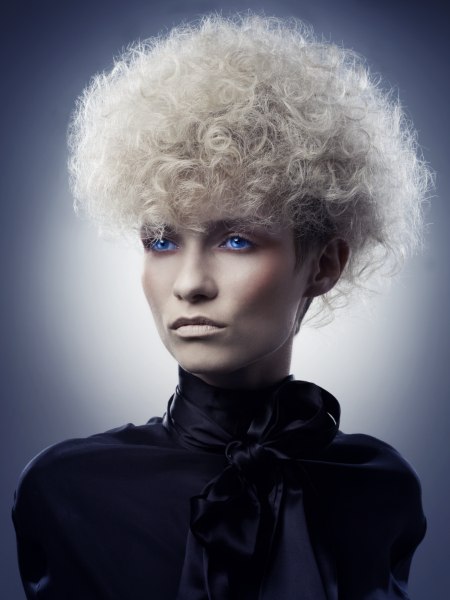 Like that of a blonde shaded Russian fur hat reflects this remarkable short hair in a bush of curls that coil up into a frenzied mass of hooks, loops and kinky ringlets. Styled above the ears and off of the neck, introducing a streamlined appearance.

Use plenty of gel when you roll in medium sized rollers in irregular positions over the head.


Smooth Layered Hairstyle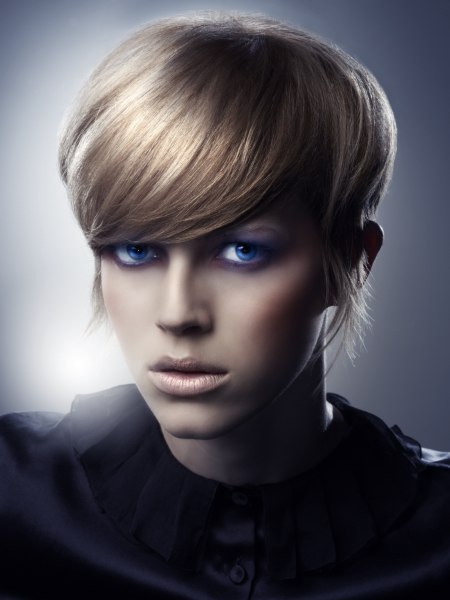 A variegation of warm blondes magnifies the smooth touch on this short layered coif. The top is arranged smoothly over one brow while flowing to the side. There are poufs on the sides with small wisps tapping the face.

The back is clipped up and out of sight. Light styling spray will insure this style as you blow dry.

Hair: Claire Dawson @ HOB Salons
Photography: Sean McMenomy
Make-up: Emma Miles / Stefan Knight
Styling: Robert Morrison
Products: Wella

See also: Short hairstyles | Long hairstyles | Up styles