Hairstyle Simulation for Asian Hair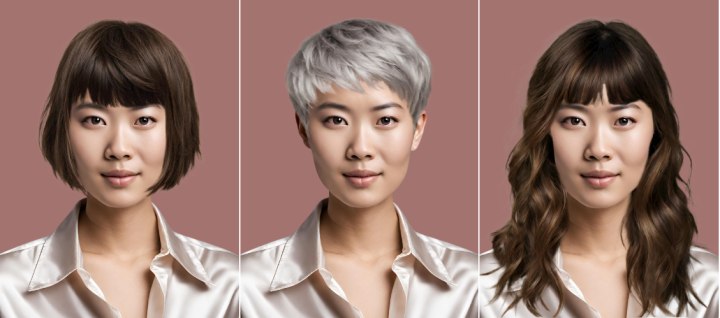 Would you like to try on haircuts and hair colors before changing your look? Before changing your hair, it's important to make sure that you are making the right choice. Our free app will make your hair decision easier. You can upload a photo of yourself or use a model's photo and try on hairstyles and hair colors.

Do countless makeovers on a photo of yourself and see exactly what you will look like before getting your hair cut, colored or styled!

- Sign up for free!

- Upload your own photo or use a model's photo.

- A lot of haircuts and hair colors to try on! Styles suitable for Indian and other Asian hair. Looking for more? Try the free Advanced Hairstyler!

- Online hair app. No downloads and nothing to install.

- Frequent updates, new hairstyles added regularly.

- Password protected area with unlimited access, 24/7.

- Email hairstyles to your friends.

- Save hairstyles to your "favourites" folder.

Looining for more styles to try on? Click here to try more than 12,000 hairstyles, 50 hair colors and 35 highlights with the free Advanced Hairstyler!