Mother Daughter Hairstyle
Q: I would like me and my daughter to have the same hairstyle. I think it would look cute. Are matching mother/daughter haircuts a good idea?

A: From a purely psychological point of view, the mother-daughter lookalike phenomenon is always strongly discouraged. There are a couple of very valid reasons for this.

Firstly it can inhibit the child from forming her own sense of style or identity. You either run risk of the child seeing herself as a sort of extension of her mother, with no effective sense of self or blocking off her own individuality. In this case, the child tends to be unable to be self-sufficient or independent, which will make it very difficult for her to cope with society, school, or growing up etc.

Or the child will act out against the mother in rebellion to forcefully claim her right to be her own individual or make her own choices concerning her appearance etc. Both these cases do immense harm to the mother-daughter relationship, and puts great personal stress on both the mother and daughter.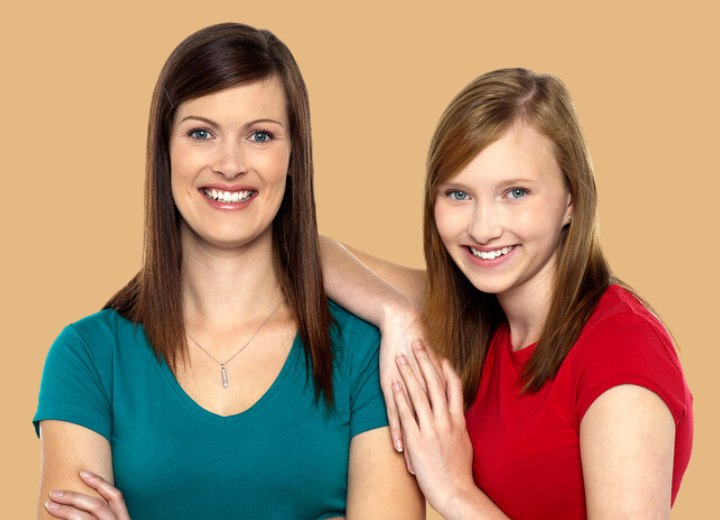 Secondly, it can point to the fact that the mother has other psychological issues that she should be giving attention to. Mothers who want to look like their daughters (dress, hairstyle, walk, talk, party etc.), may be a sign of great psychological stress or lack of maturity on the part of the mother. This may be triggered by a deep-seated feat of growing up or growing old. Women have a hard time with coping with the realities of growing old these days, and it can have a derogative effect on their relationships with their children.

Take Demi Moore for example. She often wears shorter dresses than her daughters, while showing much more skin. She dates men that are almost half her age, often dress like a twenty-something and regularly outlasts the young people at parties.

The media loves to portray her as a supposedly mature woman who's desperately grasping at the last straws of youth, while making a spectacle of herself. Whether or not his is true, this is how she is portrayed in public because of society's preconceived idea of her behavior and appearance combined with her age.

Thirdly, the child may feel as if she's being forced into competition with her mother. Mothers feel flattered when people remark that they look like their daughter's sister instead of her mother. Unfortunately, this can be taken in a negative light by the child. The daughter may wonder if she looks old or "used up" for her age. This has the potential for harmful feelings or behavior concerning the child.

This being said, there are mothers and daughters who strive to look similar while they're perfectly normal people and have happy and healthy relationships. Ask your daughter whether she'd want a matching hairstyle, and respect her choice. If she likes the idea, choose a timeless style that will match both you and your daughter.

An inverted bob, a long bob or even long layers with subtle highlights or lowlights are all good choices, as these hairstyles are versatile, socially attractive and popular and can look good on a woman/girl of any age.

©Hairfinder.com


Related posts:

New hairstyles

Teenagers and hairstyles

Hair tips for looking younger