Scalp Showing Through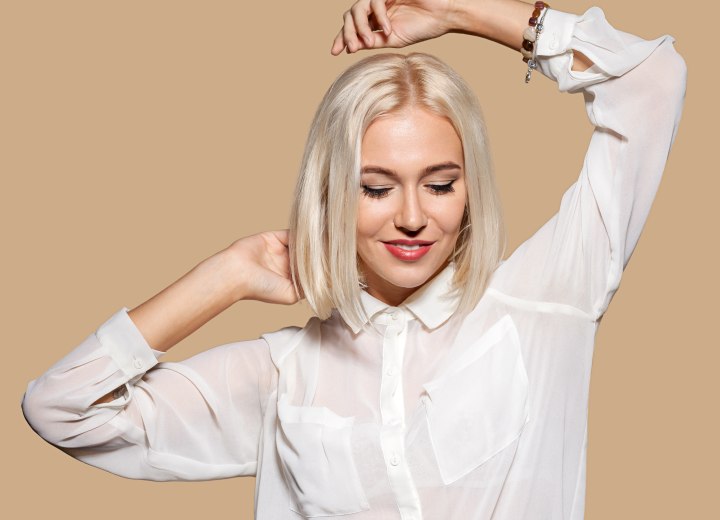 Q: My hair is very white. I have a blunt cut that is chin length. I have some bangs. Where my part is my scalp shows. It's very pink. This stands out very much.

How can I make my scalp match my hair color? Is there some kind of colored spray to match my hair to cover this up? Thank you.



A: This is a fairly common problem for individuals who have white hair and skin tones that are darker or pinker. While there are "gray hair" sprays available for costume use (generally sold around Halloween or in theatrical supply shops) there really isn't any color spray intended as a fashion color, or which will look realistic.

What I recommend is that you look for contouring make-up in very pale shades that you can use to soften the contrast between your pink scalp and the white hair at your part. Choose a powder (pressed or loose) formulation and apply it with a smaller brush, such as for applying blusher. Make sure the hair and scalp are clean and completely dry to prevent any caking and clumping of the make-up.

If you cannot find a compatible shade of make-up or if this option seems too expensive to you, you can, as an alternative, use a very light dusting of talc or baby powder along the part, but you should be aware that sweat and other forms of moisture (rainy weather, etc.) can quickly negate the effect of the powder application. You should also beware of overusing the powder, as it could build-up in the hair and could clog pores and cause breakouts on the scalp.

©Hairfinder.com
Photo: Popcorner/Shutterstock

See also:

Hair color and skin tone

See through hairs

Why does white hair turn brown when wet?