Braid Permed Hair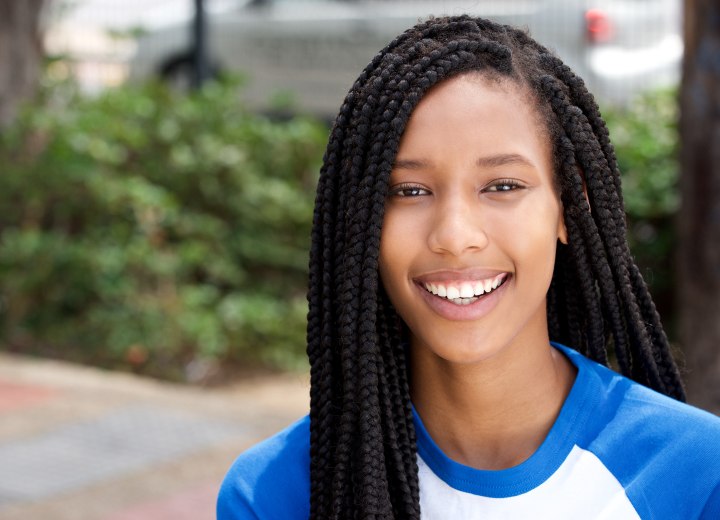 Q: I'm going back home to Jamaica for the summer but I will be on my own for two and a half months at a beach resort. The thing is I have permed hair and I do not know how to take care of it on my own until I leave the beach resort and see my hairdresser regularly (in another part of Jamaica).

Now because I'll be at a beach resort for so long, swimming will naturally take place (and very regularly). I have asked my mother if she thinks that I should get it braided (or add extensions, not sure what it is called) to keep my hair so that whenever I go swimming, I simply wash between the braids and blow dry it so I do not need to go through the process of constantly flat ironing (which by the way, I can't even do on my own!)

My mother warned me not to do this because she says people with permed hair shouldn't braid it because it will break, especially since I have a rinse in my hair. I need to know what to do! Should I get it braided so I don't need to care for the hair until I leave the resort or just continue to wash and blow dry my own hair after every swim? Please help me!



A: While it is true that braiding the hair (specifically in the smaller cornrow braids and microbraids favored by many women) can be stressful to the hair, it isn't always the case.

A good stylist who is skilled at braiding the hair can do this type of style without need for worry on your part. In addition, while it is also true that permed hair could be problematic in braided styles, this is really only an issue if the perming process has damaged the hair.

A braided style would certainly simplify your grooming needs on your vacation, but I cannot make any kind of informed judgement specific to you, since I cannot view and assess the quality and health of your hair. I urge you to go to your stylist and discuss your needs with him or her and ask whether he or she would offer a recommendation either for or against a braided style while you are on your trip and out of contact with regular salon services.

I will offer this: given that you state plainly that you are incapable of caring for your hair properly on your own, your stylist should urge you toward a style that will task you with minimal care requirements and will afford you the best chance of successfully maintaining your hair in the interim.

©Hairfinder.com
Photo: Mimagephotography/Shutterstock

See also:

How to braid hair

Perms and perming hair

Is it ok to get my hair braided a few days after a perm?