Psychobilly Wedge Hairstyle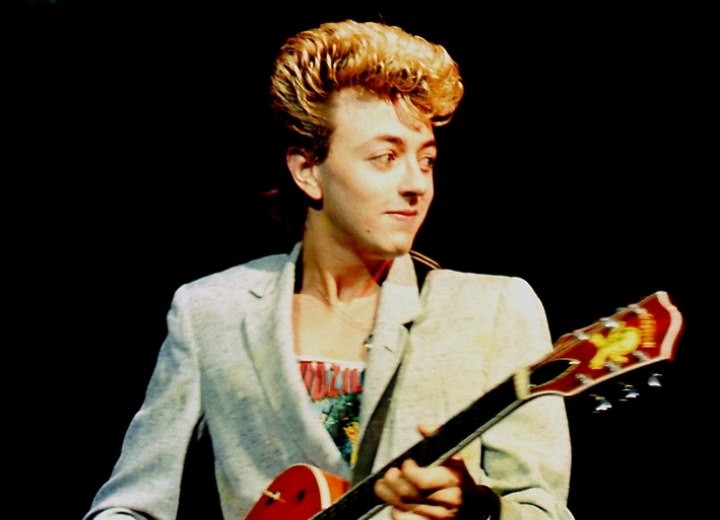 Q: Do you know what a psychobilly wedge is? I heard about it for the first time ever today and have no idea what it is.



A: The term "psychobilly wedge" references a hairstyle common among performers who perform a sub-genre of music called "psychobilly".

"Psychobilly" is generally described as a mix of late-70s punk and 50s American rockabilly styles. It has a harder edge to the themes of the music, dealing mostly with horror topics, violence and lurid sexuality or other taboo subjects – usually in a tongue-in-cheek fashion.

The term psychobilly comes from songwriter Wayne Kemp in the Johnny Cash song "One Piece at a Time" when he refers to a "psychobilly Cadillac". The South London band, The Meteors, are considered the first verifyable psychobilly band, since they consisted of one rockabilly musician, one punk musician, and a horror movie buff, who together created music that helped form what is thought of as psychobilly today.

As for the hairstyle of that name, the performers of psychobilly music tend to borrow their styles from equal parts of 50s rock and roll, and 70s punk rockers, and many style their hair in a high-piled, wedge-shaped pompadour style. This type of style is readily identifiable, and can be seen on performers like Brian Setzer (of Stray Cats and Brian Setzer Orchestra fame), Morissey (of The Smiths), and Mikey Way (of My Chemical Romance).

It is often compared with the "Rockabilly" hairstyle, since it – in effect – is the same style, with minor modifications according to personal taste.

©Hairfinder.com
Photo by PR Photos

See also:

Vintage hairstyles

Celebrity hairstyles

Can you tell me more about Rockabilly hairstyles?