Straighteners and Protective Products
Q: What is the best kind of straightener to get? My hair is thick and poofy and just doesn't seem to want to lie flat. What do I do? Do I need to use straightening creams or anything when I do straighten my hair?

A: From the context of your question I gather you are asking about straightening appliances (i.e. flat irons) as opposed to straightening products or kits. However, to be on the safe side, I'll cover both subjects.

You can generally get good results from home straightening kits such as the one made by Ogilvie. These are designed for use in the home to help smooth and straighten wavy to curly hair types - relaxing the curl, taming frizz and smoothing the hair. The specific results you get depend largely on the texture and wave pattern of the hair to start and most people see dramatic improvement in the hair. That means that their hair is more like the type they want - i.e. straighter and smoother.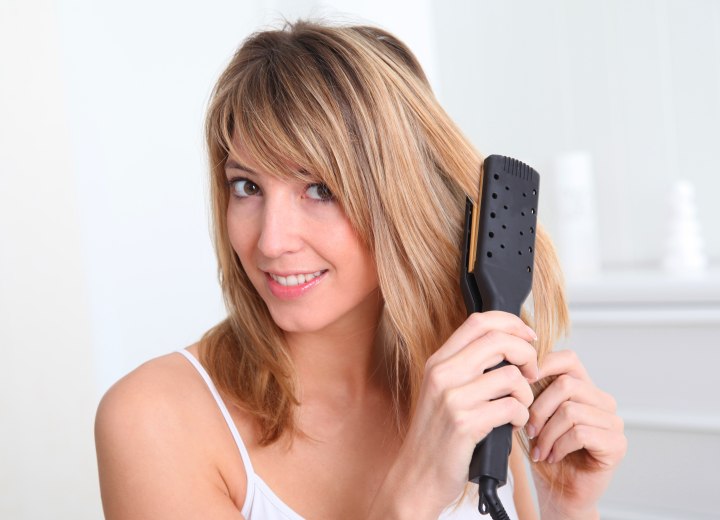 Even after chemical straightening, whether at home or in a salon, you may find you need or want to use a flat iron to give the hair a smooth, straight, sleek finish. There are literally hundreds of flat irons by various manufacturers on the market and you can pay hundreds of dollars for a top-of-the-line model. However, not everyone can afford to pay that kind of money and you can still find very good flat irons for as little as $25 (US).

There are a few basic features you want to look for in your flat iron. These include:
• Non-stick heating surfaces.
• Adjustable temperature control.

These features are a MUST for anyone serious about using a flat-iron safely on the hair. The non-stick heating surfaces will help prevent the hair from sticking to the heating plates when being passed through and possibly burning the hair. The adjustable temperature control is important because different textures of hair require different levels of heat to smooth them. For thicker, coarser hair, you may need higher levels of heat, while the same level of heat might singe fine hair.

You should ALWAYS test your flat iron before passing your hair through it by taking a moistened piece of tissue paper and placing it between the heating plates for 5-10 seconds. The tissue should come out clean, but dry and should show no signs of scorching or smoke. If there is any discoloration or smoking then the iron is too hot and should be adjusted before using.

In addition, make sure that your hair is completely dry before you use a flat iron. Placing damp hair between the heating plates of a flat iron will cause the moisture in the hair to evaporate, but us roughly equivalent to flash boiling the hair. It can seriously damage the cuticle layer and ruin your hair.

You do want to use protective products on the hair prior to flat ironing. These are straightening balms and creams and leave-in conditioners or anti-frizz serums. They should be applied to towel-dried hair and combed-through with a wide tooth comb before the hair is blown-dry.

©Hairfinder.com

Related posts:

Flat iron styling

How to choose a flat iron

How often you can use hair straighteners

How often should I use heat protectant when I flat iron my hair?