Teri Polo's Young Short Haircut

Check out this refreshing, young and casual look worn by Teri Polo. Short, above the collar haircuts are a great option when you want to get the maximum out of your satin shirt and necklace. The length won't cover up your cute outfit at all and it also adds lots of flirt and sass.

Hair is chopped right at the chin and lots of layers create lots of movement and shape. Thin, wispy bangs are cut at eye level and worn forward and brushed slightly to the sides. Wearing the bangs this way helps frame the face and adds interest. Hair is parted in the center but crops out in such a way that it isn't very visible. Pale blonde highlights are very ashy in color and contrast a slightly warmer undertone. The light color matches Teri's greenish eye color nicely.

Her hair is blown out for nice and subtle volume and flicked out on the ends for a flippy result. Teri tucks some hair behind her ears for a super cute finish. It is the fun and subtle details that make Teri's hairstyle so sweet and unique. It's a great look for women of all ages with fine to medium amounts of hair. Looks great on round, square, or heart shaped faces and the bangs are great for longer foreheads.

This photo was taken at the one-year anniversary party, in Los Angeles, for the Sony Playstation 2 (October 18th, 2001).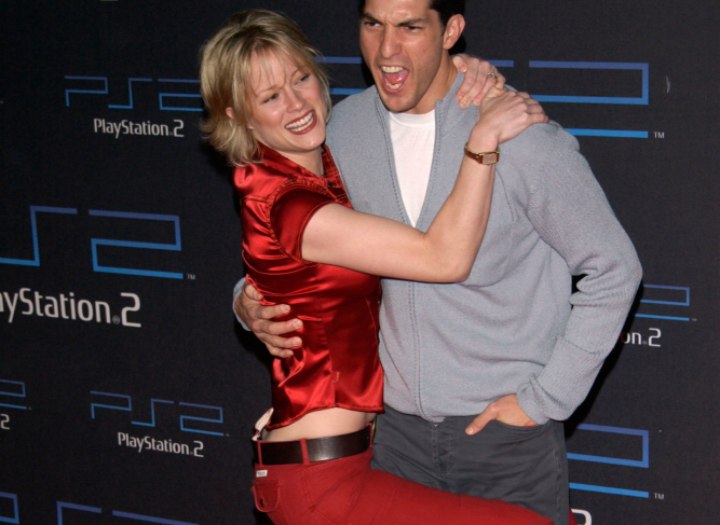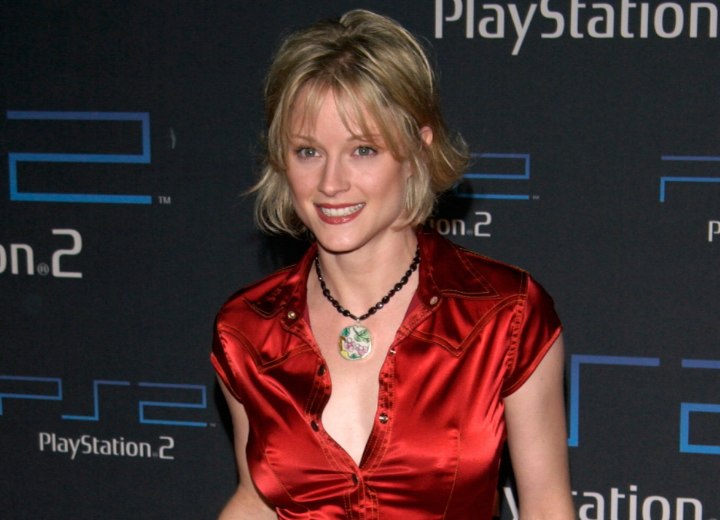 See also: More Teri Polo hairstyles
Photos: Featureflash / Shutterstock