Tamie Sheffield's Short Hairstyle

Tamie wore the right hairstyle at the right time at the 20th Annual Night of 100 Stars Award Gala on March 7, 2010.

Tamie's blonde hair was shaped in feisty short clips that were styled across her head in obvious sections and developed to see all of the textured pieces created by a talented professional. Her hair is clipped closely in the back and just covers her ears on the sides.

If there was ever a hairstyle that fit a personality, it has to be this one for Tamie. The triangle shape haircut gives a bit more length to her oval/round face. There is a fresh youthfulness that sparks a flair of enthusiasm with her haircut. I cannot imagine her looking any better in any other haircut and her hairstyle is an easy doer! A small amount of conditioner, styling crème and a quick blow dry is all that is required.

Tip: Ask your professional about a customized hairstyle that will not only fit your face and body type, but your personality.

Tamie's dark tan shows off her flashing brown eyes and she is wearing a concealor in her inner creases of her eyes with a light shadow applied over her eyes, there is a heavy eyeliner involved on her upper and lower eyes along with lashes and mascara. A blush and bronze have been readily applied to harmonize with her tan and a coral tawny color for her lips. Her large loopy earrings exhibit her jazzy haircut.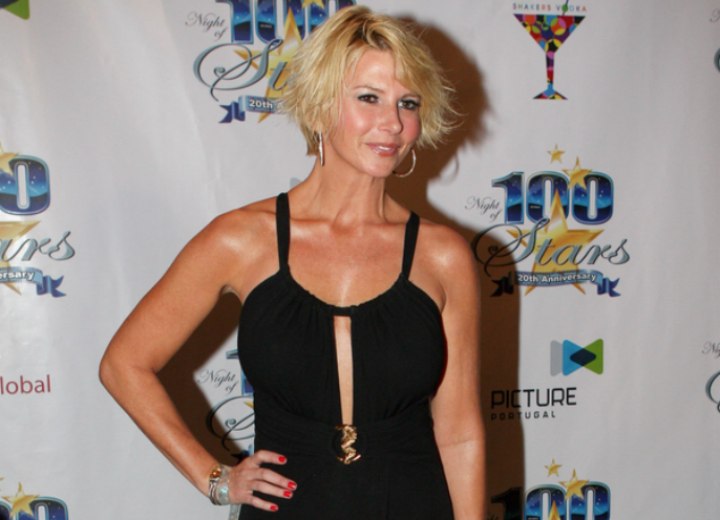 More Tamie Sheffield Hairstyles