Vanessa Williams & Kherington Payne
Kherington Payne - 09/23/2009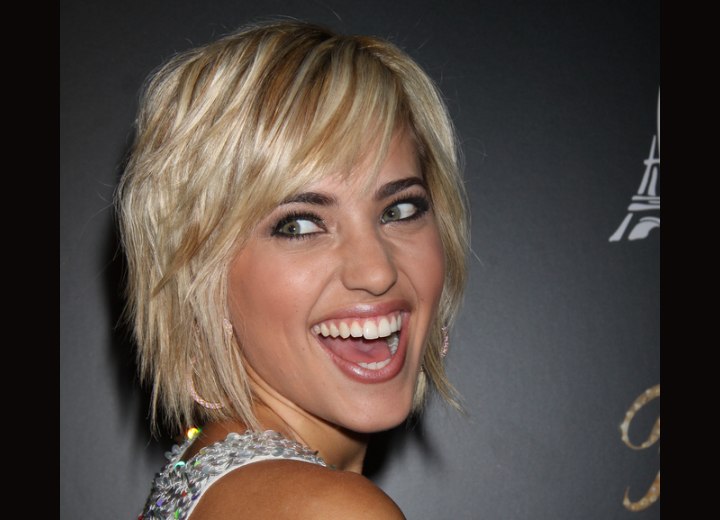 Here Kherington Payne displays her length of hair at the Los Angeles Fame premier. Yes, you can style this length of hair into an updo, as she wore it on the 23rd, just check it out. Kherington basically has thin hair and keeps it colored for more reasons than one, no doubt to promote her good looks, but to add texture so she can do something with it and for stay ability when she styles her hair. Her hair is shaped in layers and arranged around her face.

Her makeup is the same with rich dark brows, light and dark shadows, eyeliner, bronze/blush, lashes, mascara and a neutral lip color. She is wearing a sequined shirt that puts a little bit of dress in the shirt.

Vanessa Williams - 09/23/2009


Vanessa Williams attended the "Surrogates" World Premier in Hollywood and we can tell by her short spiffy hairstyle she was ready for a grand entrance. Her dark ink hair is clipped up close along the nape and the sides look to be much longer and are combed behind her ears. Her crown comes alive with some pouf and goes down about half way on the sides. The bangs are smoothed heavily over to the side on the forehead and small pieces are choppily placed on the other side.

Vanessa's eyes pop with excitement with thinly arched eyebrows, eyeliner up and down around her eyes, lashes and mascara. There is a light concealor in the inner section of her eyes, a light toned cast and a grey blended shadows with generous amounts of golden bronzing brushed over her forehead and cheekbones with a finalized setting of a flesh colored lip tint. She is wearing silver dropped earrings that match her silver dress. I can see Vanessa would look best, dressed in the tropical fruity colors, such as orange, yellow or mango, an ocean turquoise would also look stunning on her as they would bring out the island girl in her.