Ali Landry & Shailene Woodley
Ali Landry - 08/08/2009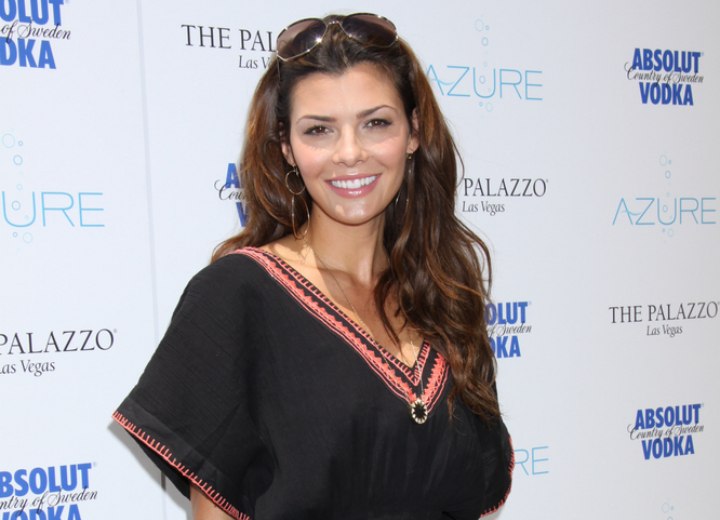 Click to enlarge

Ali Landry's natural hair is a lovely dark chestnut brown that has been lightened to about two levels up with shades of cinnamon and cloves blending well into her long layers. She wears her long layered hair with a slight subtle curl and generous amounts of gloss. A large round curling iron will help with this hairstyle or large round conventional rollers placed vertically around the head. A vigorous brushing when dry will bring the casual curl seen in the photo.

Her pretty eyes are made up over a light/medium foundation with a smoky hue on the lids, mascara and neatly kept eyebrows. There is a fine brush of bronze/blush and a neutral glossy lip color. Her long round loopy earrings accommodate her gypsy girl look.

Shailene Woodley - 08/09/2009


Shailene Woodley's warm brown hair is partially pulled back, styled up and secured along the nape of her neckline and with the hair that lies upon her back, there are smooth tufts of hair that flip out and thin strands that wind around her sides. There are heavy bangs that blanket her eyebrows and are combed into one direction. Shailene has heavy hair that has been clipped into long layers that can be worn up or down. Her bangs and top area are long enough to be moved away from her face to give her another attractive new look.

Next to a good customized hairstyle, makeup is everything and soon becomes a girl's best friend. Shailene follows the trend of today with a light flawless foundation and heavier eye makeup with the eyeliner, lashes and mascara. She is wearing concealor in the corners of her eyes that continues with the transparency of her face. Her lips give the original earthy appearance for today.