Diablo Cody & Teri Polo Hair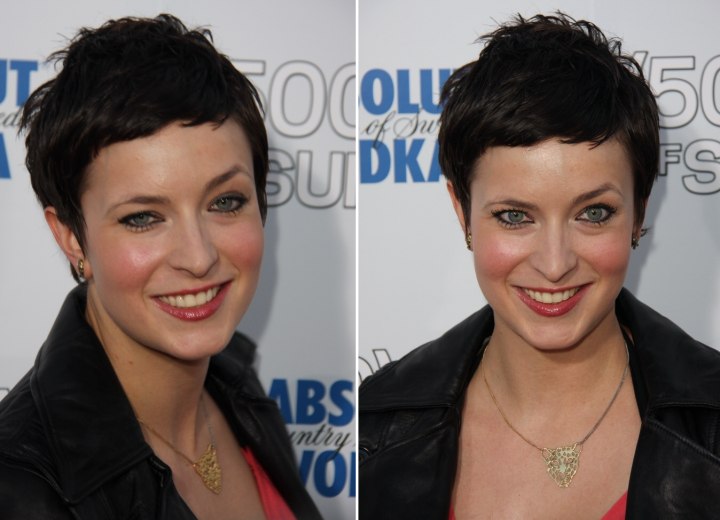 Diablo Cody

Diablo Cody has rich dark brunette hair that is cut in short layers and given some savvy pop through the volume in the crown and the top where needed the most. The sides are cut closely to her head and around her ears leaving a subtle wisp in front of her ears.



Most exciting and unusual are her bangs that are cut tight and short and combed over to the one side. The back is edged up with a mere fraction of pieces to lie upon her neckline. Diablo's short pixie hairstyle is sharp, exciting and full of vigor!

Tip: if you haven't much time on your hands and are seeking a hairstyle that is easy to do, perhaps Diablo's pixie would be worth thinking about. A small amount of styling lotion applied with your hands and most of the time that is all you'll need, or if you demand a bit more volume; a simply blow dry to achieve the fluff presented in the photo will certainly suffice your need.




Cody has heavy eyeliner, light smoky shadow on her lid, light blended brows, blush and a neutral pink lip tint. Her black leather jacket gives the nod of an irresistible rebel.

Teri Polo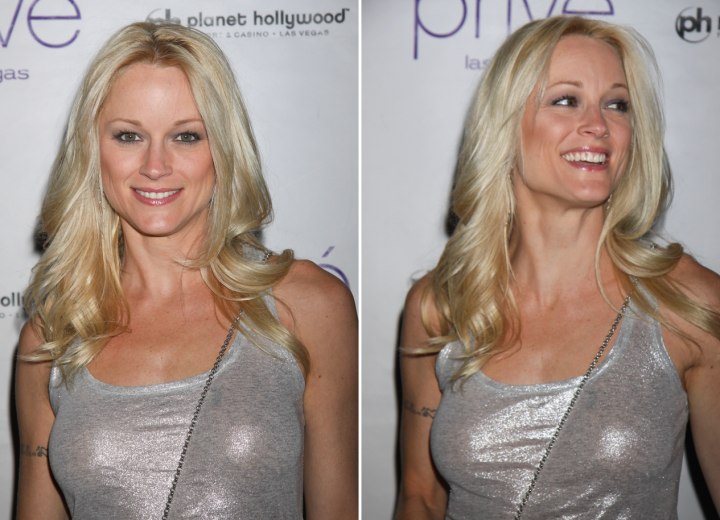 Teri Polo blends her golden beige hair colors with her platinum strands of appeal in long smooth layers that develop into easy going curls on the ends.

There is a guide at the center part that begins her style with the smoothness then the large rolling spirals on the ends. The one thick strand of hair closest to her face has been smoothed to curl under closely to her face and touch the middle of her neck.

Teri is wearing blue eyeliner, blue and smoky brown shadows, penciled thin brows, mascara and a neutral pink lip tint. Her striking dress falls into the silver platinum colors and with a most unusual pattern.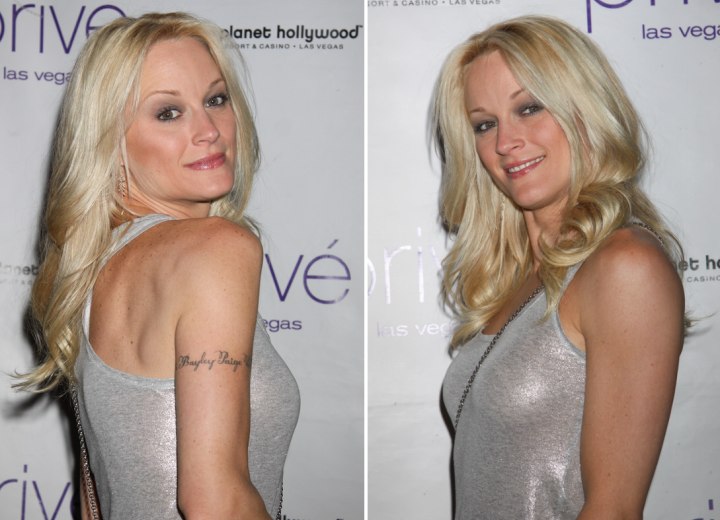 In truth, Teri would probably look better with more color to go with her blonde hair, as the silver platinum dress color tends to be too close to her own haircolor. Brunettes or redheads look much better with the silver platinum colors. Teri would look sparkling in a vibrant turquoise or a tangerine that goes with her tan and appear much more summery.

Photos by PR Photos