Megan Prescott & Heather Graham
Megan Prescott - 06/10/2009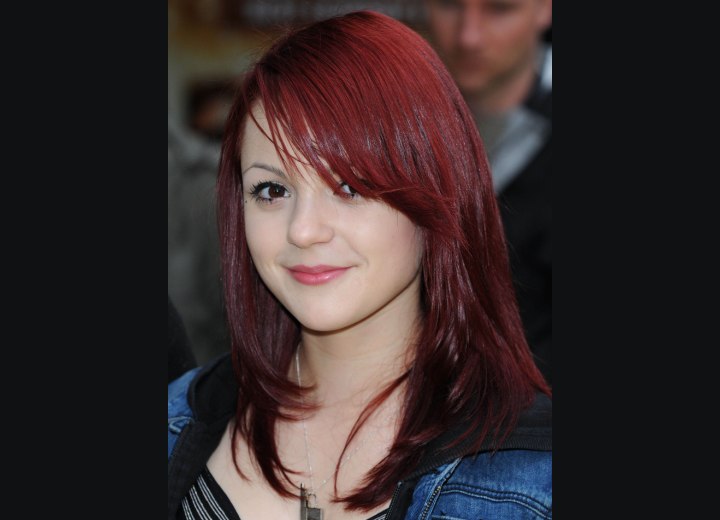 Click to enlarge

Megan Prescott's vibrant red hair is sure to create a stir wherever she goes. Her hair color is a combination of violets, rose, mahogany and coppers. We can also tell there have been subtle belts of the darker red that displays the intensity of the artistry. Megan has angled sides that branch out into the blunt cut around the back. The top section moves over her forehead and is left to dip below her eye and on to the side. There is only a minimum curl around her sides that can be accomplished by a flat iron or a large round curling iron. Hot iron thermo setting spray will help, as well as smoothing serum after you are finished. Don't forget a spritz of gloss for shine.

Megan has creamy white skin and her eyes capture the cuteness of their button roundness. Her eyes carry eyeliner, arched penciled brows, thin lashes and mascara and medium pink lip tone. Blue denim over black and then, black and white carries the persona and informality of our youth, given to us today, and I wouldn't change a thing about Ms. Prescott.

Heather Graham - 06/10/2009


There's no doubt about it, Heather Graham is a natural dark blonde or a light/medium brown hair color. She is keeping her long blonde locks in carefree layers and styled in an off centered part displayed with lazy plump spirals. Her blonde colors range from various shades of honey, light cinnamon browns to bronzed tones. If she had some thin panels of reddish blonde color crafted throughout her hair, it would bring her dazzling blue eyes even more to the forefront and her eyes are completely striking to say the least.

She is wearing feathered blonde/brown eyebrow pencil, white and icy blue shadow, eyeliner, lashes and mascara, shiny pink lip tint and blush. Her sky blue dress with the unique one shoulder strap also helps to bring out her eyes. Tip: Someone like Heather looks good with the colors of summer flowers. These colors aren't too light that the pastels bring, nor as vibrant and bold as some of the other flowers, but strike more in the medium range zone. If you still are not aware of your own color zone, start holding up the different shades of material to your face and watch what happens.