Taylor Swift & Brenda Song
Taylor Swift - 04/02/2009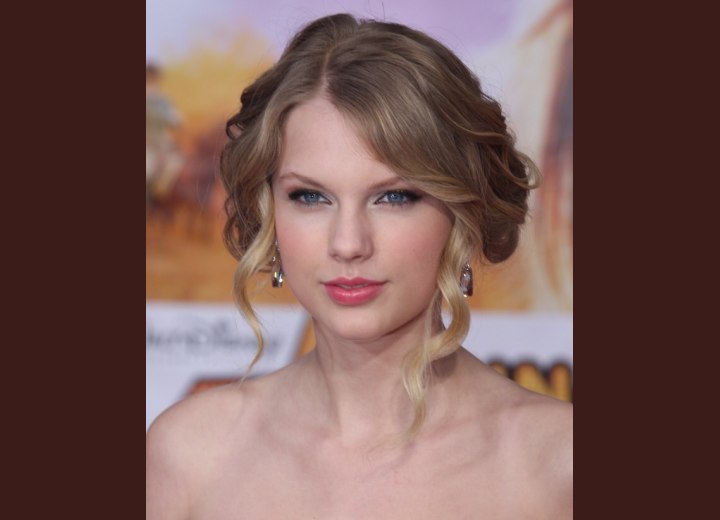 Taylor Swift has beautiful natural medium/dark blonde hair with lighter rays of blonde established on top of her natural color. Her hairstyle was first formed in coils, and then brought around the back in selective sections to be firmly secured, although the trick is not for the hair to look secure, but loosely tied. The end result is to have the two thick coils on both of the sides to wind delicately along the face. This particular up-style has a ring of yesteryears elegance when looking like a lady was in demand. Taylor wears this gentle upswing graceful and both pleasing to the eye. Let's hope it catches on with other celebrities.

Taylor plays up her eyes with rich eyeliner, warm and light shadows, filled in brows, lashes and mascara, blush and a light party pink lip tint.

Brenda Song - 04/02/2009


Brenda Song wears her super long wavy hair parted on the side and down her shoulders. The top area has been smoothed to go back and over into a large rounded curl covering the rest of the hair on the sides. Her hair has been colored a reddish chestnut/mahogany color, while the undercoat is closer to her natural color and could be a piece or possible extensions. The best way to curl a long mane like Brenda's is to use either conventional rollers and wait until your hair is dry to take them out, or if you haven't the time, set them vertically with hot rollers. If you decide to go with the curling iron, be prepared to spend a long time laboring with your hair.

Brenda is another girl who likes her makeup to appear natural, as there is a bit of bronzing involved in her blending, warm/dark shadows, lashes, mascara, blush, penciled brows and very transparent lip tint.