Calista Flockhart & Ava Leigh
Ava Leigh - 03/26/2009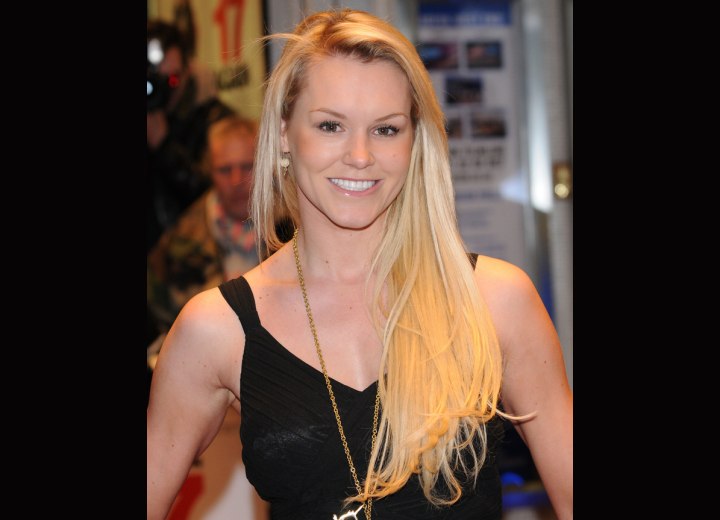 Click to enlarge

British reggae songster Ava Leigh must work out besides singing these days, as she looks great! Her super long blonde hair is styled over from her part and sectioned to bring most of her hair over her shoulder. Lots of conditioners and moisturizers play a major factor in the health of our hair and I can well imagine, Ava uses her share of them.

Her make-up is tremendously natural and light, with only bits of eyeliner, blush, mascara, a few pencils in the brows and natural lip tint. Black is suitable for any occasion and Ava is ready to go with her gold unicorn necklace going along with her.

Calista Flockhart - 03/27/2007


Calista Flockhart brings us a sense of adventure with her myriad of brown and blonde tones in her medium length hair. There is an angled part that begins just over from the center area and slants back to design the coils that hang around the sides. The idea of the loose coils that we are seeing today is to give an informal natural curly look to the client. Many are deciding to get coiled perms or going back to the spiral perms today to assure a more permanent definite hairstyle. Tip: When you select the option to get a perm, don't forget; there are other ways you can wear your hair besides the curled coils.

Calista's make-up looks quite natural with the exception of her lashes. One suggestion would be to add a few single lashes to gather some length and use a good grade of mascara to be only applied to her ends. The results would be lightness to her eyes and yet have the sexy length and appeal presented to her pretty eyes. The satin silk pink blouse and black definitely bring out her facial color.