Katy Perry & Nia Peeples
Nia Peeples - 02/07/2009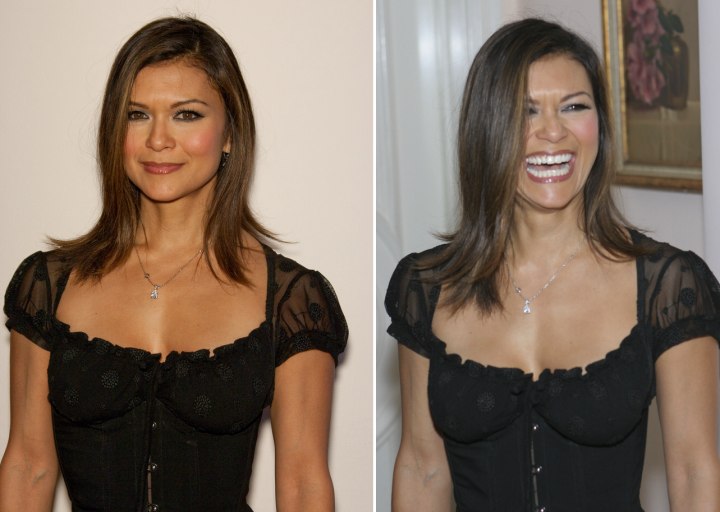 Click to enlarge

Nia Peeples has dark brown hair that has been lightened about three levels through various highlights and coloring techniques. There are long textured ends fashioned in layers that can swing up easily as pictured or left to be straightened or created into an upswing. Nia has a small part with a bit of the front hair drawn over from the part to join with the hair on the side as is the trend of today. The heavier side is blown over to take over one part of the face near the eye, while the other side allows for the peeking of her ear.

There are light eye shadows in the background of her eyes with dark eyeliner on the top and bottom. A few penciled flicks in the brows, blush/bronzing and lip liner and neutral lip tint. Light feminine touches of a delicate necklace and small earrings to match go well with the intricate floral patterns on her black dress.

Katy Perry - 02/08/2009


Katy Perry has stunning medium mength raven black hair filled with beautiful sexy waves that bring out the most of her striking blue eyes. Her hair is created in long layers, close to one length. Beginning on the top, roll the hair going over to the side and under; follow this through all over the head, brush out and allow the waves to form, as you comb into shape. It's ok if it bounces a bit, your hair will relax in a little while.

Katy's make up begins with a cover foundation, a smoky brownish taupe shadow that begins about halfway above the eyes, a light glittery shadow creasing inside the eye, heavy upper eyeliner, lashes and mascara, lovely penciled brows emphasizing her own, bronzing/blush and light pink lip tint. The concentration is on the beauty of her eyes and there is no doubt that her hair color and cut has a lot to do with the whole package. Another plus, is the platinum colored drop earrings that also accent her hair.