Marley Shelton & Leven Ramblin
Leven Ramblin - 12/18/2008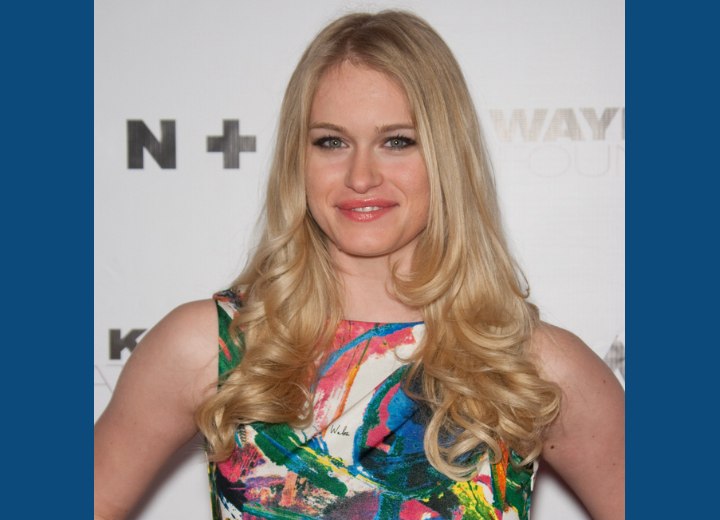 Click to enlarge

Leven Ramblin's blonde hair begins with a sleek off center part and dips below her mouth before a mass corporation of curls plunge below her shoulders. Winding coils and scattered lazy loops make up this healthy head of hair. Her color is a thin myriad of light browns, cinnamons and caramels for definition. We can also tell that Leven is an upscale natural blonde and this automatically places her into the upper echelon for blondie seekers, tsk tsk. The battle of the brunettes verses natural blondes seem to go on for ages. So much envy happens that brunettes become blondes, but how many blondes do you see going brunette? The answer is, very few.

Leven is wearing heavy eyeliner and light shadow that goes into her inner creases and outer eye lids. Tip: when you wear eyeliner, remember it is going to close up your eyes, not widen them. Leven's eyes would look much larger if it weren't for the eyeliner. A concentration of an eyelash curler, mascara or false lashes instead of the heavy liner would definitely open her eyes. Her spring type of dress is befitting with her long curls that she could also wear up in the back with a gentle cascade.

Marley Shelton - 12/18/2008


What is it about these natural blondes that keep popping up all around us? Just by looking at Marley Shelton's engaging smile makes us love her without ever meeting her! There are plenty of staggered lines for her part with dippy waves flirting around her face and tangled webs of curls bunched around her shoulders. This is an excellent all around length. If you would like to wear it up in curls or into a twist with messy tendrils; it is your call and little effort. Medium brown threads of color weave through out Marley's coif to continue to bring out her outstanding personality.

Marley is right up with today's trend with a translucent makeup and a little bit of bronzing around the forehead and cheekbones. Her eyes are outlined with a dark liner and she is wearing a neutral pale lip tint. Her light brown strapless gown is a class act with the gathered pleats up front. Perhaps a thin gold chain necklace with a small cross or even a light leather necklace, matching bracelet and earrings with one small turquoise stone could be the final touch. Another smashing idea is if she were to wear a thin leather hair band with the small stone upon her forehead. How great is that!