Kristin Kreuk & Lisa Rinna
Kristin Kreuk - 12/14/2008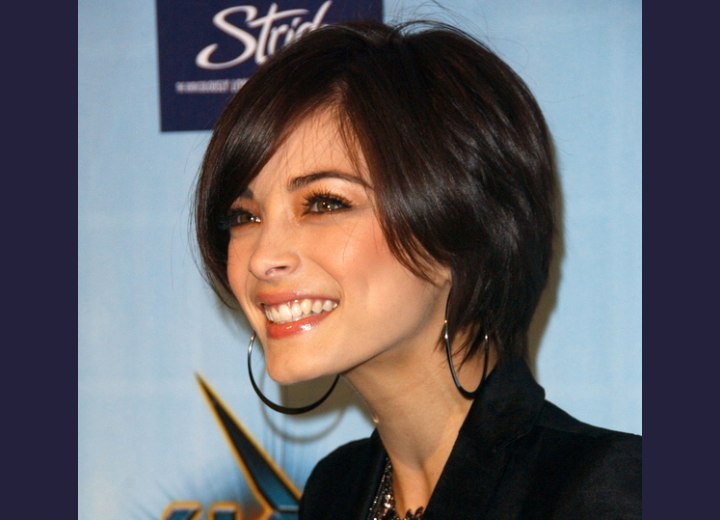 Kristin Kreuk has a new short haircut, in case you haven't noticed. Smooth layers have been clipped and rounded with a choppy fringe below her collar line and ears. The top weighs heavy while skirting over and connecting with the side. If you think this might be the hairstyle for you, be sure and take this picture to your hairstylist. Not all hair texture is alike, but your stylist will do what to do to capture the likeness in the photo for you.

Kristin can wear a good amount of make up and doesn't look like it. She keeps her shadows at a warm minimum. Light smeared liner that always looks best, instead of a hard line. Reasonable thickness in the brows that softens her appearance and neutral lip color with touches of blush and a lot of blending makes this perfect look.

With her ultra large hoop earrings and extravagantly beautiful necklace to frame around her face, Kistin looks every bit the striking professional!

Lisa Rinna - 12/15/2008



Lisa Rinnna sports a long medium grey shiny turtleneck shirt/micro mini complete with silver hoop earrings, grey purse and black high boots. Looking younger than ever, mostly due to her youthful haircut; Lisa has the choppy short layers of a well clipped shag that can be combed back as pictured or with the ends flipped up, such as in the back.

Wandering bangs give a difference to this attractive short hairstyle with the guarded poof on the top. Lissa has always worn her hair in selective blonde and cinnamon thin panels to give her the oomph she desires. Tip: The proper coloring of your hair will give you added texture to your hair. Make sure you condition regularly with moisturizers and protein.

Lissa's make up is usually unchangeable with the lip liner, blush, light lines in her brows, a little eye liner and shadow. Her image reveals a spunky charm that is full of plenty of ambition.