Laura Bell Bundy & Jane Krakowski
61st Annual Tony Awards - 06/10/2007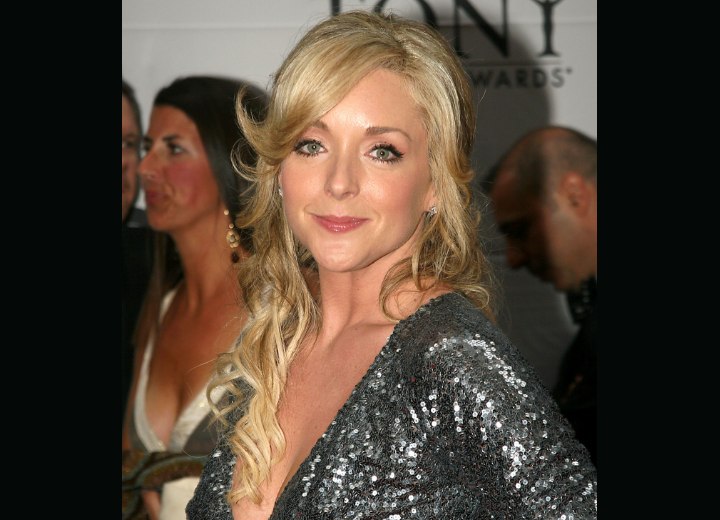 Click to enlarge

Jane Krakowski's career began to blossom when she got her role in Search for Tomorrow playing Teresa Rebecca Kendall back in 1984.

She is wearing her long hair with a side part and the top brushed smoothly over to the side to mix in with the rest of her hair. The lower longer areas have been curled with the curling iron and left to hang, coiling below her shoulders and the top of her sides are pulled back to give more notice, to her pretty face. Her color is a combination of light browns and blondes extending a softness where needed. She is wearing a light to medium gray sparkly dress that has a lengthy severe v-front. Let's picture Jane with all of her hair piled in swirls around the back, for this dressy affair she is attending. Place one finger on each side of her face. Can you envision this? Let's give her black smoky quartz earrings and a large necklace to match and bring up the v in the front about 30 cm. In that way, her necklace would be more noticeable and draw attention to her face.


Country music celebrity Laura Bell Bundy plays on broadway, television and film. Her complimentary golden blonde color appears to be her overall tone and is quite engaging with her hair in an updo with lazy sections overlaying one another. Her bangs are divided in four portions with the largest sector across her forehead. Another strand lays alone reaching to meet the first one and the other two hang with the bounce of a wave, moving under a tendril along her sides. This attractive updo is a party waiting to happen; especially when it is carrying Laura's irresistible smile. Every lazed curl is in place, yet this hairstyle is more abstract then uniform. Her top has the possibility of being a hairpiece combed into the style. Her hair is fastened into a hair clasp and then placed over each other, or she has the hairpiece. Either way, try it out and see if it works for you. Looks like a fun style to me!