Jane Fonda & Diane Kruger
2007 Cannes Film Festival - 05/27/2007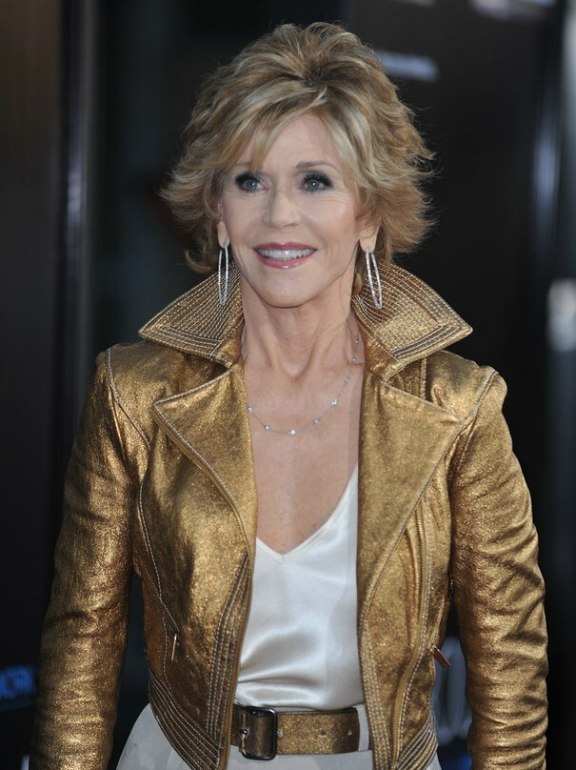 Hey Jane, you're still looking good girl! Jane Fonda wears her hair styled in a short shag with all of the ends going upwards. Her top is tweaked for height. If we look at our celebrity's hair, we should be able to tell she has a small natural wave that helps her hair stand up and out the way she desires. She would be the first to tell you, it is always the haircut that is the most important thing. Color is great, but unless you have a good haircut; your color will not look as appealing as you would like, because the whole style will lay awkwardly and as a result grow out gawky.

There are different tones of blonde that has been foiled into Ms. Fonda's hair with a goodly amount of dark new growth left for depth. This is important to have on select women because they need to have that shadow around their face instead of so much lightness. The shadow of their own dark hair usually brings out their eyes more. For accessories, we are looking at small pearl type of earrings and a lovely long necklace that breaks up the idea of having so much skin. Wise choice Jane.


Some may recall our German actress Diane Kruger as portraying, Helen in Troy. Here is an old fashioned hairstyle for other's to try if they have the nerve. As you can see everything is flatted on her head. No pouf allowed for this look. Her hair was no doubt washed, conditioned and left to dry by itself or a diffuser used to prevent any fluff that would otherwise have happened. A good moisturizing serum was used and then a part placed on the side. The hair was all brushed over to one side and then, the curls and waves were given by a medium sized curling iron. Gloss was generously applied for sheen and a little spray for staying power. Her color is a pale light blonde and should be touched up no later than once a month.

Diane's earrings are a class act for the outfit she is wearing, she just needs to put on a matching necklace, don't you agree?